With Liverpool boss Brendan Rodgers reportedly interested in signing Victor Valdes, Ben Twelves writes why the Spanish goalkeeper would be excellent addition.  

Reports emerged ahead of Transfer Deadline Day that Liverpool are exploring the possibility of signing former Barcelona goalkeeper Victor Valdes, who is currently available on a free transfer after leaving the Spanish giants.
The 32-year-old stopper had been part of the first team set-up at the Catalonian club for 12 years prior to his exit, having risen up through the youth ranks, and he was the long established first choice keeper at the Nou Camp for over a decade – racking up 535 appearances in all competitions for the club.
Liverpool have lined up a move for Victor Valdes but are prepared to wait until the autumn in order for the free agent to prove his fitness.

— Tony Barrett (@TonyBarrett) September 1, 2014
But now a free agent following his release last May due to a serious knee injury, latest reports indicate a move to Merseyside could be on the cards for Valdes, and it would be an extremely shrewd piece of business from boss Brendan Rodgers – who is known to be a long term admirer – if the goalkeeper can prove his fitness as he battles back from an Anterior Cruciate Ligament tear.
Experience
Firstly, Valdes comes with a wealth of experience from the very top of the footballing stage and is steeped in honours won from his time as the man between the sticks at Barcelona. During his period in Catalonia, he won the Champions League on three occasions, La Liga no less than six times and boasts a number of winners' medals from the Spanish domestic cup competitions as well as the UEFA Super Cup and FIFA Club World Cup.
To add to that, he was also part of the incredible Spanish squads that dominated international football, winning the 2010 World Cup and 2012 European Championship, and his know-how and experience could be a valuable asset in amongst a young and evolving squad at Liverpool.
Style of Play
Alongside his obvious, knowledge, the Spanish stopper – who is said by Spanish football journalist Guillem Ballague to "love Liverpool" – would provide Rodgers with exactly what he is looking for.
https://www.youtube.com/watch?v=8i08uig1Bh8&feature=youtu.be
No stranger to possession based football having been part of the team to have executed the 'Tiki-Taka' style to such devastating affect at the Nou Camp, Valdes also has leadership qualities in organising and marshalling a high defensive line, deployed under Pep Guardiola.
The former Barcelona man displays excellent distribution and playing from the back, being comfortable in possession comes naturally, suiting him perfectly to the possession football that Rodgers – who spoke of the free agent in glowing terms when signing Michel Vorm for his Swansea team in 2011 – has installed at Anfield.
After looking at his style and his game I think his attributes suit us perfectly. He makes saves, which is important for a keeper. But for how we play, we like to build the game from behind, it is vital that the goalkeeper is comfortable with his feet. 

He is very quick and very agile so he is similar to Victor Valdes at Barcelona,' Rodgers added.
Suitability
The Spain international is also known for his agility and shot stopping qualities and his composure and ability on the ball is something that Liverpool's current number one could learn from on the training ground.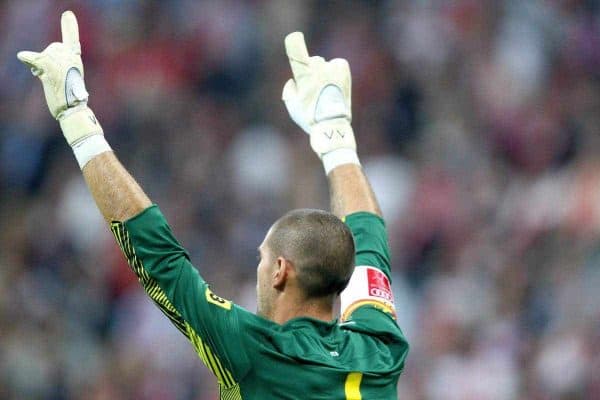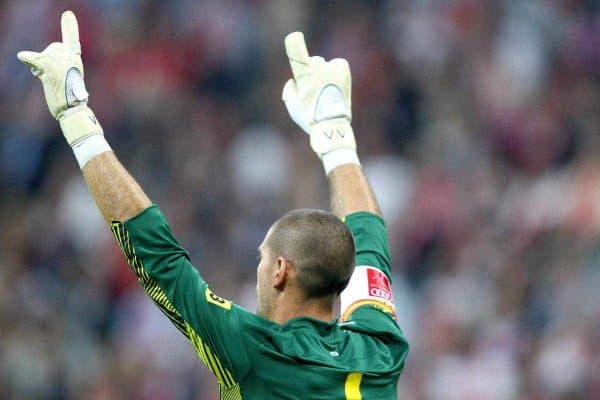 In 26 league appearances last season before injury, Valdes impressively kept clean sheets in half of them and made on average 2.31 saves per game. He also played 14.7 passes per match – only 2.6 of which were long passes – and recorded a 62.3% pass success rate.
In comparison, Simon Mignolet kept 10 clean sheets in 38 league matches, making on average 1.97 saves per game. Most telling between the two keepers' is that the Belgian made 7.7 long passes per 90 minutes in comparison – an unimpressive statistic for a team who look to build patiently and perhaps an indictment of Mignolet's lack of confidence and unconvincing footwork.
FCB tried its hardest to keep Víctor Valdés but he was desperate to leave for new challenge. Anfield beckons now. Perfect match player/club

— Guillem Balague (@GuillemBalague) September 3, 2014
Also to Liverpool's advantage, Valdes is available on a free transfer meaning that while a potential move would be financially attractive, the club are also under no time constraint to finalise a deal, therefore allowing Rodgers and his staff to cast a thorough eye over the keepers' progress before making the decision on whether to offer him a reported one-year contract.
Conclusion
Victor Valdes would provide the perfect back-up to Mignolet, who would remain first choice. Signing the experienced keeper would mean that there wouldn't be the same hesitancy in replacing the Belgian as there has been with Brad Jones, who would make a welcome move to the third choice goalkeeping option.
If the much decorated keeper can prove to Brendan Rodgers that he is able to make a return to action, the club should absolutely bring him into the evolving Anfield set-up.