Brendan Rodgers discussed Steven Gerrard's role and Liverpool's recent struggles at his pre-match press conference ahead of his side's Champions League match against Ludogorets in Sofia on Wednesday night.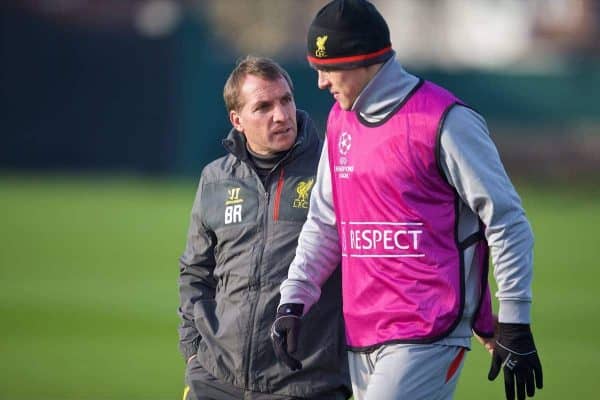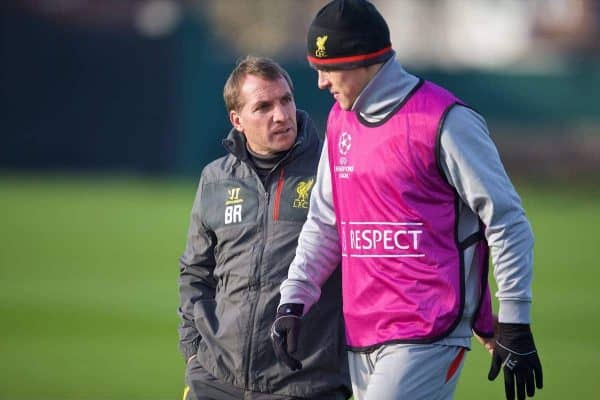 In Bulgaria the Liverpool boss is trying to arrest a four-match losing streak which has put his own position under scrutiny, with his side well off the pace domestically and in danger of not making the knockout stages in their first time back in the Champions League for five years.
For the time being the Northern Irishman has the backing of owners Fenway Sports Group, but if things go awry in Bulgaria and Basle happen to get a result at home to already-qualified Real Madrid, Liverpool could be out with a match still to play and then the pressure will really increase.
"I haven't spoken to anyone (at FSG) as of yet. I've had a few messages but they have always been supportive of me," Rodgers added.
"My focus is on getting Liverpool to win games and I know that is what will make them most happy.
"I always believe losing can be the making of you as a player and a manager in terms of how you learn from it and move on from it.
"When you don't have so much coaching time on the field it is mostly psychological what you want to achieve.
"You never dwell too much on the past – anyone can make mistakes – but for us it is about being in the present and focusing on the next game.
"If we dwell too much on the weekend (a 3-1 defeat at Crystal Palace) there is no way we could go out and play.
"It is about getting confidence into players, talking with players, ensuring the environment at the training ground is still a happy place to be.
"My job as the leader of the team and the club is vital. We will always experience disappointment but no matter how you feel you are one of the pillars of the football club.
"The players are looking to you for that response and ability to motivate and that is very important in my role."
Liverpool have lost their last three Champions League games – they have never lost four in succession in the same season and never been defeated in all three away games in a European group stage.
Goals have been a problem with the two they scored against Ludogorets on match day one back on September 16 their only efforts so far – and one of those was an added-time penalty winner from Gerrard.
PA