Si Steers uses the international break to assess where Liverpool are at this season, and three key areas Brendan Rodgers need to focus on improving.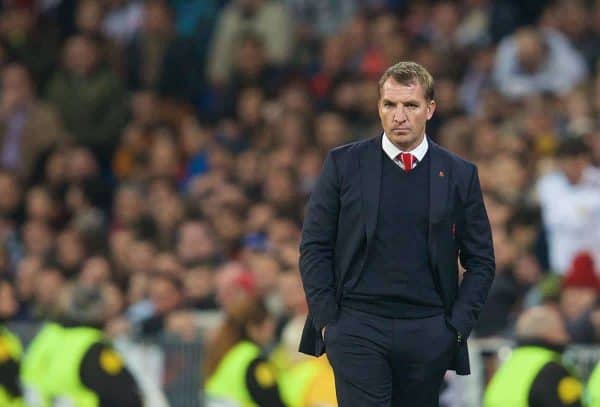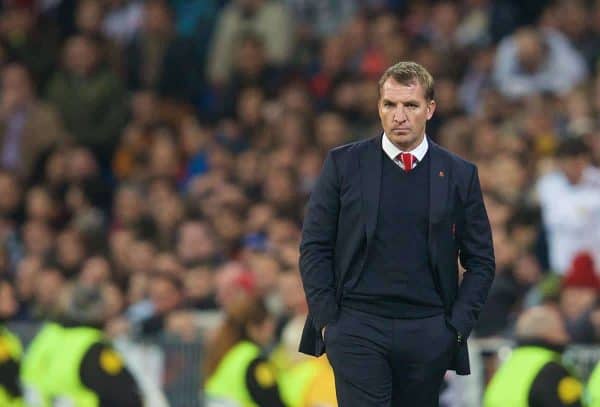 After the euphoric ride of last season, there was always going to be a sense of a backwards step this season. Even if Luis Suarez had stayed, he wouldn't have been available until November, and clubs were always going to be wiser to our strengths. Last season we took a lot of people by surprise with the pace and intensity of our game, but that is now something teams expect from us.
The biggest disappointment this season has been that even though teams expect us to play in a similar if not identical style, there has been very few signs that we have retained any of the things we did so well last season. That is in part a personnel issue, e.g. we don't have the unpredictability of Suarez or the pace of Sturridge up front, but it is also in part a loss of team identity, we haven't really played all season (perhaps Spurs away) like a Brendan Rodgers team. We've lacked shape and cohesion and at times looked like a team of strangers.
Mitigating factors
It is difficult when you try and integrate 7-8 new players into a close knit group – the team dynamic has to change and you can't force understanding. Last season so much of our success was built on the back of a really close knit team, you could see it in the big moments, but when that dynamic changes you can lose that sense of unity and it takes time to build.
The injury to Daniel Sturridge has also been a massive factor, it is an absolute fact that you cannot be reliant on one player, especially one that is prone to muscle injuries, but the timing and unnecessary nature of Sturridge's injury has had a huge impact on our season so far. Without Sturridge we have been stripped of two key attributes, and that is pace and movement.
Summer recruitment
In the summer there was a big opportunity to rebuild the side with one eye on the present and another on the future. At face value, the club's recruitment looked fairly solid, and there is still plenty of time for Manquillo, Moreno, Markovic and Can to grow into top players, but the players that were purchased to hit the ground running have so far failed to convince.
There are question marks over the clubs recruitment policy which looks like it should be more joined up, that is perhaps the committee nature of decision making, although there is a sense that the summer investment in players had a pre-requisite of Premier League experience as a core requirement.
On the face of it there is some logic to recruiting 3 players from a Southampton side that played a similar style with a similar intensity to us last season. But the level of player we need to retain our position in the top 4 is getting higher and higher, and at the level we want to be at, any weakness is exposed. It is still too early in the season too write off any new player, but Lovren, Balotelli, and Lambert and to a lesser extent Lallana all need significant improvement if they want a long term future with Liverpool – which is disappointing at a combined cost of over £65m.

Under FSG our core philosophy in recruitment has been to invest in youth and source value in the market, but this summer we seem to have lost sight of what value looks like. In the English market, it is very difficult to source value; there is a premium on English players.
We have some really good people at Liverpool that work on scouting and recruitment, the committee concept is a system that works well at other clubs, but as I look at in this piece for The Tomkins Times there is a real case for a Sporting Director to complete the jigsaw at Anfield.
Brendan Rodgers is on record as saying that he will not work with a Sporting Director, but Liverpool cannot be about any one person, the structure has to be right for the club.
I genuinely believe that Rodgers is one of the best, most progressive young coaches in the game, but I am convinced if he is to realise his potential he will have to learn how to work with a Sporting Director in the future, either at Liverpool or elsewhere. There are very few top clubs that don't have that structure in place, and will abandon it to accommodate any coach, however talented.
I think the committee is doing the right things in helping the club recruit for the future, and it will likely be 3-5 years before we see the true value it has added, but there are question marks about how the club recruits for the 'now' – a Sporting Director that shares Rodgers philosophy and understands the type of players he needs and wants can add a huge amount of value in helping us to recruit players that are the level and the right fit for us.
This summer, it feels like we have recruited players that have compromised our identity, it maybe with time and reinvention they make more sense than they do at the moment, but there is lots of work to do.
The manager
This season has been a new learning curve for Rodgers; he has had to reinvent a team and style of play, integrate 7-8 new players whilst juggling the demands of Champions League football. These aren't excuses, they are facts. Rodgers may talk like a coach that has bags of experience, but in reality he is still developing, and there are a lot of new things he needs to learn.
Last season Rodgers put to bed a lot of doubters that were not convinced by his credentials for the Liverpool job, there are some that still claim that it was Luis Suarez in isolation that carried us to second place last season, despite Suarez being part of a side that finished 8th and 7th in the two seasons prior. There are likely some that will never be convinced by Rodgers for whatever reason, but he was the architect of so much we did well last season, and it is that blueprint he needs to revisit to ignite us again.

Rodgers has made mistakes this season; he has stubbornly persevered with systems and players that are clearly not working. He has shown great faith in new players that he believes can go onto become integral to how he wants us to play.
Rodgers has been the victim of expectation, last season he overachieved as did everybody at the club, it has meant he has had no time or grace to find a formula or chemistry with a new group. The only time this season we have looked like the team of last is Spurs away, where Rodgers was able to set the team up how he wanted with the pace and movement of Sturridge and Sterling.
I'd go as far as saying that Rodgers' biggest problem this season hasn't been the loss of Suarez, it has been the loss of Sturridge, whose pace terrifies teams.
In hindsight some of our summer signings have contributed to the problems Rodgers has faced this season, but hindsight is a wonderful thing in football.
The one thing Rodgers does better than most is improve players; he has shown himself to be an outstanding coach. Pretty much every single player he has worked with whilst being at Liverpool has improved, including Suarez. That means that we shouldn't be writing off anybody at this stage, players or manager.
What Rodgers really needs to do above anything is get back to basics. Back to the style and intensity of last season, we do lack a cutting edge with Sturridge, but all of the things we did so well behind Suarez and Sturridge we haven't been doing as well this. The three areas I think we need to focus on are:
Defence
Yes we didn't defend brilliantly last season, but we also didn't expose our defence anywhere near as often. We pressed the ball high up the pitch and had the ability to retain it. A lot of our defensive woes last season were due to individual errors, but this season those errors have been made worse as we have been letting teams come at us.

I don't think we need to be concerned about conceding and being open if it means we are attacking teams. It almost feels like we have been caught between two styles as without a real cutting edge up front we have had to try and tighten up at the back – which exposes our weakness and negates our strength of last season.
With or without Sturridge I think Rodgers needs to return to a formula of two up top and that's where the high press starts, let's start trying to win the ball back before teams get into our final third.
Pressing
The biggest disappointment for me this season has been the lack of pressing, we have players that are made for the pressing game like Henderson, Allen, Sterling and Lallana. But we are giving teams too much time on the ball, last season we literally gave teams no time whatsoever, forcing errors from defenders and midfielders. That's gone this year. We need to find it again.
Luis Suarez did set the tone, but he also had players behind him that played with that same intensity and energy. That should be the standard for any Liverpool player. Being static isn't an option, pressing the ball starts from the front.
The high press is so integral to everything we did well last season; we need to inject energy back into our game. We have it in abundance, if we rediscover it then our identity returns.
Movement
We have been far too static this season. It is easy to point the finger of blame at Mario Balotelli, but he has tried hard to improve that part of his game. Others have to take responsibility as well. We need our midfielders running beyond the forward players; we need our wide players not being restricted to one side, we need our forward players drifting into the channels. We need our players to be interchangeable; it hasn't happened enough.

If we look at our first goal against Spurs where Sturridge drifted into the channel, played the ball into Henderson who ran beyond him, who squared the ball for Sterling who had drifted into a central position – that is us at our best – but we haven't seen it enough this season. But it does show we can retain our attacking identity even with Suarez.
Time is important
It is easy to say and probably likely that we missed an opportunity in the summer; and that is something the club and owners will need to look at. I don't doubt that the ambition and infrastructure at Liverpool are geared towards success, and I don't doubt that we have a manager in Brendan Rodgers who is desperate to succeed.
We saw last season how good we can be with the right blend of players, so we need to make sure that our recruitment team is giving a competitive edge both for the future but also for the now.
This season it feels to me like we are nowhere near as bad as some of our performances suggest, nor last season were we anywhere near the finished article. The immediate priority has to be to get Daniel Sturridge back fit as he is so integral to everything we do well, and to reassess what we need in January so that Rodgers has the right options available in the second half of the season.
If we can get back to the basics of what we did so well last season, the top four isn't beyond us.
We remain on the right path under Rodgers, but he needs time and room to learn from his mistakes, as do the players.