Scotland face England in a friendly at Celtic Park this evening, we pick Liverpool's greatest ever all-Scottish starting XI.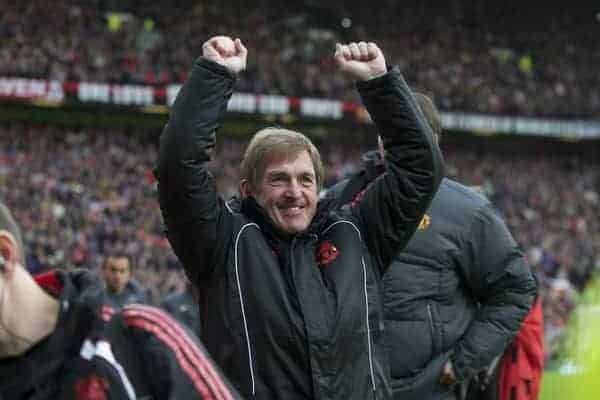 International friendlies may be rather dull affairs to say the least, but when England face Scotland there is, and always will be, a certain edge to proceedings.
The two old enemies go head to head at Celtic Park on Tuesday evening, in the first friendly clash in Scotland between the two since 1989.
Liverpool have had a wonderful array of both English and Scottish talent down the years, and it is the latter that we are focusing on today.
Some of the Reds' most legendary players have crossed the border and made their way to Merseyside to showcase their talents, and when you put them all together they make a quite a team.
Here is Liverpool's all-time Scottish XI:-
Goalkeeper- TOMMY LAWRENCE
Lawrence was a mainstay of Bill Shankly's Reds side throughout the 1960s, winning two First Division titles and the 1965 FA Cup during his time at Anfield.
He left for Tranmere in 1971, having made 390 appearances for Liverpool, and was capped three times by Scotland between 1963 and 1969.
Right-back-STEVE NICOL
Nicol is one of the most finest full-backs in Liverpool's history, performing brilliantly for 13 years between 1981 and 1994.
Signed by Bob Paisley as a teenager, he went on to win five league titles, three FA Cups and the 1984 European Cup, scoring 46 goals in 468 appearances for the Reds. He played 27 times for Scotland.
Centre-back- ALAN HANSEN
Widely regarded as one of the most influential players in Liverpool's history, Hansen was a magnificent centre-back who oozed class and authority.
Signed for £100,000 from Partick Thistle in 1977, the former Match of the Day pundit would go on to achieve greatness at Anfield, winning eight First Division titles, three European Cups and an FA Cup before hanging up his boots in 1991. He was made captain in 1985.
Centre-back RON YEATS
Yeats was a colossus of a defender, and remains one of the longest serving Liverpool captains ever. Having joined from Dundee United in 1961, he became an integral part of Shankly's great team of the mid 60s.
He was, surprisingly, only capped four times by Scotland.
Left-back- BILLY DUNLOP
Dunlop was a key player for the Reds between 1895 and 1909, and just edges out his teammate Donald McKinlay.
Despite being relegated almost immediately after joining, the left-back would go on to win two league titles for Liverpool, and represented Scotland once.
Centre Midfield- GRAEME SOUNESS
Souness is undoubtedly one of the greatest players in Liverpool's history, and he bossed every midfield battle he came up against. He was the complete player, combining tackling, creativity, goals and leadership to perfection.
During his six glorious years on Merseyside, in which he was named captain by Paisley in 1981, he won five First Division crowns and three FA Cups.
Centre Midfield- GARY MCALLISTER
When McAllister signed from Coventry City in 2000, he was 35 and deemed a slightly strange purchase. He became an unlikely hero though.
His performances in 2000/01 were bordering on legendary at times, as he played a key part in the Reds winning an unprecedented cup treble. Nobody will ever forget that free-kick against Everton either.
Attacking Midfield- JOHN WARK
Wark moved to Anfield in 1984, following a legendary spell with Ipswich Town, and he won the league title in his first season. He scored 27 goals from his attacking midfield role that year too; more than Ian Rush.
Injuries curtailed his progress somewhat in the years after, but he was still a very fine player until his exit in 1988. He won 29 caps for Scotland, scoring seven times.
Left Forward- BILLY LIDDELL
Liddell is often ranked among the top five players in Liverpool's history, and he was an absolute superstar at Anfield in a career spanning four decades there, between 1938 and 1961. Such was his influence that the club was dubbed "Liddellpool" at the time.
The winger was way ahead of his time, and in total scored 228 goals in 534 appearances for the Reds. At international level, he scored eight times in 29 matches.
Right Forward- KENNY DALGLISH
In the eyes of many, there has never been a greater player to represent both Liverpool and Scotland than "King Kenny". He was a magnificent player, blessed with outrageous vision and an eye for goal.
Dalglish joined for a then British record transfer fee of £440,000 in 1977, and went on to win six First Division titles, three European Cups and numerous other trophies during his 13 years as a player.
He has also managed the club twice, and the work he has done for the Hillsborough disaster is truly admirable. He is a genuine legend of the game.
Striker- IAN ST JOHN
St John left Motherwell for Merseyside in 1961, and he became a hugely important player under Shankly in the 1960s, forming a devastating strike partnership with Roger Hunt.
He scored 118 goals in 425 matches for the Reds, winning three league titles, one of which was the Second Division in 1961/62. For Scotland, he scored nine times in 21 games.
We'd love to read your all-time LFC Scotland XI in the comments section below.