More horrific defending saw Liverpool fall to defeat to Newcastle United on Saturday, and their lopsided line-up points to the need for specialist coaching, writes Jack Lusby.

The day before Halloween, Liverpool defender Jose Enrique posted pictures via his Twitter account of the club's Spanish contingent of himself, Alberto Moreno, Javier Manquillo and Suso dressed up to celebrate the British non-holiday.
Flash forward two days and Moreno was part of a Liverpool defence that once more fell flat, as Alan Pardew's resurgent Newcastle United defeated the Reds 1-0 at St. James' Park.
It was a particular defensive horror-show from the former Sevilla man, as his attempted interception fell at the feet of Newcastle striker Ayoze Perez, who gleefully smashed the ball home.
Brendan Rodgers' side now lie in seventh place in the Premier League, with a paltry goal difference of zero highlighting the Reds' problems at both ends of the pitch.
While Mario Balotelli continues to toil for his elusive first league goal since moving to Merseyside, it's Liverpool's defence that stands out as the most gruesome.
It was in their bizarre and infuriatingly lopsided shape that lies the problem, and demands a rather touchy subject to be revisited by Rodgers: In order to lighten his training workload and tighten up his back four, he must delegate to a specialist defensive coach.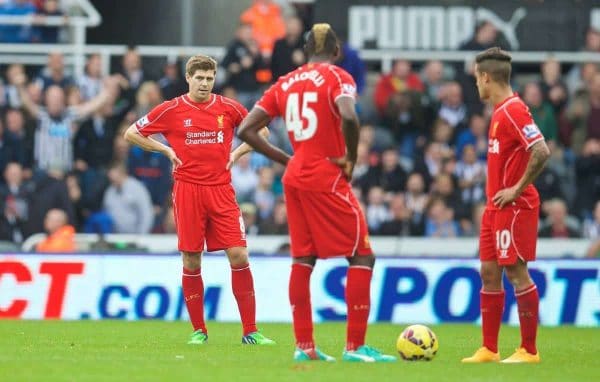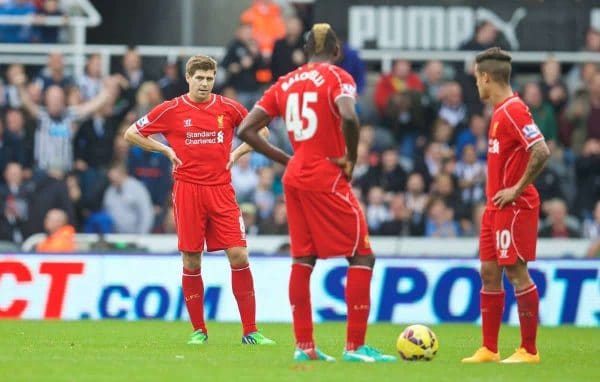 Vs. Newcastle United
Against Newcastle, Rodgers' deployed a back line of Glen Johnson, Martin Skrtel, Dejan Lovren and Alberto Moreno, in what is ostensibly—given the frequency of this line-up—his preferred back four.
The immediate, glaring omission here is Spanish right-back Javier Manquillo.
It's funny how, despite two seasons of abject performances and the signing of a better alternative, Johnson is still first choice

— John O'Sullivan (@NotoriousJOS) November 1, 2014
Rodgers' continued faith in the lacklustre Johnson, who has arguably turned in at most two promising performances this season, and generally not stretching to the full 90, over Manquillo on the right-hand side of defence is baffling.
According to WhoScored, Manquillo averages 5.5 tackles per game, dwarfing Johnson's average of 2.2 per game; if you're looking for defensive solidity, the 20-year-old is your man.
Furthermore, while Johnson is lauded for his attacking prowess, Manquillo also averages at more crosses (0.9) and more key passes (0.8) per game.
Selecting Johnson also points to the bizarre shape that the Reds' back line employed from the start.
#LFC average positions vs. Newcastle, courtesy of Opta. Moreno highest of back four, Johnson too far inside. pic.twitter.com/vNaEVLlG3J

— Jack Lusby (@jacklusby_) November 2, 2014
With Moreno effectively advanced in to the left wing position, Johnson was often utilised as a third centre-back, coming inside to support Lovren and Skrtel. This in turn saw Raheem Sterling operate as a wing-back at times, stifling the Reds' attacking play.
Newcastle boss Alan Pardew, prior to the game, outlined how his side would "put Liverpool under pressure in certain areas and impose our physicality on them," perhaps pointing towards the Reds' weak back line.
Pardew all but admitting there that Newcastle's tactic is going to be to press Gerrard and the centre backs

— Dan Kennett (@DanKennett) November 1, 2014
After the game, Pardew admitted "Liverpool threw me because I wasn't expecting them to play three at the back," but this decision played in to his hands all the more.
This is most clear with Perez's goal, on 73 minutes, with a mistake from Moreno in a crowded central area allowing the Spaniard a real poachers finish.

The opportunity stemmed from Johnson's trademark 25-yard attempt on goal, cutting in from the right-hand side to shoot with his weaker left. The resulting block saw Johnson marooned and Moussa Sissoko and Remy Cabella able to combined effectively in a vacant wide area.
On this occasion, Moreno served as the third centre-back, and with this in mind Newcastle were able to exploit both flanks; it was an unfortunate mistake from the left-back to gift Perez with the goal, but in a foreign position.
The back three may have thrown Pardew, but proved a delightful surprise for Newcastle.

A Sensible Solution?
The subject of defensive coaching has been widely debated surrounding the failures of Liverpool under Rodgers this season, and on a wider scale too.
Former Manchester United coach Rene Meulensteen recently attested that "Rodgers' biggest failure is that he's not invested in his staff."
The Dutchman continued to tell BBC Radio 5 Live that, with the Reds' involvement in the Champions League this season, "it's a different rhythm that requires a different style of training and a different management strategy through the week. You need to know these things."
Furthermore, in an excellent piece for The Telegraph, Sky Sports analyst Gary Neville lamented the level of defensive coaching in the Premier League:
"My era of men who retired around 2009-2010 were the last crop of predominantly defensively-trained players. Coaching has shot off in another direction, towards the technical. I've had that confirmed by people at academies. The technical and attacking work is now around 80 per cent with 20 per cent reserved for defensive skills."
This is definitely true of Liverpool's shoddy defending this season—it is as if the back line is thrown together with little planning and fingers crossed that a clean sheet will materialise.
Rodgers has been vehement recently in his refusal to appoint a specialist defensive coach, claiming "I think it is just a lack of coaching time that is hurting us. We need to reinforce basic principles at defensive set pieces, but we know that already. We have to get better and we will be working on it."
However, as the manager continued that he was up into the early hours recently "thinking of ways that I could make us better," points to an unmanageable workload on Merseyside.
As this recent performance shows, Liverpool are getting no better, and perhaps it is time to lighten the load on Rodgers.

Adaptation
Stemming from Rodgers' words is stubbornness in the manager.
We've seen this with his dismissal of the notion of a Director of Football, his approach towards players perceived to be 'committee' signings (clarification pending), and now his refusal to appoint a specific defensive coach.
This is an admirable quality in a way, but the manager's sleepless nights point to a heavy workload that could be relieved.
It is no secret that Rodgers has sought to renew the 'Boot Room' mentality at the club, employing Rob Jones, Robbie Fowler and Steve McManaman as part-time Academy mentors, and turning to Jamie Carragher—a symbol of defensive stability under the manager in 2012/13—could be an option.

Furthermore, whilst it would take a heavy measure of persuasion, the former success of Steve Clarke in this role alongside Kenny Dalglish could provide the optimum candidate to shore up a leaky back line.
Perhaps Rodgers would do best to look further afield, towards a coach tailored to his specific system of high-tempo, pressing football. For example, Roberto Mancini brought Angelo Gregucci with him to Manchester City, as a coach he knows and trusts, and vice versa.
There are a multitude of reasons why Brendan Rodgers should turn to appointing a defensive coach following this downturn in performance, against Newcastle the Reds were dire and their poor defensive shape is bleeding into the ensuing attacking set-up.
The Liverpool manager may just have to adapt his values to come to terms with this.
Should Brendan Rodgers now look to appoint a defensive coach? Let us know in the comments below.