Liverpool have been given the green light to begin construction work on the redevelopment of Anfield, eventually taking the capacity from 45,000 to 59,000.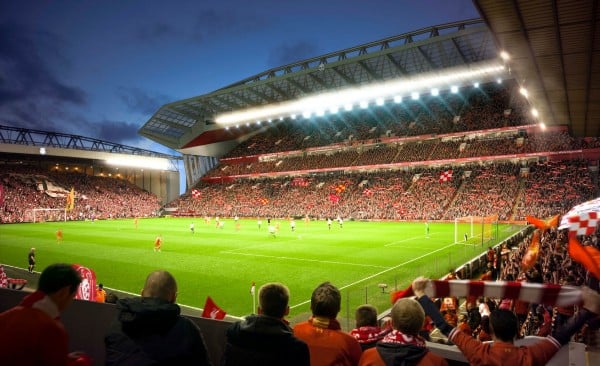 Until now, diggers outside Anfield have only been clearing the way for the expansion and part of Liverpool City Council's regeneration project for the area.
Having finally purchased the last house needed to be cleared to make way for the £100 million project, work can begin on expanding the Main Stand in phase one of the project.
It will create an extra 8,300 seats, before phase two sees a redevelopment of the Anfield Road End with an additional 4,800 seats.
During the construction work games will continue to be played, whilst a new fan park will be erected close to the ground. The Hillsborough memorial and Shankly gates will also be relocated.
Chief executive officer Ian Ayre told the club's official website, "Today is an important milestone in the history of Liverpool Football Club. Since we embarked upon this journey we have always said that we need certainty; we now have that certainty and will progress with the expansion of the Main Stand.
"We received very positive support for this expansion during a public consultation exercise and today is also an important step for the wider regeneration of the Anfield area.
"There has been a tremendous amount of work done to get us where we are today but this is just the beginning. This is a major construction project which will take place during the football season and while we will make every effort to minimise any impact or disruption to normal operations, we ask for the continued support and understanding from our fans and the local community.
"Expanding Anfield is very much part of our long-term strategy of growing the club and on behalf of the directors, players and staff, I'd like to thank the local community and residents, our fans, Liverpool City Council and Your Housing Group for all their support."
What do you think to Liverpool's expansion of Anfield? Let us know your thoughts in the comments below. Or for general Liverpool FC discussion, head to our forums.