Kopblog's Joseph Cousins takes a look at the defensive midfield role; it's importance in successful sides, the reasons why it worked for Steven Gerrard last season and why it doesn't this.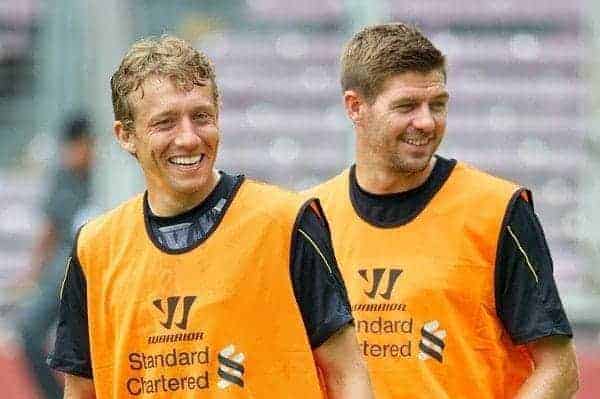 It was during and after the 1994 World Cup when the defensive midfielder came to prominence – well at least to me anyway. Having always been a fan of the Brazilian national team at World Cups, I made sure I watched all of their games at this tournament.
Two facets of Brazil's game stood out immediately; 1. The fullbacks, Leonardo on the left and Jorginho on the right. played like winger; 2. The two central midfield players, Mauro Silva and Dunga just sat deep and protected the defence.
Known for their defensive vulnerability in previous tournaments, Brazil made a conscious decision to be more solid through the centre and let the flair come from the wings (the attacking fullbacks) and the strikers (Romario and Bebeto).
The tactic worked a treat as they went on to win the tournament scoring 11 goals, conceding only 3 and keeping 5 clean sheets in their 7 games.
The new pragmatic style of play was disliked by many in Brazil but in the UK, we seemed to be fascinated with this seemingly new tactic where the central midfield players sit and the fullbacks play more like wingers.
Brazil were probably not the first team to employ this tactic. In fact I remember Fabio Capello's Milan using Desailly and Albertini in central midfield, both holding. Desailly would protect the back four while Albertini would orchestrate attacks.
I would imagine other European clubs would have played with a specialist defensive midfield player in the early 1990s. After all Dunga played for Stuttgart and Mauro Silva for Deportivo La Coruna at the time.
In the English league most of the successful teams had box to box central midfield players where both could attack as well as defend. Thinking of the great Liverpool teams from the 70s and 80s we had the likes of Souness, McDermott, Whelan, Molby and McMahon. This was the case through the 90s as well where the title winning teams played with central midfield players that were expected to attack as well as defend.
Title winning teams throughout the 1990s and their midfield partnerships
Liverpool 1989-90 Steve McMahon and Ronnie Whelan
Arsenal 1990-91 Michael Thomas and Paul Davis
Leeds 1991-92 Gary McAllister and David Batty (possible exception?)
Man United 1992-93 Paul Ince and Brian Robson/Mike Phelan/Darren Ferguson
Man United 1993-94 Paul Ince and Roy Keane
Blackburn 1994-95 Tim Sherwood and Mark Atkins
Man United 1995-96 Roy Keane and Nicky Butt
Man United 1996-97 Roy Keane and Nicky Butt
Arsenal 1997-98 Patrick Viera and Emmanuel Petit
Man United 1998-99 Roy Keane and Paul Scholes
The Premier League DM era
It wasn't until 2003-04 when a team with a specialist defensive midfielder would win the Premier League title. Arsenal signed Gilberto Silva in 2002 and the following season he would go on to play a key role in their invincible season.
Chelsea signed Claude Makelele in 2003 and he would go on to play a key role in the club breaking defensive records and winning back-to-back Premier League titles in 2004-05 and 05-06.
This three season period – from 2003-04 to 2005-06 represents the longest Man United have gone without winning the title since they ended their 26 year drought in 1992-93. I don't know if it's coincidence or not but during this era they didn't have a defensive midfielder. Of course they had Roy Keane but he was more of a box to box midfielder and perhaps more importantly was declining as a player. They signed the liked of Kleberson and Djemba Djemba to try to do the job but those players never worked out.
Interestingly it was when United signed Michael Carrick for £18.6m (that's £45.4m TPI) that they began to dominate the league and Champions League again. Obviously it wasn't all down to Carrick (they had great players such as Ronaldo, Rooney, Tevez, Ferdinand and Vidic as well), however I think the role he played in that United team was very important and very underrated. Maybe people were expecting 12 goals and 12 assists per season having signed for so much money. The fact is he played centre mid every week in one of the best club sides we've seen in the last 30 years so he must have been doing something right!
Since that Arsenal invincible season all the title winning teams have had a quality defensive midfield player:
Arsenal 2003-04 Gilberto Silva
Chelsea 2004-05 Claude Makelele
Chelsea 2005-06 Claude Makelele
Man United 2006-07 Michael Carrick
Man United 2007-08 Michael Carrick
Man United 2008-09 Michael Carrick
Chelsea 2009-10 Michael Essien
Man United 2010-11 Michael Carrick
Man City 2011-12 Gareth Barry
Man United 2012-13 Michael Carrick
Man City 2013-14 Fernandinho
When I look at the above title winning teams what stands out is not only did all have quality defensive midfield players they also had at least one world class centre back as well.
Liverpool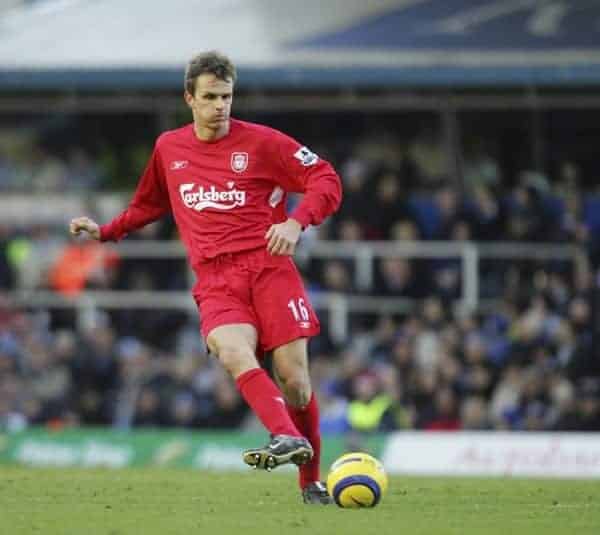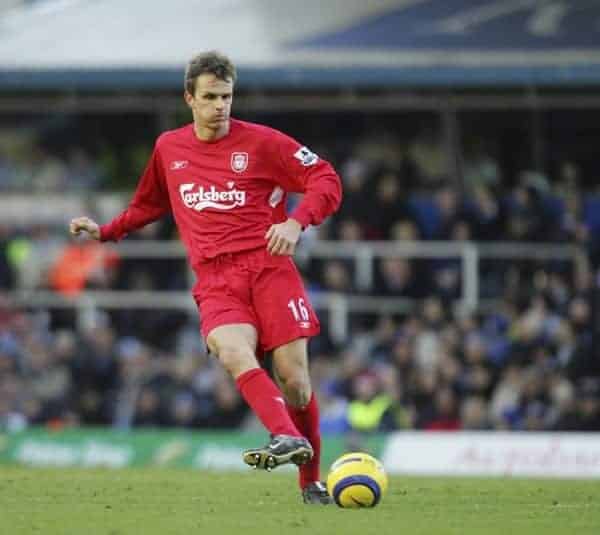 Of course Liverpool signed a specialist defensive midfield player a good few years before Arsenal or Chelsea did, having signed Didi Hamann in 1999. We didn't win the title but did manage to win the Champions League, UEFA Cup, FA Cup (twice) and League Cup (twice) with Didi in the first team squad. During Hamann's time at the club we signed Alonso and since the German left we went on to sign Sissoko, Mascherano, Lucas and, err, Christian Poulsen (cheers Roy).
Interestingly, since Brendan Rodgers became manager the club has not signed a specialist defensive midfield player. This could be excused early on in the Rodgers era because we had Lucas fit and in good form. In fact some fans considered him one of if not the best defensive midfield player(s) in the Premier League at the time.
The manager was certainly happy with the defensive midfield player he inherited but unfortunately Lucas got badly injured 4 minutes into the second game of the 2012-13 season and would be out for over 3 months. Rodgers had this to say about him at the time.
"We'll keep his spirits up"
"We'll use him to go and look at some games for me, because he's tactically very good, he's someone that I'll get to go with my analyst and look at some games to make sure that tactically he stays 'in the game' – because that's important."
"We now know that his knee is strong and he can keep working on that and hopefully when we get him back he'll have benefited from all the work and come back a better player."
"I'm bitterly disappointing [about the injury] as he is a player who understands totally what I'm trying to implement [tactically]."
"He's one of the disciples I would say, he understands totally what we're doing".
One could argue that the club should have went out and signed a DM as cover for Lucas in the January window. By then the transfer committee were in place and Lucas had just recovered from his 2nd bad knee injury but the priority seemed to be to create and score more goals. Fair enough. Sturridge and Coutinho were brilliant signings and Lucas played in every game for the remainder of the season.
It was in the summer of 2013 when 'DM' was lighting up my timeline on twitter. Every Liverpool fan wanted a DM whether it be as cover for Lucas, competition for the Brazilian, or an upgrade. I personally wanted an upgrade as I thought Lucas was no longer the same player he was between 2010 and 2011. Even at his best I thought he'd gone from being a very underrated player to a somewhat overrated one. I thought we could do with a top class player in that position.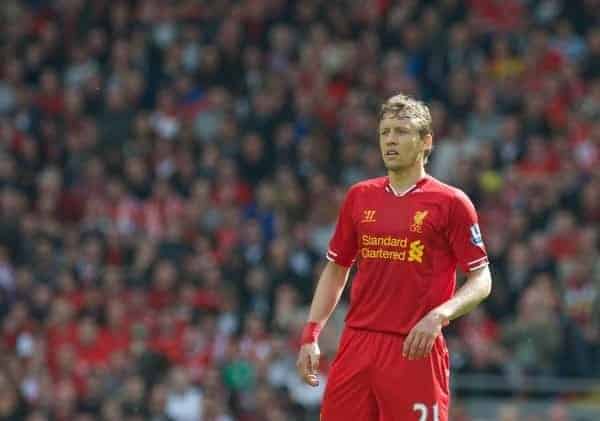 The transfer window came and went and much to a lot of fans disappointment there was no DM in sight. The feeling among the fan base was that we'd have to cross our fingers and hope Lucas stayed fit. He did stay fit but there was still a gaping hole in our midfield whenever we got caught in possession. There was no better example of this than the Merseyside derby at Goodison Park last season where Mignolet pulled off 4 or 5 one on one saves less than 10 seconds after we had the ball deep in Everton territory.
After the Derby, news began to circulate that Yann M'Vila was at the game as a guest of Sakho. Social media lit up linking the French DM with a move to Anfield in the January window.
The M'Vila signing didn't happen. Instead it was Steven Gerrard who became our new DM in January. Most of us thought Brendan had lost his mind especially after Gerrard's first outing in the position where we beat Stoke 5-3 in an incredible game that could easily have finished 9-7. As fans most of us hoped the experiment would be put back in the cupboard, so imagine our horror when Brendan said Gerrard was outstanding, was perfectly suited to the role and could extend his career 2 or 3 more years in the position.
In the following game against Aston Villa, Gerrard again played the holding role. We were 2-0 down after half an hour. "What the fuck, Brendan?" is a question I think all of us were asking at the time. We came back to draw the game 2-2. Afterwards Brendan stuck to his guns, kept Gerrard in the position and we would go onto to win 13 draw 2 and lose 1 of the remaining 16 games. Scoring 48 goals and conceding 22. Incredible.
I have said it before in a previous blog but I think moving Gerrard to the DM role is what almost won us the league last season. We won all of those matches by outscoring the opposition – not by controlling things, not by being tight and seeing it out 1-0 or 2-0. In my opinion had we tried to play with defensive responsibility, like a normal side, we would have finished 4th. Other teams do normal better than Liverpool.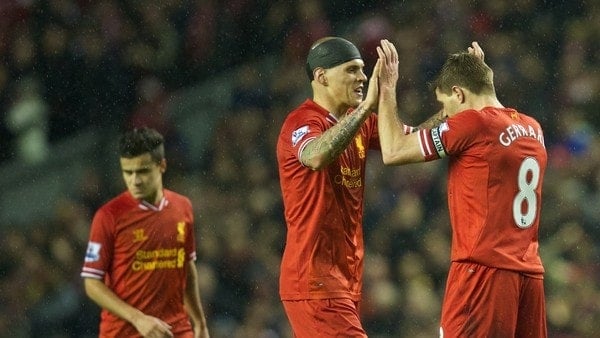 Our poor defending last season didn't cost us the title. It was our incredible attack that got us close. Gerrard as the DM, or maybe more accurately, the deep lying play maker, was key to our incredible attack.
Liverpool's record in 2013-14
Before Gerrard switch to DM. P20. W12. D3. L5. 39 points. (1.95 PPG)
After Gerrard switch to DM. P18. W14. D3. L1. 45 points. (2.5 PPG)
Extrapolate the records over a season for when Lucas played as the DM – the first 20 games of last season and we'd have got 74 points. That would have been good enough for 4th place. 2 points above Everton.
Extrapolate the records over a season for when Gerrard was switched to DM – the last 18 games of the season and we'd have got 95 points matching the Premier League record and winning title number 19.
Looking at the above stats it's easy to see why Brendan has kept faith in Gerrard as the DM we conceded a lot of goals but we scored an incredible amount and crucially we won. A lot.
Gerrard as DM – the bad and the good
Of all the games last season, the win away to Fulham gave a good example of the good and bad from Gerrard as the DM.
The Bad – Kolo's own goal

1. Gerrard has the black arrow pointing towards him. He's jogging back watching the ball. Look at Kieron Richardson (red arrow), making a forward run.
2. Richardson has run past the referee now. Gerrard is still looking at the ball but is in a decent position should the ball be played square to Richardson.
3. Another second later. Richardson is about to make a forward sprint, he's pointing to where he wants the ball passed. Look at Gerrard. What is he doing?
4. Look at the next second by second images…
5. Gerrard barely in the shot.
6. Here it is from another angle… Don't let the angle fool you into thinking Skrtel had a chance to clear the ball. The pass from Sidwell is perfect. Look at Gerrard, I wonder if he's noticed Richardson yet.
7. The image sees Richardson in possession now. With a worried looking Kolo in the middle…
8. Richardson squares a poor ball. But Kolo….
The own goal is so bad that Kolo gets slaughtered for the mistake while criticism for Gerrard's role in the goal is minimal.
The Good – the assist for Sturridge

1. Cissokho plays a pass in space to Gerrard who isn't in the frame yet. He'll be coming onto the ball in a second.
2. Here is Gerrard now, not looking at the ball but up the field. Looking for a forward run. He sees what he is looking for… Fuck off out of the way Hendo!
3. A beautiful pass…
4. This is Sturridge's first touch after the pass.
Beautiful goal and without a player with Gerrard's ability in that position we won't score goals like that.
This season
The dynamic has changed this season though. There is no pace and energy in the forward positions and so Gerrard as the deep lying play maker doesn't work. It hasn't worked and Brendan has admitted as much and has taken the captain out of the position and, to the relief of most Liverpool fans has put Lucas back in there.
The decision has been vindicated by the results we have had since. A draw against Ludogorets, wins against Stoke and Leicester and a draw against Sunderland. We've looked more solid in these games – but we've also looked very ordinary.
I hate ordinary which is why I was one of the few not to be full of relief when Gerrard was pulled out of DM and Lucas put in there. We've gone back to being normal, which we don't do very well. Not well enough to compete for the big trophies anyway.
I guess we've got to crawl before we can run so I'll take the ordinary while hoping better things are around the corner. It sure beats losing regularly and looking anxiously towards the relegation zone.
What happens next?
It will be interesting to see what happens when Sturridge returns. Does Gerrard go back to the DM position? Do we stick with Lucas? God forbid we play Gerrard and Lucas as the double pivot in a 4-2-3-1.

I have a profound dislike for the double pivot midfield but a lot of teams do make it work. Usually by having a play maker and an energetic destroyer. We had Alonso and Macherano performing these roles at a high level. Chelsea currently have Fabregas and Matic. City have had have Yaya Toure and Fernandinho.
I prefer the 1-2 midfield with the single pivot, the controller/DM/deep lying play maker and 2 energetic midfield players further ahead either side. Last season this was Gerrard with Henderson ahead to the right and either Allen or Coutinho ahead to the left. It worked a in an attacking sense but had its flaws defensively.
The best midfield combination I have ever seen was Barcelona's at their peak. They had Sergio Busquets as the DM with Xavi ahead to the right and Iniesta ahead to the left. Xavi and Iniesta got all the plaudits but for me Busquets was equally important. He is a dream of a player.
Rodgers has said he prefers the 1-2 midfield as well so I'm looking forward to seeing the team return to that. The problem is I do not think we have the DM to make it work.
In an ideal world the DM can be a deep lying play maker as well as a quality defensive minded player. Busquets has these attributes. The likes of Javi Martinez has shown these attributes as well. We are talking players at the top end of the market though who are already at elite clubs.
My knowledge of world class DMs is not extensive so maybe some of you can help me out in the comments section? I just think we need a player in that position that has the potential to be among the best in the world at what he does. This type of player won't come cheap but if we want to be among the big boys we need to spend big boy money and attract the top talents especially for a key position such as the DM.