Dejan Lovren needs to offer up a shining performance in place of the injured Mamadou Sakho against West Ham United, writes Jack Lusby.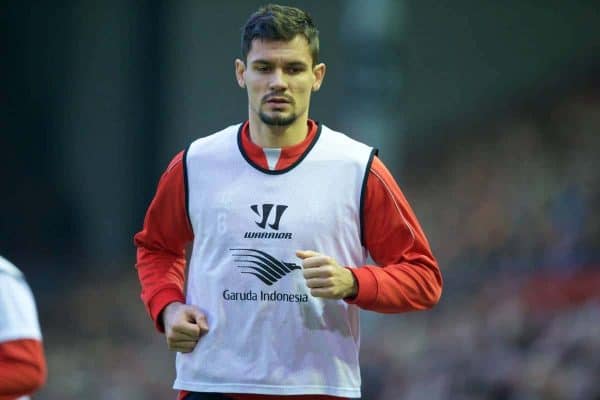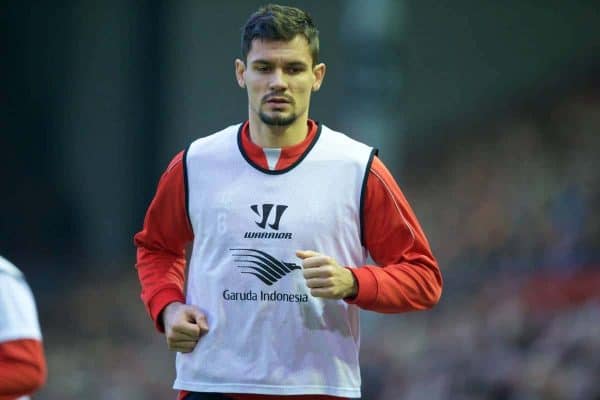 Liverpool centre-back Mamadou Sakho is expected to be ruled out of Saturday's game against West Ham after suffering injury in the League Cup semi-final defeat at Chelsea on Tuesday night – which presents an opportunity for Dejan Lovren to begin his recovery.
Sakho tweeted on Thursday that he "will be able to join the group tomorrow," but his withdrawal at Stamford Bridge and reports that he is struggling with a back injury put doubts over his ability to start on Saturday.
Sakho has been one of Liverpool's most outstanding performers since his reintroduction to the side in December. His presence at left centre-back will be difficult to replace.
Lovren hasn't started for Liverpool in the league since Liverpol's 3-0 loss to Manchester United that month, due to a combination of injuries and some miserable half-season form.
This opportunity seems gilt-edged, and Lovren must harness his positive attributes and show manager Brendan Rodgers why he has a future at Liverpool.
Mamadou Sakho

One of the most bizarrely divisive players in Rodgers' squad, Sakho should be considered one of Liverpool's five best players at present, if such arbitrary lists are required.
Sakho is, on a fundamental basis, Liverpool's best defender.
As aggressive in the air as he is intelligently front-footed on the ground, Sakho is a prime example of the multi-faceted, modern defender.
He has won an impressive 72 percent of his tackles so far this season, more than any other of Liverpool's natural centre-backs:


A prime example of this defensive technique came with a perfectly timed challenge on Aston Villa striker Gabriel Agbonlahor in January's 2-0 away win.
https://twitter.com/acko_79/status/556751681703378944
Sakho read the play and acted on it with precision, outlining his defensive quality.
Furthermore, as is still peddled out by inattentive pundits and commentators, Sakho is considered a danger when in possession by many, but is far from it.
Sakho's passing ability, and more his focus on moving the back forward from the back, as opposed to playing dangerous balls across goal, is one of the main reasons why this 3-4-2-1 formation has been so successful.
This system thrives on expansive play, built from the back.
The defender may have made mistakes against Chelsea, but having made a third of the amount of defensive errors this season (2) that Martin Skrtel has (6), and half that of Lovren (4), he is definitely not Liverpool's most worrying defender in possession.
Glen Johnson vs. Chelsea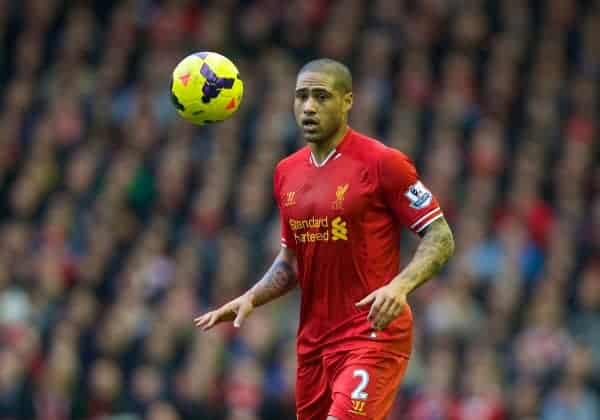 When Sakho was withdrawn on Tuesday, Rodgers made the decision to leave Lovren on the bench and opt for Glen Johnson as Liverpool's left centre-back.
This came after the manager hinted at a more conservative role for the natural right-back in the future.
To leave Lovren, a £20 million summer signing and a natural left-sided centre-back, on the bench in favour of Johnson seemed an oversight by Rodgers at the time and, while the 30-year-old was not entirely at fault, Liverpool's game-plan failed on Johnson's introduction.
Gone was this left-sided defensive stability, and as a result Ramires probed with added fervour and Willian was able to reach the byline with consistency.

Furthermore Johnson, playing on his weaker side, was typically forced to switch play onto his right foot and opt for a short pass back to Skrtel or goalkeeper Simon Mignolet, allowing Chelsea time to rebuild and stunting Liverpool's build-up in attack.
This can't happen against West Ham, who notoriously flourish in wide areas.
Johnson can't be criticised for these deficiencies, as he is a natural right-back. Instead, Rodgers' decision to introduce Johnson instead of Lovren should be questioned.

Many things have gone against Lovren this season, not least his price-tag, but a series of shaky, error-riddled displays in red stand as the most pertinent criticism.
However, the 25-year-old remains a better option than Johnson on a physical level.
Lovren averages more tackles (1.9) and interceptions (1.6) per game than Johnson (1.6 and 1.5 respectively).
Furthermore, with a higher passing accuracy of 87.4 percent to Johnson's 83.3 percent, Lovren is arguably better equipped to build from the back.

West Ham's main threat on Saturday will be former Liverpool striker Andy Carroll, and his aerial prowess will be a major issue for the Reds' defence, and this truly highlights the centre-back's suitability to the position over Johnson.
Lovren aerial duels won per game 14/15: 3.6
Johnson aerial duels won per game 14/15: 1.5
Obviously, as a centre-back, Lovren is typically challenged more in the air, but this should be seen as an advantage—another factor behind the natural-role argument.
Carroll will be a significant threat on his return to Anfield on Saturday, and it would be unwise to utilise two out-of-position defenders, in Can and Johnson, in an attempt to counter this.
Lovren has the natural tools to cope better than Johnson at left centre-back, but must find a mental strength to accompany this if he is to become a fixture on Merseyside.
To provide stability, nous and physicality, Lovren must be selected over Johnson on Saturday.
[poll id="310″]
Lovren has been rightly criticised this season — his performances have been woeful at times – but perhaps the defender can take his cues from the redemption of Simon Mignolet, Jordan Henderson, Lucas Leiva and Martin Skrtel and deliver at Anfield on Saturday.
Mamadou Sakho must remain Liverpool's first choice when fit, but West Ham United presents Dejan Lovren with the chance to establish himself as a comfortable deputy.
Statistics via WhoScored and Squawka.
Should Dejan Lovren start ahead of Glen Johnson against West Ham United? Let us know in the comments below.