Henrikh Mkhitaryan is reportedly available to sign from Borussia Dortmund and should become a summer target for Liverpool, writes Jack Lusby.
Former Liverpool target Henrikh Mkhitaryan could look to leave Borussia Dortmund in the summer, according to his agent, and this availability should alert Brendan Rodgers to a potential transfer.
Mino Raiola, who also represents Liverpool's Mario Balotelli, told Bild that: "Henrikh wants to leave Dortmund at the end of the season. We will have to wait and see what we can do."
Dortmund are struggling this season, and Liverpool could capitalise on this.
Mkhitaryan, an established, top-class talent would rightly look to move if Jurgen Klopp's side continues to struggle – and even be relegated from Germany's top flight (they're currently bottom of the table).
After the Armenian midfielder signed for Dortmund for £24.4 million in 2013, spurning the interest of Liverpool in the process, Rodgers turned his attention elsewhere, but would now be the right time to revisit this transfer?
Mkhitaryan at BVB
After spurning Liverpool, Mkhitaryan joined Dortmund in 2013 and immediately assumed an important role in Klopp's starting line-up.
In Dortmund's dynamic 4-2-3-1, Mkhitaryan regularly assumed the right attacking-midfield role, and dovetailed effectively with the likes of Pierre-Emerick Aubameyang and Marco Reus behind Robert Lewandowski.
The midfielder scored nine goals and made 10 assists in 31 Bundesliga games.
Henrikh Mkhitaryan: Only Roberto Firmino (16) played more accurate through balls in Bundesliga last season than Mkhitaryan (14) #BVB

— WhoScored.com (@WhoScored) June 6, 2014
Mkhitaryan is an intelligent, direct, creative attacking player, and was a driving force in servicing the prolific Reus and Lewandowksi.
Injury to the former and the departure of the latter to Bayern Munich this season has affected BVB's form drastically, and Mkhitaryan has suffered in turn.
https://www.youtube.com/watch?v=beDo6mX993o
After Wednesday's 1-0 home defeat Augsburg, BVB lie at the foot of the Bundesliga table, with 16 points from 19 games.
Contrasting to Mkhitaryan's prolific 2013/14, the midfielder is yet to score or assist in 14 games.
Despite this season's struggles, Klopp backed the midfielder to find his goalscoring ways back in December, highlighting how important his style of play was to the success of BVB:
"Miki is an incredibly important player for us. It's through his play that he ends up in situations where he can score goals," Klopp detailed. "[He must] stay cool and not alter his game. There'll come a day when he'll score not just once but two or three times."
This season, Dortmund need an immediate impact, however, and Mkhitaryan isn't being allowed this patience; the 26-year-old has dropped in and out of Klopp's team, with Shinji Kagawa often preferred.
As Klopp is well aware, there is a high-quality player in Mkhitaryan, but the midfielder isn't in the right environment to nurture his talents at this juncture — perhaps Liverpool could offer this?
Role at Liverpool

Liverpool no longer play a 4-2-3-1, and happily so given the struggle for balance and mobility in this formation earlier in the season, but Mkhitaryan would have a clear role if he joined.
The 26-year-old is able to play all across attacking midfield, and has even been used on the compact flanks of a Dortmund diamond this season.
If Rodgers persists with the currently effective 3-4-2-1, Mkhitaryan's role would be as one of Liverpool's dual No. 10s.
But how would this affect Rodgers' current personnel?

Dortmund signing Mkhitaryan for £24.4 million in 2013 and Liverpool signing Adam Lallana for £25 million a year later highlights the role that the Armenian would have played at the club, and arguably this is the role that he would fill if he was to move to Merseyside in the summer.
The difference between Mkhitaryan and Lallana, however, is that the former brings more momentum and pace to the game.
An on-song Lallana is an effective, hard-working and stylish advanced playmaker, able to instigate Liverpool attacks from a slightly deeper position than the likes of Philippe Coutinho and Raheem Sterling.
But when off form, Lallana's lack of pace jars hugely with Liverpool's momentum, evident in the recent games against West Ham and Chelsea.
When thwarted in the Mkhitaryan deal, Liverpool had to look elsewhere and found Lallana a year later. But now Mkhitaryan is seemingly available once more, it could well be that the Dortmund man and his Merseyside alternate would be vying for the same spot at Anfield.
The Signing to Take Liverpool to the Next Level?
Since the turn of 2015, and the return of Daniel Sturridge, Rodgers' side are beginning to regain momentum and confidence, with their performances and result following suit.
Sterling, Coutinho, Sturridge, Lazar Markovic and Alberto Moreno can all contribute to a devastating, free-flowing attacking system.
When these players click, Liverpool are almost unplayable.
But it can be argued that Liverpool need a signing or two to take them to the next level in 2015/16, players who are able to truly establish the club on the European stage and as perennial challengers in the Premier League.
Arsenal, for example, have the likes of Santi Cazorla, Alexis Sanchez and Mesut Ozil—players who are able to drag the side through by virtue of their sheer quality.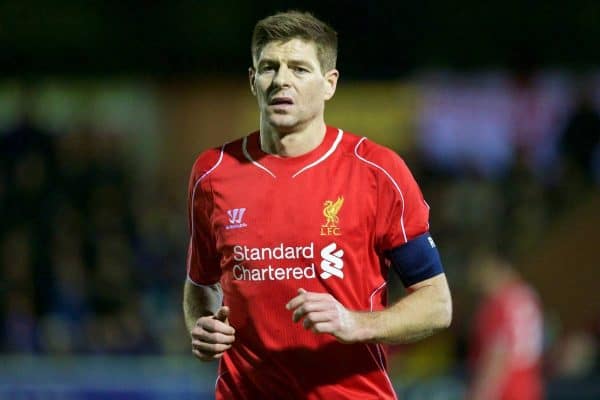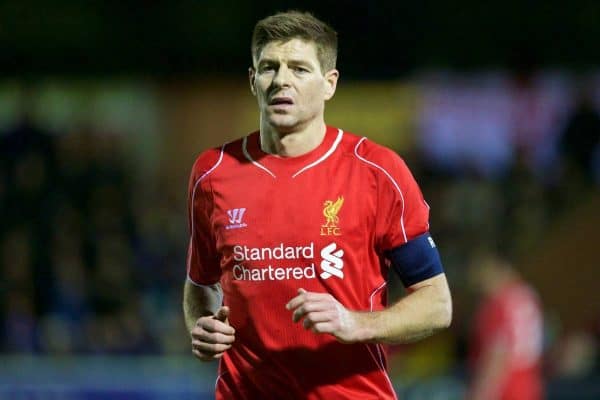 Liverpool will hope that Sterling, Coutinho and Can will take up this mantle with regularity but, particularly with the loss of the inspirational Steven Gerrard in the summer, Rodgers will need all of the inspiration he can get.
Mkhitaryan, with his European quality and high-level experience with both Dortmund and Shakhtar Donetsk, could be such a player.
The midfielder may be struggling at Borussia Dortmund this season, but the availability of Henrikh Mkhitaryan should alert Liverpool and Brendan Rodgers to the opportunity to acquire a top-level standard-bearer talent that has already eluded them once before.
Should Liverpool target Henrikh Mkhitaryan in the summer? Let us know in the comments below.