After an impressive display at right wing-back in the Merseyside derby, Jack Lusby asks whether Jordon Ibe can challenge for the role.

Billed universally as the Steven Gerrard Merseyside derby, Liverpool's trip to Goodison Park to take on rivals Everton on Saturday turned out to be one of the most disappointing in recent years—more Rafa Benitez vs. David Moyes than Brendan Rodgers vs. Roberto Martinez.
Liverpool had the better of the Toffees for much of the tie, but were unable to break a cynically deployed defence, with Martinez seemingly content with a draw against one of the league's form sides, despite being at home.
The surprise inclusion on the teamsheet for Liverpool was 19-year-old Jordon Ibe, playing at right wing-back in place of Lazar Markovic, who took a knock in the previous win over Bolton Wanderers.
Ibe impressed in this unfamiliar role, but can he make it his own this season?
Jordon Ibe vs. Everton
(Video courtesy of MostarLFC.)
With Ibe recalled from a loan spell at Derby County at a bemusing standpoint, Rodgers defended his decision by claiming: "I think he's ready now…He's diligent enough. He gets forward but he also gets back, recovers well, so there are going to be more opportunities for him."
After this appraisal, there was no surprise when Ibe was included on the right flank, in a role which demands attacking persistence and diligent recovery.
Against Everton this was supremely evident, as he lined up against stand-in left-back Bryan Oviedo.
https://twitter.com/MostarLFC/status/564121157343776768
Ibe's natural inclination to cut inside and drive at the defence saw him bamboozle Oviedo before launching a swerving strike at Joel Robles' goal on 27 minutes, which unfortunately struck the outside of the post.



Oviedo proved a poor replacement for Leighton Baines, and Ibe saw plenty of joy down the right flank—with the Everton defence primarily concerned with six-man marking Raheem Sterling, Ibe drifted onto the far post on 17 minutes.
Jordon Ibe touches vs. Everton (52). A healthy amount of work cutting inside. #LFC (@WhoScored) pic.twitter.com/LYFEDM9ThD

— Jack Lusby (@jacklusby_) February 8, 2015
After the game, Rodgers praised Ibe: "He's got a wonderful temperament and technique and tactically he was very, very good coming into that system, knowing when to go forward and when to tuck in."
As the manager noted, Ibe did trouble the by-line at times, too, and nearly created a goal for Alberto Moreno with a teasing cutback on 70 minutes.



Oviedo rarely troubled the Liverpool defensive sector, but when he did, Ibe dealt with him comfortably, highlighting his ability to recover.
Rodgers described this as a "brilliant performance," and the way in which Ibe played against Everton was very reminiscent of Liverpool's other right wing-back, Markovic.
Lazar Markovic at RWB

Markovic has taken up the role of right wing-back since the switch to a 3-4-2-1 formation and developed his game emphatically—Liverpool signed the former Benfica man as a precocious attacking midfielder, of course.
In many ways, his style in this role is similar to Ibe.
Lazar Markovic touches in the first leg vs. Chelsea (60). Very similar to Ibe in terms of attacking style. #LFC pic.twitter.com/t7IXeeWHZg

— Jack Lusby (@jacklusby_) February 8, 2015
Firstly, both are inclined to cut inside and drive at the opposition defence, confident in their dribbling ability and blessed with significant pace, this is a phenomenal threat.
Lazar Markovic goal for Liverpool in 7' vs Sunderland. https://t.co/b770Lrwp5v

— Raj Sheth (@rajdadodge) January 11, 2015
Markovic's goal in the 1-0 away win over Sunderland in January showed the persistence and aim for the far post that almost gifted Ibe a goal at Everton.
But the Serbian is also comfortable in wide areas, much like Ibe, as his lofted ball across the box in the 3-1 December win away to AFC Bournemouth in the League Cup outlined:
https://twitter.com/AnfieldHQ96/status/546414687026704384
Typically, Markovic does arguably cut back from the by-line less than Ibe did against Everton, but their ability in wide areas is similar, and helps to pose a versatile threat at right wing-back.
Furthermore, after the win against Bournemouth, Rodgers highlighted Markovic's defensive talents, much like his words on Ibe pre-Everton: "Playing in that role he was outstanding; he was defensively good and pressed the ball at almost all of the right times, so tactically he was very good."
Markovic has become a hugely important facet of Rodgers' 3-4-2-1 system, with his attacking forays dragging the opposition into unwelcome areas, and his defensive work helping to support the equally adventurous Emre Can at right centre-back.
But with Ibe coming in and impressing at right wing-back, is Markovic's place in the side under threat?
Can Ibe Secure This Role?

With Markovic wholly impressive in the right wing-back role at this point, it seems churlish to suggest that one proficient display by Ibe should supplant him on a long-term basis.
But Ibe's display, and his similarity in moving inside to challenge central defenders and drag full-backs from their position, could suggest that, at times, Markovic move to the left flank, as he did in august fashion against AFC Bournemouth in the League Cup.
Moreno typically assumes this role but offers a more consistently touchline-hugging option—this is useful in stretching play, but two inside wing-backs could prove devastating.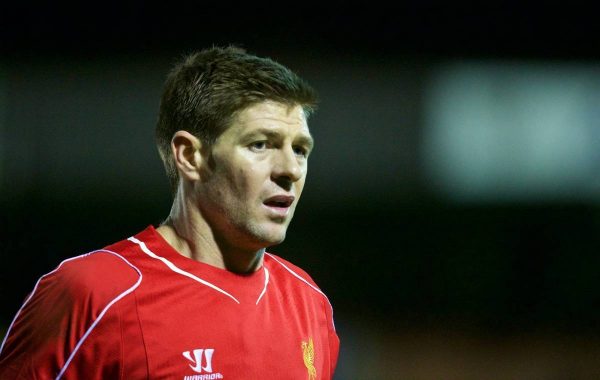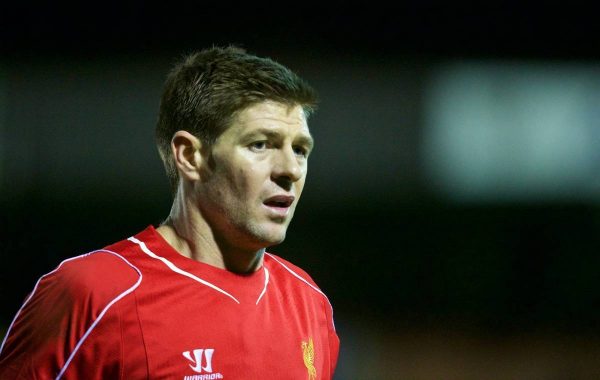 Conversely, however, the dismal and ineffective performance of Gerrard in one of the dual No. 10 roles in Rodgers' 3-4-2-1 perhaps opened up a rotational role for Ibe in this area.
Gerrard was alarmingly immobile just behind lone striker Sterling, and this lack of movement or commitment to the pressing game hampered Liverpool's attacking play.
Ibe's ability to drag defenders into uncomfortable positions, as evidenced by his display at right wing-back on Saturday, shows how devastating he could be in a more advanced role, too—this would be useful when Sterling is required as a striker, or needing a rest.
His rasping shot, clearly developed on loan at Derby, could be useful on the edge of the box, of course.

As Rodgers attested prior to the game: "With the set-up of the team there are more opportunities for him to play now. He can play in maybe four positions…I think he's going to be a big player for us."
Overall, Jordon Ibe's bright performance in Saturday's Merseyside derby should be considered one of few positives by Brendan Rodgers after a disappointing stalemate—the 19-year-old can comfortably challenge for both Lazar Markovic's right wing-back role and a place in the attacking trident.
(Statistics via WhoScored.)
In which role should Jordon Ibe be used for Liverpool? Let us know in the comments below.