Another sloppy first 45 minute display from Brendan Rodgers' side proved costly in a crushing defeat in the race for top four, writes Ben Twelves.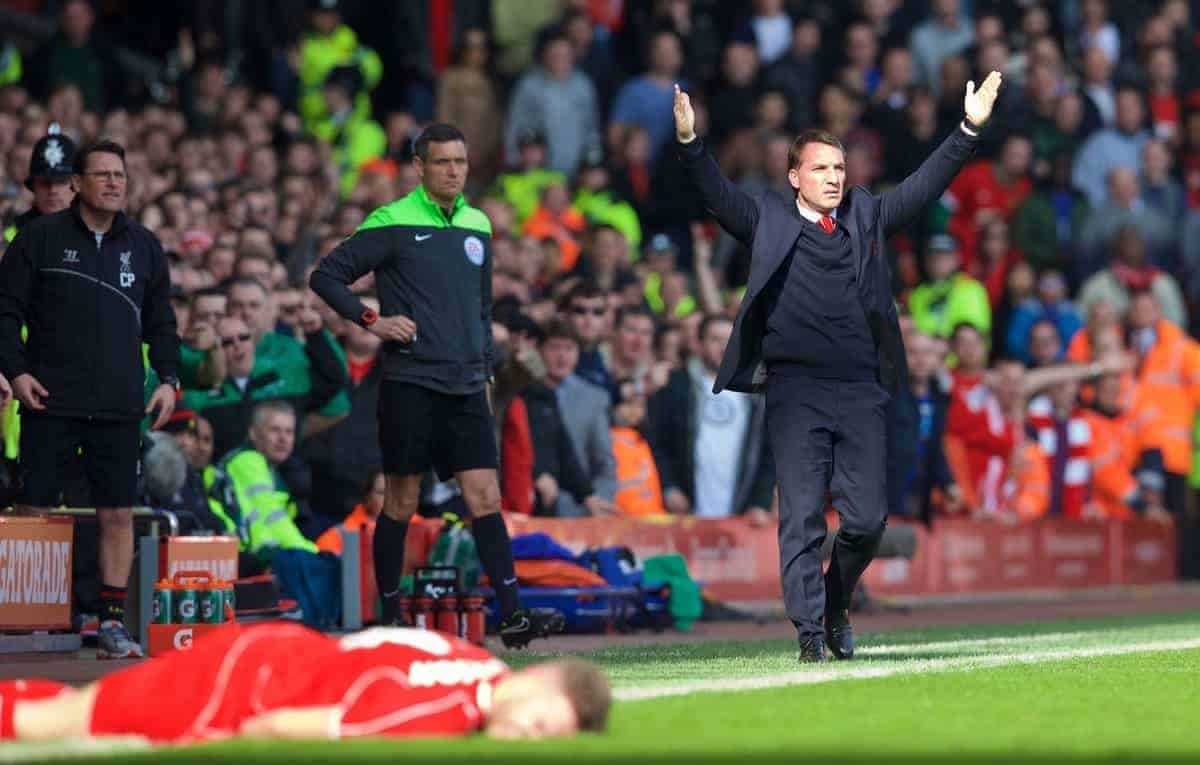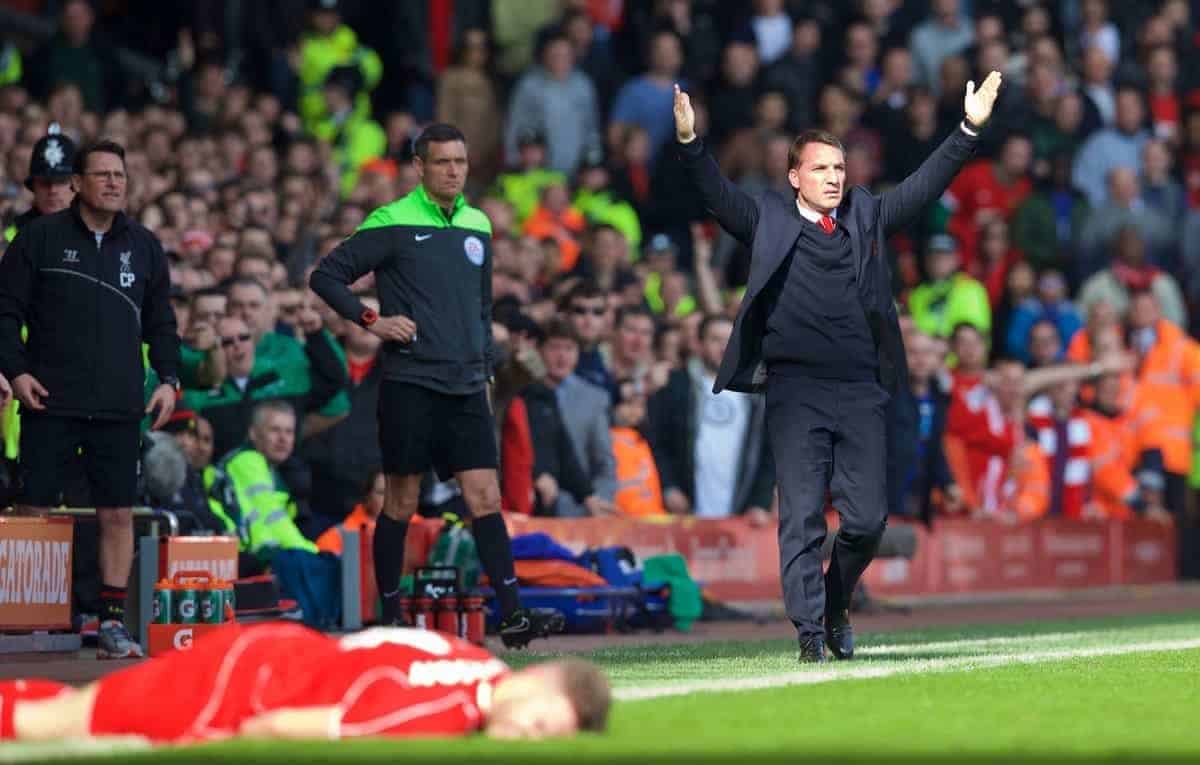 Liverpool's second half of the season resurgence came to an abrupt end at a sunny Anfield, with a hugely disappointing 2-1 defeat to Louis van Gaal's side.
A Juan Mata brace was enough to condemn Liverpool to defeat with Daniel Sturridge's consolation proving only that, and the loss has left the Reds facing a huge uphill task in the battle for Champions League qualification.
A courageous second half performance – which saw Steven Gerrard sent off and Simon Mignolet save Wanye Rooney's penalty superbly  – proved not to be enough on the day, with the damage on the afternoon already being done with a consecutive dreadful first half showing.
Position and Possession  
While Man United deserve credit for their dominant first half performance which caused all manner of problems for Rodgers' team, the Reds did little to help themselves turn the tide.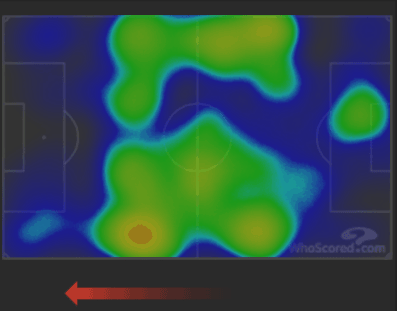 As shown above, the visitors focussed on exploiting both flanks out wide and subsequently getting in behind Liverpool's wing-backs.
Van Gaal's side pinned both Raheem Sterling and Alberto Moreno into primarily defensive roles by their insistence to attack wide and overloading advanced wide areas – particularly down the Liverpool right where Ashley Young and Marouane Fallaini anchored Sterling almost alongside Emre Can.
As a result, neither of Liverpool's width providers found any influence on the game in an attacking sense – instead producing most of their work the wrong side of the half way line.
The pair were unable to support forward players with the ball,  meaning a starved attack followed which allowed for the away side to keep a stranglehold on the game.
When Rodgers' side did enjoy a brief spell of possession, they were unable to set up any attacking threat with usually forward bodies in short supply due to United's influence restricting the home side to almost having to play on the break.
The consequences of the Old Trafford outfit negating Liverpool's 3-4-2-1 system – as Swansea did on Monday night – meant the Reds enjoyed little energy and production going forwards – other than when Adam Lallana slotted wide when he should have found the bottom corner of the Anfield Road goal from Sturridge's lay-off.
Very poor pass completion from #LFC today:
Can 72.9%
Henderson 62.9%
Lallana 62.5%
Sturridge 60.9%
Balotelli 50%
Says alot about MUFC press.

— Jack Lusby (@jacklusby_) March 22, 2015
With the away side controlling the ball in a lacklustre first half display from Liverpool, Rodgers' men struggled to force their way back into the game.
Passive Pressing
It was up to Rodgers' side to power their way back into the match and respond to United's well executed game plan, but the Reds posed nowhere near enough questions of their rivals and simply failed to get a grip of the game.
With Daley Blind and Antonio Valencia enjoying comfort in playing from the back – shown by the fact they both played more passes than any Liverpool player – and Michael Carrick equally an option between the suspect Chris Smalling and Phil Jones, the Reds front three needed to harry, chase and hunt to stop United in their tracks.
Rodgers: "in that system you have to be able to press well and pass well… We just didn't play well (first half)."
But the increasingly possession starved Philippe Coutinho, alongside the lethargic duo of Lallana and Sturridge failed to cut United's route to dominance, leaving the away side to continue their control on the first half and enjoy the vast majority of the ball with the Reds on the back foot.
This undoubtedly pleased van Gaal, who declared pre-match that the deciding factor in the game would be "who can keep the ball."
Failure to disrupt, panic and unsettle the United back four resulted in the Reds being unable to bring a deep defensive line higher up – something that should have happened to allow for more bodies in closer proximity to hunt for the ball in packs and support a severely outnumbered attack.

With the attacking threesome knowing of their thankless task against a spread United defence and midfield, pressing failed to materialise and Liverpool struggled to drag themselves into the encounter, with Sterling and Moreno cutting ineffectual figures all first half.
Improved Second Half but Too Little Too Late
After a dismal first half showing and a stupid red card to Gerrard, credit must go to the 10 men for the way they responded and battled to keep fighting in the game, which saw them run their rivals close in a much more positive second half.
Rodgers: "second half the players deserve a lot of credit for the way they played with 10 men."
A change of shape which saw Sterling join Sturridge in attack resulted in United failing to enjoy anywhere near the level of dominance as the first half, and with more pressure applied from the front, a previously deep Liverpool defence were able to progress higher to make a match of the second 45 minutes.
The momentum switched with a more aggressive midfield and attack now putting Carrick under the sort of pressure required to cut his rhythm in the first 45,  and suddenly a game ensued though one the Reds had to chase – and chase they did.
A much needed goal for Sturridge arrived to halve the deficit after a concerning patch of form from the 25-year-old, and though a man down, Rodgers' men turned in a display that certainly provided hope that an equaliser could transpire with United asleep and struggling to find their stride.

Coutinho saw his speculative effort fly narrowly over the bar and David de Gea produced a near post stop as the home side pushed, but finding a leveller proved a step too far with a man disadvantage and the game opening up on the break for United, which eventually saw Can foul Blind for a penalty, which Mignolet saved excellently.
It was a brave effort from a young Liverpool side who were let down by the Captain's foolish red card seconds after the restart, but ultimately a woeful 45 minutes with and without the ball proved the costly factor behind the defeat which leaves Liverpool trailing fourth place by five points with a trip to Arsenal up next.