Troubled by the evils of modern football, we watch AFC Liverpool and Liverpool FC in the same weekend.

Truth be told, football and I haven't been getting on too well recently. Anyone who has read my articles in the excellent We Are Liverpool fanzine on the imbalance of the player-fan relationship (October 2014) and lack of living wage employers amongst football clubs (March 2015) will have noticed my bitter undertone to modern football.
Having said that, I don't wholly get on board with the "Against Mondern Football" term. Amongst the evils of the globalisation of the sport, it presents opportunities for good, such as the work Football Beyond Borders are doing to combat discrimination and inequality, Street League who use football as a tool to get young people into employment, and fan activism unions and groups, such as Spirit of Shankly and the Football Supporters Federation.
Nevertheless, spiraling player wages and corporate greed continue to decay football, resulting in a disproportion of wealth and disregard for fans. So what happens when you start to lose faith in something that has been such a big part of your life? An emptiness creeps over.
Over the weekend I took the opportunity for some contrast, watching fan-owned AFC Liverpool away at Bacup & Rossendale Borough in the North West Counties Football Premier Division (level nine on the football pyramid) on Saturday, before taking in Liverpool vs Manchester City in the Premier League on Sunday.
Bacup & Rossendale Borough 1-0 AFC Liverpool
North West Counties Football Premier Division
Saturday, 28th February 2015; 3pm
West View

It's an away day for AFC Liverpool. I park up on a street about 20 metres away from Bacup & Rossendale Borough's West View ground, tucked away in the rolling East Lancashire hills, about 10 minutes before kick-off. £6 handed over to the bloke on the turnstile and their homemade programme costs £2.
It's a rustic ground, the pitch slopes and it's surrounded by a collection of abandoned portacabins. A trail of paving slabs avoids the soggy grass to the refreshments kiosk and a cup of tea IN A MUG is £1. There's romanticism to this.
The pitch is surrounded by a white-painted wooden fence. I lean against it, with my mug of tea, behind the home side's goal during the first half. The AFC Liverpool fans, 30 or so of all ages, have turned up in good voice and most have made home in a shelter on the half-way line opposite the substitutes benches and the ground's only seated area. The traveling Kop have come armed with flags, scarves and rattles.
The programme notes describe AFC Liverpool as a club "formed in 2008, by Liverpool FC fans who had become increasingly frustrated at the cost and difficulty in obtaining tickets for the Premiership. The proposed '39th game' in which Premier League fixtures would be played in different parts of the world proved to be the final straw, highlighting that top flight football is now more concerned about money than its fans."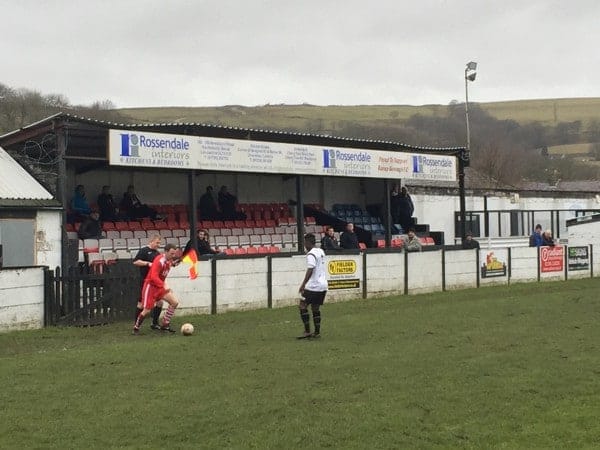 The football was untidy, passionate, aggressive and felt real. You could hear every instruction and appeal. You could smell the action. It sent waves of nostalgia through me, although the height of my playing career was a Sunday League team in The University of Liverpool's third division in which we lost every game, having to find a makeshift goalkeeper each week, one of whom turned up with one glove, a can of Red Stripe and was caught off-guard from distance when using the left post as a windshield to light his fag. Bacup & Rossendale Borough vs AFC Liverpool on the other hand MATTERED. It mattered to the players, it mattered to the fans.
Bacup's Adrian Bellamy bundled the ball past Liverpool goalkeeper Paul Moore from a corner on 15 minutes and that would end up being the only goal of the game as the muddy contest played out.
A calm pint of ale in the warmth of the club house at half-time and a second-half Bovril (again £1, again IN A MUG) and a tense second-half got underway, with both sides going close to scoring and Liverpool scrambling one off the line. For the technically and tactically minded, it wasn't there. For those with football in their hearts, it had everything.
Liverpool 2-1 Manchester City
Barclays Premier League
Sunday, 1st March 2015; 12noon
Anfield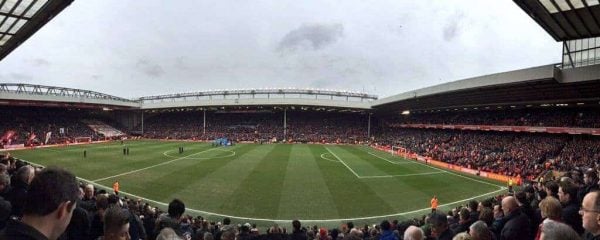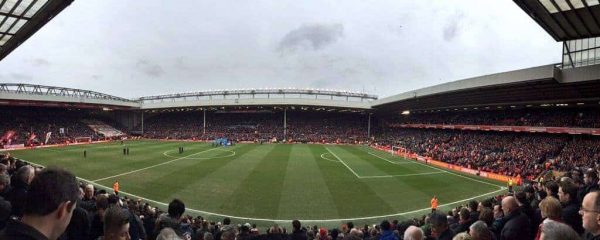 Anticipation is part of the matchday in L4 and up in the dizzy heights of the Premier League, this encounter between Liverpool and Manchester City evoked memories of last season's meeting between the two sides.
Philippe Coutinho's second half strike turned dreamers into believers in April 2014. Anfield filled with hope, Steven Gerrard made a heroic rallying call and we truly believed Liverpool would win the league. It wasn't to be, but the ride was incredible and life became engulfed by this euphoria.
When I drive to the match, as I did today, I park away from the ground to avoid the extortionate car park charges—as high as £10 in some places, and you're still nowhere near the turnstile. I meet Neil Poole as he begins to sell the latest issue of We Are Liverpool, before catching up with mates over a couple of drinks in the King Harry as kick-off approaches.
Sky's insistence that home viewers watch three games back to back today means it's 10:30am and I've already got a pint in my hand. Guinness today, it feels breakfasty. But that's fine, at least it frees up the rest of the day and the away fans haven't travelled far. Fans in half and half scarves are a bigger worry.
I'm lucky that my season ticket is next to three mates—a rare occurrence due to the high demand of Liverpool tickets, and an argument for safe standing. We cram (by which I mean the leg room on the Lower Centenary seats must have been designed for Victorian chimney-sweep boys) in time for You'll Never Walk Alone. The crowd is understandably sleepy, but the atmosphere has been struggling for some time.
The football is technically brilliant, after all the two sides are amongst the best in the world. This is elite football at it's greatest, but not enough to justify the ticket prices. My season ticket cost £850 this year, which gets you 19 games, so let's say each game costs just shy of £45.

Jordan Henderson makes some room for himself before firing in an unstoppable shot past Joe Hart. Anfield erupts. We're gonna win the league! Don't get carried away.
Man City press and quickly find their equaliser. The quality they ooze makes them look a threat with every attack, but Liverpool hold on and it's a scramble to the toilets at half-time—no time to queue for a £3.80 bottle of Carlsberg. Good job.
Like last year, Coutinho finds the winner and Liverpool look very good for their win. There's a buzz, an air of positivity and smiling faces everywhere. Over 40,000 people from different backgrounds and places all on their feet cheering and feeling Liverpool Football Club is part of their identity—that's pretty special. Poetry in motion.
Conclusion
It would be unfair on both AFC Liverpool and Liverpool FC to discuss differences. The two are (literally) leagues apart and are different things for different reasons, at different prices.
It is actually the similarities that are the most fascinating. Both matches were entertaining, full of passion and meaningful to all in who came. Is football merely the excuse or vehicle for people to meet and interact?
I couldn't help feel that should AFC Liverpool receive more support and numbers in attendance at their games, there's an exciting and beautifully raw movement there ready to take in those increasingly disillusioned with what's happening in the top-flight and those priced out. It already is.
Up in level one of the football pyramid, Liverpool's wonderfully won victory over Man City and the roar of the Anfield crowd was the perfect antidote to any fears of falling out of love with football. However, by its expensive and increasingly morally corrupt nature, there is an underlying hypocrisy in all that the Premier League remedy offers.
More information on AFC Liverpool and their fixture schedule can be found on their official website AFCLiverpool.tv.