With 22 goals this season, Jerome Sinclair has consistently impressed in Liverpool Academy sides in 2014/15. Jack Lusby gives the lowdown on the teenage striker tipped for a bright future.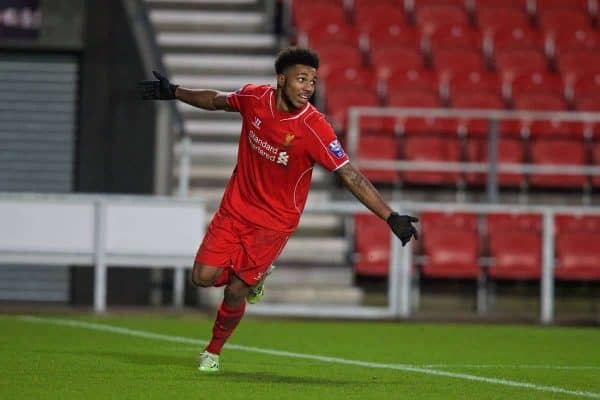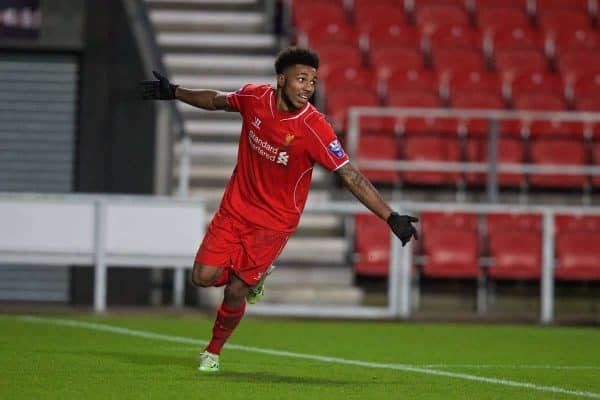 One name was on Liverpool supporters' lips after the U21s' 2-0 victory over Chelsea U21s on Monday night: Jerome Sinclair.
The 18-year-old, who first made his name at the club by becoming the senior side's youngest ever player to feature at just six days after his 16th birthday, scored one and assisted Harry Wilson's opening penalty to set the young Reds on the way to U21 Premier League victory.
After the game, the Liverpool Echo tipped Sinclair to be the "next Academy graduate to join Brendan Rodgers' first team."
But what do we know about Sinclair, and how far can he go at Liverpool?
Strengths

On face value, Sinclair is in the mould of a Rodgers striker.
Regularly deployed as a lone frontman, Sinclair is tasked with dropping deep to link up with the midfield and wide players, as well as spearheading attacks.
On the front-foot, Sinclair plays off the shoulder of the opposition defender, utilising his pace — a quality reminiscent of first-team strikers Daniel Sturridge and Raheem Sterling, the former of which Sinclair told The Redmen TV's Paul Machin that he researches in order to emulate on the pitch.
To add to that, Sinclair described Sterling's rise as a "benchmark," and inspiration to progress.
With this in mind, what is increasingly apparent this season is that Sinclair is becoming an exceptional finisher, as his deadly, near-post January despatch past Man United U21s' Victor Valdes shows:
Sinclair has so far scored 22 goals this season, across Liverpool's U18s, U19s and U21s sides.
Of course, this rate of development can only be aided by Sinclair learning from the very best, with Robbie Fowler a regular at the Academy training ground.
Sinclair recently attested to the benefits of Fowler's advice: "This is a guy who has been there and done it and played at the pinnacle of the game. It's fantastic for me to get the chance to work with him and it can only improve my game."
"He has given me a few little tips on my first touch, and worked with me on different types of finishing."
https://www.youtube.com/watch?v=_7NIX-tlNTQ
Sinclair's expert, angled finish in the win over Chelsea U21s looked straight from the book of instinctive Fowler finishes.
A bullish, pacey striker, with a solid understanding of movement and a rapidly developing eye for goal, Sinclair seems like the perfect fit for Rodgers—but where can he improve?
Weaknesses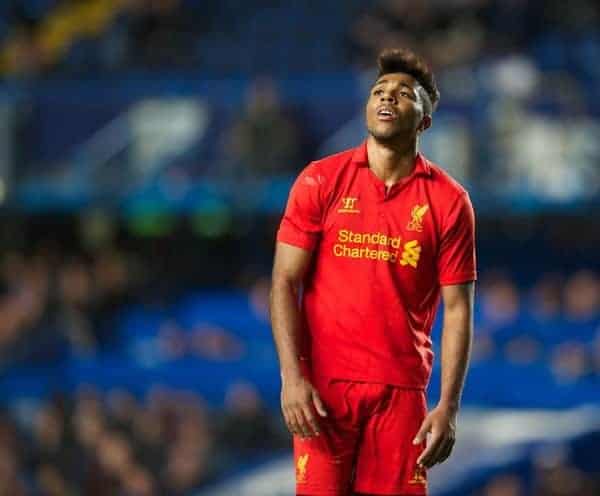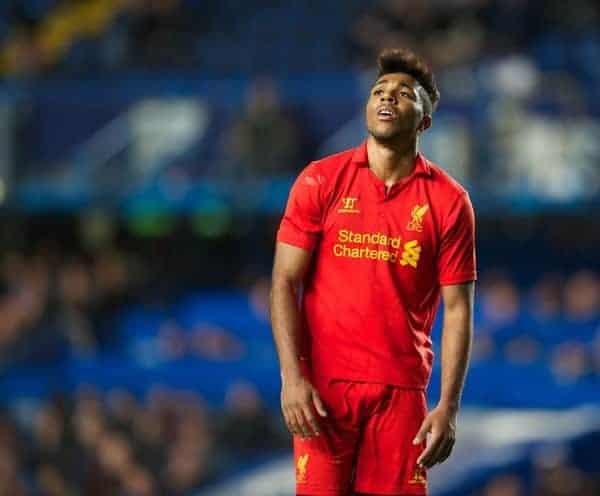 Naturally, at this point there is still a lot to learn for Sinclair.
The main thing, that Liverpool's U21s Head Coach Michael Beale outlined after the striker was included in Rodgers' travelling squad for the Europa League second-leg loss away to Besiktas, is Sinclair's consistency:
"He's come back this year and been fantastic and I think that (going to Istanbul) just gives him that extra little boost he needs.

"I spoke to him about it going into this game and said 'look, what a fantastic experience that was and if you want that every week then these (Liverpool U21s game against Chelsea U21s) are the sort of games when you have to deliver' and he did that."
This is a mentality in tune with Rodgers' first-team view: a player needs to develop a maturity to succeed, and as Sinclair told Machin, remain "humble."
Another area that, unfortunately for the striker, Sinclair is lacking is in the aerial department—at just 5ft 8in Sinclair will never be a dominant force in the air.
But as 5ft 6in Sterling has shown this season, a lack of aerial prowess can be negated by intelligent movement and use of physical strength.
The signs are there for Sinclair, but how can he develop this?
What Next for Jerome Sinclair?

After Sinclair's influential performance against Chelsea's U21s, Jamie Carragher, covering the game for Sky Sports, spoke positively of the young striker's talents.
"It was an outstanding finish. He left the defender for dead and then showed great pace and composure on his weaker foot," Carragher said, before referencing the training-ground contributions of Fowler: "It looks like Jerome has been listening."
Carragher clearly feels that Sinclair has what it takes to be a Liverpool star, but offered a cautious view to his progression:
"I think it's a big ask for Jerome to go straight into the Liverpool first team. There are enough strikers there at the moment. He needs to go out on loan, get games under his belt and prove himself in men's football."
Sinclair clearly has the talent, and the right attributes, to become a successful striker in Rodgers' high-intensity, pace-based system at Liverpool, but as Carragher suggests, may need to gain experience before he becomes a first-team player.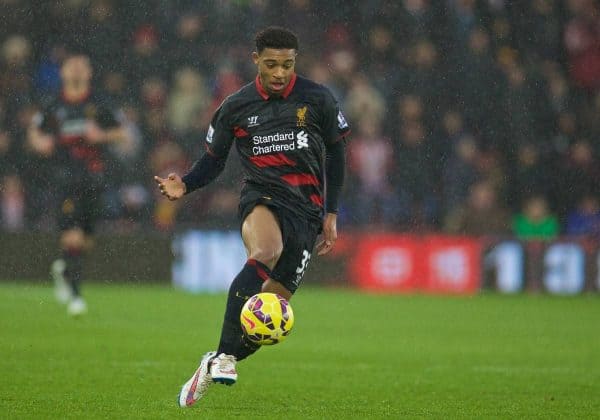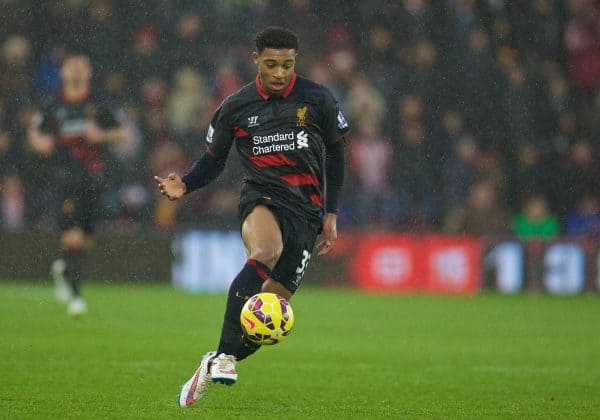 With a loan spell next season, the 18-year-old would follow in the footsteps of fellow Academy players Jordon Ibe and Sheyi Ojo.
Ibe's spells at Birmingham City and Derby County saw him rapidly develop into a first-team ready player, with his versatility and tactical intelligence much improved, while Ojo is similarly impressing at Wigan Athletic.
A loan spell would benefit Sinclair, and would likely iron out his current pitfalls — the Championship in particular would be a formidable physical test for the 18-year-old.
Concluding his praise, Carragher continued: "Hopefully he will go on to have a great career and I can tell people I played with Jerome Sinclair."
Rodgers has another high-potential star in his ranks, and now Sinclair has to prove he has what it takes to become a Liverpool great.
Can Jerome Sinclair become a first-team star for Liverpool? Let us know in the comments below.