With several under-21s players expected to leave the club this month on loan, PJ Vaughan takes a look at some of the older players in the under-21s and ponders their futures.
While we have witnessed the progression of Raheem Sterling, Jordon Ibe and Jon Flanagan to the first team in recent years, for every Sterling, Ibe and Flanagan there are numerous other academy players who do not make the grade at Liverpool. Many go on to have good careers in the lover leagues and abroad.
I decided to look at some of the older players in the U21 squad to see what the future holds for them.
Ryan McLaughlin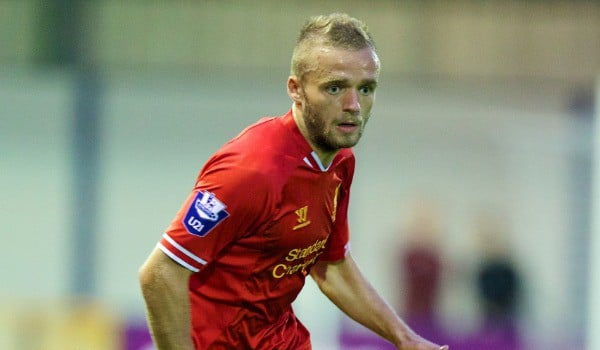 Ryan McLaughlin is approaching a crossroads in his Liverpool career. A couple of years ago he seemed destined for the first team. He was a star performer for both the U18 and U21 teams and he was brought on the North American Tour in 2012 where he played against Roma in a pre-season friendly.
He has been selected at all levels from U16 to senior level for Northern Ireland. He currently has two senior caps. Last season he went on loan to Barnsley and played 9 times for the Yorkshire side. This seemed the perfect spring board to aid his development. Unfortunately his Liverpool career has not progressed at all this season.
The 20-year-old hasn't kicked on this year and niggling injuries have played their part in halting his development. He deserves one more season to see if he can make the step up. A good pre-season and a good loan could change his prospects of making the break through. Flanagan was probably below McLaughlin in the pecking order not too long before he made the breakthrough.
Another factor in McLaughlin's favour is the wing-back system. He's well suited to this role and can run all day and has great attacking instincts. If he fails to make the step up, there will be lots of Championship clubs willing to offer him a professional contract in 12 months time.
Brad Smith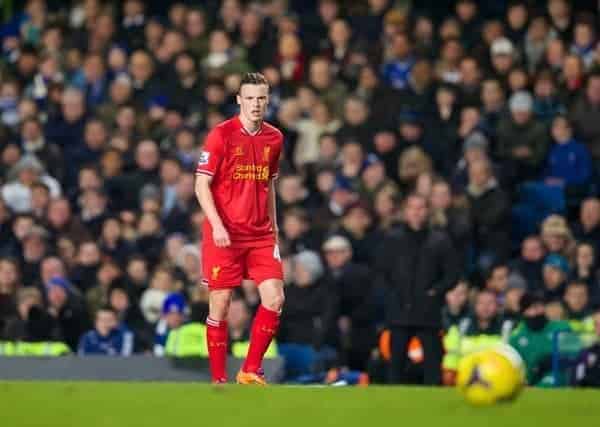 Smith, much like McLaughlin, has had lots of niggling injuries that have stunted his development. He formed a deadly combination with Raheem Sterling at U18 level.
Last season Smith was arguably Liverpool's best under-21 player. So much so that he made his senior debut as substitute at Chelsea in the League in December 2013 in a 2-1 loss. Smith was asked to play in an advanced left wing position a position he would not have being overly familiar with. He didn't play particularly well and sometimes that can be the difference between making it at a big club and not.
Since then Smith went on loan to Swindon Town where he made 7 league appearances in all. Smith played for England U17, U19 and made 3 appearances at U21 level before making the switch to the country of his birth Australia where he has 4 senior caps.
He is another player that needs a good preseason and a good loan – Ryan Mason at Spurs is an example to every young footballer not to give up.
Smith's best attributes are his pace and his engine. Again he well suited to the wing back system.
If he fails to make the step up, I'm sure there will be plenty of clubs in the Championship willing to offer him the opportunity to develop his career.
Samed Yesil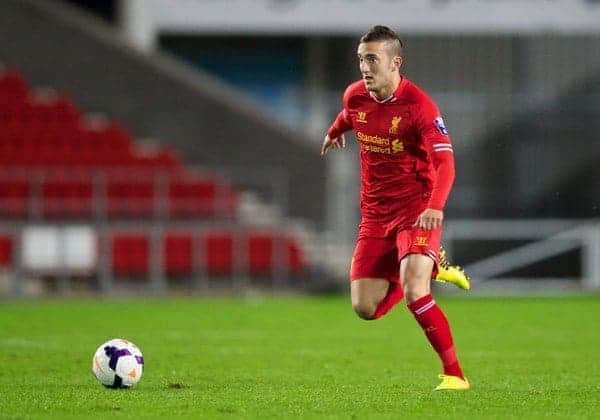 Liverpool signed Yesil for £1 million from Bayer Leverkusen in 2012. The German had made four appearances for Bayer Leverkusen II and one for Bayer Leverkusen. He had an excellent goalscoring record at various German underage levels.
He made appearances for Liverpool in the early rounds of the League Cup against West Brom and Swansea in 2012. He had a poor game in the Swansea game at Anfield and looked well out of his depth at this level. He returned to the U21 where he was far more impressive. However, two serious injuries have seriously curtailed his development.
He has made some cameo appearance for the U21s this season but time seems to be running out on his Liverpool career. Liverpool have lots of exciting young attacking players that have progressed past Yesil in recent times. He is likely to be let go in the summer and is most likely to return to Germany to try and get his career back on track. He was also linked with a move to Turkey last summer.
Jack Dunn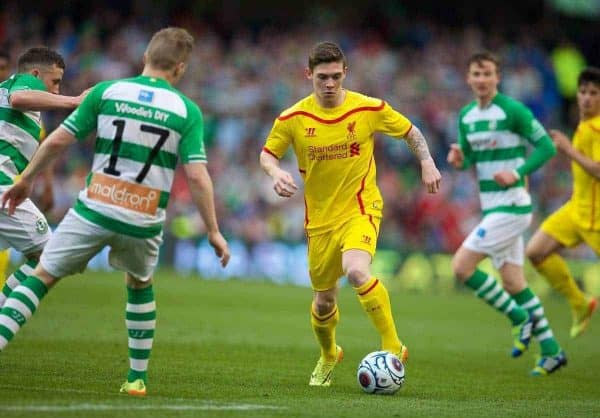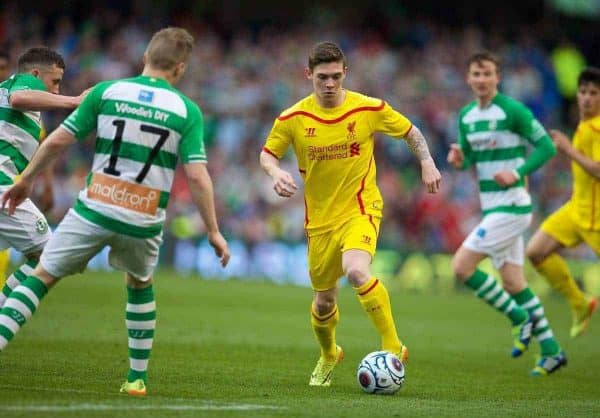 Dunn has a brilliant left foot and is one of the hardest workers at U21 level. While on loan at Cheltenham Town earlier in the season he played five league games and scored three goals before returning to Liverpool due to injury.
The 20-year-old Liverpudlian has played at England U17, U18 & U19 levels. He also played in the post-season friendly vs. Shamrock Rovers in May 2014, where he came on as a sub and scored the fourth in a 4-0 win.
However, he has never really got close to getting near the Liverpool first team for a competitive match.
I have no doubts Dunn will make a good professional, he has a brilliant attitude and in many ways he reminds me of Adam Morgan. I'm sure there will be Championship clubs and League One clubs interested in securing his services if Liverpool decides to let him go.
Marc Pelosi

Marc Pelosi is a US international midfielder. The 20-year-old was making good progress until a serious injury and he suffered another serious injury while recovering from the first one. Therefore, like Yesil, he went two years without playing much football.
While he made his comeback earlier this season, not much has being seen of him since. He did though receive a call up for the USA's training camp in January.
The club are being very cautious with Pelosi. They might give him another season to prove himself. While Liverpool has lots of young talented midfielders Pelosi offers something different. He has pace and a great engine, he can pick out a pass and is a decent finisher.
A good pre-season and loan move is crucial otherwise he is likely to return to America to rebuild his career.
Jordan Lussey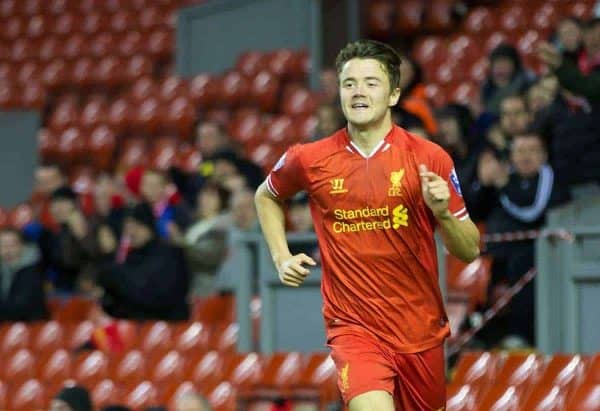 Lussey is a box-to-box midfielder, he has got a good engine and can chip in with the odd goal. He is yet to play for the first team but travelled with the squad for the Besiktas recently.
There probably more complete midfielders at the club in Jordan Rossiter, Cameron Brannagan, Adam Philips and Pedro Chirvella, who have more potential than Lussey.
It's difficult to see a future for Lussey at the club, however I'm sure there are lots of League One and League Two clubs that would give him the opportunity to remain as a professional footballer.