Amid the heightened speculation regarding Raheem Sterling's Liverpool future this week, over 6,000 fans took our survey on the issue.

Reports broke on Monday night that Sterling is to ask Brendan Rodgers and Ian Ayre for a transfer away from Anfield this summer, prompting a whirlwind of reaction from Liverpool fans worldwide.
We put a series of questions regarding Sterling and the publicly drawn out contract negotiations between him and the club to supporters on Tuesday.
First up, regarding the spectacularly unprofessional way the saga has been handled (a timeline of which you can see here), we asked, Who is to blame for the circus of the Sterling contract/transfer saga?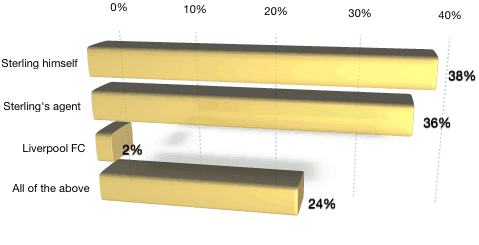 Given the above, and the 20-year-old's seemingly lack of disrespect towards the club, we asked fans, Would you play Sterling on Sunday?
Rodgers' side may need to secure victory at the Britannia Stadium to avoid Europa League qualification rounds this summer. Fans said:


Luis Suarez was the last player to try and force his way out of Anfield — incidentally, also via the media — but Liverpool held firm, at least to get another season out of the Uruguayan.
We asked whether things would be different this time round: What should Liverpool do this summer with Sterling?


Finally, several clubs have been linked with big money moves for Sterling, including Manchester City, Real Madrid and Arsenal. Regardless of whether Liverpool would spend the money wisely, we asked, What's the minimum amount you'd let Sterling leave for?


Thanks to all fans who took part in the survey. Results are correct at the time of writing.
Got something to add? Let us know your thoughts on the Sterling contract/transfer saga in the comments below.