With Steven Gerrard's final Anfield appearance on the horizon, Henry Jackson pens his own personal tribute to the legendary Liverpool captain.

I'm not prepared for it until it actually happens. That moment on Saturday when Gerrard is substituted, leaving the Anfield pitch to what will be the most deserving standing ovation in the history of the club.
The 34-year-old colossus will leave the hallowed turf for the final time as a Liverpool player, and it will kill me. It will really hurt. I find it very hard to put into words just how much of a hero Gerrard has been to me down the years, but I'm going to give it my best shot.
Growing up in the south in the early 1990s, I had to endure the majority of my friends taking the spineless option and supporting Man United. Ryan Giggs and Eric Cantona were all the rage, but I just didn't fancy copying the masses just because Sir Alex Ferguson's side were successful. I'm glad I didn't.
I opted for Liverpool, after a slightly bizarre spell when I also had of fondness for QPR – Les Ferdinand and Trevor Sinclair were boss – and was soon worshipping the ground Robbie Fowler walked on.

As much of a hero Fowler was to me, and still is, he took a massive backstep when a young 18-year-old broke through in the late 90s. His name was not Michael Owen.
There was just something about Gerrard that I immediately took a shine to, not least his match-saving performance in the Merseyside derby in 1999.
He had all the grit, determination and heart of a young local lad trying to thrive at his boyhood club, similar to Jamie Carragher, but he also had so much more to his game.
There was pace, vision, skill and a general aura about him that belied his years. By the time Gerard Houllier's side won the cup treble in 2000/01, Gerrard was my idol.
He scored memorable goals against Arsenal, United and Alaves that year, and excited me in every game he played. I, like many others no doubt, tried to model my game on him for school and Sunday league sides, but was never anything more than a poor man's Charlie Adam.
In the years that followed the treble glory, Gerrard simply got better and better. There is so much focus on his career from 2005 onwards, which is understandable, but I remember him being absolutely phenomenal during the 2003/04 campaign.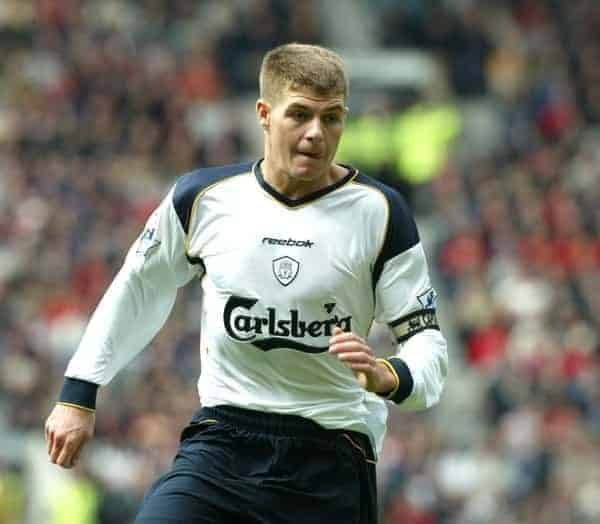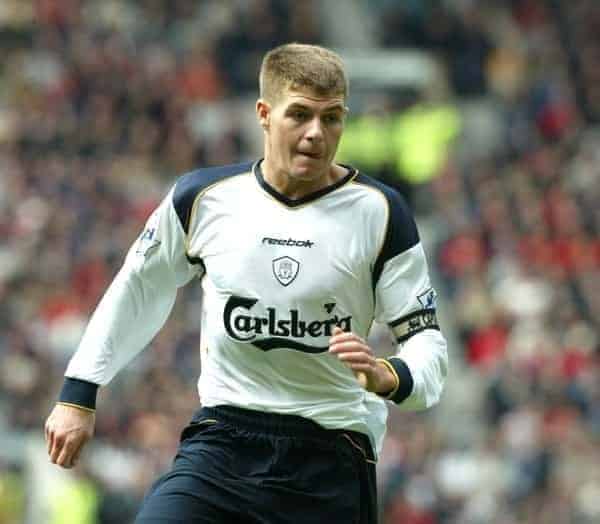 He had just been made captain by Houllier at the age of 23, and I am fairly convinced he won the Man of the Match award in at least 70 per cent of the Reds' matches. Our reliance on him was embarrassing, and we genuinely were a one-man team a lot of the time.
Between 2005 and 2009 there was not a better central midfielder on the planet in my book. Whether it be Olympiakos and AC Milan in '05, West Ham in '06 or Real Madrid and United in '09, he was unplayable.
Istanbul and Cardiff in 2005 and 2006, respectively, were two of the greatest individual performances I have seen in my lifetime.
Gerrard was the complete midfielder, as long as you ignore the irritants who say he has a lack of positional sense. That's just as lazy as claiming an attacking full-back can't defend.
He scored goals – thunderbolts, free-kicks, tap-ins, penalties, headers, volleys and more – provided assists, won tackles, beat players with ease and was superb in four or five different positions.
His importance and influence on the side during those several years was unlike anybody else at the time. He often had average players around him, but continued to be a truly world-class footballer despite it.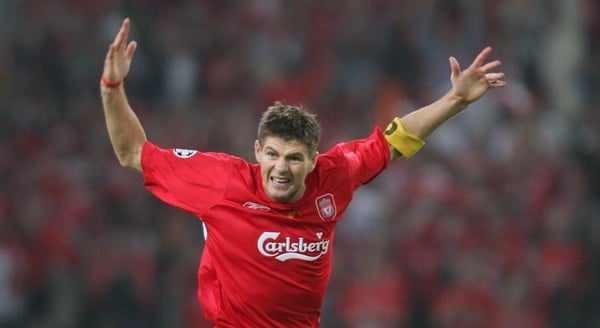 Then there's the big games. Has there ever been more of 'big-game player' than Gerrard in any side?
'Captain Fantastic' remains the only player ever to score in the final of the Champions League, UEFA Cup, FA Cup and League Cup, and time and time again he has broken the hearts of United and Everton fans in Liverpool's most passionate, important games every year.
There is a sense of the soap opera about Gerrard's career, and it hasn't always been plain sailing. There have been low moments, but in a slightly odd way, they've actually made me adore him even more.
The own goal against Chelsea in the 2005 League Cup Final; the infamous slip against the same opponent last year; the red cards against United and Everton. They all spring to mind, among others. To me, these moments all just showed that he was human. He has always played the game on the edge- a huge reason for his popularity- and we would never have seen so many great individual moments if he hadn't.
Perhaps some find it pathetic how overly sentimental I am about Gerrard, but so be it. Saturday is going to be very tough to watch.

Gerrard has been in the Liverpool team for the large majority of my football-supporting life, and it just won't feel the same without him.
Where is that combination of unpredictability, leadership and match-winning quality going to come from in the current squad? It is a real worry.
Even this season, amid much criticism from some over his performances, he is still Liverpool's top scorer. He is the one who scored brilliant free-kicks against Everton and Basel, who single-handedly beat AFC Wimbledon and who headed home a last-minute winner against QPR. He still has that sense of occasion.
To me, Gerrard is the finest Liverpool player in history, without question. Kenny Dalglish was clearly a phenomenal player who achieved incredible things, as did Graeme Souness, Ian Rush and many more, but they were always playing in great teams.
Gerrard has spent a large chunk of his career playing in average Reds sides, yet he has still won PFA Player of the Year awards, been voted in World XIs on many occasions and inspired Liverpool to glory with awe-inspiring performances.
Would Dalglish, Souness et al have been as good alongside Djimi Traore, Igor Biscan, Anthony Le Tallec, Salif Diao, Paul Konchesky, David Ngog and Josemi? No chance.

Had Gerrard played in those great Liverpool sides of the 70s and 80s, or moved to Chelsea or Real Madrid as he so nearly did, he would have been ever better.
There's not been a more complete player in English football history in my opinion, with all due respect to fantastic talents like Bobby Charlton, Paul Gascoigne, Paul Scholes and many other undisputed legends.
Maybe my bias is coming to the fore again here, but I am not sure I have seen a player receive a more generous send-off from the footballing community as Gerrard has in recent weeks. His incredible loyalty towards Liverpool is a big reason for this.
There is an enormous respect for him, and many of my United, Arsenal and Chelsea supporting mates have told me how much they admire him over the years, despite the increasing tribalism that exists between fans these days. He is a class act both on and off the pitch.
I think that's my lot. I could sit and talk about Gerrard for days on end and bore the life out of you, but from past experience, that doesn't go down too well.
Gerrard's final Anfield game on Saturday will be an extremely emotional occasion for anyone who has grown up idolising the man, and that final walk off the pitch will be a huge test of mine and many others emotional resolve.
I will never have a hero like Steven Gerrard again; I just hope you feel the same way about him.
[interaction id="5554805740f2c57e0404c144″]