Ahead of Steven Gerrard's final two games for Liverpool FC and his last Anfield appearance this weekend, Simon Collings picks out his top 5 Gerrard moments at the home of the Reds.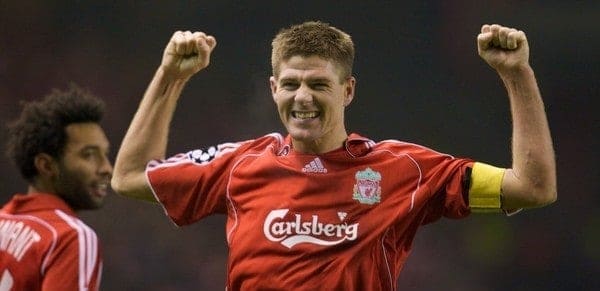 Anfield, November 29th 1998, Liverpool are leading Blackburn Rovers 2-0 in the Premier League with a couple of minutes to go. After weeks of uncertainty at the club – due to the fallout over Roy Evans' departure – a new era was about to begin as a young Scouser was to be introduced.
At the time the club was in turmoil. Heightened by poor performances in the cup and in Europe, unrest in the camp was rife so getting back to normality was the order of the day.
Steven Gerrard's introduction for Vegard Heggem late on was a sign that things were about to change. We didn't know it at the time but Liverpool Football Club would never be the same again.
His cameo under the Anfield lights may have only lasted a few minutes but it was the start of something special – something which was to take the club to another level, on and off the pitch.
Fast-forward to now, and to Liverpool's up-and-coming home game against Crystal Palace, and it's hard to believe just what our No.8 has achieved during his time with the club – particularly at home.
Saturday's final home game will be an emotional occasion for all involved. Much like the Kop's last stand in May 1994, Anfield will see a pre-game carnival atmosphere take centre stage which will no doubt continue until the final whistle.
When Gerrard does eventually depart the Anfield turf for one last time all of us will not just be remembering one of our greatest ever players, but we will also remember the moments he gave us in front of the Kop – the goals, the performances, and the last-minute winners.
From his first goal against Sheffield Wednesday in 1999, his thunderbolt against Man. United in 2001, and to his demolition of Real Madrid in '09, every one of us has our own favourite Gerrard moment at Anfield.
There are obviously too many to choose from but here are a select few for you to enjoy…
First Merseyside derby: Everton (PL) April 3rd, 1999
In a game best remembered for Robbie Fowler's goal ''celebrations'', Gerrard played a vital role in ensuring a 3-2 victory over the Toffees – in his first Merseyside derby.
Coming on with the Reds 2-1 up, Gerrard added extra energy and grit to the side and didn't look out of place amongst more experienced pros. His last-ditched goal-line clearance late on made him an instant hero with the Kop and gained him high praise from fellow teammates alike.
He'd gotten a real taste for the derby, that's for sure!
First goal for the club: Sheffield Wednesday (PL) December 5th, 1999
In a campaign were Gerard Houllier was building a young and exciting team, this 4-1 victory over The Owls was a joy to watch. Gerrard bagged his first goal for the club, weaving through the defence (leaving an experienced Des Walker flapping) and slotting home passed Kevin Pressman.
The 19-year-old was quickly establishing himself in the Liverpool midfield and this goal showed exactly where his talents lay. Power, aggression, balance, and the composure in front of goal made him a rare spectacle to behold. A complete modern-day midfielder was beginning to take shape.
THAT goal: Olympiakos (CL) December 8th, 2004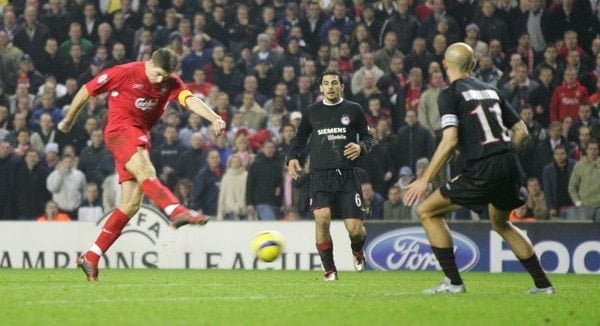 Perhaps Gerrard's most famous moment in front of the Kop, this goal against Rivaldo and co started us out on the road to Istanbul. We all know what happened, will all know the commentary, but the images will never tire.
This goal will go down as the one which elevated the player – as well as the club – to the next level on the European stage, capping off one of Anfield's greatest nights since Inter Milan in '65 and St. Etienne in '77.
Another wonder strike: Middlesbrough (PL) April 30th, 2005
As we've all watched footage of Gerrard's greatest goals online and on DVD, this rocket against Middlesbrough stands out as one of his best.
Picking the ball up at an awkward height, Gerrard brought it down and fired in an unstoppable half-volley into the top corner from a good 30 yards.
A truly magnificent goal – further establishing him as one of the world's best footballers.
Crucial second goal: Inter Milan (CL) February 19th, 2008

Now an established Champions League player and club, both Gerrard and Liverpool were a forced to be reckoned with on the continent. The Italian giants, with their star-studded line-up, were an experienced, tricky opponent in this first leg encounter yet Captain-fantastic had other ideas.
Having just gotten our noses in front late on through Dirk Kuyt, Rafael Benitez's men perhaps would have settled for this slender 1-0 lead to take to the San Siro. Not Stevie.
With nothing else on, he riffled in a low shot from the edge of the box which crept in off the post to send the Kop into frenzy.
A perfect example of a man refusing to accept contentment by dragging the club forward once again.
Best midfielder in the world: Real Madrid (CL) March 10th, 2009

Okay, so this Madrid side were not a patch on the current one we see today but sweeping aside the Spanish giants at any time is still a moment to behold.
Gerrard (of course) was at the heart of it all as Raul, Cannavaro, and Casillas were completely overrun for ninety minutes.
After converting a penalty, Gerrard's second goal just after the break was the stuff of dreams – majestically volleying in a Ryan Babel cross. The best goalkeeper in the world at the time had no chance as his defence in front of him crumbled.
Around this time Zinedine Zidane declared Gerrard the best footballer in the world. On this performance, and on the biggest stage, few would argue against Zidane's bold statement.
Thirty years hat-trick: Everton (PL) March 13th, 2012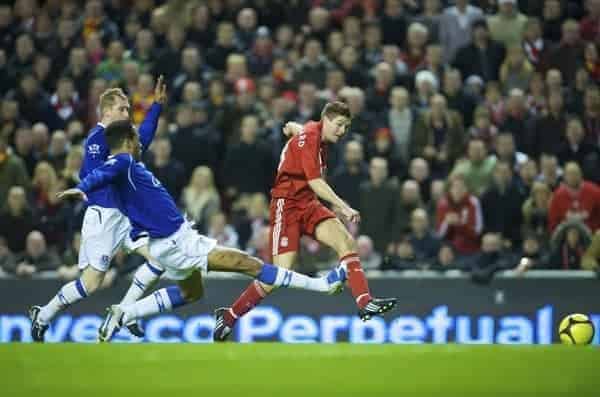 On a perfect night for all involved with club, Gerrard's demolition of David Moyes' Everton was the highlight in an otherwise poor league campaign.
Causing havoc alongside Luis Suarez all night, Gerrard became the first player to score a hat-trick in a Merseyside derby since Ian Rush grabbed four at Goodison in 1982.
The hat-trick feat became another feather in the Gerrard's illustrious cap, assigning him to the record books once again.
All three strikes were special: the first a calm left-footed chip; the second a powerful close-range effort; and the third rounding off a counter-attack at the Kop end.
Jamie Carragher said recently that Gerrard shouldn't show his emotions on Saturday against Palace – unlike Sami Hyppia when he left the club in 2009. Looking back over all these memories Steven Gerrard has given us throughout his career at Anfield, frankly, Stevie can burst into tears all he likes when departing the field.
I think a few of us might too!
[interaction id="5554805740f2c57e0404c144″]