Liverpool have completed the signing of Brazil and Hoffenheim star Roberto Firmino, and we round-up the best social media reaction regarding the move.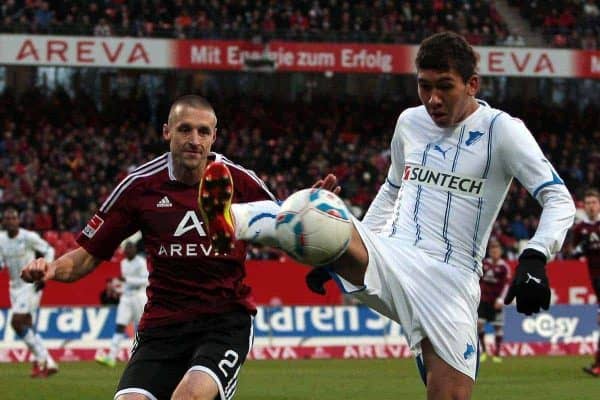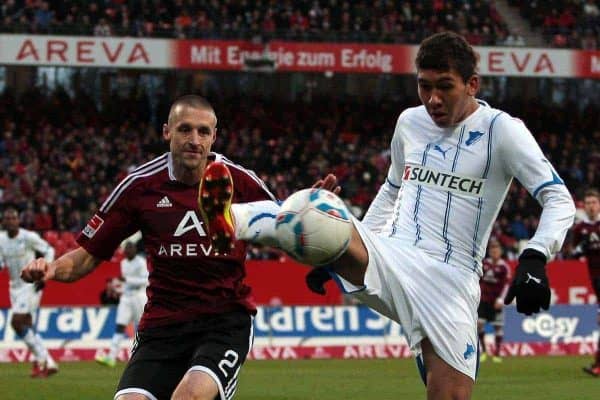 This feels like one of THOSE signings. A signing that genuinely puts an extra spring in your step for the rest of the summer.
Firmino is now a Liverpool player, assuming he passes a medical, in a deal that could rise to £29 million. Only Andy Carroll has cost more for the Reds.
Needless to say, social media has become an extremely positive place for the first time in weeks.
Here is the best of the reaction to a move that could help change Liverpool's fortunes greatly.
NEW: Confirmed: Liverpool complete Roberto Firmino signing. Full story: http://t.co/kDKWSrKzs1 pic.twitter.com/TIFyhjsUTu

— This Is Anfield (@thisisanfield) June 24, 2015
Initial fee #LFC have paid for Firmino is £22m. Rising to £29m. He has signed a 5yr deal. Medical after Copa America

— Ben Smith (@BSmith) June 24, 2015
Ian Ayre completed negotiations in Santiago overnight. Firmino has signed a five-year deal, subject to completing a medical.

— Dominic King (@DominicKing_DM) June 24, 2015
Amazing how the prospect of a holiday in Chile concentrates the mind. "Yep, Roberto, wages are fine. No, I do all my negotiating in shorts."

— Rory Smith (@RorySmith) June 24, 2015
'Kopstar' on the forums:
It's the early signing of ambition/intent that we needed to help convince our other targets that we can not only talk a good project but that we're actually implementing one too.
"Okay Ian, remember: when you get inside the football stadium just tell them you're there to organise a coup…" pic.twitter.com/fvg2tpIPbB

— Steven Kelly (@SteKelly198586) June 23, 2015
Genuinely stunned with the Firmino signing, a top-quality player who was signed with little fuss or drama. A new start for the club. #LFC

— Tom McMahon (@tomjpmac) June 24, 2015
Ian Ayre, I could kiss you.

— Henry Jackson (@HenryJackson87) June 24, 2015
Welcome to Paradise Roberto Firminho

— Jeff Goulding (@ShanklysBoys1) June 24, 2015
'DanLFC' on the forums:
Really excited with this player, great signing, well done to the TC and Ayre for getting this done. Feel like he is going to be a terrific player for us for a long time to come.
Braziliant stuff by #LFC

— Spion Kop (@TheKopHQ) June 24, 2015
https://twitter.com/Kop305/status/613591710057295873
Welcome to Liverpool! @Roberto_Firmino pic.twitter.com/ARrG77WzZh

— Joe Musker (@JosephMusker) June 24, 2015
Goals and assists aside, #Firmino made 175 tackles over the last two seasons, a tally bettered by only five players in the Budesliga. #LFC

— LFCZA ?? ???? (@LFCZA) June 24, 2015
'The SweetSilverSong' on the forums:
Ok, now this is exciting! Coutinho and Firmino creating – two sources of excellent passing now, and solid goal potential from AM.

Now one quality striker of 20+ goals to partner Sturridge, Illara for DM and a quality fullback, and we're good to go! Won't mind Kovacic in addition to that either!
With Firmino signing for #LFC, I feel abit like a kid on Christmas morning!

— Simon Collings (@simoncollings82) June 24, 2015
So, how's Brendan going to fit Sturridge, Coutinho, Lallana, Firmino and Markovic in the same team?

— Paul Grech (@paul_grech) June 24, 2015
Good morning! pic.twitter.com/QqN57UWyST

— Jack Lusby (@jacklusby_) June 24, 2015
The best thing about Firmino deal is it shows #LFC are still a club with both pull & ambition – great to see it done quickly & decisively.

— Si Steers (@sisteers) June 24, 2015
[interaction id="558a54249903ebaf49340a44″]