It's over a fortnight since Colin Pascoe and Mike Marsh were relieved of their duties, Liverpool must appoint the right replacements to Brendan Rodgers' backroom, writes Jeff Goulding.

Informed sources suggest that the club's search for a new back-room team are coming to an end. The highly rated Dutch coach Pepijn Lijnders' name has been mooted for several days and speculation is rife that another more experienced assistant joining Rodgers' team soon. These may be the most significant appointments in the clubs recent history and they simply cannot afford to get them wrong.
Even before John W. Henry's posse rode into town it was clear things were going to have to change. Few of us expected FSG to buck the trend in football and hand Brendan a reprieve. Even those who wanted to see him given one final sip at the last chance saloon held little hope he would get a chance to take it. Managers seldom escape such a slump these days. Brendan may still be holding a dead man's hand but for now he's still at the table.
So with no new Sheriff in town, attention has turned to his deputies. From the outside it seems a highly unusual step for a club to retain faith in their manager but show his faithful assistants the door.
Many have suggested that Rodgers should have followed them on principle. Loyalty is a precious commodity in all walks of life, but in a team setting it is priceless. When you go to battle you have to know that each and everyone of your people are right by your side.
This was the ethos that underpinned the famous old boot room, summed up with classic understatement by the great Bob Paisley. When asked by Brian Reade to explain the mentality at the club during his period of unparalleled success, he replied that when you're lost in the fog you find your way home if you all stick together. Liverpool find themselves in the mother of all pea-soupers right now and it looks like we are all wandering off in different directions.

It may have been a move calculated to show faith in their man, but the net effect has been to weaken him severely.
It appears to be yet another example of the owners' confused and at times worrying approach to managing the football side of the club. We may yet see a method in their madness, but for now they are doing little to convince us that they have worked out what it takes to lead Liverpool back to the top. They came to win, but right now they are on the canvas and referee is counting them out.
So we meander through another summer transfer window. Social media is full of sarcastic and divisive attacks on the club and the manager from our own fanbase. You sense a groundswell of negativity that threatens the season before it has even begun. Camps are already deeply entrenched and my fear is, that when the season finally gets underway, nothing short of perfection will prevent all out war.
If FSG truly believe in their man, then they have a very cock-eyed way of showing it on the current evidence. If they are to avoid further undermining the manager, then they have to get almost every decision right this summer and that includes their handling of back-room appointments.

Whatever you think of Brendan Rodgers you surely want him to succeed right? If you are a supporter of his then that seems obvious, but even if you don't rate him, as a Liverpool fan you must want him to prove you wrong – no? Of course I am being deliberately provocative here. In truth I am speaking directly to Rodgers' fiercest opponents.
You may have kidded yourself that it would be painful, but ultimately for the greater good to sacrifice next season in order to force a managerial change. How many times are we going to say this? Are we going to become like Newcastle supporters, chanting "You don't know what your doing" at Brendan from behind the dug-out? If so, then we are going to make his ultimate demise the greatest self-fulfilling prophecy in the history of….well prophecies.
Surely if he get's it right, then we all win. If he doesn't despite the full backing of the club and the fans, then it will be justifiably the end for him. The owners may have fudged the end-of-season review, but we can't. If Rodgers is to start the season as manager, then he has to be given complete support from the Board, the dressing-room, The Kop and crucially the back-room. This is the only way out of the fog for us now.

In reality the changes to Rodgers supporting cast has the potential to become a double-edged sword. If FSG get them wrong they will further undermine Rodgers; get them right and it could spark an unlikely turnaround for the Irishman.
With the departure of Marsh and Pascoe, the appointment of Lijnders seems fairly a fairly uncontroversial one. He is a young rising star and highly regarded. His methods are perfectly in-sync with those of the manager's and at 32 he represents little threat to Brendan's authority.
However, the second appointment needs careful consideration if we are to avoid the impression of a 'manager in waiting'. Surely if they wanted someone else in post, then they should have acted decisively and made a complete change. They haven't done this, so they now have to act in such a way that gives Brendan every chance to succeed. If he fails then there should be no doubt where the blame lies. [td_ad_box spot_id="custom_ad_3″]
If they get this right, then there may be the smallest chink of light through the fog for us. No club in this country can match the template Liverpool produced for bootroom excellence in the 60s, 70s and 80s.The Reds boasted one of the greatest dynasty's in football and their legacy was silverware by the shed-load. It spurned five managers and dozens of trophies.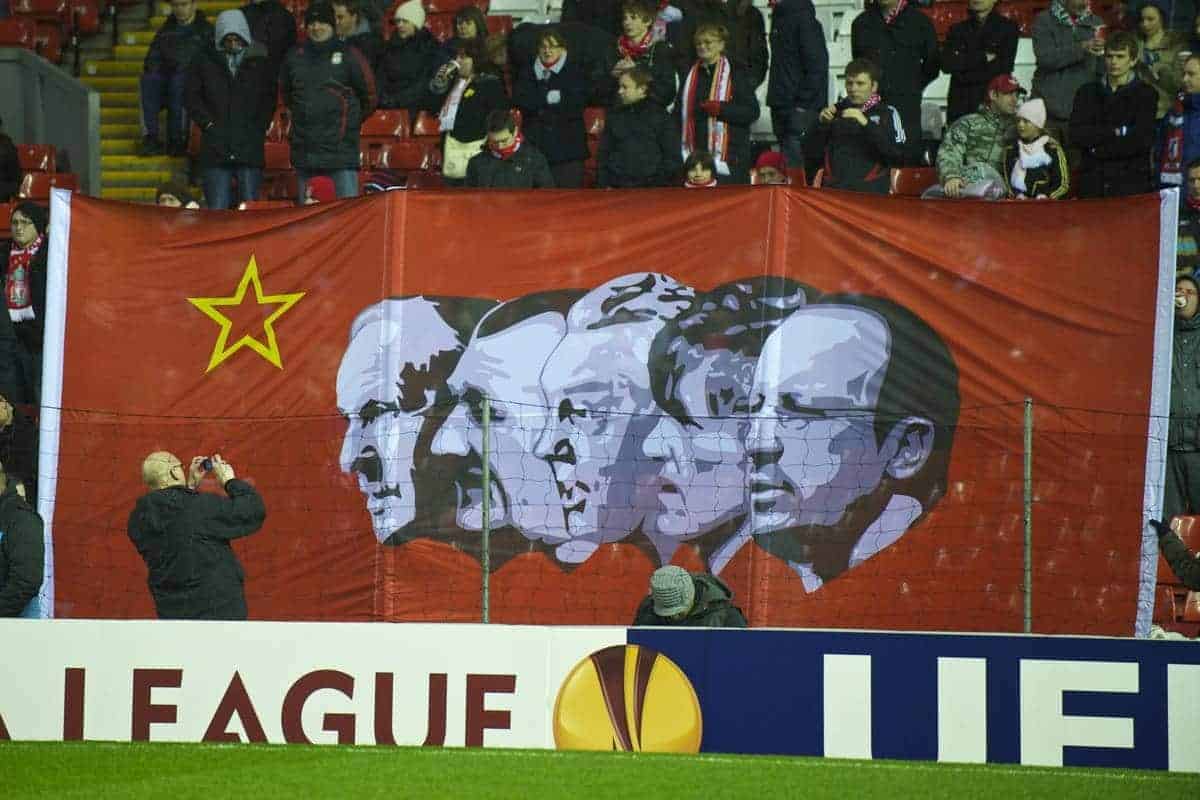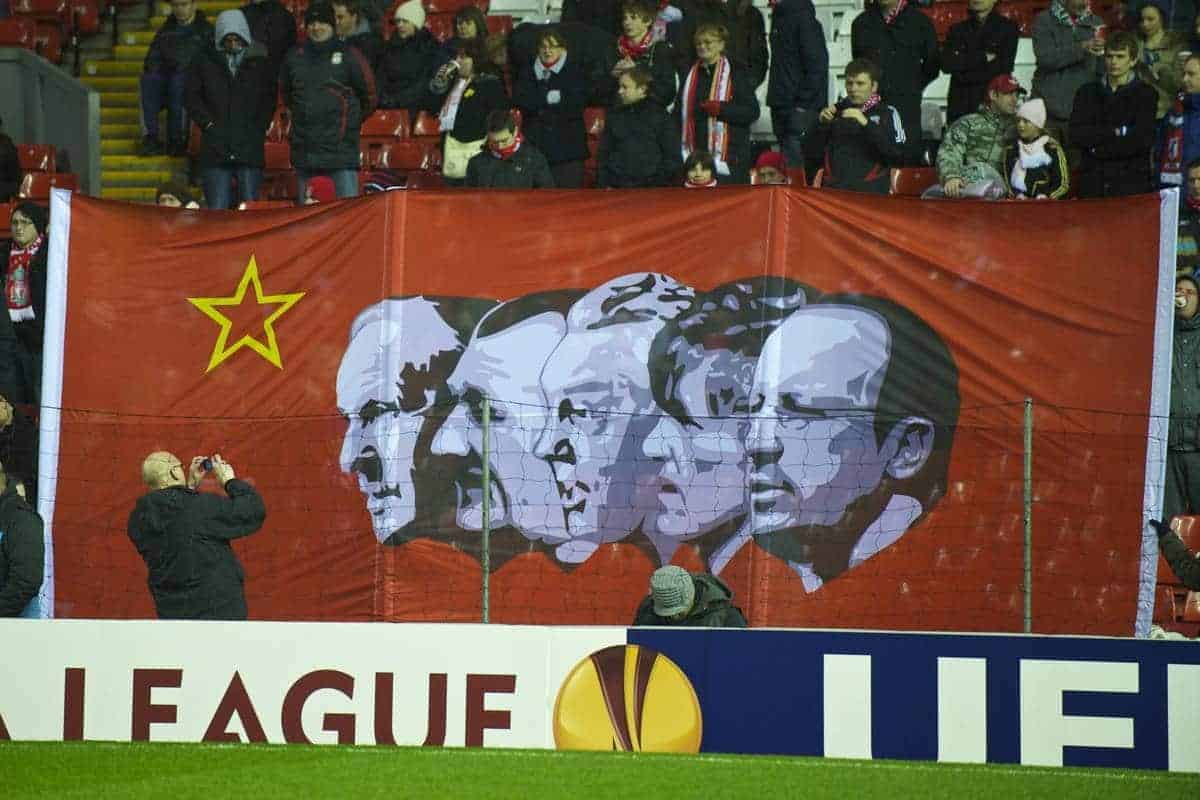 All of this success was built on a rock solid team ethic, both on and off the pitch. These men were like one mind acting in concert to achieve success that, at the start seemed unimaginable. Anfield was the biggest toilet in Liverpool when Shankly arrived.
It had the biggest trophy cabinet in English Football by the time Graham Souness demolished the Boot-Room in the 90's. All of this was built on a great back-room team, who bought the best players they could afford and collectively marshalled them into a machine that would dominate both home and abroad.
There will be much debate over the signings Liverpool make this summer. On the transfer front it is yet another tediously make-or-break window for the club. Of course we must invest in quality. However, for all their importance, changes on the field may be far less significant than those off it, in terms of our long term success.