As the season draws closer, Brendan Rodgers faces a big decision over the formation in which he will line up his Liverpool side. Ben Twelves discusses which set-up the Reds boss should use.

Liverpool's opening Premier League fixture against Stoke City is now little over a week away.
But Brendan Rodgers still has a number of dilemmas to solve over team selection and what system best suits his squad.
The Reds boss has predominantly utilised a 4-3-3 formation in pre-season but has also deployed a 4-4-2 diamond shape.
The two systems appear to be the Northern Irishman's preferred formations for this year, but Rodgers faces a big decision over which should be his first choice set-up.
So, which should it be?
4-3-3

It was widely acknowledged before Rodgers arrived at Anfield that 4-3-3 was his preferred set-up. He played it at Watford in his first managerial role, enjoyed success with it at Swansea and utilised it on arrival at Anfield for the opening months of his Liverpool career before switching.
According to James Pearce of the Liverpool Echo, it's likely to become his go-to formation again.
The Reds manager has shown as much, having heavily used it throughout pre-season.
It's worked relatively well – with the Reds' midfield looking particularly strong – but has brought up some concerns too, including continued openness at the back and disjointed attacking play; though the latter perhaps an unfair criticism as new offensive options find their feet.
Positively, the shape has seen Liverpool operate with a fully functional midfield, with Jordan Henderson and James Milner quickly building an impressive partnership.

But while an energetic pairing, it's perhaps one that will see more industry than creativity spring from the middle of the park, though the duo do offer far more than they are credited for.
It appears that the dynamic pairing will form Liverpool's midfield and their partnership will inspire a return to a high-pressing game, but it could have less positive consequences in the Reds attack.
With Lucas, Joe Allen and Emre Can all competing for the deep-lying role – playing Henderson or Milner there would negate their impact – there would be no space for Philippe Coutinho or Roberto Firmino to work magic from the middle of the park.
OPINION: Defensive midfield: Liverpool's position of contention
The second half of last season showed how important it is to have Coutinho central, where he can wreak havoc with a full picture ahead of him rather than being restricted wide.
And wide, worryingly, is where he would likely be in a 4-3-3, with Firmino, Adam Lallana, Lazar Markovic and Jordon Ibe all competing for the other flank space.

It's concerning because Coutinho proved he is the man to bring the Liverpool attack alive.
Also, key attacking figures in unfavoured positions proved costly last season and showed why they must be utilised in first choice roles in order to bring out the best in them.
With the Reds needing goals to start the season positively, Rodgers must use his key men properly this time around, making a 4-3-3 set-up less appealing from an attacking perspective.
Pre-season has seen a lack of support at times for strikers Divock Origi and Danny Ings, with wide options hesitant and slow to support, causing the breakdown of attacks.
With Christian Benteke a static player and one that likes to come deep before making the box, Liverpool could be left short with a lack of penetrative attacking threat through the middle once again.
The Reds do have the options to play this system far more effectively than they did early last campaign, but a number of worries remain.
Potential 4-3-3 lineup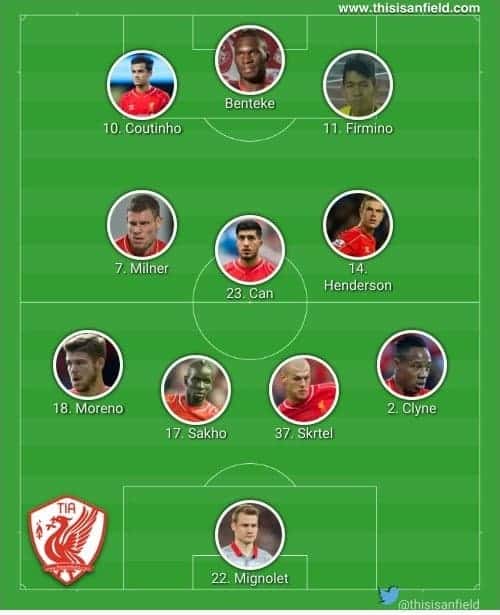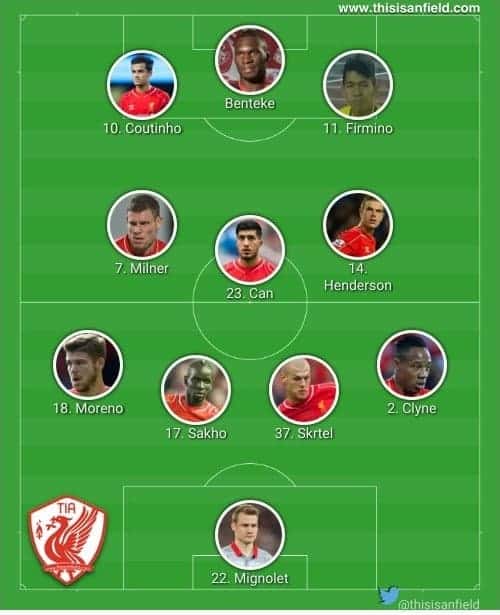 4-4-2 Midfield Diamond

Currently it appears this shape is likely to play second fiddle, but it could be argued that this formation should in fact be the one the Reds boss uses first.
Liverpool have looked most comfortable in this system, and it proved a huge factor behind the Reds' best form in their three years under Rodgers.
Despite that, the Ulsterman barely used it last season. When he did, such as at White Hart Lane for the third game of the season, he watched his side run out emphatic 3-0 winners. Alas, injury to Daniel Sturridge made the two-man attack difficult to use. [td_ad_box spot_id="custom_ad_3″]
After a season of struggle, Rodgers has gone someway to rectifying his side's goal deficiencies of last year by bolstering attacking options. He now must learn lessons from last campaign again and play to their positional strengths to ensure they fire as planned.
Using the diamond shape would allow that to happen, as Rodgers can pick key attacking options such as Coutinho in a more influential position, with the same for countryman Firmino.

Coutinho could play at the tip of the diamond ahead of the Henderson-Milner partnership, and in behind Benteke, who could be partnered by any one of the mobile outlets of Firmino, Ings or Origi, before Daniel Sturridge returns.
For certain games, the brilliant Brazilian could drop into the midfield, freeing up a space at the top of the diamond for Lallana or even Firmino himself. Either way, it is essential he is central.
Playing two up front immediately creates more pressure on opposing centre backs, and in turn creates more space for match-winners such as the Brazilian duo to strut their stuff.
Defensively, the system allows Rodgers' side to be compact, making it easier to crowd out danger and provide protection to a suspect back four, with it harder to break down.
Pressing from the front will also be aided, with a quick back-up from the midfield unit behind the initial two strikers, allowing the Reds to suffocate opposition high-up and defend from the front.
Potential 4-3-3 lineup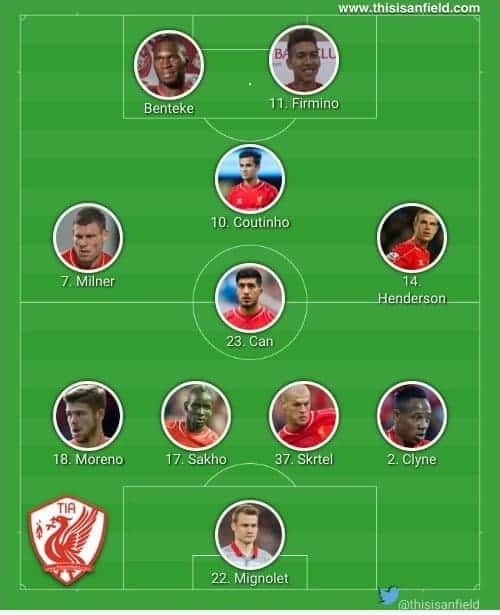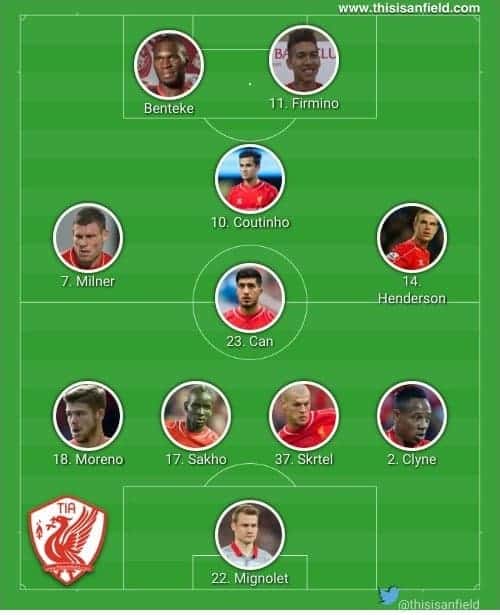 Decisions
Whatever Rodgers decides, he must be consistent with his formation of choice and avoid altering too often for counter-productive purposes.
With Liverpool needing to hit ground running in the hope of momentum building like it did in 2013/14 season, Rodgers needs to pick his shape carefully.
He is right to have chosen to operate with either of these systems, but all things considered, the 4-4-2 diamond should be first pick – especially once Sturridge returns.
[interaction id="558540dea67b561d26d39080″]