Following reports that Jordan Henderson is set to be named Liverpool captain on Friday, Reds supporters have generally reacted with positivity.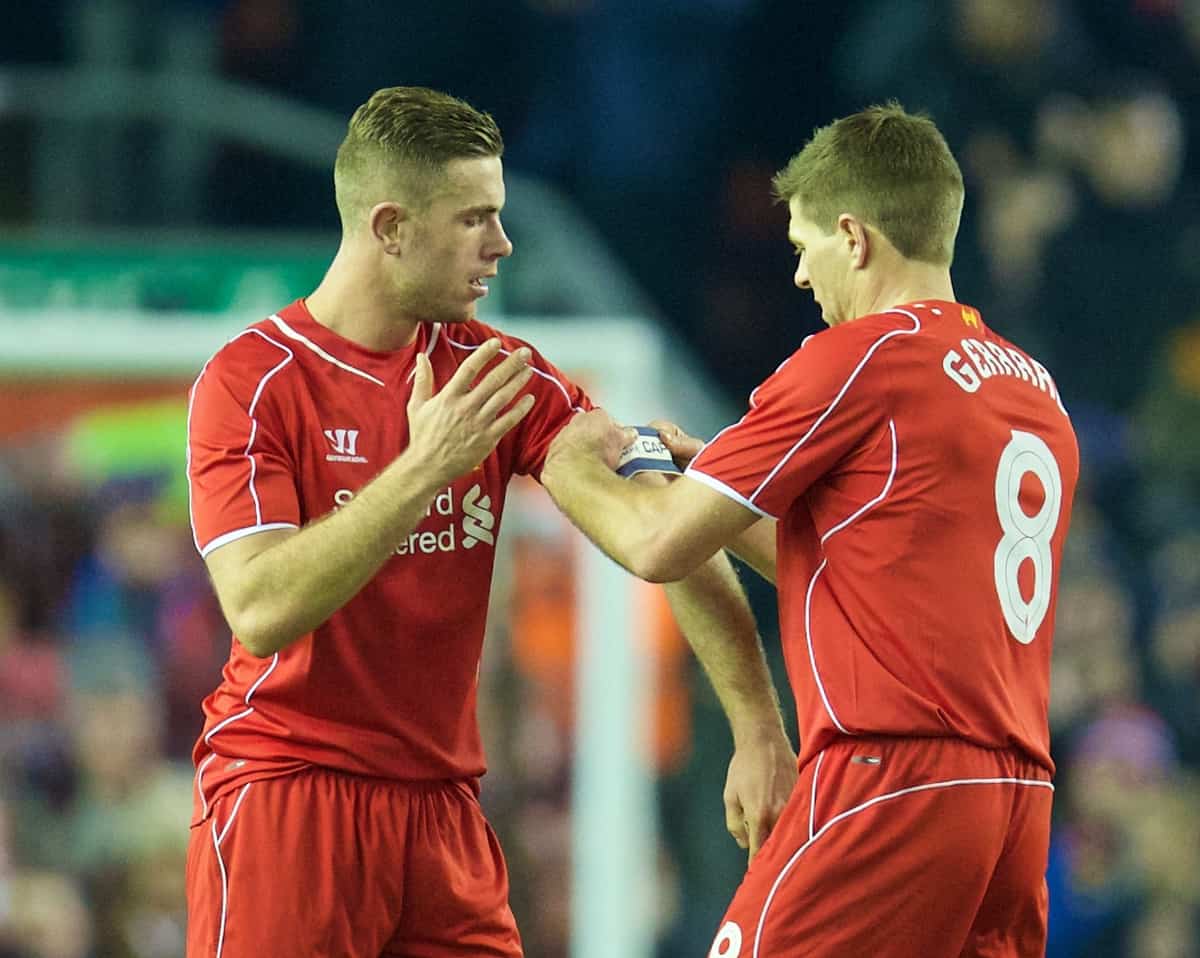 Jordan Henderson is set to take over as Liverpool captain this week, following the departure of Steven Gerrard, and Reds supporters have reacted favourably to the news.
Henderson will take over from Gerrard after the 35-year-old's move to LA Galaxy this summer.
The former Sunderland midfielder often filled in for Gerrard last season, and showed strong signs of leadership both on and off field.
Here's the best of the social media reaction to Henderson's likely appointment.
Reports suggest that Jordan Henderson is set to be named as Liverpool's new captain tomorrow. Delighted for him. Well deserved.

— And Could He Play (@andcouldheplay7) July 9, 2015
#henderson set to be named captain of #lfc in a few days. Big shoes to fill but he's one of the logical choices.

— LFCZA ?? (@LFCZA) July 9, 2015
Look at all these people moaning about Henderson as captain. He is the most deserving in the current lot.

— Sai (@TheEngancheRole) July 9, 2015
I love Jordan Henderson. Done well when he's been skipper so far, but always played within himself with Gerrard on the pitch. Main man now.

— Colin Spreag (@ColinSpreag) July 9, 2015
Hopefully he can step his game up a level now he's the main man. I wonder if Milner will come in as his understudy?

— Colin Spreag (@ColinSpreag) July 9, 2015
Delighted for Hendo. Wear the armband with pride, lead by example, @JHenderson! Ynwa

— Kali (@MissAndreeva_) July 9, 2015

https://twitter.com/jacklusby_/status/619149215550304258
https://twitter.com/MobidEE/status/619146902295044096

In depressing news, Henderson to be confirmed as LFC Captain on friday. He aint no leader.Mediocrity has officially set in, sadly.#lfc

— My Surname is Khan™ (@ejaz_k) July 9, 2015
Qualifications to be LFC captain or vice captain.

Shout and point a lot
Smart hair cut
Look smart in the kit
Ability to make a mean face

— Joseph Cousins (@JCuzzy1) July 9, 2015

https://twitter.com/__hendobae/status/619149681029947393

Here's to you, Jordan Henderson

— Taylor Brasser (@tbrasser7) July 9, 2015
Henderson deserves the LFC captaincy by a mile. Really pleased for him. #LFC

— A Red Penguin (@ARedPenguin) July 9, 2015
Meanwhile, Henderson's appointment is due to be announced once Rodgers decides on his replacement as vice-captain, with Mamadou Sakho, James Milner, Lucas Leiva and Martin Skrtel considered for the role.
Liverpool supporters have also had their say on who the Reds should choose as Henderson's deputy.
Vice Captain HAS to go to Skrtel imo

— Hemingway???? (@NYCKOPite94) July 9, 2015
I'd have Lucas as vice captain but hey that's me.. don't mind me

— Mohammed (@Mo__LFC) July 9, 2015
Sakho or Coutinho are my choices for vice captain

— John O'Sullivan (@NotoriousJOS) July 9, 2015
Would like to see Skrtel named vice-captain for his years of loyalty to the club

— Kopite Talk (@KopiteTalk1892) July 9, 2015

https://twitter.com/liverpooIstuff/status/619147200287932416
https://twitter.com/KopWorldEditor/status/619144643763113984
https://twitter.com/shitebag_/status/619153182514675712
https://twitter.com/Michael_Fitz97/status/619147695031197696

Vice should be Sakho. It won't be, but it should be.

— Jonny Pickles (@JonnYNWA) July 9, 2015
[interaction id="559e86855181bfa421f75ac7″]
Do you agree with Jordan Henderson's promotion to Liverpool captain? Who would be your choice as next vice-captain? Let us know in the comments below.