Liverpool's 2-0 victory over Adelaide United on Monday showed an encouraging return to Brendan Rodgers' favoured pressing game, writes Jack Lusby.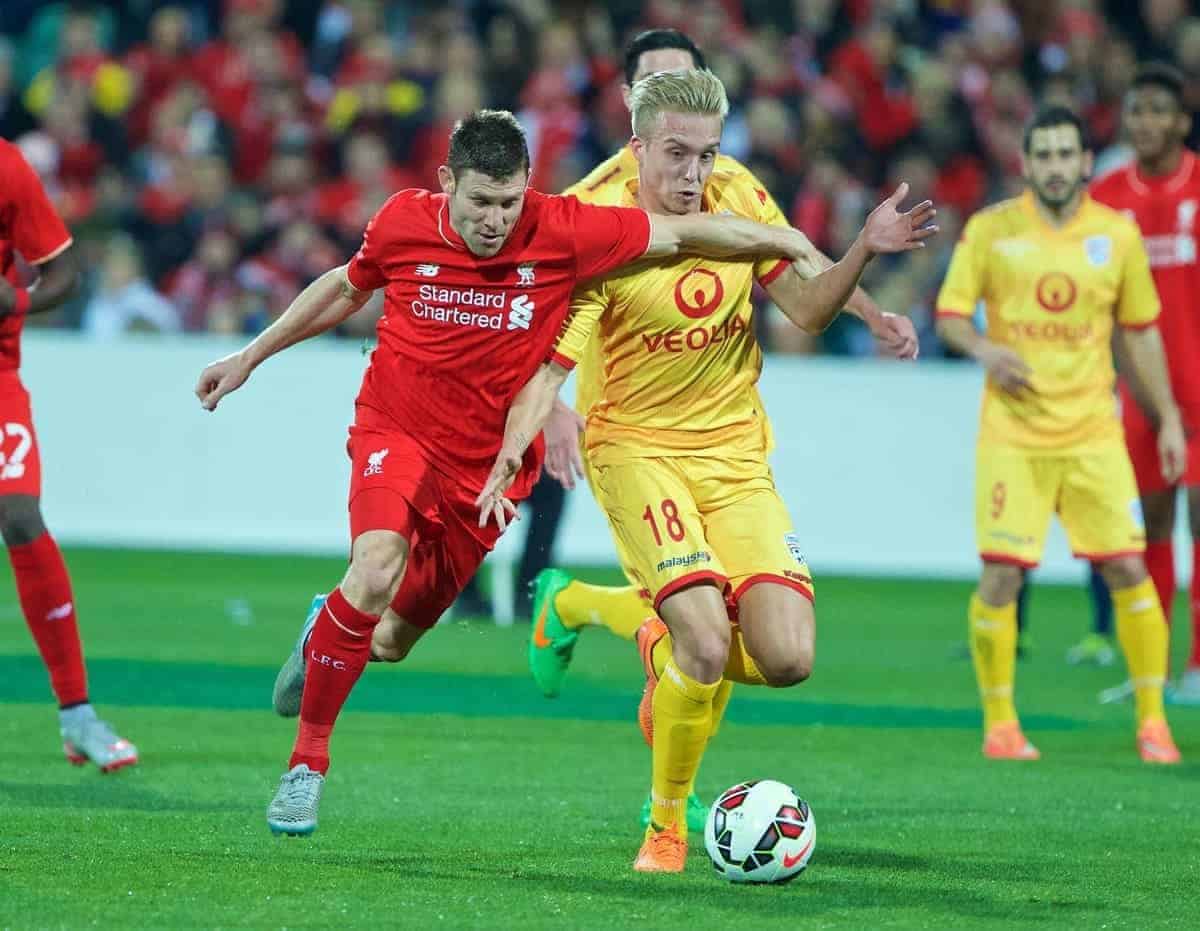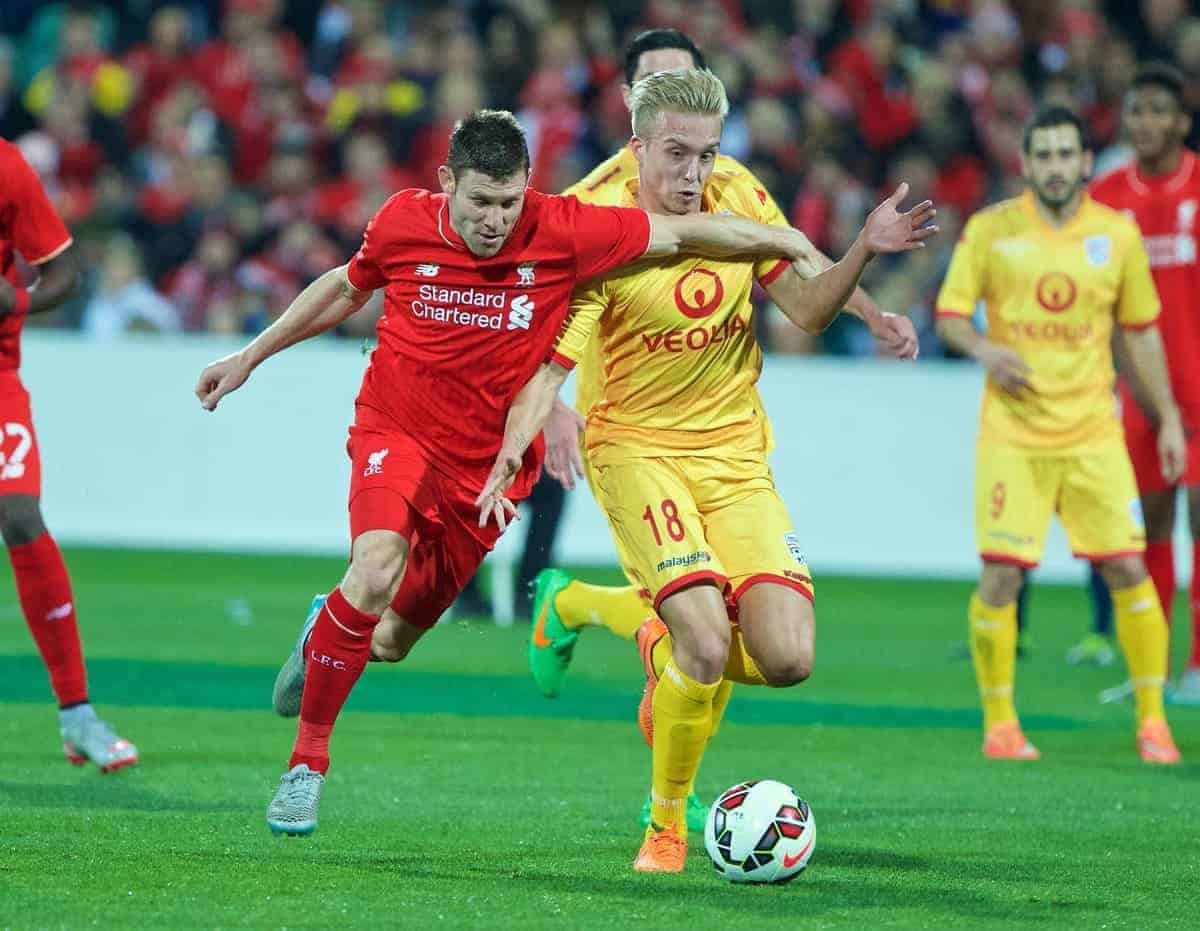 Pre-season friendlies are often little more than a fitness exercise, so drawing conclusions on the wider scope of the campaign ahead for Brendan Rodgers' Liverpool may be fruitless, but the Reds' 2-0 victory over Adelaide United on Monday highlighted some key positives.
Largely this came with a sparkling return to the pressing game that Rodgers has looked to implement during his time as manager at Anfield.
Though not a rampaging 6-1 thrashing a la Liverpool's 2013/14 title tilt, this victory was significant in that it saw the cogs whirring towards a functional pressing system once again.
Midway through Liverpool's warmup schedule, some important tactical cues are emerging.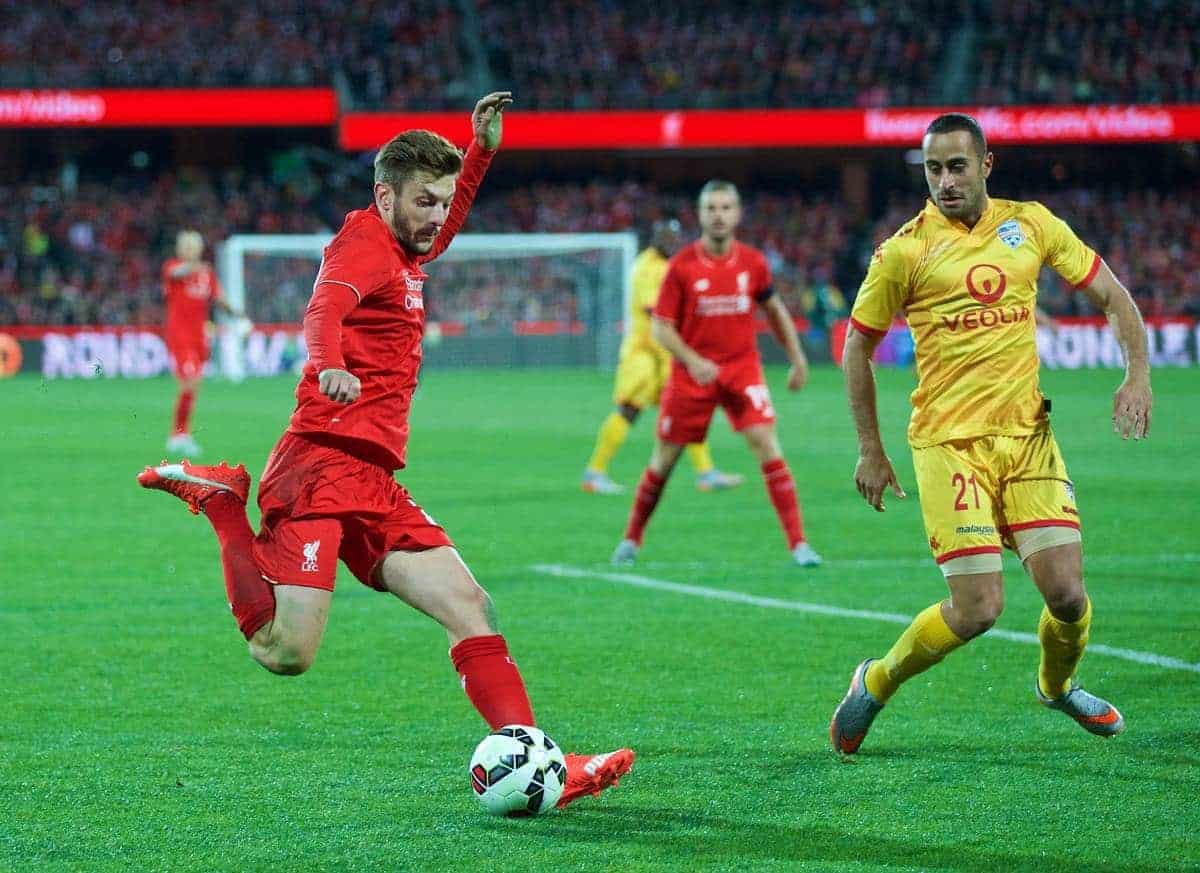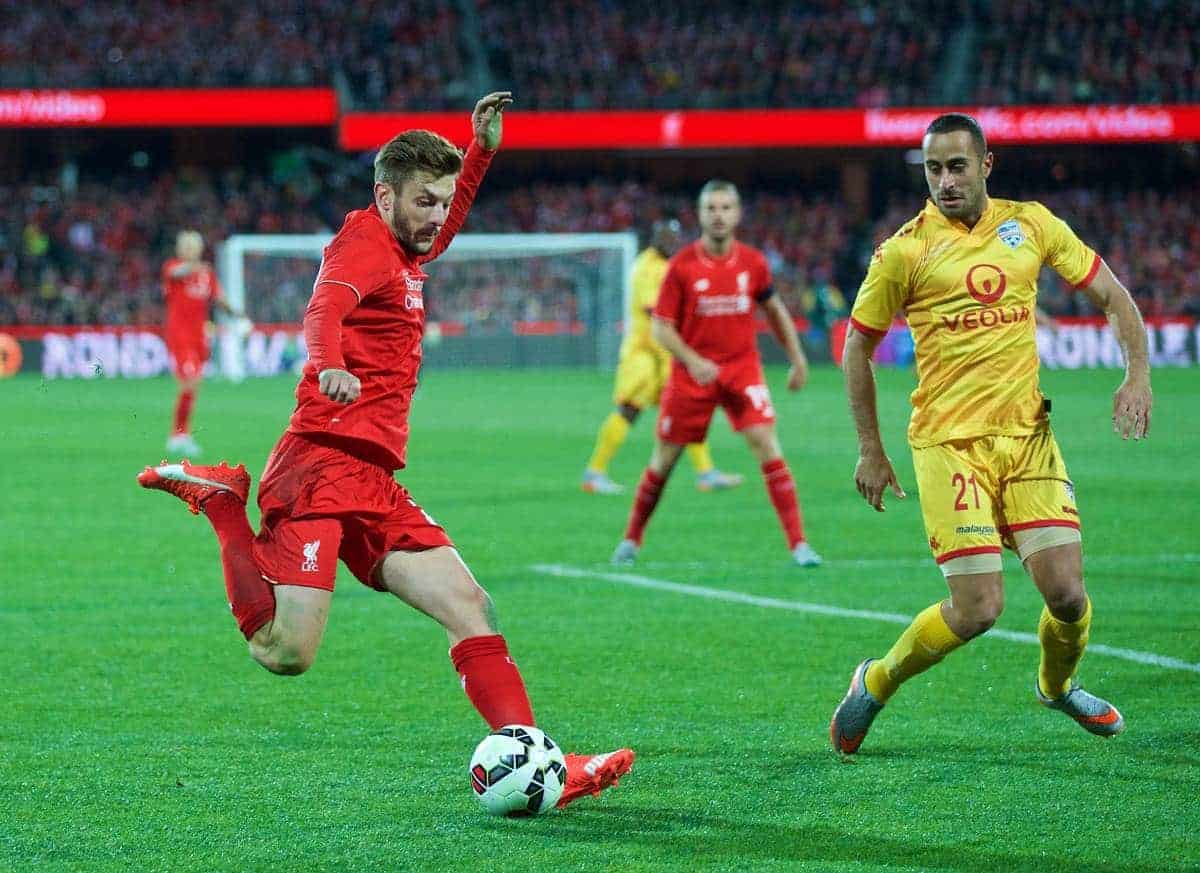 Lining his side up in a 4-3-3 formation at the Adelaide Oval, Rodgers deployed a midfield three of James Milner, Jordan Henderson and Joe Allen behind the attacking trio of Adam Lallana (wide left), Jordon Ibe (wide right) and Divock Origi (centre-forward).
In the milder climate of an Australian winter, the Reds showcased a suffocating, front-footed style of play that could see them produced hugely effective Premier League performances.
The use of Lallana in the forward three, for example, provides Rodgers with an immediate pressing outlet.
Liverpool's decision to spend £25 million on a then-26-year-old Lallana last summer is often derided by supporters, but he is a player well suited to Rodgers' style of play.
Off the ball his movement is intelligent, and despite his lack of pace his work rate is very high—giving him an advantage in pressing the opposition. Arguably this is one of the reasons why Danny Ings was signed this summer, too.
"The types of players we bring in will have the profile of what we want, so the transition should be smooth," Rodgers said of Lallana last summer.
"Of course, it will be strange for them at times coming into a new team, but you see it with Adam straight away he presses for the ball when he does not have it."
Though his transition was stunted by various injury issues last season, a fully fit Lallana—who completed the full 90 minutes in Adelaide—is showing signs of real quality this summer, as he did in bouts last term.
While Lallana's contribution was important, that of Liverpool's midfield three at the Oval was paramount.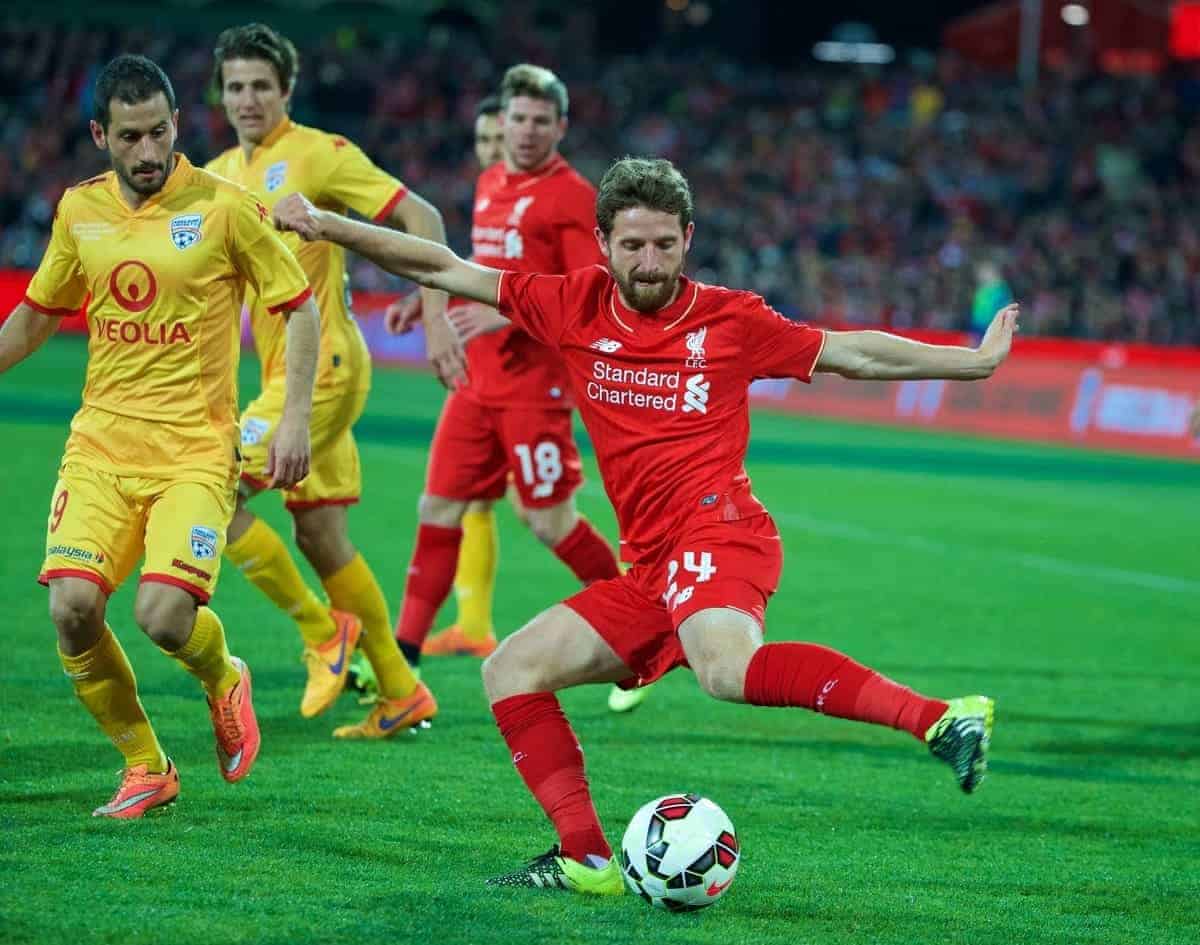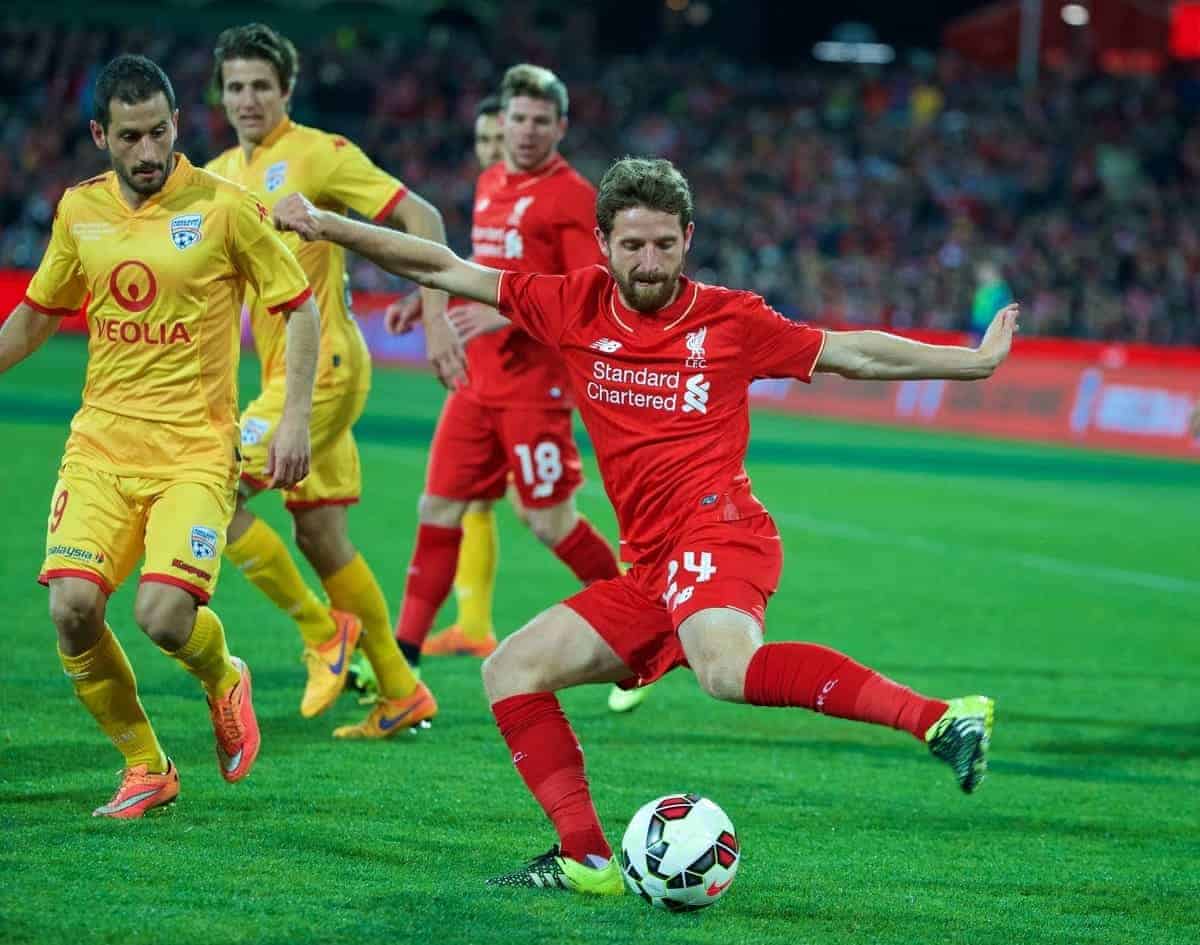 Allen's role in Rodgers' midfield can be rather enigmatic, but his ability in occupying space and suffocating the opposition when not in possession is hugely important, as his sharp passing play and intelligent movement.
Against Adelaide, he broke up play in a deep-lying role, and supported the attack when possible.
However, as was likely his tactical briefing, Allen left much of the advanced pressing to Milner and Henderson—in which the former was most impressive.
Milner is often described as a leader, and though he is not the most authoritative figure, he is a player who leads by example.
This was particularly evident with his pressing game in Adelaide.
Though Liverpool were primarily playing in a 4-3-3 system, Milner's desire and tenacity often saw him operate in a No. 10 role in the first half.
He was the first to snap at Adelaide heels, and the pressure he imposed provided the impetus for those around him.
Not least, this could be seen with Henderson's performance.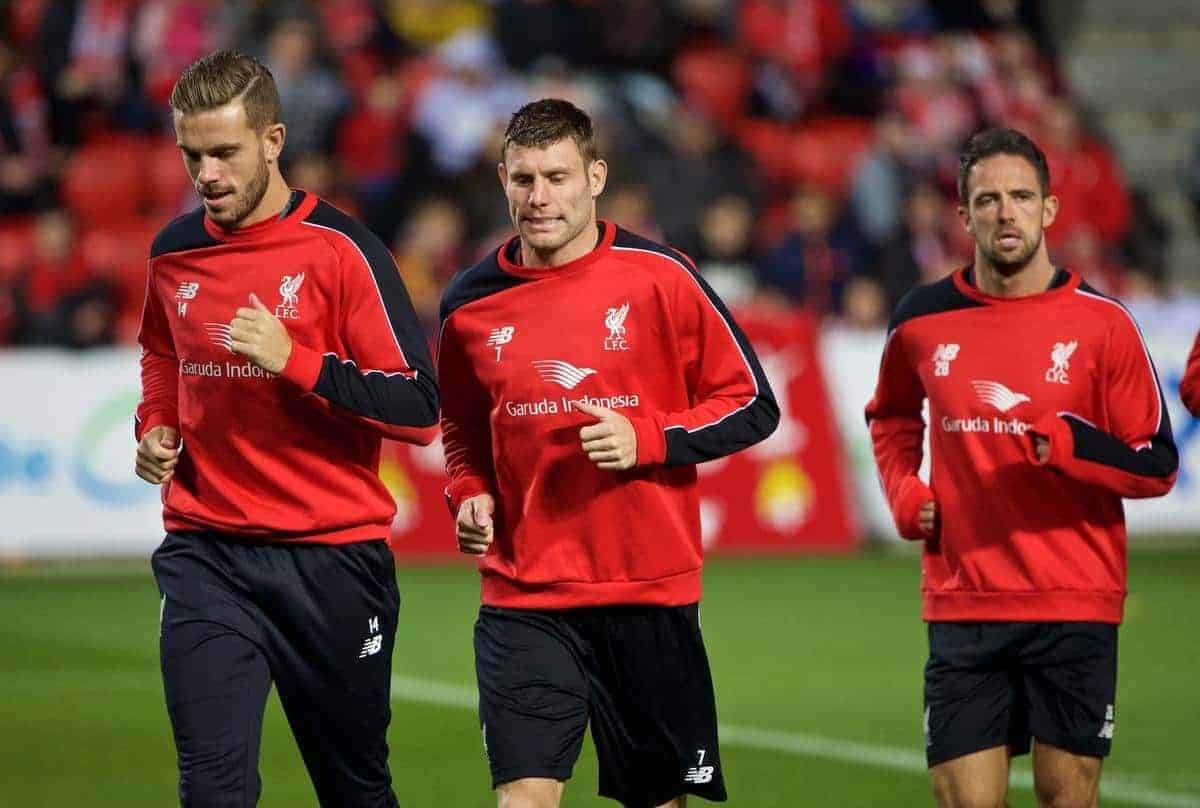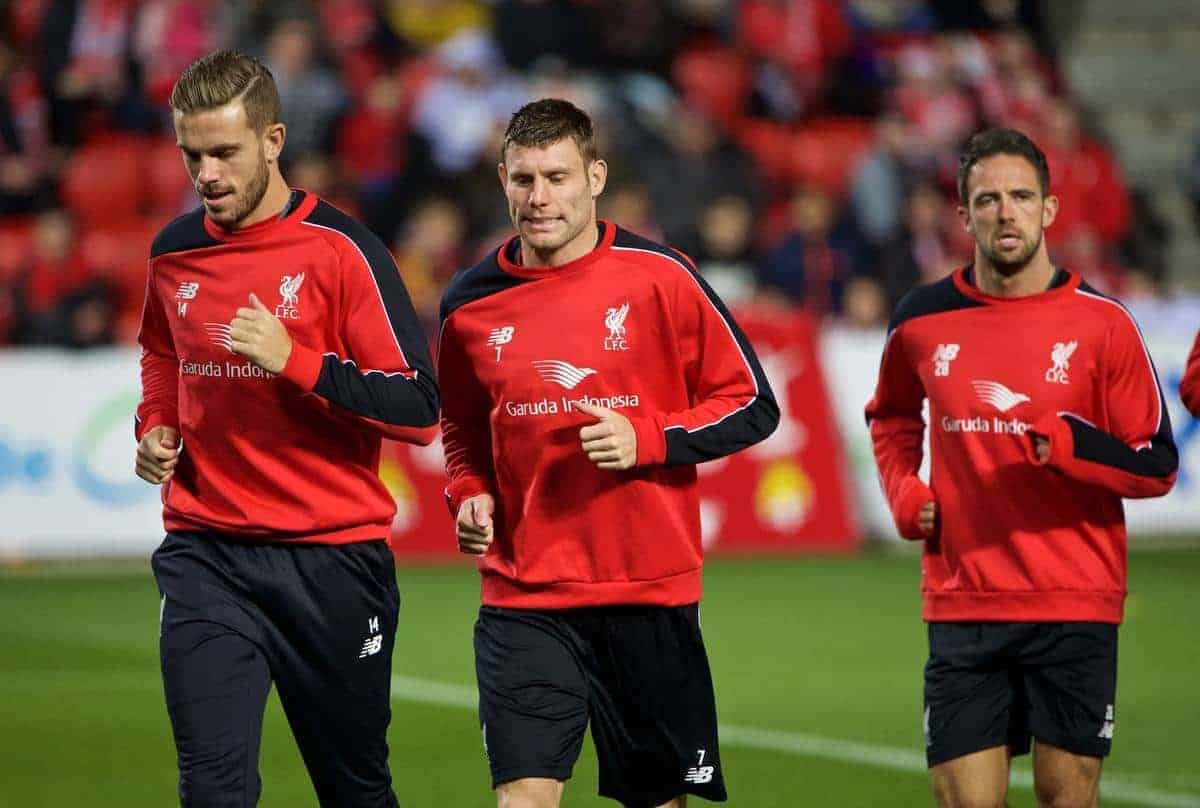 Often in the shadow of the pressing-shy Steven Gerrard since Rodgers took over on Merseyside, Henderson looks to be flourishing as Liverpool's captain and key midfielder since the No. 8's departure.
Milner's presence is having the adverse affect, with the unfashionable tandem spurring each other on.
"James Milner and Jordan Henderson could run to Adelaide!" Rodgers said after the Reds' previous pre-season win, over Brisbane Roar.
"The work they put into the game – how they press, how they run and also the quality."
This gushing testimony can now be extended further, as they look set to provide Liverpool with a perma-functioning pressing unit in midfield.
Pair this with Henderson's creative ability and Milner's on-goal nous, and Liverpool have more quality than the tandem are often given credit for.
Furthermore, while Milner is not necessarily the vocal leader that Liverpool will need, Henderson exudes authority—as can be evidenced by his demanding Jordon Ibe to put Adelaide defenders under pressure long into the second half at the Oval.
It is early days, but the Henderson-Milner partnership looks set to be a triumph. [td_ad_box spot_id="custom_ad_3″]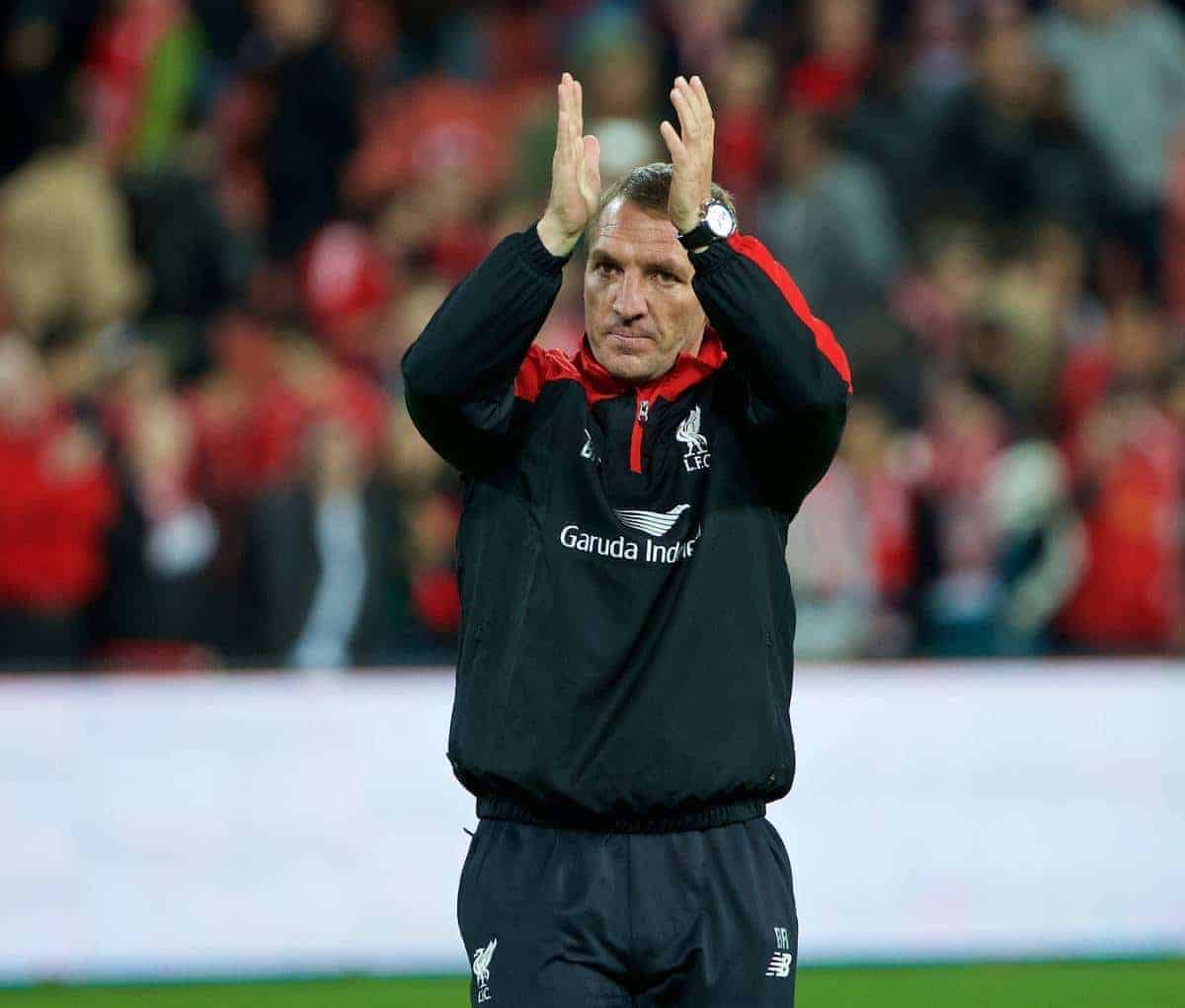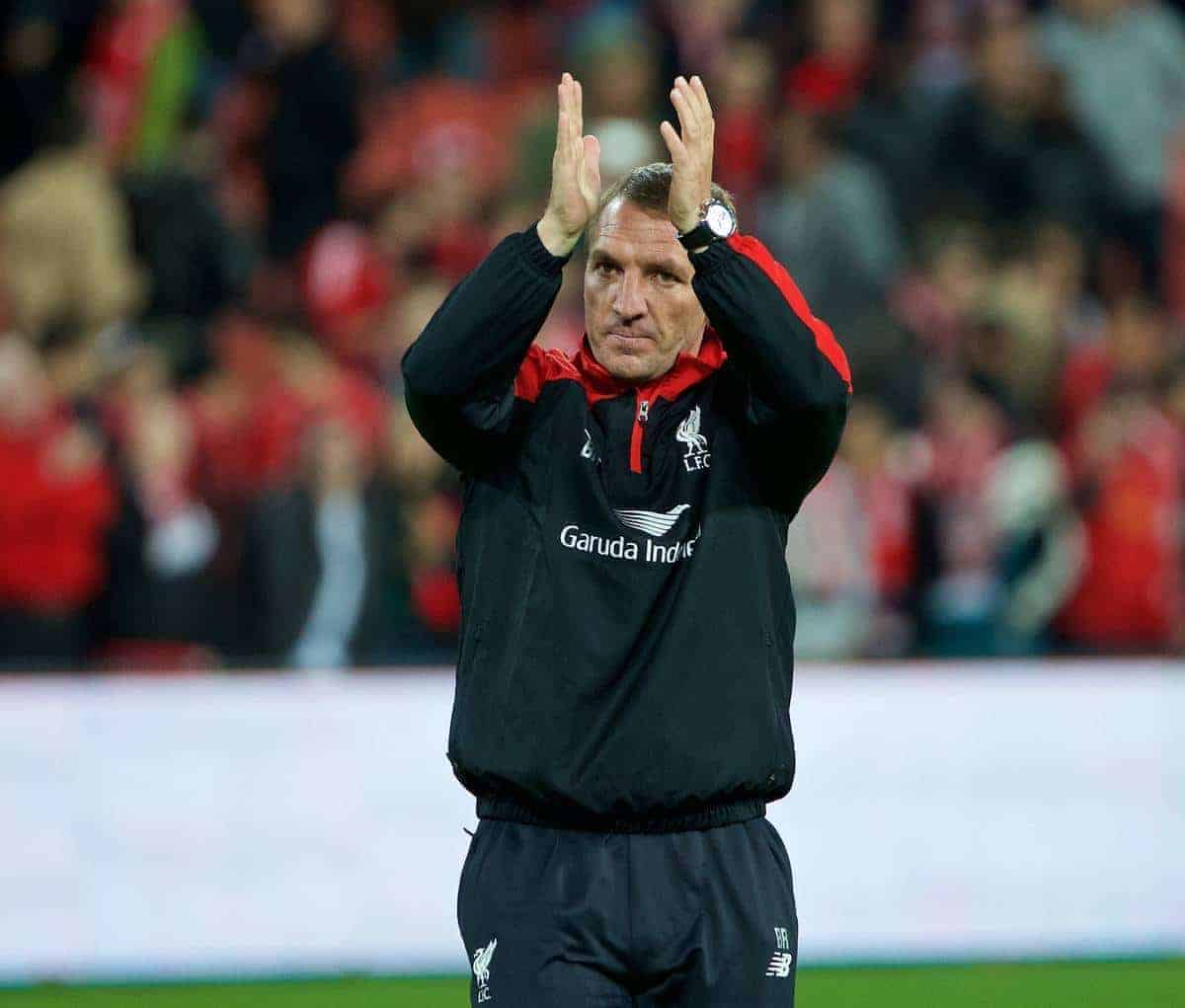 After the game, Rodgers focussed on the tactical positives that shone throughout this most recent pre-season victory:
"We achieved our objectives tonight, firstly to develop our fitness. I thought our pressing and intensity in the game was excellent.

"And we're obviously still improving and looking to develop that tactical idea with a host of new players.

"Our performance was very good again against another very well-organised team that play excellent football and play with a good notion of the game. Our set-up was good and the players played very well."
While he would be naive to compare the Adelaide outfit to that of a top-level Premier League side, at the Oval his side showed they can outwork an organised unit.
Use the rest of pre-season to hone this both in terms of philosophy and fitness, and add some much-needed flair in the form of Philippe Coutinho and Roberto Firmino, and this could be an effective system.
There is still a long way to go for the Reds.
But in the pressing performances of Allen, Milner, Henderson and Lallana among others—such as Dejan Lovren stepping out from defence to quickly quell attacks—Liverpool could return to the high-intensity performances Rodgers expects.