While Liverpool's 3-0 defeat at the hands of West Ham United was a collective disaster, the cameo performance of Danny Ings was a positive, writes Jack Lusby.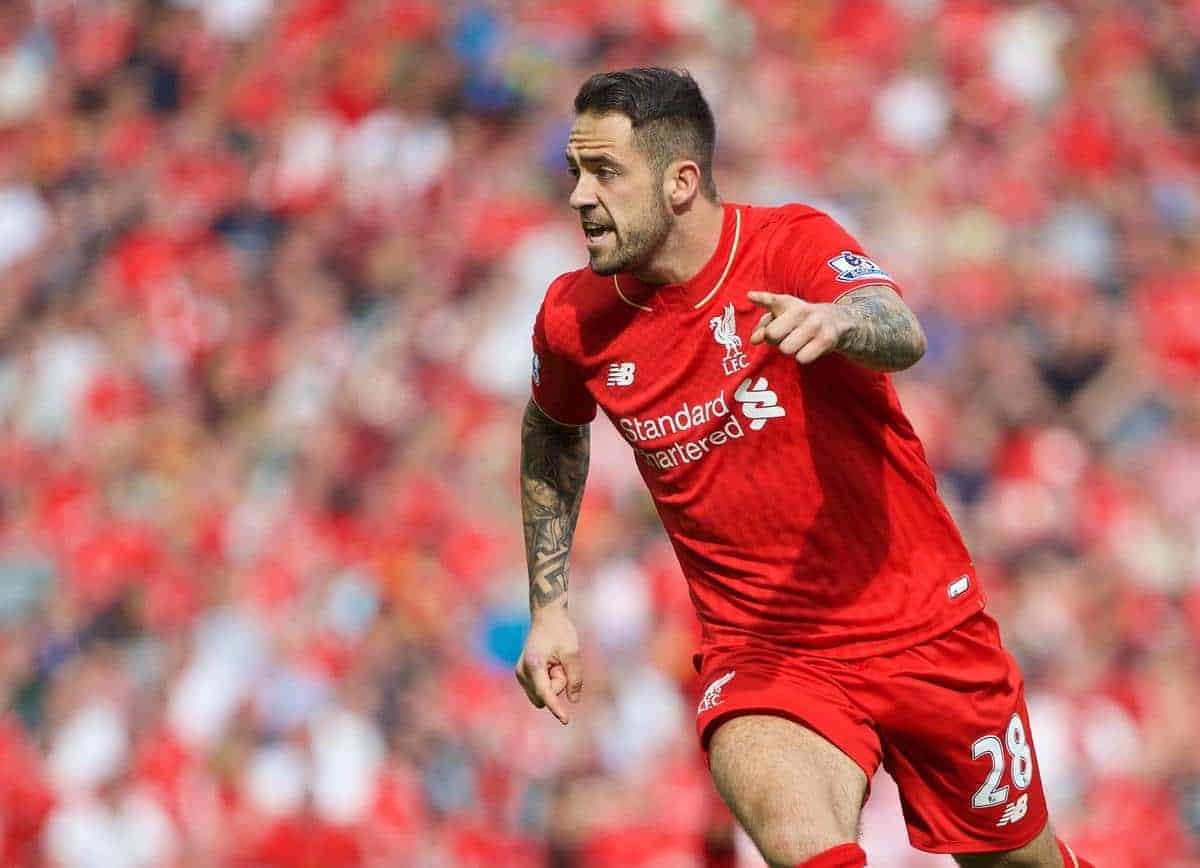 Danny Ings made his long-awaited Liverpool debut on Saturday, and although it came at a majorly disappointing time for the Reds the striker produced an encouraging performance.
Taking the place of Roberto Firmino 61 minutes into Liverpool's 3-0 loss at home to West Ham United, Ings was tasked with livening up a truly insipid performance by Brendan Rodgers' side.
On the final whistle, he was one of few Liverpool players to come away with any credit.
So did the former Burnley man give Rodgers something to think about as he plans to move Liverpool forward this season?
First-Hour Landscape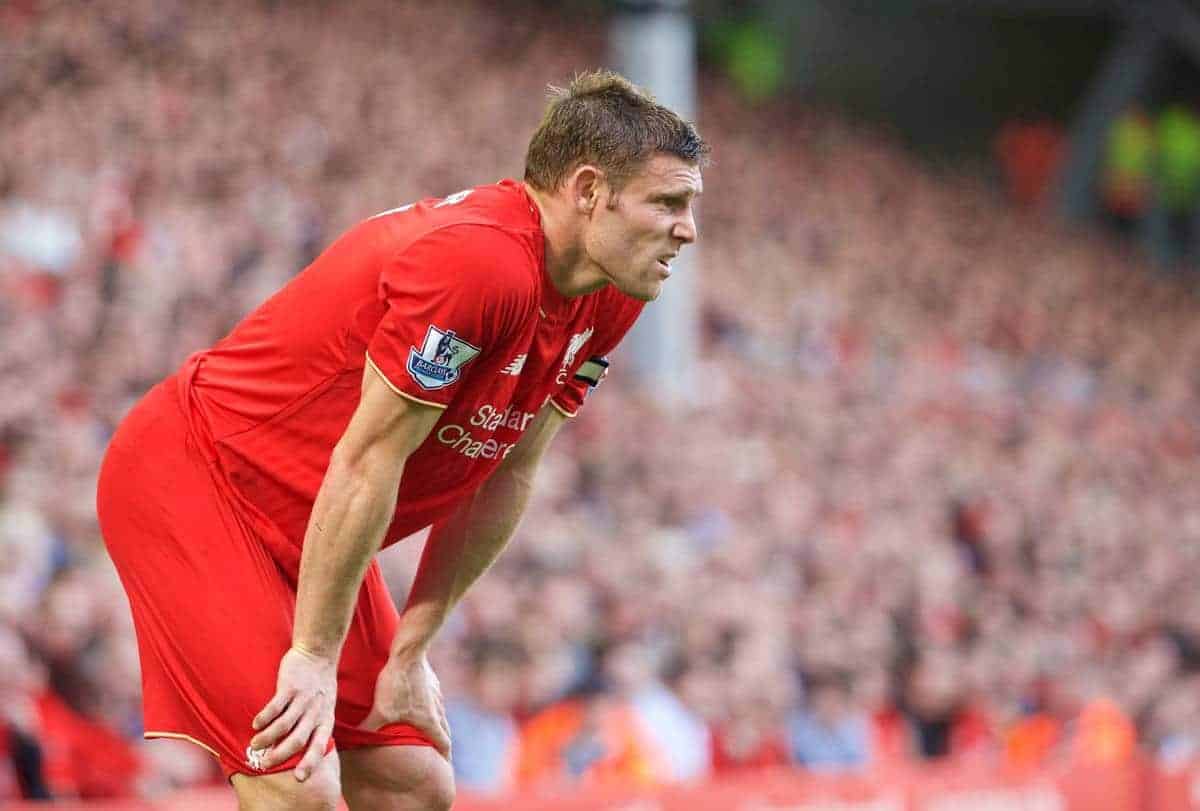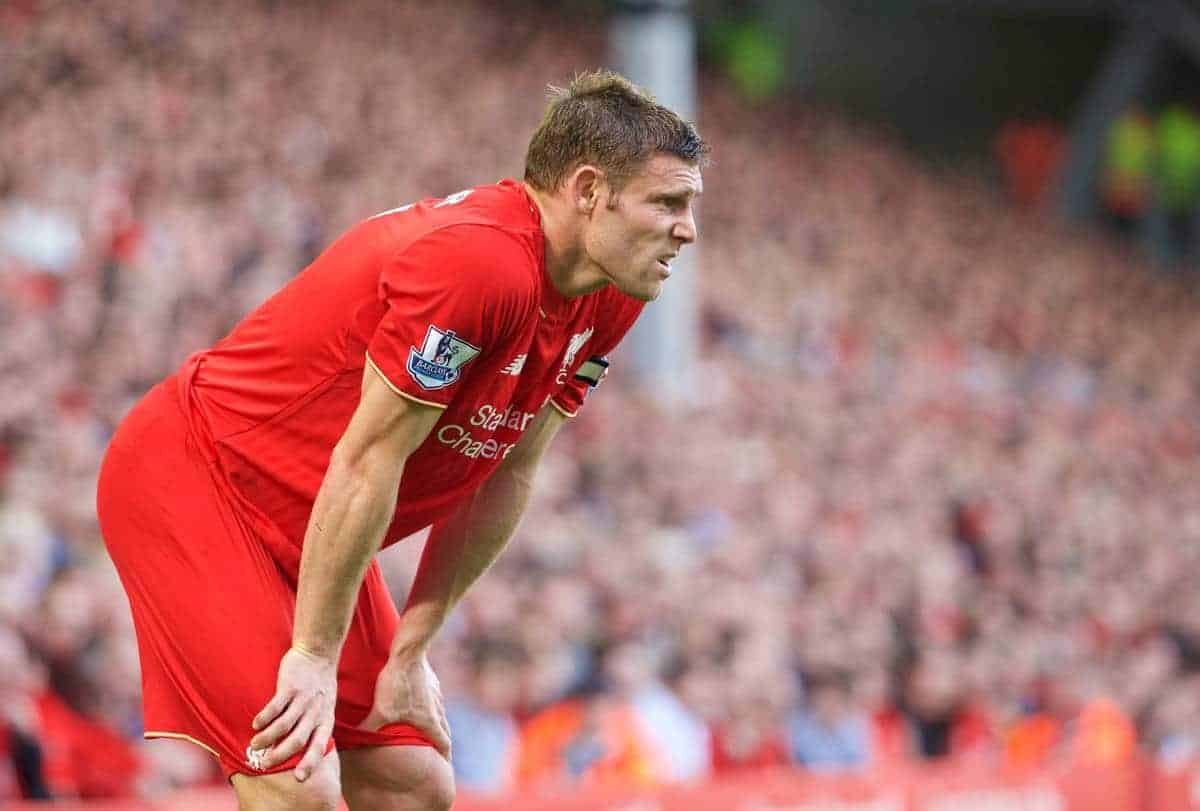 Riding the crest of a three-clean-sheet wave, Rodgers' side were looking to go into this clash and preserve their strong record at the start of 2015/16, before heading off for the international break.
Ten points from a possible 12 would see Liverpool challenging at the top end of the Premier League, with a trip to take on top-four rivals Manchester United to come on their return.
Lining up against a well-organised West Ham side, led by the hyper-focussed Slaven Bilic, Liverpool got it all wrong.
From defence to attack, the Reds were limp and listless—outplayed by their hardworking opposition.
A weak defensive line saw poor performances from centre-backs Martin Skrtel and Dejan Lovren, while out-of-position Joe Gomez was exploited by a bright Manuel Lanzini.
Fielding Lucas Leiva at the base of midfield was a tactical oversight by Rodgers, with Liverpool needing to dominate in numbers against a compact, two-banks-of-four Hammers defence.
Going behind after just three minutes, to an opportunist's effort from Lanzini, set the Reds on the back-foot, and Mark Noble's strike after half an hour saw them sink deeper into desperation.
Philippe Coutinho's red card on 52 minutes sealed Liverpool's fate, but a roll of the dice from Rodgers saw him introduce Ings less than 10 minutes later.
Danny Ings' Introduction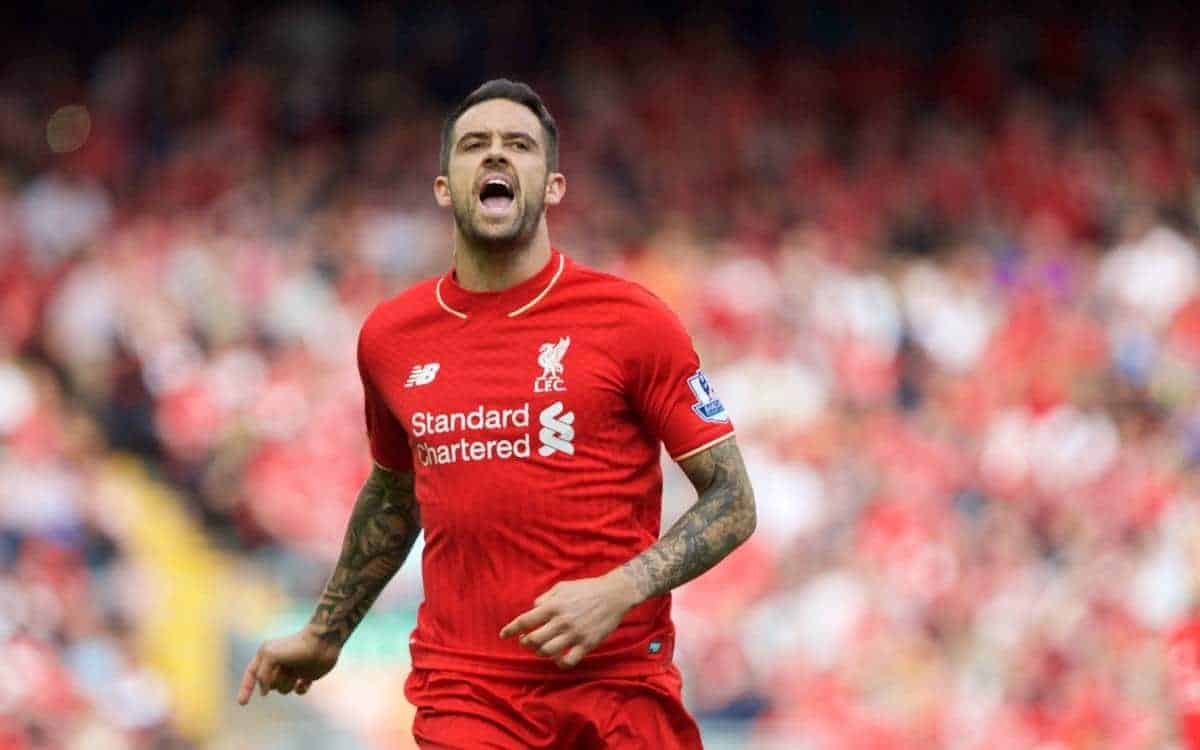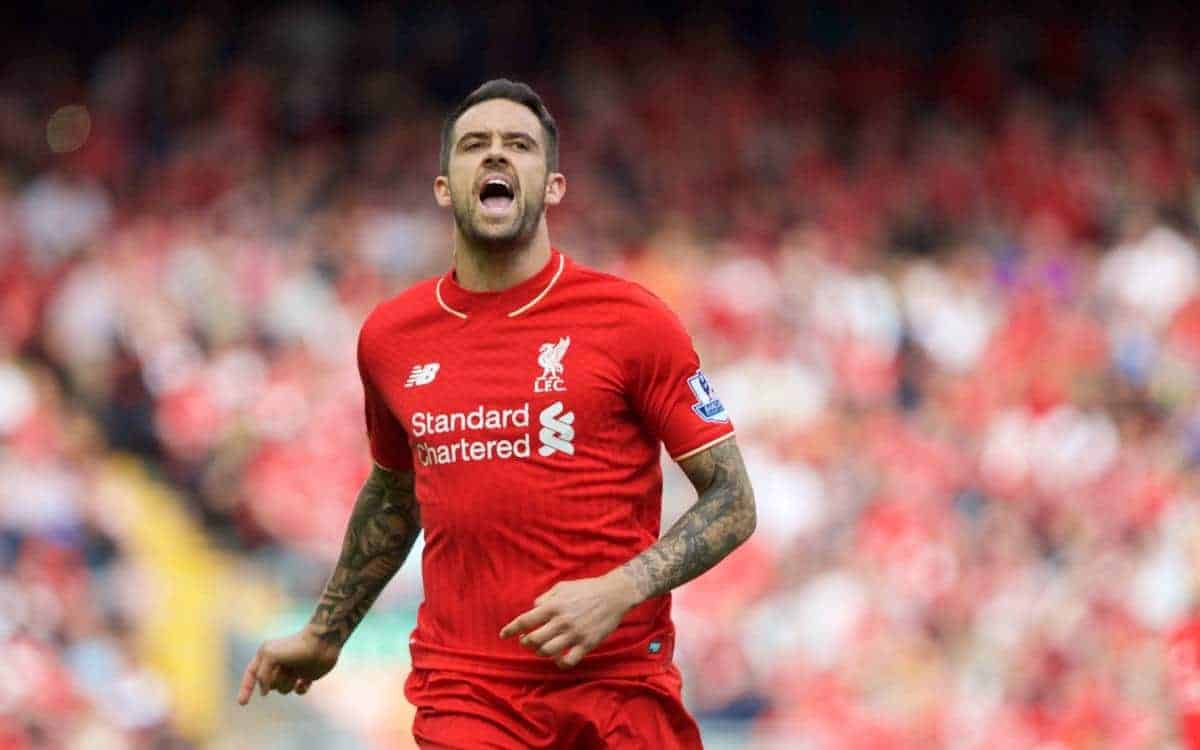 Brought on just after the hour mark, Ings cut a focused, composed figure, rolling down his socks as Firmino jogged off the field.
This debut must have seemed like a long time coming for the striker, after his disappointing withdrawal from the sidelines following Coutinho's wonderstrike against Stoke City on the opening weekend.
Ings has come to Liverpool to give his all, knowing that he will play a rotational role, and he will require a steely mentality if he is to take on an Ole Gunnar Solskjaer-esque function in Rodgers squad.
Happily on his introduction the 23-year-old showcased what he could give to Liverpool, and what they were missing in the first hour of this contest.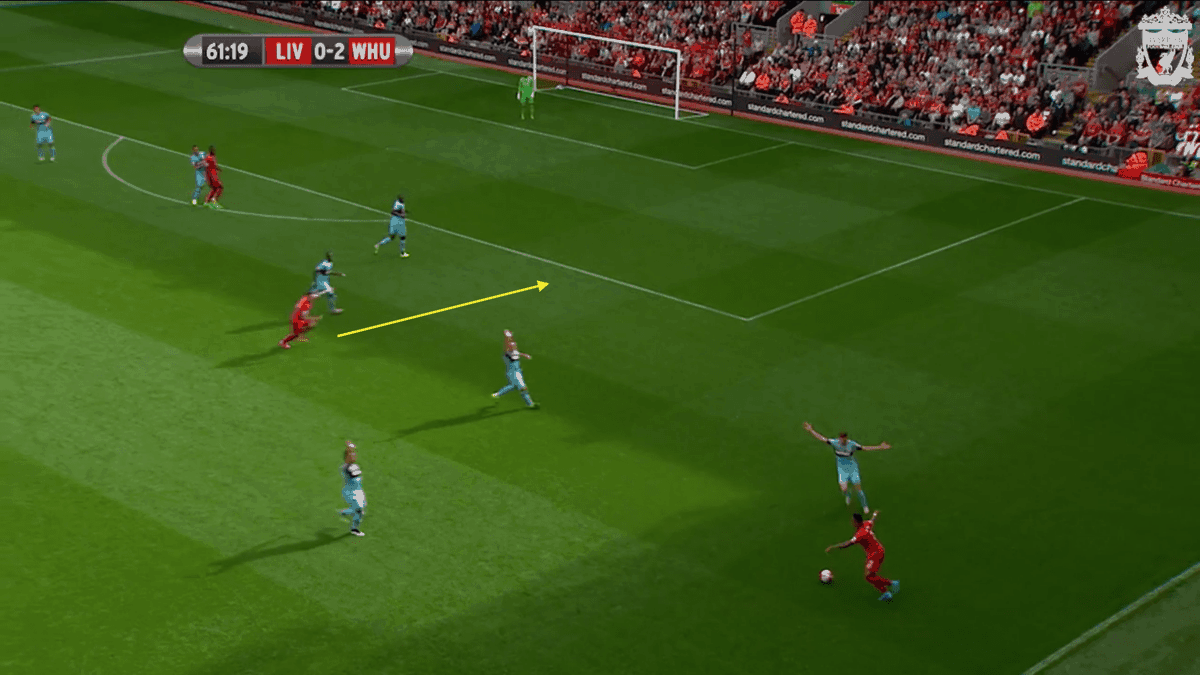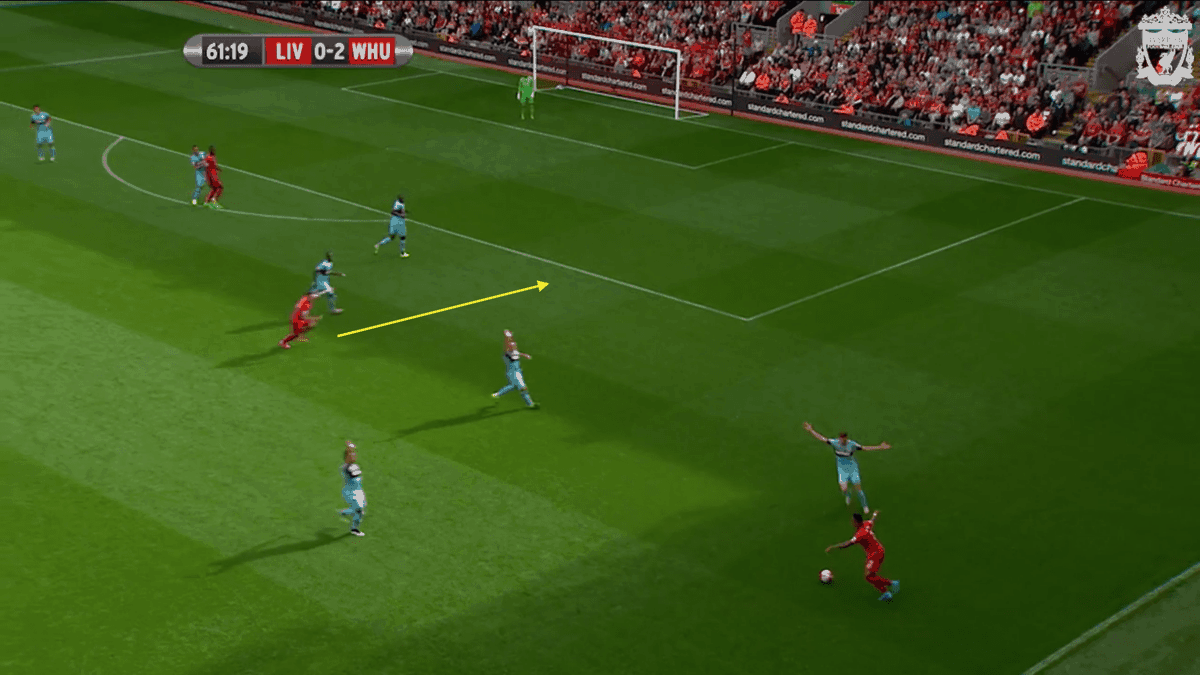 His first touch was to receive the ball from Lucas, turn and spread the play wide to Nathaniel Clyne before making a penetrating run into space on the edge of the penalty area.
Clyne unfortunately handled the ball in the process of receiving Ings' pass after a slip, but the striker's intent was clear.
Ings provided a vital extra body in the attacking areas, and though he was initially deployed in a wide-right position, his natural instinct was to drift inside and support a previously isolated Christian Benteke.
His presence in the box allowed him to touch down an Alberto Moreno cross to play in James Milner for one of the Reds' best chances of the game on 64 minutes.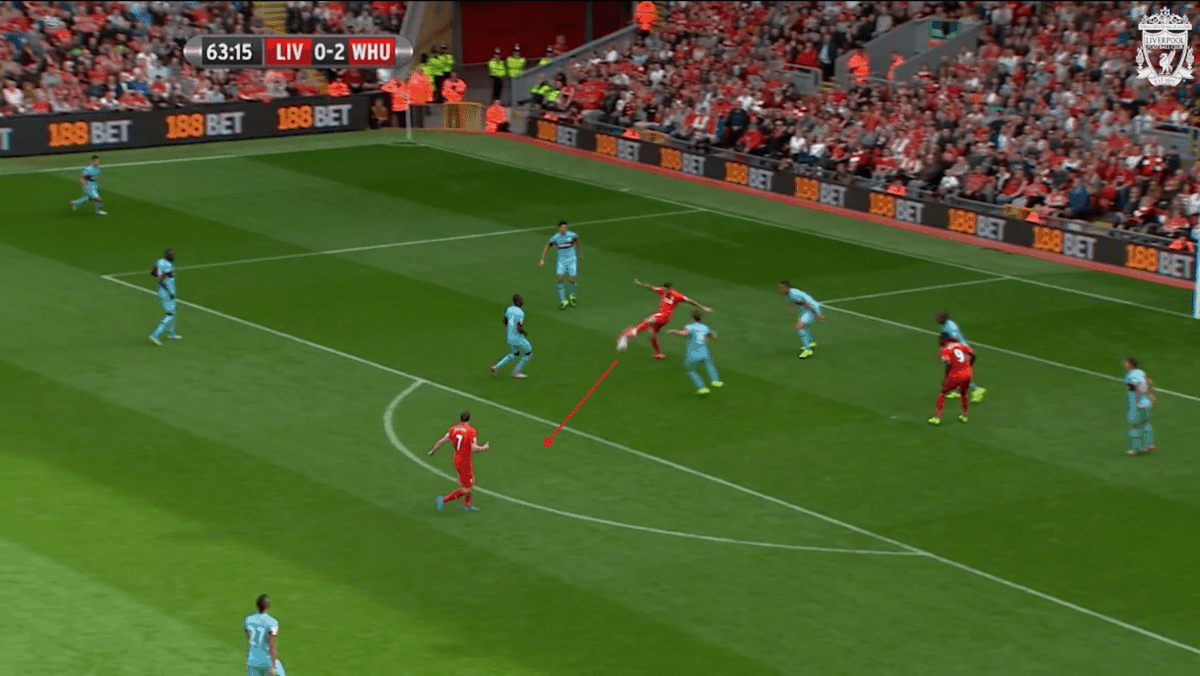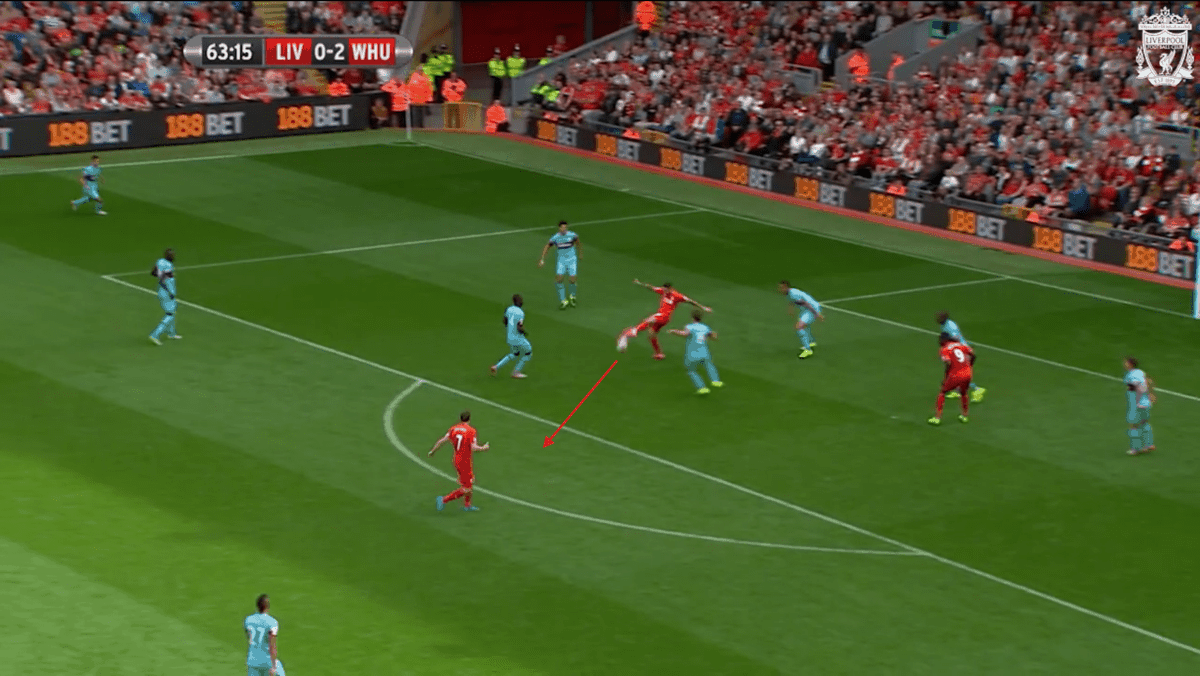 With Liverpool flagging, Ings injected some much-needed energy from the right, and a minute later he worked to create another opening.
Receiving the ball on the right flank with space to drive into, he cut inside and forged towards the West Ham penalty area.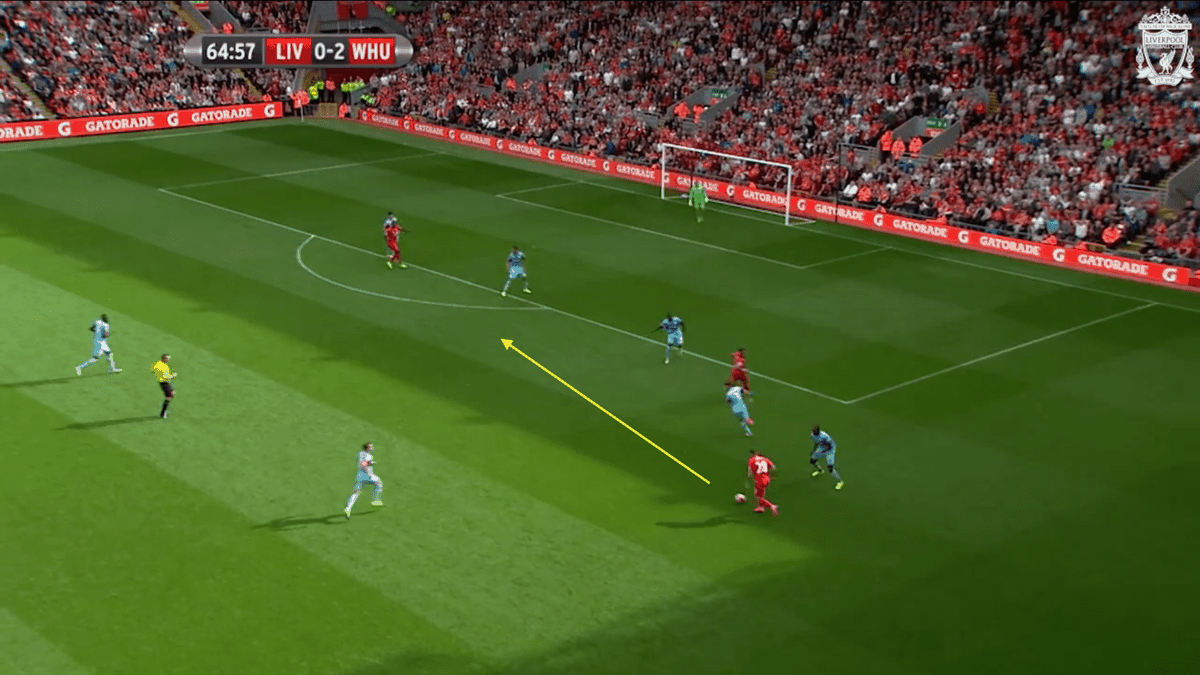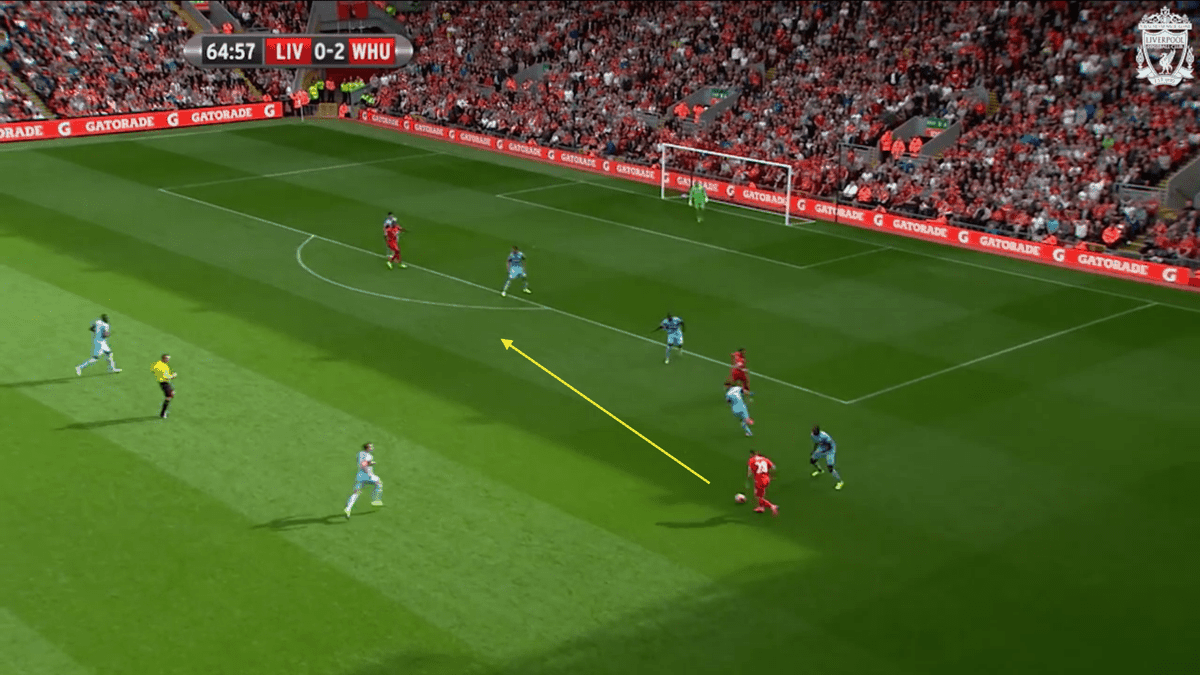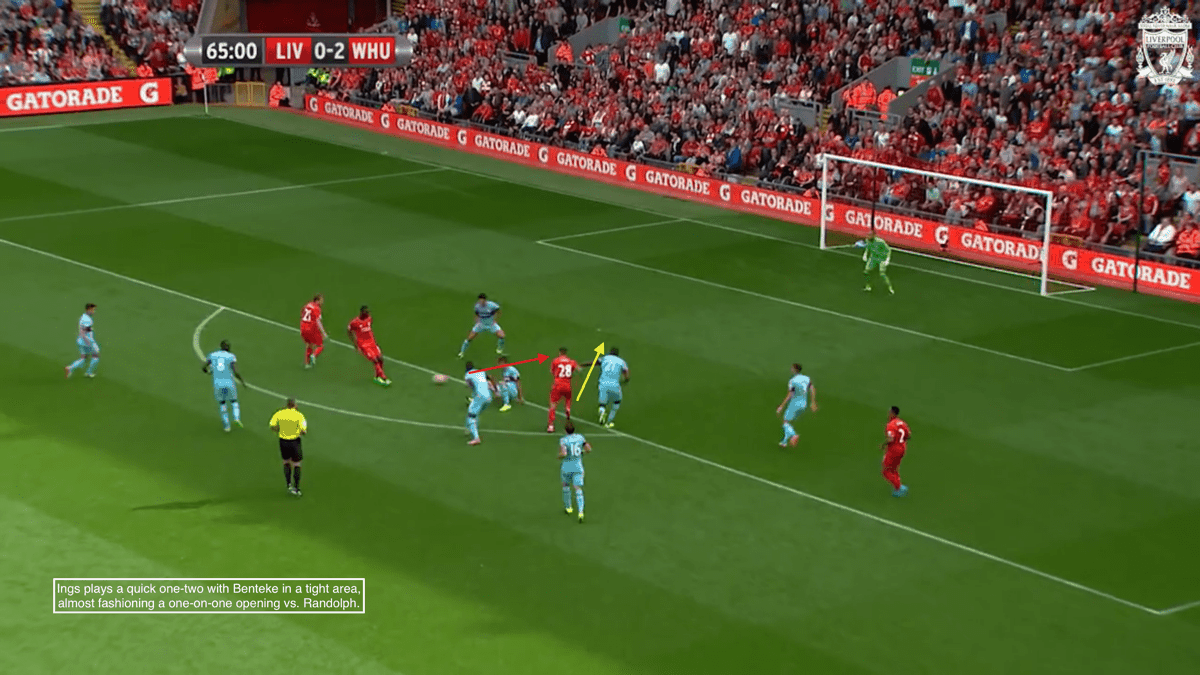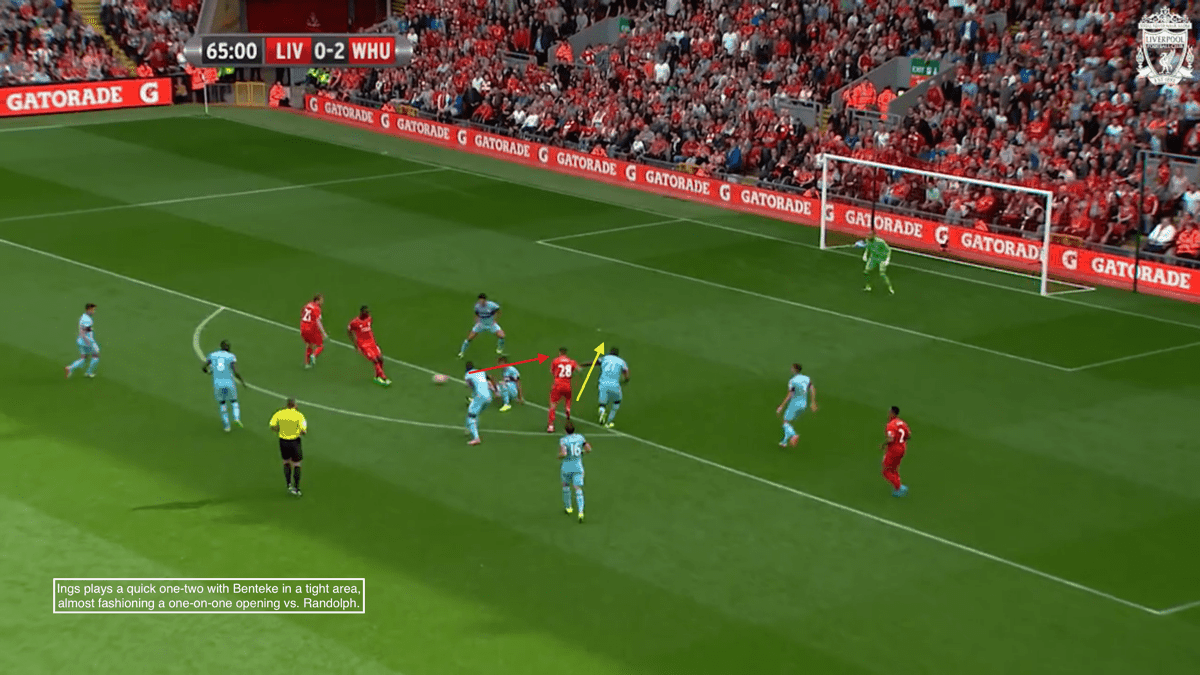 Playing a quick one-two with Benteke, Ings almost found himself through on goal, but he was outmuscled by Cheikhou Kouyate and Darren Randolph was able to collect.
Nevertheless, this was a piece of real inventive play.
This energy was not only apparent in the attacking sector, however. Ings will have been brought in by Rodgers partly due to his ability to press, and chasing a long ball from Milner on the shoulder of Winston Reid he pushed the centre-back towards the byline to clear for a dangerous throw-in on 73 minutes.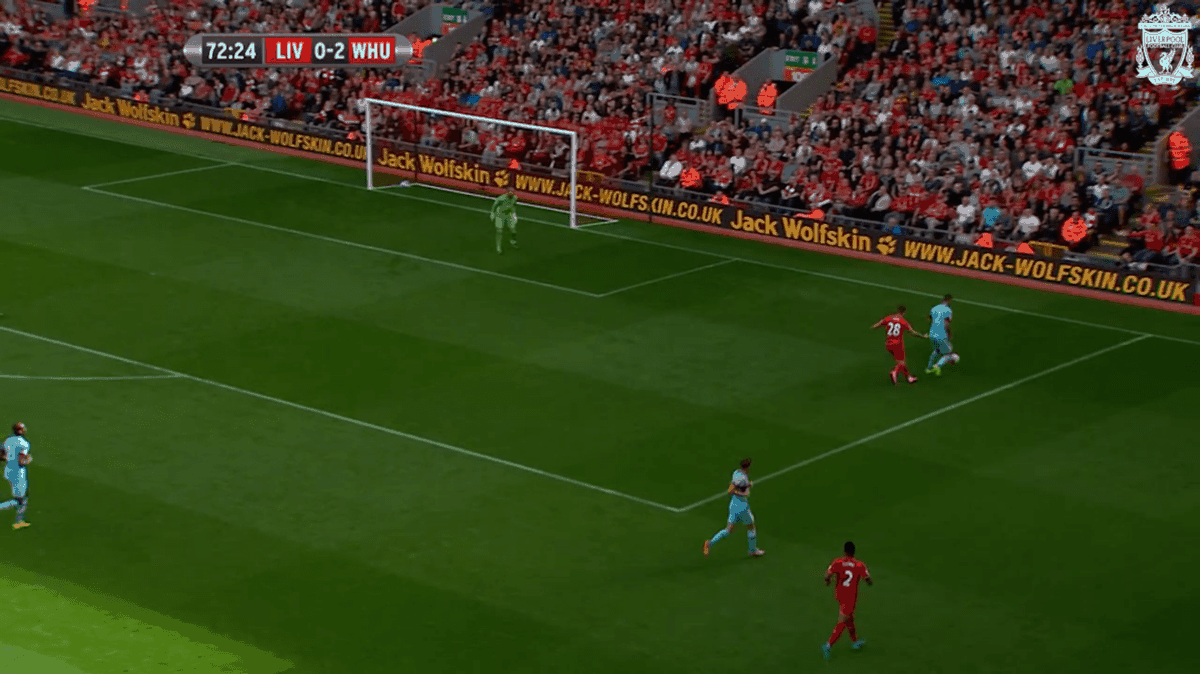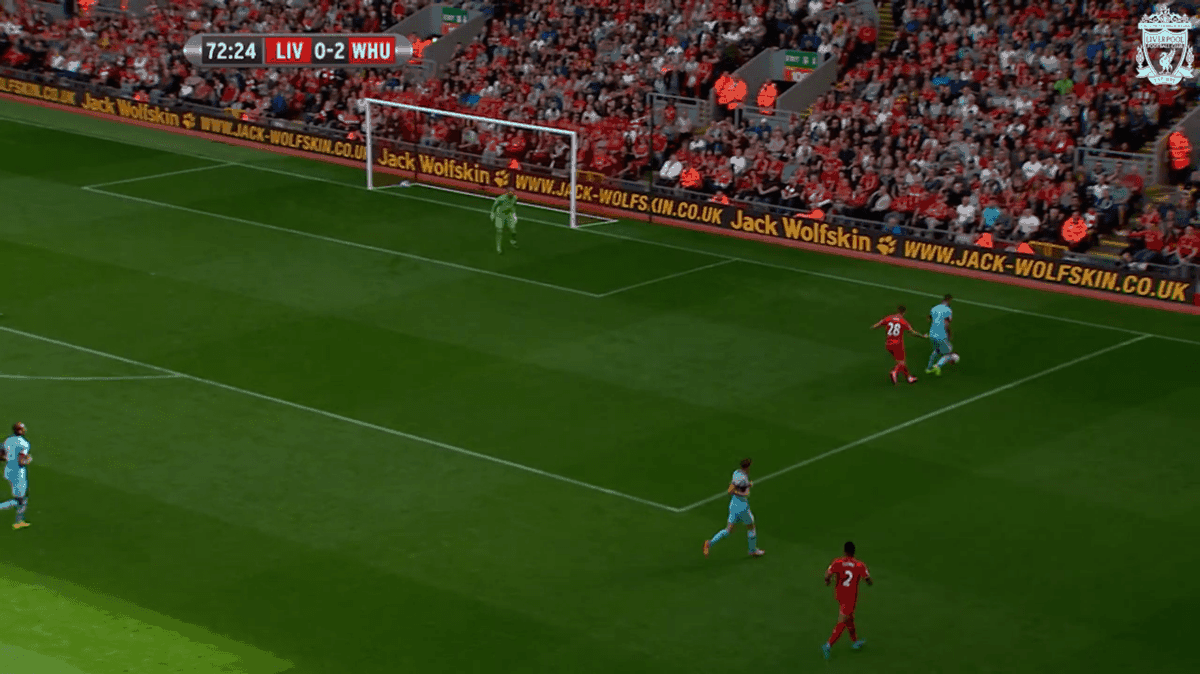 In the absence of Coutinho and Firmino, Ings forced the Hammers defenders to react, rather than wait and allow them to play.
Similarly, he contributed to Liverpool's defensive play around their own penalty area, although one tracking run—chasing playmaker Dimitri Payet—saw Ings make an unnecessary foul, earning his first yellow card of the season.
Ings sparked Liverpool back into life, and on Jordon Ibe's introduction on 78 minutes he showed Rodgers his most suitable future role, as well as a solution in light of Coutinho's suspension.
Future Role?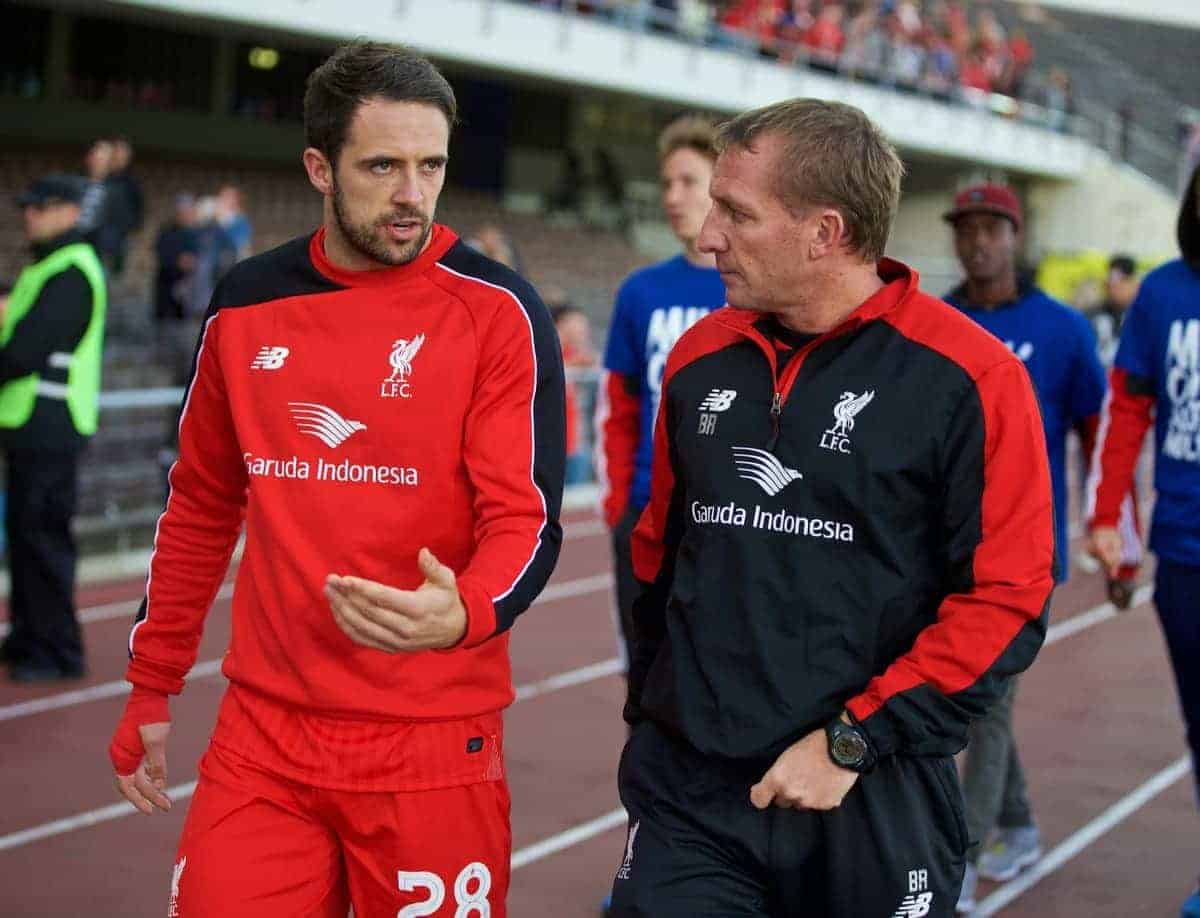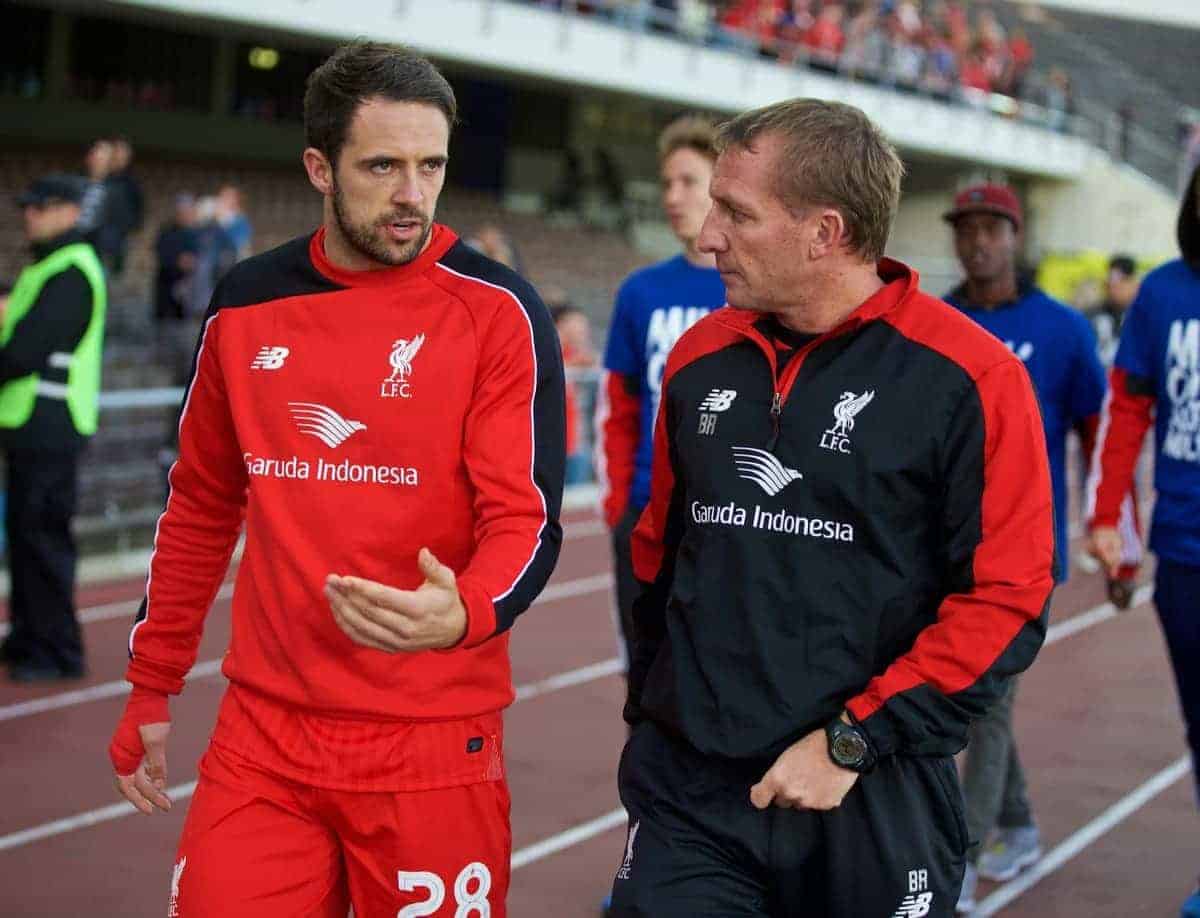 After just under half an hour's competitive football, does Ings look likely to offer more to Rodgers' attack than Fabio Borini?
The 23-year-old arguably replaced Borini in Rodgers' first-team squad, and though a 29-minute performance in a 3-0 loss is not the best yardstick for quality, Ings looks to be a useful addition.
Moving into a central position following Ibe's introduction, Ings showed a more valuable all-round game than the Italian.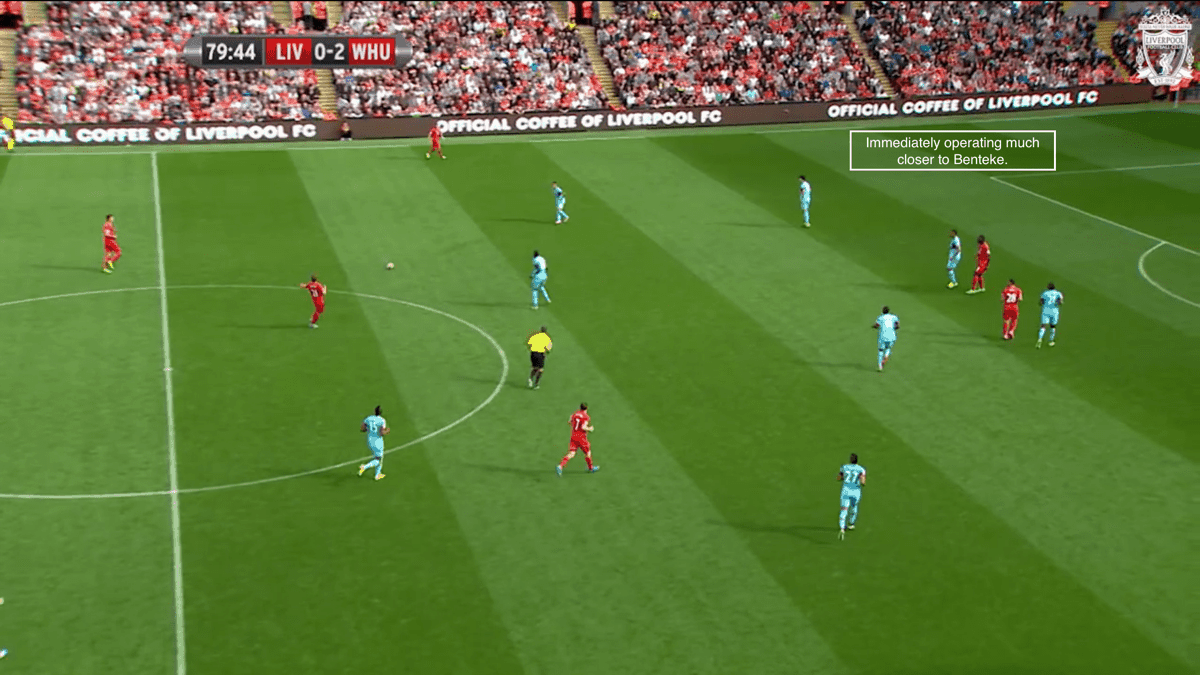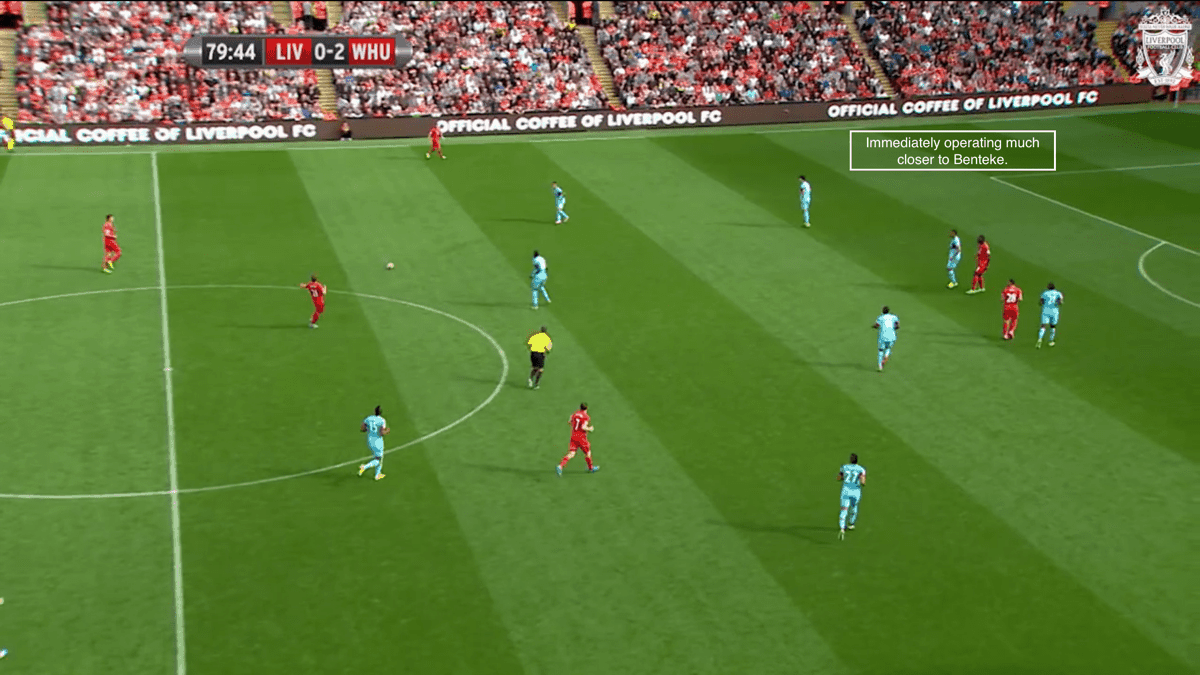 Benteke's isolation throughout the opening hour at Anfield on Saturday was a worryingly familiar situation for Liverpool supporters.
If Coutinho has been unable to support the striker, he has been wholly ineffective.
His partnership with the Brazilian No. 10 must be built around by Rodgers, but with Coutinho suspended for Liverpool's trip to Old Trafford, Ings could offer a useful covering option.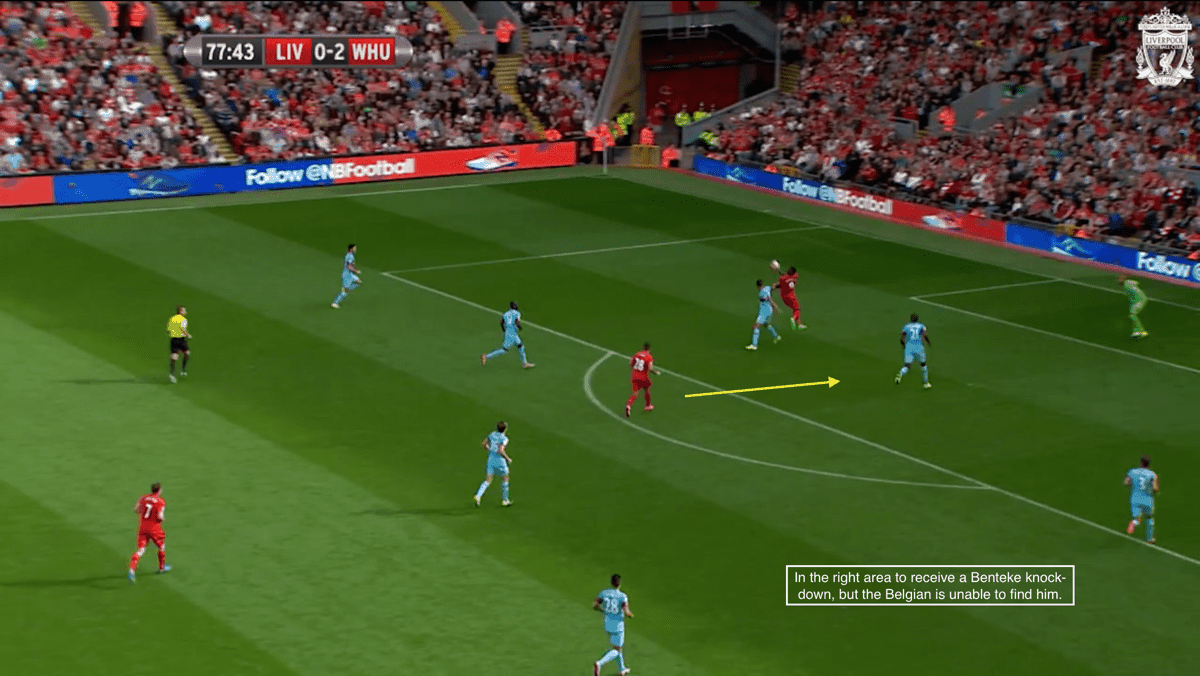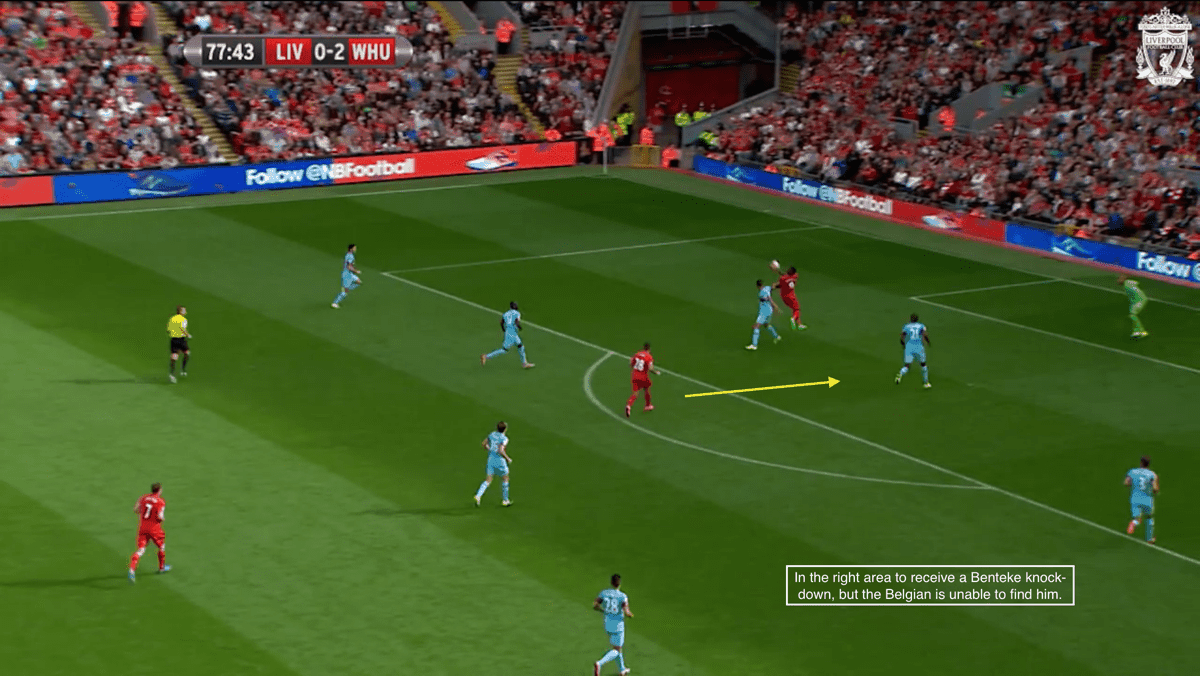 Within 30 seconds of Ibe replacing Joe Gomez, Ings found himself in a position to benefit from a Benteke knock-down.
A lofted ball towards the Belgian prompted his new strike partner to dart into space in the penalty area but, with his back to him, Benteke was unable to find Ings' run.
However, chasing the resulting loose ball, Ings' pace and pressure forced Noble into a hugely debatable red-card challenge on the edge of the box—while the Hammers captain will no doubt see this decision overturned, Ings' pressure forced referee Kevin Friend into making a decision.
[quote_box_right]Ings' Game in Numbers:
29 minutes
13 touches
11 passes
63.6% passing accuracy
1 key pass
1 long pass
1 shot
2 fouls
1 yellow card[/quote_box_right]
His final contribution came when he picked up the ball outside of the West Ham penalty area, turned and fired a hopeful shot on goal.
It was deflected behind, nicely summing up the 23-year-old's afternoon: one of Liverpool's brightest players that looked to make things happen in the final third, but was ultimately fruitless in his execution.
Nevertheless, using Benteke and Ings as a forward two will be a valuable option for Rodgers, particularly while he awaits the return of Daniel Sturridge from injury.
In his 29 minutes on the field, Ings offered pace, movement and pressure in the final third and, most importantly, another option in supporting Benteke.
The No. 28 is an unassuming character within Rodgers' first-team squad, but this bold cameo performance could have pointed to an important role in the games to come.
Rodgers needs to make a change against United, and Ings could be the man who benefits.
[interaction id="55e4393cb48a774e21a4fdce"]