Chris McLoughlin is looking forward to new Liverpool No. 7 James Milner opening his account for the Reds against Norwich on Sunday…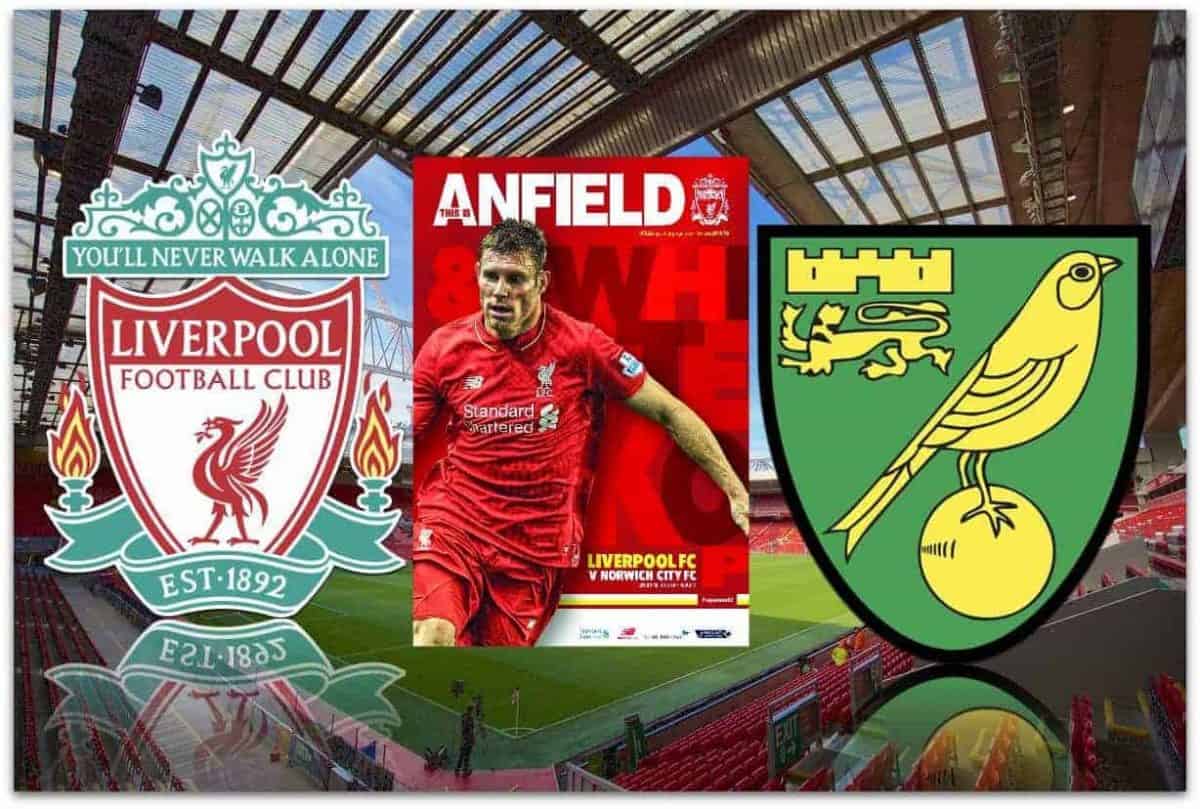 I'm looking forward to seeing James Milner score his first goal at Anfield on Sunday. Notching your opening goal in front of the Kop in your third home match isn't bad – there are plenty of players that have taken far longer to open their goalscoring accounts – and you don't need me to tell you that this Liverpool side need goals from midfield.
Why so confident that he'll score? He wears the number seven shirt and our number sevens always score against Norwich. At least the last fella who wore that shirt did. At will.
There's always a danger when writing about Luis Suarez that you can come across as an overly sentimental, misty-eyed Kopite wistfully looking back at a genius of a player that Liverpool lost.
However, given his record of 12 goals in the last five meetings between the Reds and the Canaries then you can bet Delia Smith will be cracking open a bottle of Cabernet Sauvignon with her pre-match coq au vin to celebrate the Uruguayan being nowhere near Anfield on Sunday afternoon. John Ruddy will have slept a hell of a lot better on Saturday night too.
What you've probably forgotten, though, is that Suarez's tally of 12 against Norwich should be far higher. In October 2011 they came to Anfield and dug out a hard-fought 1-1 draw, Grant Holt equalising after Craig Bellamy had opened the scoring against his old club. During the course of that game Suarez had 11 shots on goal – more than any single player had managed in a Premier League game all season – but failed to convert any of them.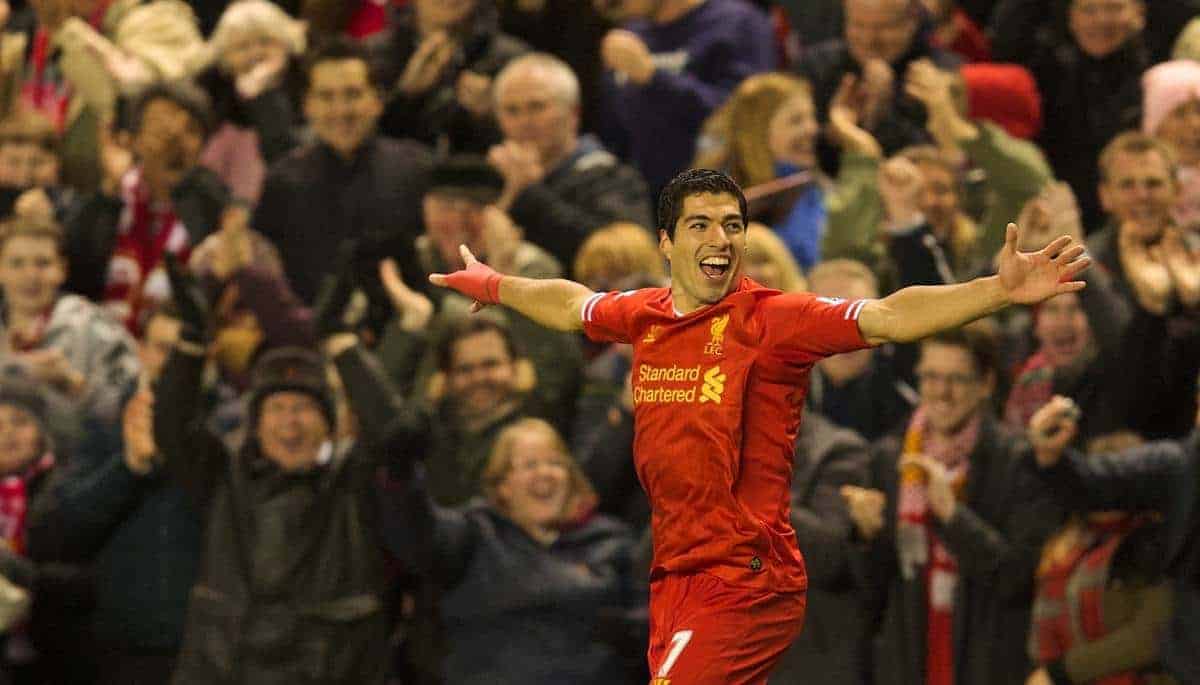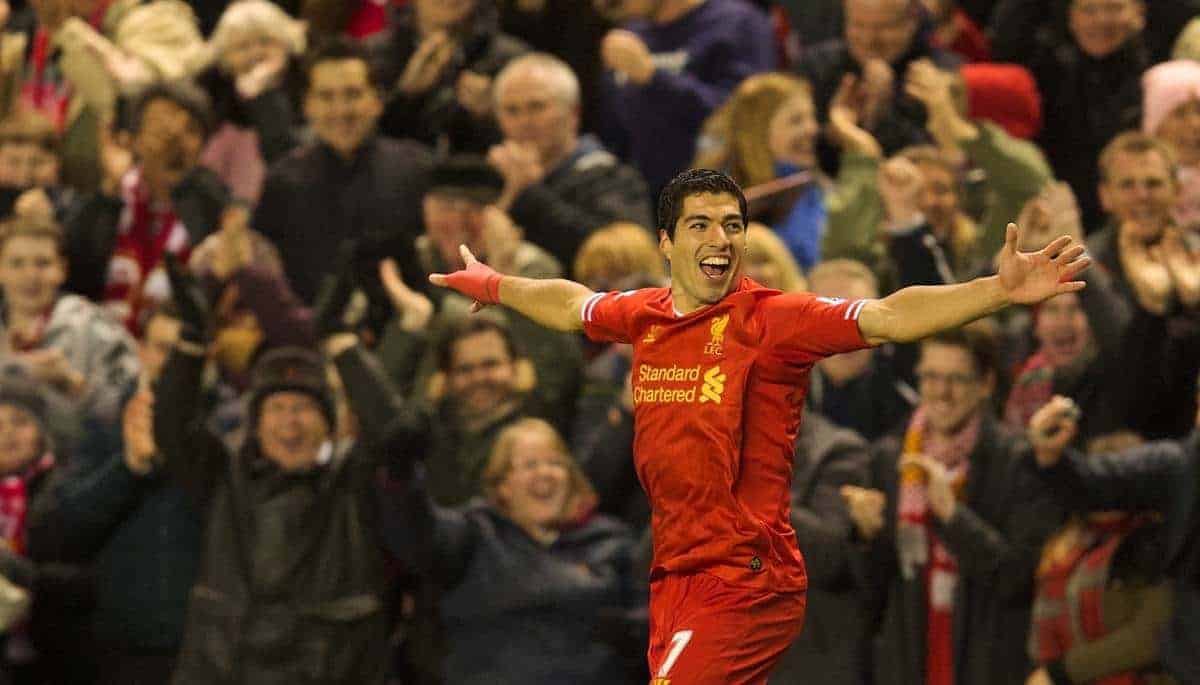 Ruddy produced two sensational saves to deny him, tipping one effort onto the post and somehow stopping a late volley, but it seems that only served to ensure Suarez was determined to make amends whenever he played Norwich next and proceeded to beat Ruddy from pretty much every angle imaginable during four of the next five encounters (Mark Bunn played in the other). Even by his standards, Suarez' goal collection against Norwich is something special.
First came the 3-0 win at Carrow Road in April 2012. His opener was a run-of-the-mill left-footed cross shot into the far corner. Not that we've seen such run-of-the-mill finishing this season. Then he got serious. For his second he shrugged off a tackle on the right wing, sprinted forward and blasted a in a low right-footed shot from the type of diagonal angle that bishops on a chess board take to scatter pawns.
He then lobbed Ruddy from so far out for his hat-trick clincher that he was almost closer to the pedestrianised Norwich City centre than the Canaries' goal, prompting a bald fella to run on from the away end to celebrate with some interesting hand gestures.
Five months later Suarez went back to Carrow Road and, despite wearing that garish 'nightshade' kit that appeared to be based on the bins round here, scored another brilliant hat-trick, firing the first from just in front of the 18-yard line with his instep, the second from outside the box with his outstep (after tackling and nutmegging Michael Turner) and curling his third home from outside the box again. How many other hat-tricks can you think of that have been scored from outside the penalty area? Any?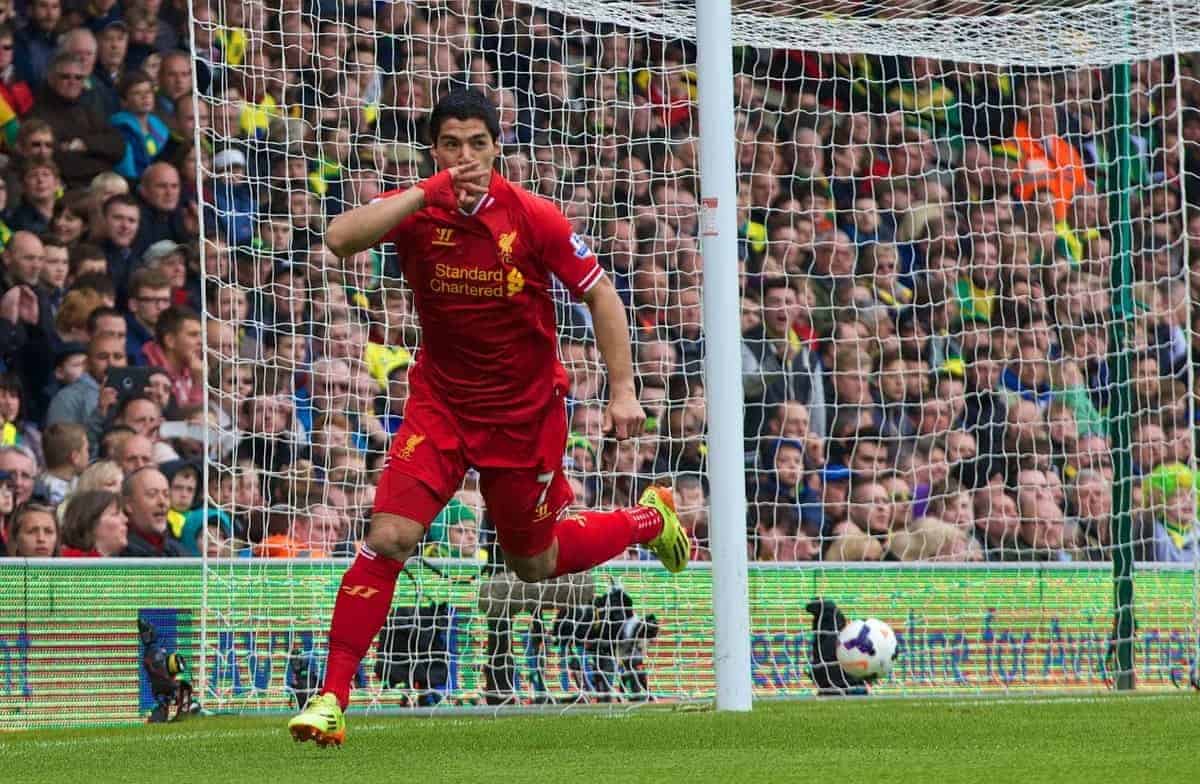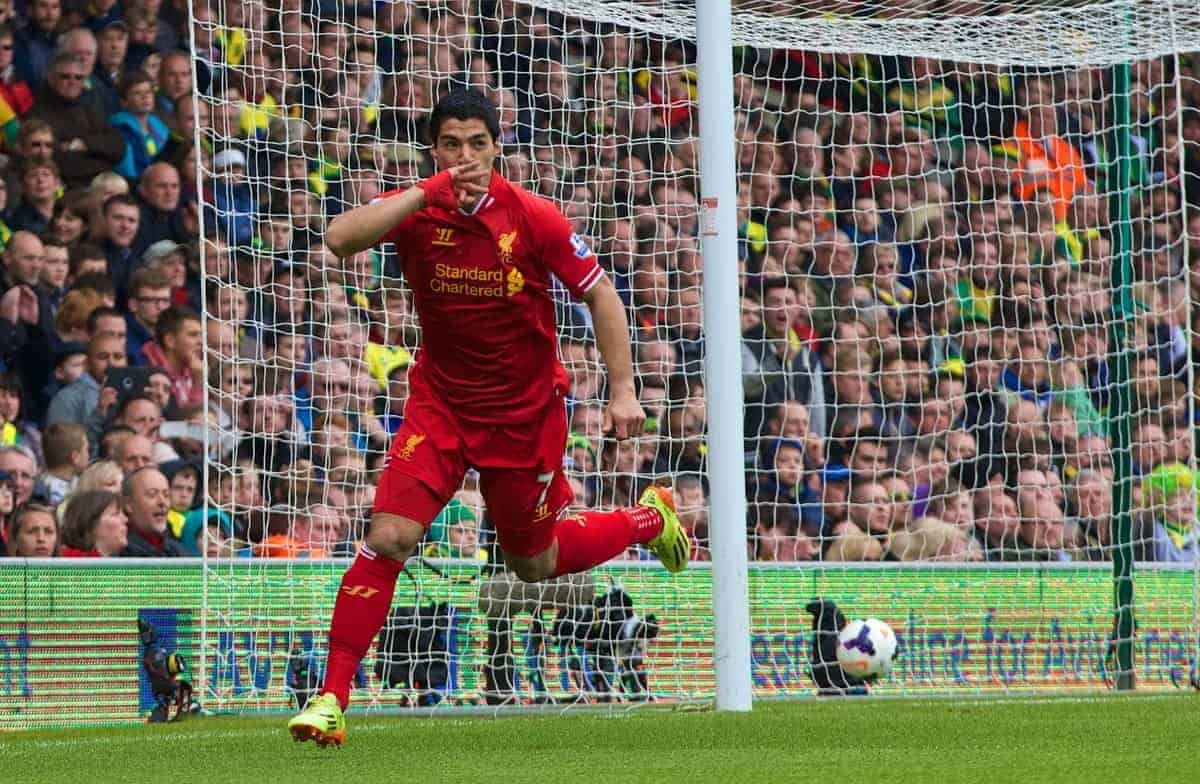 Suarez' only goal in the 5-0 win at Anfield in January 2013 was fairly tame – Danny Sturridge's dummy from a Lucas' pass sending him clean through to finish past Bunn – but when Norwich returned to Anfield in December 2013 it was a privilege to witness probably the finest individual display from a Liverpool player at Anfield I've ever seen. And I was there when Bernard Diomede had an overhead kick disallowed against Sunderland.
He wasn't quite as far out when beating Ruddy at Carrow Road, but when Suarez let the ball bounce twice and launched a dipping half-volley towards the Kop end goal from 30-odd yards out you just knew where it'd end up. And it did. He didn't miss with a close-range half-volley on his let foot from a Coutinho corner shortly afterwards, either.
To go on to complete a 20 minute hat-trick was phenomenal, but the way in which he did so simply summed his brilliance up. He flicked the ball over one man but whereas most players would let the ball bounce once before shooting, Suarez let it hit the turf again before striking it with barely no backlift from just inside the box. It flashed past Ruddy in the blink of an eye having hardly risen above knee-height, an outstanding piece of technique from a unique player.
That also happened to be Suarez's 50th Liverpool goal and made him the first player in both Liverpool and Premier League history to score three hat-tricks against the same club. He celebrated by scoring again. "His fourth goal was average," said Steven Gerrard. "It was a 30-yard free-kick, so I think that sums his performance up. You have seen a world-class performance, probably one of the best individual performances I've seen at Anfield – and I've been playing here a long time."
His 12th and final goal against Norwich (well, unless he one day comes back – but don't be getting your hopes up!) was essentially a tap-in from eight yards in a nerve-jangling 3-2 victory at Carrow Road which looked like it had set us up to win that elusive Premier League title. A week later we played Chelsea, so let's move on. Although moving on without Luis Suarez has evidently proved to be very difficult for Brendan Rodgers and Liverpool.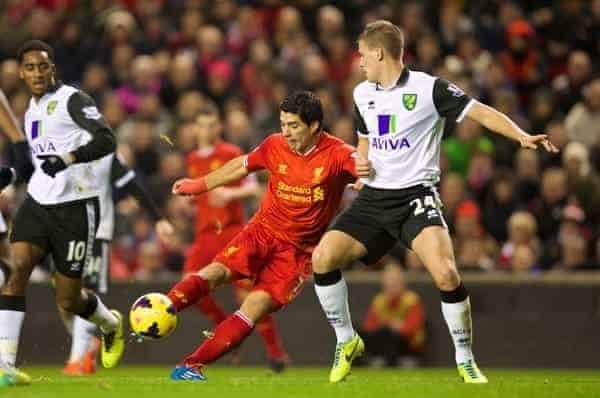 Clearly the Reds are lacking goals at present, but I live in the hope that the number seven shirt may somehow be lucky in this fixture. Kenny Dalglish scored six (of his seven) goals against Norwich while wearing it and Paul Walsh, who features in the official This Is Anfield Matchday Programme this weekend, had seven on his back when becoming the only other Liverpool player to have netted an Anfield treble against Norwich (in 1986).
Could James Milner 'do a Suarez' against Norwich City? Norfolk in chance. But I'm convinced that he'll get goals for Liverpool and Sunday would be a great time to start. Until then, enjoy watching those Suarez goals v Norwich that you're off to search for on YouTube next…
• The This Is Anfield matchday programme is available at the ground on matchdays, from official Liverpool FC club shops or to order from www.sportmediashop.com. Subscribers can currently save £12, the equivalent of three issues free.