Liverpool's League Cup tie against Carlisle United on Wednesday night was again marked by a worrying failure to break down a well-organised defence.

Carlisle United's rearguard effort in Wednesday night's League Cup clash with Liverpool should be commended, but the way in which Brendan Rodgers' side were unable to break down a side who have conceded the most goals in League Two so far this season is indicative of Liverpool's failings.
But where did Liverpool fail, and how could they have broken Carlisle down?
Start Strong and Overload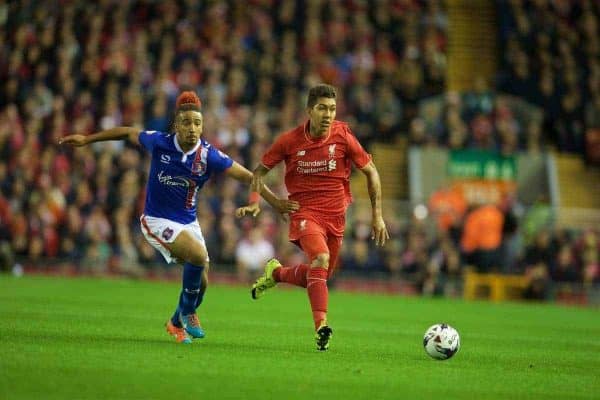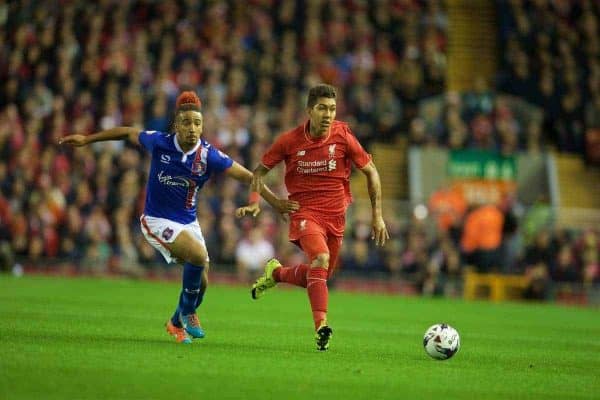 During Rodgers' only truly successful season on Merseyside, 2013/14, Liverpool were renowned for killing games off early with swashbuckling, fast-paced football — employed to overwhelm the opposition before they could gain any rhythm in their play.
Daniel Sturridge, Luis Suarez and Raheem Sterling would all press high up the pitch, putting pressure on opposing defenders and feeding off the support of Jordan Henderson and Philippe Coutinho, and the creativity of the deep-lying Steven Gerrard — and it worked to great effect.
Here, against lowly opposition, Liverpool utilised this approach in the opening stages.
Roberto Firmino set the tone from kick-off, storming towards the Carlisle penalty area and unleashing a shot from range that troubled goalkeeper Mark Gillespie at his near post.
Firmino, along with Danny Ings and Adam Lallana, set to put early pressure on the Carlisle defenders off the ball — with each of the trio particularly adept at a high-energy pressing game.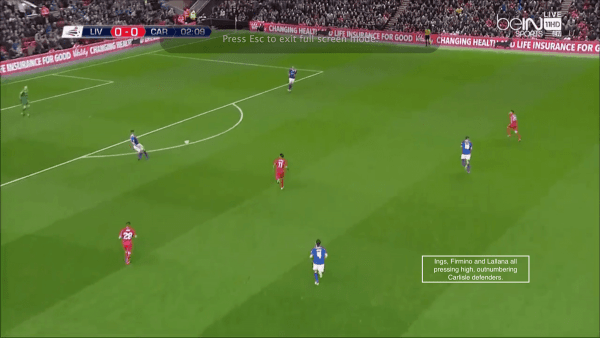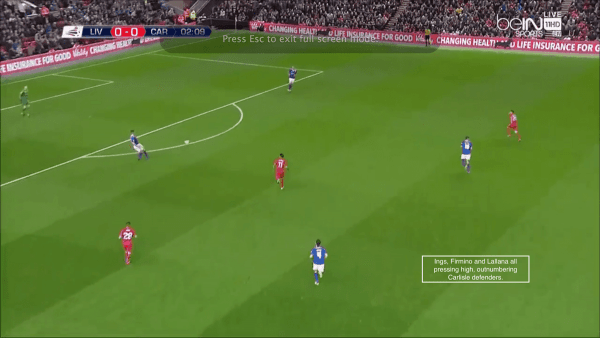 With both sides looking to damage their opponent in the opening stages, this allowed Rodgers' attacking trio to outnumber the Carlisle centre-backs, who looked to play the ball out from defence.
Alberto Moreno served as a useful wide presence when Liverpool's attackers won the ball, too. The Spaniard's persistent runs from the left wing-back position gave the Reds variety in the opening stages, with Moreno switching between byline-surging wide runs and diagonal moves towards the penalty area.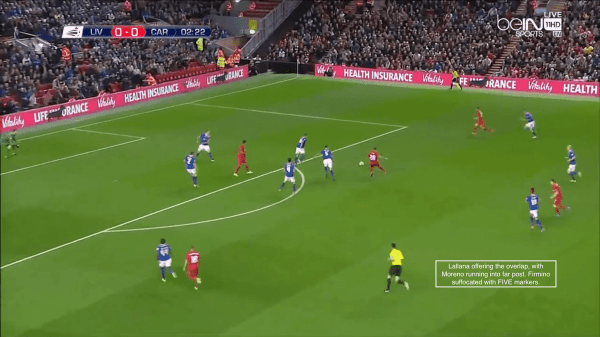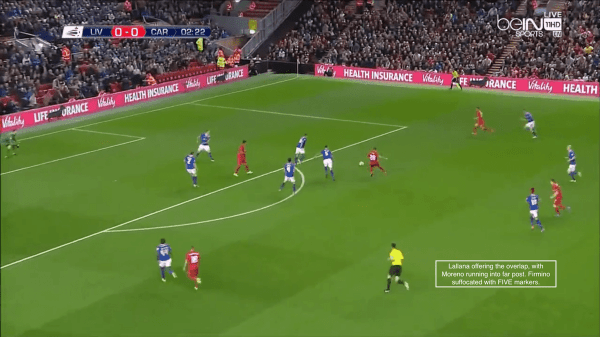 As opposed to his lead role in Sunday's draw with Norwich, this primarily served as a distraction, with Lallana's floating role as one of Rodgers' No. 10s proving the most influential as Liverpool looked to break Carlisle down.
Moreno's involvement in Ings' 24th-minute opener was pivotal: cutting inside, the 23-year-old dragged two Carlisle defenders towards him before offloading to Lallana.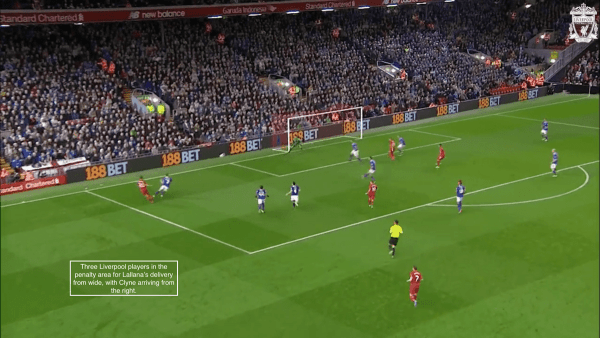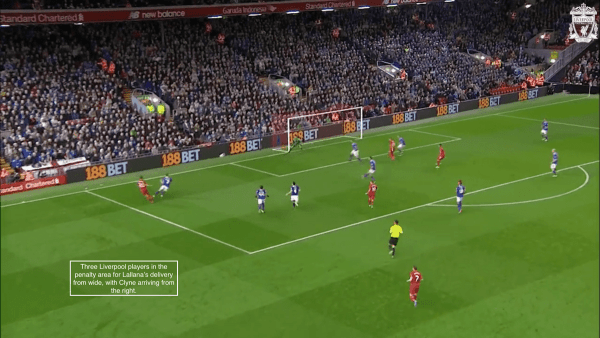 Though Lallana was still presented with a one-on-one duel, the additional space afforded by Moreno's run allowed him to deliver for Ings to head beyond Gillespie for his second in as many games.
It is also important to note the presence of Firmino behind Ings in this instance — the Brazilian was a key feature within Liverpool's overloading tactics in the first half-hour.
His withdrawal through injury after 35 minutes arguably handed Carlisle the initiative.
"We started well, passed it well and losing Roberto Firmino (to a back injury in the first half) just set us back a touch," said Gary McAllister post-match.
Penetrate the Lines

Prior to his substitution Firmino gave Rodgers an insight into how important his support was.
With 34 minutes on the clock, Ings was intelligently released by a quick ball from James Milner, but with the No. 28 surging forward on the break he looked around to find no support — now injured, Firmino was struggling to keep up.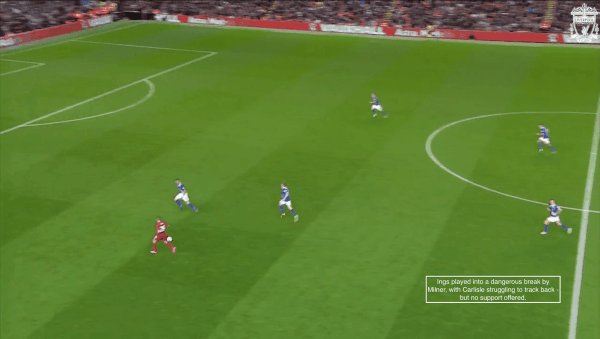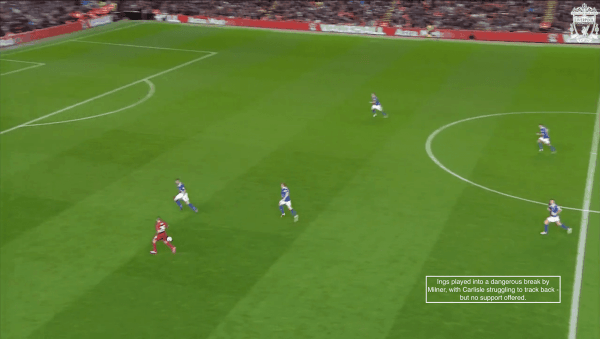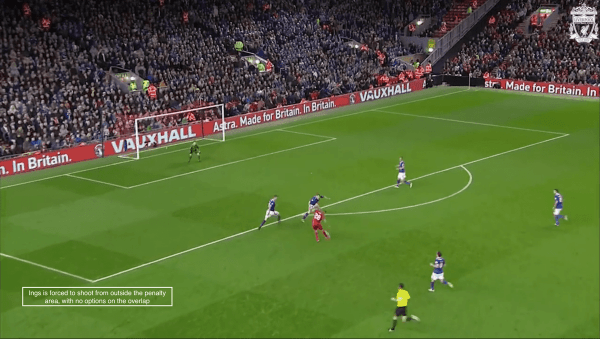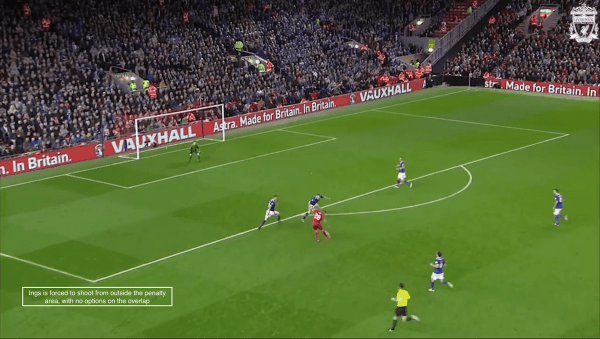 It would be reductive to suggest that Firmino's failure to support due to injury was the only contributing factor to this dangerous move breaking down — with both Moreno, Lallana, and to a lesser extent Nathaniel Clyne all culpable — but the breakdown suffered by the Brazilian's injury was telling.
Furthermore, this was made only worse by the fact that Asamoah converted seconds prior to his withdrawal.
The loss of Firmino was always going to hit Liverpool at this early stage, with his contribution to the Reds' overload proving crucial, but by fielding Divock Origi in his place Rodgers unwittingly played into the hands of Carlisle.
Countering the 'low block'
Speaking to These Football Times' Sam McGuire, former Liverpool youth coach Tim Lees detailed how best to counter a low block.
"Playing against a low block is one of the most difficult yet prevalent problems in the game," explains Lees, whose suggestions for countering the low block are:
Forward runs centrally
Penetration of the five channels
Dominate pressure behind
Change in tempo
Change their territorial positioning
Play on transition
Movements against the grain
Disguised and around the corner passes
One suggestion in particular rang true at Anfield on Wednesday night:
"Teams need to look to penetrate the five vertical channels around the back four through late and explosive movements, with and without the ball.

"Strikers need to continually look to make movements off the shoulder of defenders playing out of the eye line and players in possession must look to thread passes into the five channels.

"With no clever movement in behind, teams end up having 80 percent possession with everything in front of the back line, with a back four against one striker.

"Defenders want the game in front of them and do not want to constantly be on the turn and facing their own goal."
These penetrative runs and off-the-shoulder movements were employed encouragingly by Firmino and Ings, with Lallana and Moreno's support vital, but the introduction of Origi changed Liverpool's attacking makeup.
Origi primarily played with his back to goal, looking to link up play in the space ahead of the penalty area, but with Lallana utilising a similar style of play, this variety was lost.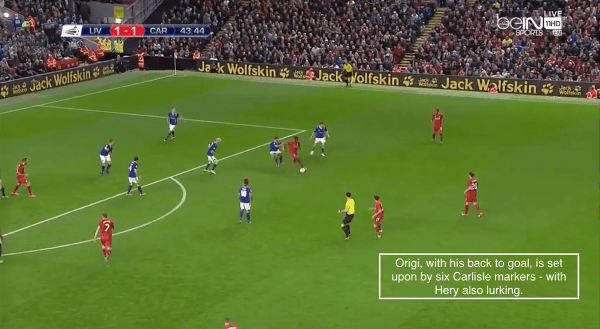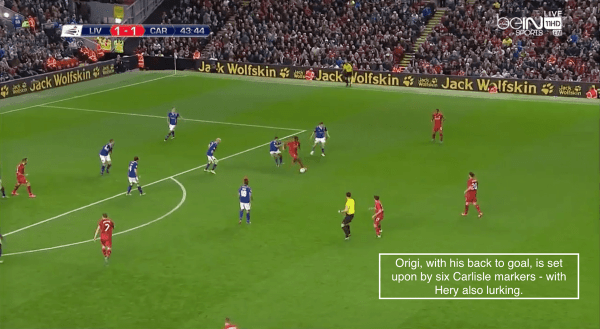 With Rodgers later opting to switch to a 3-4-1-2 formation on the introduction of Coutinho on 64 minutes, with Origi joining Ings in attack, this bizarrely became more predictable.
As Carlisle played the game out for a 1-1 draw and extra time, Liverpool offered little in terms of penetrative runs and, worryingly, variation in the buildup.
Offer Variation in the Buildup

Carlisle's low block was so effective on Wednesday night due to the uninspired buildup play employed by their opponents, with not only Moreno and Clyne failing to regularly support from wide areas in the latter stages—arguably due to fatigue—but also Lallana and Coutinho with forward runs.
Bringing Coutinho on for Joe Allen—who had proved effective in linking up play in the crowded areas in front of the penalty area, as well as overlapping the likes of Lallana and Ings—proved to be costly.
With Liverpool limited to long shots and ineffective possession play, there are few instances of Rodgers' side attempting to vary their buildup play—particularly in wide areas.
One occasion, on 78 minutes, saw Milner cut inside from the right flank—taking the initiative.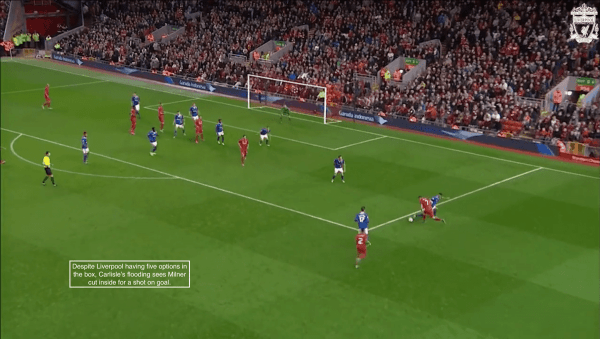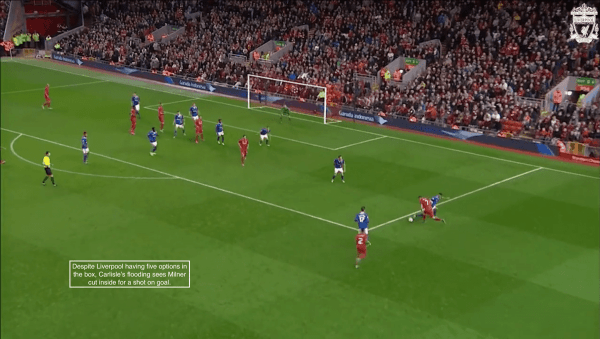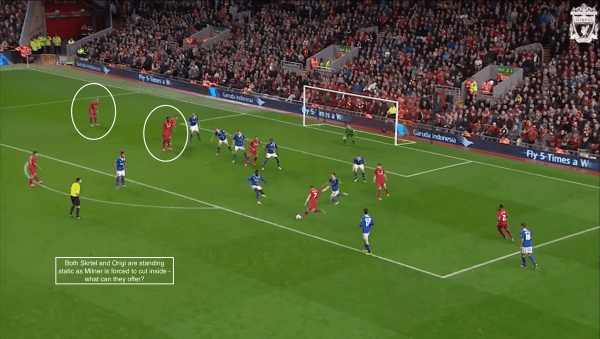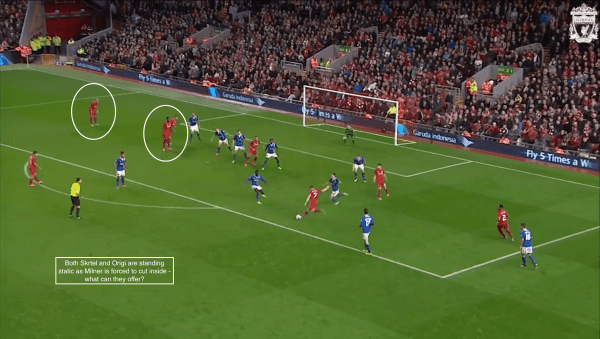 The lack of movement from his team-mates forced Milner to fire a shot low towards Gillespie's goal — which was ultimately deflected behind for a corner—squandering a rare opportunity.
As the Reds headed into extra time, Carlisle became more compact and Rodgers saw his side become increasingly fraught around the Cumbrians' penalty area.
Remarkably, only centre-back Emre Can offered consistent penetrative runs into the box, but even the German ultimately resorted to long-range efforts.
[quote_box_right]Liverpool's Shooting vs. Carlisle (via Bass Tuned to Red):
47 shots
2.6 minutes per shot
16 shots on target
7.5 minutes per shot on target
7 shots on target in the box
17.1 minutes per shot on target in the box[/quote_box_right]
Liverpool fired an incredible 47 shots on goal on Wednesday night, with 16 efforts on target, but that it came down to the heroics of Bogdan in the penalty shootout serves as a testament to failure.
Though injury to Firmino and the waning fitness of Allen contributed to this inability to break down Carlisle's low block, this is a familiar situation for the Reds.
Keith Curle likely drew inspiration from the likes of Stoke City and West Ham United this season for his setup at Anfield, with only a moment of Coutinho magic securing victory over Stoke and the Hammers' compact defence leading to a 3-1 away win.
Liverpool look completely at odds with how to break this type of setup down.
This could well become the norm for teams lining up against the Reds, particularly at Anfield, and Rodgers' side seemingly lack the inspiration or the inclination to cope with this at present.