Liverpool's failure in Europe over the past five years is characteristic of a worrying decline in fortunes for English sides on the continent.

Another instalment of the Champions League this season has provoked considerable worry among English sides and their supporters alike.
With both Arsenal and Chelsea losing to supposedly lesser sides in the second round of fixtures this week, the question of whether Premier League sides truly are some of the strongest in Europe becomes more pertinent.
In the past five seasons, only three English sides have made it to the semi-finals of Europe's elite competition, with only two reaching the final—Manchester United in 2011 and Chelsea in 2013.
Liverpool have not advanced beyond the group stage of the Champions League in six seasons – only qualifying for Europe's elite competition once in that time – with 2010's Europa League semi-final defeat to Atletico Madrid their best effort.
Manchester City and Arsenal have also experienced similar levels of failure in their recent attempts for European glory.
But why are Liverpool and their fellow English sides failing in Europe?
Imbalance of Power

"Porto, who played last night, played on Friday so they got permission to move their game which keeps them fresh," Rodgers told reporters on Wednesday, referencing the failure of Chelsea away to Porto in the Champions League the previous evening, continuing:
"I think big teams abroad can win games at 70 percent and conserve their energy – there is no game in the Premier League where you can do that.

[…]

"It is something we have to cope with and we respect that challenge but it means you really have to monitor and get the best out of the players you have available."
Rodgers may be ridiculed for his many ill-advised media soundbites, but he remains a young manager well tuned to the landscape of modern football, and his words on the imbalance of power in other leagues in Europe are relevant.
While the likes of Porto, Barcelona, Real Madrid, Bayern Munich and Paris Saint-Germain can head into a large portion of their domestic games highly confident of victory against lower-level opposition, the challenges Liverpool face in the Premier League are much more demanding.

This summer, strapped with an influx of TV money, clubs outside of the Premier League's regular top six were able to sign players such as Xherdan Shaqiri, Andre Ayew, Dimitri Payet, Yohan Cabaye, Shinji Okazaki, Georginio Wijnaldum and Jeremain Lens.
This level of reinforcement further fuels the competitive nature of the Premier League, with no top side guaranteed victory on any occasion.
West Ham's victories at Arsenal, Liverpool and City are testament to this.
Furthermore, as Rodgers attested to, the Portuguese Football Federation moved Porto's league fixture to combat the congestion of European competition, the FA's emphasis on league over Europe is similarly detrimental to English sides' success on the continent.
Whether the FA should help the likes of Liverpool, Chelsea and Arsenal would likely raise further questions of top-level favouritism—a situation chairman Greg Dyke would rather avoid.
Furthermore, while Rodgers may argue that the all-round quality of the Premier League is forcing his and other managers' hands when it comes to approaching European encounters, there is certainly an element of arrogance when it comes to English sides—particularly when it comes to the Europa League.
Managerial Arrogance

In Arsenal's 3-2 defeat to Olympiakos on Tuesday night, Arsene Wenger made the decision to drop first-choice goalkeeper Petr Cech, opting for backup option David Ospina.
Ospina has rather unfairly been made a scapegoat for Arsenal's poor defensive showing, when it was in fact Wenger's managerial arrogance that contributed more to the Gunners' demise.
Cech was Arsenal's only summer signing, and after joining from Chelsea for £10 million he was justifiably feted as the man that could propel Wenger's side to the next level.
To then leave the Czech international out in what was a hugely important clash was alarming, particularly as Cech was not injured—instead sitting on the substitutes' bench as Felipe Pardo, Alfred Finnbogason and an Ospina own goal consigned Arsenal to defeat.
What this highlighted was a worrying level of disregard and contempt for the perceived lower-level sides on the European stage.
Olympiakos have not advanced beyond the last 16 of the Champions League in 16 years, and it could well have been that Wenger judged their attacking threat as not great enough to bother fielding Cech.
This may be a presumptuous claim, but the notion of rotation in Europe is one that will be familiar with Liverpool supporters—with the current season a clear indicator of this.

"We could have a separate team for the Europa League and it won't be detrimental. It's certainly something we'd consider," Rodgers said in July.
"Our main aim is to ride back into the top four, and we're very keen to win a trophy this year."
Here, Rodgers presented a clear emphasis on Premier League success, with European glory much at the back of his mind.
Against Bordeaux in the Reds' Europa League opener, Rodgers made eight changes to his starting lineup from the previous weekend's loss to United, with Joe Gomez, Kolo Toure, Jordan Rossiter, Jordon Ibe and Divock Origi among the peripheral figures included.
Rodgers would have been criticised if he had fielded a full-strength side, with supporters fully understanding that Norwich City awaited just three days later.
But this is characteristic of the issue.
The pressure of balancing league matters—where scrutiny over a manager's position is most substantial—and European contention is made more difficult by the higher level of competition in the Premier League and the congestion of the domestic schedule.
This is merely scratching the surface, with the knock-on effect of Premier League for Newcastle United, Wigan Athletic, Swansea City, Everton and Hull City when competing in the Europa League in recent years serving as an indicator of why some managers completely disregard the competition.
But do top-level English sides take Europe seriously enough? The only manager in recent memory that knew how to do so was Rafa Benitez.
This notion could go both ways, spelling further danger ahead for the likes of Rodgers and Wenger.
Transfer Market Naivety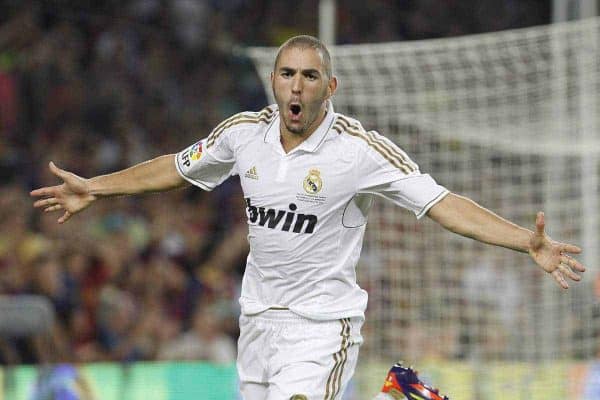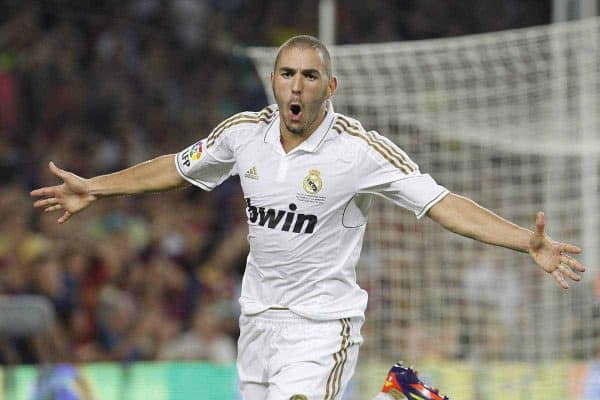 Would Karim Benzema really join a club like Arsenal or United?
The French striker is linked with a move away from Madrid every transfer window, with the Emirates the primarily speculated destination—but, unsurprisingly, he remains at the Bernabeu.
Earlier this summer, Benzema labelled the media that fuel these rumours and the supporters that believe them as "clowns," saying "this is my home."
This lighthearted confirmation of loyalty goes a long way to underline the problems English sides are facing in the transfer market: the biggest European talent do not find the likes of Arsenal, United and Liverpool as attractive destinations, if they are able to play regular football with Madrid, Barcelona or Bayern Munich.
Similarly, United's fruitless chase of Madrid centre-back Sergio Ramos furthers this notion—and with the Old Trafford side spending much of the summer pursuing the Spaniard, they ultimately failed to strengthen their defensive ranks.
England is no longer a major draw for the biggest talent in Europe, and as such the likes of Liverpool are forced to look elsewhere.

This leads to the Reds targeting lower-level European talent, players already residing in the Premier League or the pick of the younger stars on the continent—like Emre Can.
But, undermining this, more often than not English clubs aren't shrewd enough in the market.
Would any of Liverpool, United, Chelsea, Arsenal or City have recognised the potential in Real Sociedad's Antoine Griezmann in 2014?
Atletico did, and now the Frenchman is one of the deadliest forwards in Europe.
Instead, English sides scrap for unwanted or underdeveloped talents, leaving their squads unable to cope with the demands of both the Premier League and in European competition—and with this affecting their success in Europe, the cycle is doomed to continue.
There are a number of factors going against the likes of Liverpool in Europe, some out of their control and some of their own manufacture.
But until a change in approach is prompted, this failure is set to continue.
[interaction id="560c043fc70ac51c03b43951″]