Simon Mignolet's performance against Man United was full of nerves and indecisiveness, as he continues to flatter to deceive at Liverpool, writes Henry Jackson.

Great teams are built on great goalkeepers. It's hard to think of one who hasn't had a world-class stopper giving great confidence to those around him.
United had it with Peter Schmeichel and Edwin van der Sar, Chelsea in their pomp had an unbeatable Petr Cech in goal and Arsenal went from David Seaman to Jens Lehmann seamlessly, winning trophies with both.
Iker Casillas and Victor Valdes were integral to Real Madrid and Barcelona's respective glories, and are underrated by some, while Gianluigi Buffon has been absolutely pivotal to the success of Italy and Juventus over many years.
Look closer to home, and the same applies to Liverpool. It is no coincidence that the Reds' most formidable sides of the last 40 years have had Ray Clemence, Bruce Grobbelaar and Pepe Reina between the sticks.
This leads us to Mignolet.
Unconvincing

Former Liverpool midfielder Danny Murphy discussed the former Sunderland man in his BBC Sport column on Sunday, stating:
"I am still not convinced by Simon Mignolet in goal, and I think he spreads nervousness around the back four."
It's hard to disagree.
Too often he looks unconvincing, and while he can perform brilliantly from time to time, that level of inconsistency is just not good enough for a Liverpool goalkeeper.
The 27-year-old may not have received the criticism that the likes of Brendan Rodgers, Dejan Lovren and Martin Skrtel did following the woeful 3-1 loss to United, but he played his part in Liverpool's demise.
https://twitter.com/BPLZone/status/642739666429456384
He was an erratic presence throughout, starting with a ridiculous attempt at a roll-out that almost led to Marouane Fellaini chipping Louis van Gaal's men in front.
That lapse in concentration was the reason the Reds then spent the next five minutes under the cosh, failing to clear their lines and almost conceding a couple of times. It needlessly revved up the Old Trafford crowd.
Mignolet also looked shaky from crosses, punched wildly a couple of times when a relatively simply catch would have killed the tempo of the hosts' play.
In this kind of mood, the Belgium international gives off a nervous air that can only hamper those around him. There is no calm, and absolutely no aura about him.

Lovren and Skrtel are poor, but there is certainly an argument to say that Mignolet does them no favours at times. They would never openly admit it out of respect for their teammate, but they look like they don't trust him.
His use of the ball is also very questionable, particularly in an age where the likes of Manuel Neuer and Marc-Andre ter Stegen could virtually play on pitch. His technique is awful, in truth.
There is never any conviction when playing it out from the back, and more often than not, the best case scenario is either a slice into touch or loss of possession further up the pitch away from immediate danger.
Rodgers made Mignolet play more of a long-ball game last season in order to eliminate any potential mistakes on the ball, but that is far from ideal for a team attempting to play a passing game.
It now looks as though he is doing a bit of both. It's a mess.
Comparisons to Dudek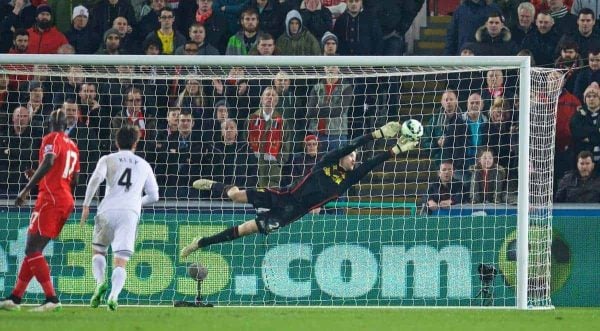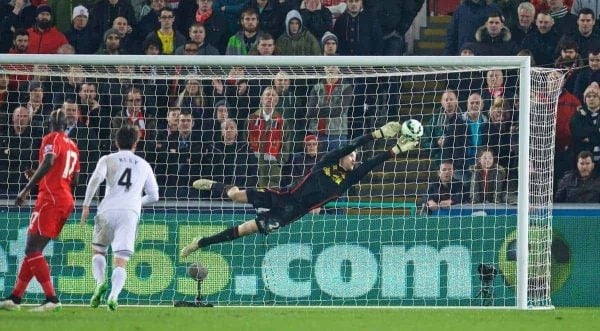 It is vital to stress that Mignolet is far from a bad goalkeeper. His shot-stopping ability can be outstanding, and he deserves great praise for the way he responded to being dropped at the end of last year.
Some fans may not like to hear it, but he is not dissimilar to Jerzy Dudek in many ways, who has become overrated because of his heroics in Istanbul.
He was fabulous as Rafa Benitez guided his side to Champions League glory that year, but there have been many better goalkeepers to represent Liverpool.
The Pole was good, and enjoyed some superb displays, but as two terrible performances against United at Anfield in the early 2000s showed, a mistake was never a million miles away.
It is a similar feeling with Mignolet, unfortunately. It's hard to sit and watch a Reds game and have complete faith in him.
Every time he has the ball at his feet it is an uncomfortable experience, and the sight of him coming for a cross can be equally unsettling.
The future

Mignolet is lucky that he is not under great pressure in terms of his place at the moment, with Adam Bogdan unlikely to usurp him as Liverpool's No.1 any time soon.
For all the qualities the likeable Belgian has in his armoury, it seems hard to imagine the Reds ever really becoming a defensive force with him in goal.
He just does not have the presence of a Schmeichel or a Buffon, or even an Asmir Begovic or Joe Hart, and when he is having one of his bad days at the office, it makes the whole team look a bag of nerves.
At 27, there is a fair argument to say that Mignolet is still fairly young in goalkeeping terms, but it seems unlikely that he will ever improve significantly enough to be top draw.
As a character, he just seems too introverted and quiet to give those around him the confidence that the really great goalkeepers do.

There have been some magical saves and match-winning moments during his two years on Merseyside, but there have also been far too many slack displays that have cost Liverpool dear.
Everton legend Neville Southall, one of the greatest British goalkeepers of all time, pretty much summed it up to perfection last October.
"From what I've seen, he's just never going to be a Liverpool standard goalie. If you plan on winning leagues and trophies, you need a keeper who'll pull games out of the fire for you," he said.
[…]
"Skrtel and Lovren have come in for stick, but the lack of understanding they have with the keeper hasn't helped. You just don't get the feeling of confidence coming from him."
Southall may be a bit of a fool, but that is an extremely accurate assessment.
For now though, perhaps Mignolet is the least of Liverpool's problems?
[interaction id="55f6bc5acfb503701d3c4e90″]