With all the hoopla surrounding Diego Costa's antics against Arsenal recently, Simon Collings puts together a themed XI of Liverpool FC's hardest players.
A classic pantomime villain, Costa's reputation for rough-and-ready football is perfect for the English game. Due to his physical presence he's not afraid to put it about, though the way he goes about his business infuriates opposition players, fans, and managers.
We'd probably all wish he played in a Reds' shirt but seeing him get a taste of his own medicine would be equally satisfying.
We've had our fair share of tough villains down the years – Luis Suarez being a classic example.
Other hard men such as Chris Lawler and Julian Dicks have come and gone, whilst at the other end of the spectrum we've had the unfortunate privilege of Oyvind Leonhardsen and Philipp Degen prancing about the field as well – shocking!
Whom though, over the years, has gone down in Liverpool folklore as a hard man – as warriors who would run through a brick wall for the club? They don't have to be physically imposing, nor be a dirty player, just someone who doesn't hide when the going gets tough and can look after themselves on the field.
Here, in a 3-4-3 formation, is Liverpool Football Club's hardest XI… we could do with a few of these today!
GK – Bruce Grobbelaar (1981-1994)
Exotic, imposing, and as mad as a hatter, Grobbelaar was certainly one of a kind. Before football he served in the Rhodesian Army were he brought his eccentric style of play to the pitch. Never one to shy away from controversy, I'll always remember him giving a young Steve McManaman a rollicking which resorted in some fisty-cuffs thereafter. There was only going to be one winner though.
Hard man rating out of ten: 7
CB – Gerry Byrne (1957-1969)
Perhaps best remembered for his heroics in the 1965 FA Cup final, Byrne was the quintessential local lad done good. A player who epitomised the Shankly era, the World Cup winner played the entire '65 Cup final (which went into extra time) with a broken collar bone after a challenge in only the 3rd minute.
Hard man rating: 8
CB – Tommy Smith (1962-1978)
Known as the 'Anfield Iron', Tommy Smith is literally the hardest man ever to pull on a Reds shirt. Shankly famously said he ''wasn't born, he was quarried''. Yet with over 600 appearances and countless winners' medals, the Liverpool-born defender could play a bit too.
In a fitting end to his career, Smith scored his final goal for the club in the European Cup final in Rome in 1977. A true legend of the club.
Hard man rating: 10
CB – Jamie Carragher (1997-2013)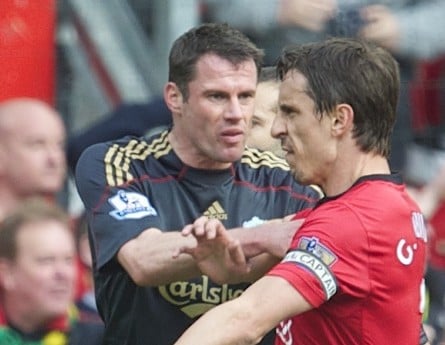 Carragher wasn't as hard as Tommy Smith in the conventional sense but what made our No.23 so formidable was his never-say-die-attitude and for never shying away from things out on the pitch.
A true leader and organiser, Carra would never pull out of a challenge. And despite being on the receiving end of one or two poor tackles himself he would never allow injury to get the better of him long term.
His performance in Istanbul summed up the type of player Carragher was.
Hard man rating: 8
DM – Javier Mascherano (2007-2010)
Oh how we'd all love to have the Argentine back at Liverpool! Mascherano was an immensely popular player during his time with the club. With his South American streak, he sometimes went a bit too far but was a constant menace for the opposition.
He never stopped running and was constantly gave his all for the Liverpool cause.
Hard man rating: 8
CM – Graeme Souness (1977-1984)
Perhaps the only man who could take on Tommy Smith? Souness was a colossus in midfield. In an illustrious career at Anfield, the Scot was supremely talented and severely physical. He played in an era when players could 'tackle' and he certainly did just that.
Hard man rating: 10
CM – Steve McMahon (1985-1991)
A proper Scouser and warrior, McMahon wore his heart on his sleeve and would never give up in a Reds shirt. Never shy of voicing his concerns, he marshalled Liverpool's midfield in the late '80s during which time many state as the club's greatest ever side.
Hard man rating: 8
AM – Steven Gerrard (1998-2014)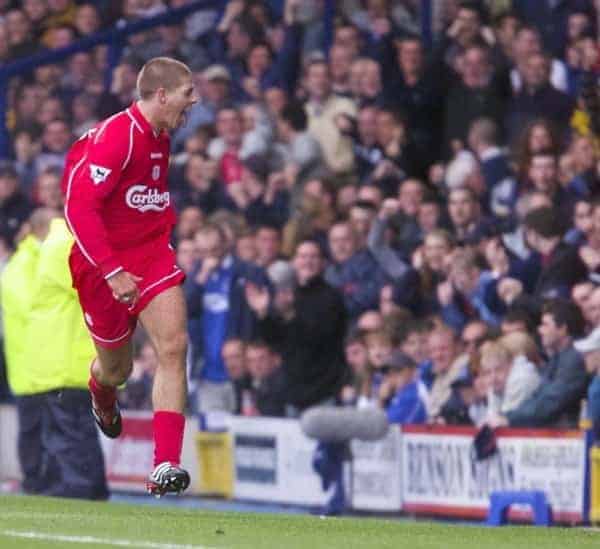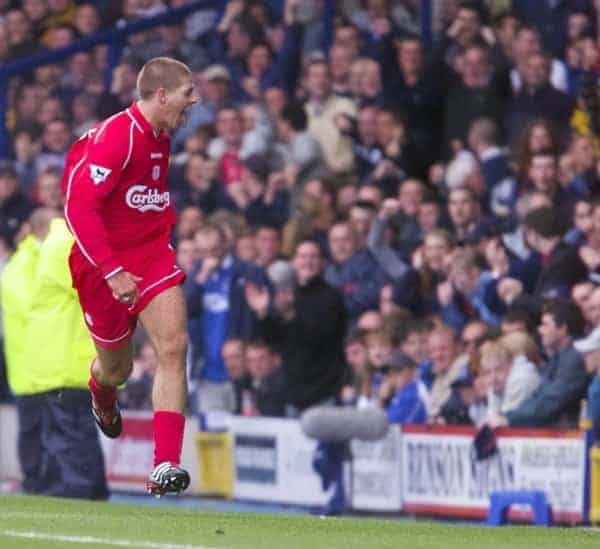 Such as Stevie's all-round talent on the football pitch, the tough side of his game often gets overlooked. As a teenager he was raw and sometimes leaped into tackles, yet as he developed he channelled his aggression into a weapon which placed him as one of the world's best players.
Hard man rating: 9
F – Luis Suarez (2011-2014)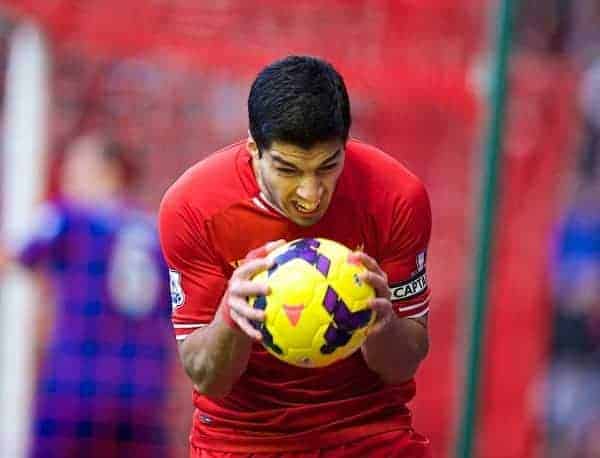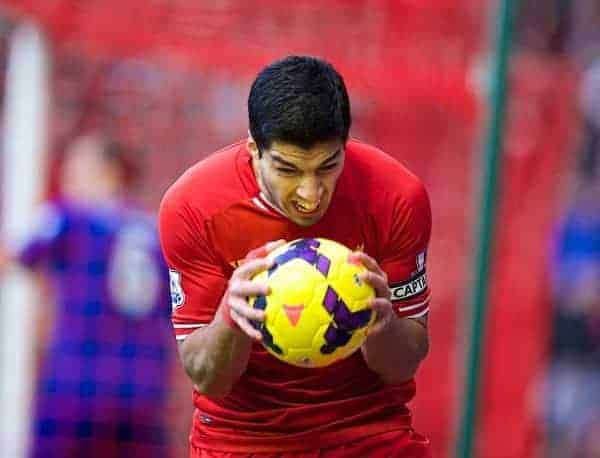 Luis Suarez was a street-fighter of a player, whose genius on the pitch allowed him to do things (good and bad) that no other player could dream of. Aside from all the controversy, Luis could certainly look after himself on the pitch and was often targeted as a result.
Hard man rating: 8
F – Robbie Fowler (1993-2001/2006-2007)
The 'Toxeth Terror' was more than just a prolific goal-scorer, he was as brave as an Ox in and around the area. He would often risk being hurt if it meant the possibility of scoring a goal, and for someone only 5ft 9, going up against 6ft-plus centre half's week in, week out made him tough as old boots.
His many running battles with Everton made him the darling of the Kop.
Hard man rating: 7
F – Kevin Keegan (1971-1977)
Like Suarez, Keegan could put it about, and despite his size he could still muscle his way out of trouble if needs be. The 1974 Charity Shield at Wembley against Leeds United showed the footballing world what Keegan was all about. After a scuffle with notorious hard man Billy Bremner, Keegan removed his shirt after being giving his marching orders by the ref only to reveal a hard man's physique that Cristiano Ronaldo would be proud of!
Hard man rating: 7
Do you agree with Simon's selections? Has he missed anyone out you'd have in this XI? Let us know in the comments below.