There are three things that are certain in life: Death, taxes and a defensive error by Dejan Lovren, writes Daniyal Ahmed.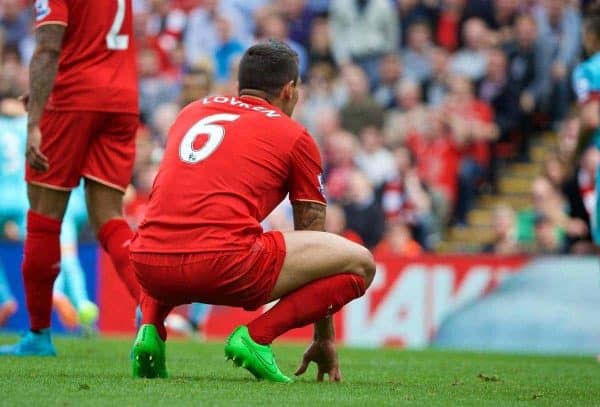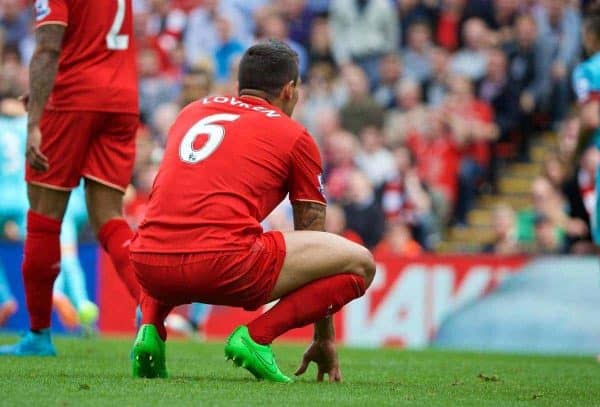 Flashback to last season and the most memorable moments for opposition fans and Liverpool critics alike were the two games against Crystal Palace, a team fast becoming the David to Liverpool's Goliath. These were two games that really defined the Liverpool season as a whole. Lack of leadership, lack of penetration in attack and appalling finishing were all key features of games whose memories many Liverpool fans still struggle to leave behind.
Two former Southampton players, Rickie Lambert and Adam Lallana, scored the goals in both games. Lallana even put in a fine ball through for Lambert's goal, a positive moment in his otherwise frustrating season. However it was the third player formerly of Southampton who looked like a deer caught in the headlights.
Hahahaha Rodgers's face! Lovren is woeful. Remember when people thought he was better than Sakho… Dear god. pic.twitter.com/9Mrs2dwt7m

— PrancingReus (@PrancingReus) May 18, 2015
To the avid follower, Lovren's career has always epitomised inconsistency. Physically, he has all the characteristics that are required of a world class centre back, however mentally he has always been missing something.
Lovren's top flight career kicked off when he was 17, at Dinamo Zagreb in Croatia, a club best known in England for producing Luka Modric. He honed his skills at Inter Zapresic, a relatively low level club in Croatia's top league, where he played until he was 20. He made his way back to Zagreb and broke into their first team, making 37 appearances in their 2009-10 season.
That was when Lyon came calling. A prestigious club in east central France, looking for a young centre back to develop, Lyon had made ambitious signings that year and the year before, with the likes of Hugo Lloris, Clement Grenier, Miralem Pjanic entering the fray in 2008 and Michel Bastos and Aly Cissokho joining the club during the summer of 2009. Lovren himself was the only addition during the 2010 winter transfer window.
Immediately, Lovren was on the bench, something that most Lyon fans expected. It wasn't a surprise, as he needed to adapt to relatively foreign conditions and a foreign league, along with a different style of play and intensity. Lyon finished 2nd in Ligue 1 that year, a relatively poor season for them.
The next season, Lovren began to start games. And very quickly he turned from defensive prodigy to defensive disaster. Red cards, poor positional play and lack of the manager's trust all made it fair to call Lovren's time at Lyon a failure.
A centre back by trade, Lovren was forced to play on the left and right sides of the defence, and failed to cover himself in glory. He departed at the end of the season, going to Southampton on the 14th of June, in a transfer that left most Lyon fans jubilant, but left some with a sense of regret at what could have been.

Southampton fans didn't know which Dejan Lovren to expect. They needed an upgrade on Jos Hooiveld, however many questioned the signing of an error prone centre back to fill the gap. Southampton fans wanted the Lovren of Dinamo Zagreb, but were afraid that they would get the same, catastrophic Dejan Lovren from Lyon.
However what they got was neither.
Instead they received a commanding defensive presence, who made crucial tackles and interceptions and looked classy on the ball. This wasn't the Dejan Lovren of Lyon, who was known to referees in France as a poor tackler, or the Dejan Lovren of Zagreb, who had been inexperienced but full of potential. This was a Lovren who had finally made the next step and capitalised on his enormous potential.
Lovren formed an exceptional partnership with Jose Fonte, and along with Nathaniel Clyne and Luke Shaw, the Southampton defence was one of the most widely praised in the league. Lovren was named as the best centre back in the Premier League by the CIES Football Observatory.
However, as had been the story with the Croatian's career so far, things were about to turn for the worse again.
Liverpool had come oh so close to finally getting their hands on the Premier League trophy for the first time ever, thanks to the heroics of Luis Suarez and Daniel Sturridge, but had the wind knocked out of their sails by (you guessed it!) Crystal Palace. Liverpool let in 3 goals, and fans had to face the fact that they had been trying to deny all season long: They lacked a top quality defensive leader.
So that summer, after the inevitable departure of Luis Suarez, the Reds set out, looking for the man who could change their defensive fortunes.
That man was to be Lovren. He arrived for £20 million, with the praise of Liverpool legend Jamie Carragher behind his back. I was at the airport when this transfer was officially confirmed, and like thousands of other Liverpool fans, I was ecstatic. We had finally gotten the defensive leader we were looking for! Lovren justified our excitement with a magnificent performance against Dortmund in a preseason friendly, in which he even managed to score a goal.

Liverpool fans still struggle to understand how it all rushed downhill from there. Some say it was the pressure of playing his former club first up. Lovren had never been the strongest mentally, and hadn't left Southampton on amiable terms, putting in a transfer request and repeatedly stating that his 'heart was in Liverpool'. Some say he just lacked the quality to play for a big club, as he had demonstrated with Lyon. Some say he just reflected the performance of the whole team that season.
Suddenly, Lovren lacked confidence and composure. He was back to the same rash tackler that he had been at Lyon and his positional play was as poor as ever. However, his season would go on to get even worse, and there were many moments which made us realize just how far he had regressed, such as the Yannick Bolasie fake handball.
But there was one moment that would see Liverpool fans turn their backs on him, perhaps for good.
It came in the Europa League penalty shootout against Besiktas. Lovren had put in one of the better performances of his season, making a few crucial blocks and interceptions in the hostile Turkish environment. He had managed to marshal the defence and hold it together to keep the score to 1-0 under the Besiktas onslaught and 1-1 on aggregate. However, this would all soon be forgotten.
5-4 to Besiktas in the drama of a penalty shootout. Liverpool needed to score the penalty to stay in the game. The penalties that have been taken so far have been top quality; however this one needs to be even better. Surprisingly, Lovren stepped up to take the crucial penalty.
Fans could sense it already, such was the inevitability of it. If it had been the confident, cool and composed Lovren of Southampton, Liverpool fans would already have been celebrating. However this was the tense, terrified and terrible Lovren of Liverpool.
That could mean only one thing.
The penalty was blazed over the bar. Besiktas went wild with joy. Lovren stood there with his face in his hands.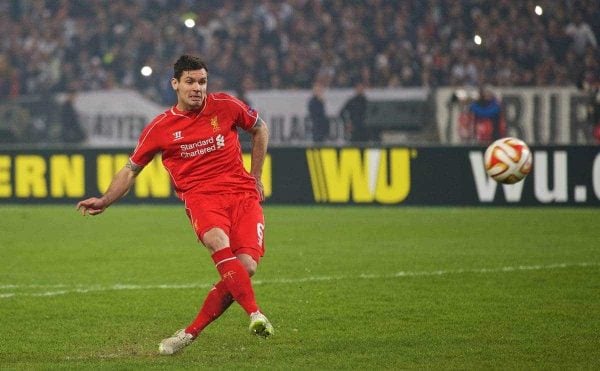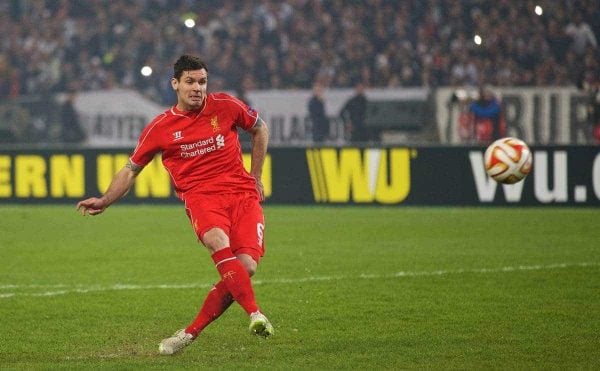 This had been the story of Lovren's, and Liverpool's, season.
The calls began flooding in for Lovren to be replaced by Mamadou Sakho, an occasionally error prone but overall reliable presence in defence, and Lovren was once again forced to bear the wrath of the fans. When the rumour of Lovren to West Ham started, you would have to travel a long way to find a Liverpool fan who wasn't overjoyed.
However Lovren stayed and vowed to fight for his place.
This season, for the first three games, we thought we had seen the commanding, cool and composed Lovren once gain. Against tough opponents like Stoke and Arsenal, he held his nerve, once a fragile thing, to be the glue that held Liverpool's defence together. This season, we thought we had seen the Lovren who we thought would solidify our remarkably fragile defence.
This season, we thought we had seen the renaissance of Lovren.
Oh how we were wrong.
Against West Ham, another club that has been the bane of Liverpool in recent times, Lovren found himself exposed once again. But this time, oddly for a player who has often been criticised for lacking self-confidence, it was through his own cockiness.

Step-over's, 40-50 yard passes and shots on goals were all miscued by Lovren, and resulted in the wrath of irate Liverpool fans around the globe. Lovren opted close his Instagram account, although one suspects that he has gotten used to the malice by now, having never endeared himself to any group of supporters, whether they be Liverpool, Southampton or Lyon.
A particular quote caught my eye when I was reading his post match interview, and maybe it was just a slip of the tongue or incorrect phrasing, but this one quote gave us all an unwelcome insight into the turmoil within the mind of Dejan Lovren:
"What can I do?"
Go back onto the training ground. Go back to the basics. Go back to being the quality defender that we know you can be.
It's now or never for the career of Dejan Lovren.
Daniyal Ahmed