As he prepares his side for the first match of his Liverpool reign, Jurgen Klopp believes he can predict Tottenham Hotspur's game plan.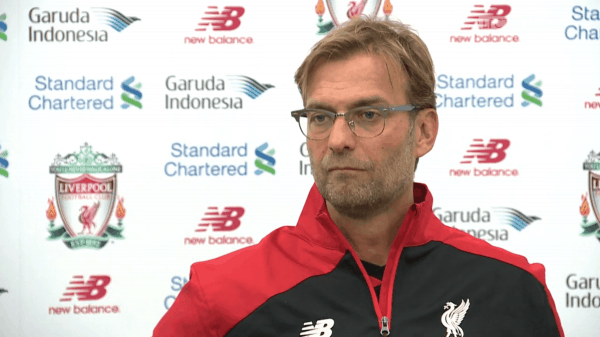 A trip to White Hart Lane is not the easiest of starts to a managerial reign, but Klopp is more focussed on preparing his side for victory – after doing his homework on Spurs.
Speaking to reporters on Thursday afternoon, Klopp revealed that "I think we know how they want to play."
"I watch football all the time and know many things about my new players – it's not the biggest problem," he said, addressing the short period of time has had with his Liverpool squad.
"For me it's more interesting about what they are able to do on their best day.
"That's what I'm looking for to make the starting lineup for Tottenham.
"There's no big problem. Everything would be better if we had worked together for six weeks.
"But I knew it would be like this."
Klopp was joined by assistants Zeljko Buvac and Peter Krawietz to take training at the club's Melwood facility on Wednesday afternoon, with the majority of his squad regrouping following the international break.
The German believes these training sessions will prove crucial in gaining victory on Saturday.
"We have to start new, and that's what we do," he continued.
"I'm not interested in what happened a few weeks ago I only think about what can we do to be stable in a game, to close all our doors and, if possible, give a little bit out.
"We have to be active – we're very active, we're ready for work – we have to be ready to enjoy the game.
"We play against a very, very good Premier League team who've worked together for some time.
---
---
"They look fine-tuned, they're good together. Maybe they have some problems with injuries, but it's a good team.
"I think we know how they want to play – that's an important point to know.
"But it's more important to analyse the current situation.
"I know how I want to play, and we have to use these two [sessions] – today and tomorrow – but in the end, it's only football.
"All these guys are able to play real good football, that's the reason they are here.
"And now we have to open our chest…defend together, attack together. What football looks like [in our dreams]."