As Jurgen Klopp's first game as Liverpool manager fast approaches, we take a look at how the last 10 Reds bosses fared in their first league match in charge.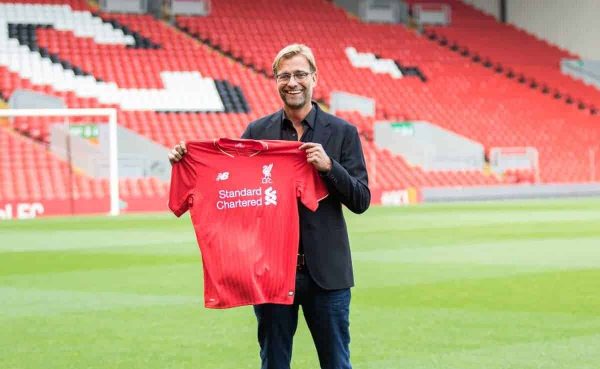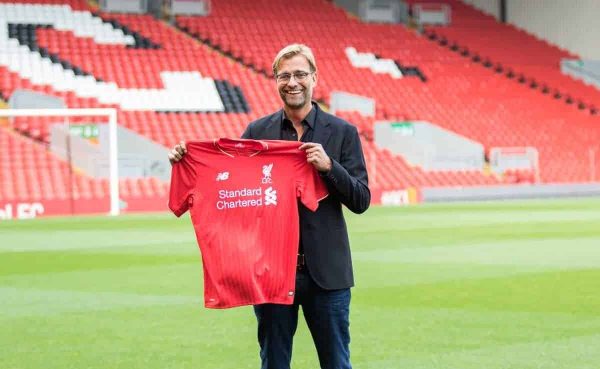 Klopp takes his new side to Tottenham Hotspur on Saturday lunchtime, in what is hopefully the start of a great next chapter in Liverpool's history.
Such has been the hype surrounding the 48-year-old's arrival that anything other than victory will now be something of an anti-climax.
This is unfair, however, given the fact Klopp will barely have trained with a number of key players, and that White Hart Lane is always a tough away ground to visit.
Whatever the outcome, it is sure to be a memorable day for the club, and the travelling fans are sure to be in great voice from start to finish.
Here is how Liverpool's last 10 managers have fared in their first league match in charge of the Reds.
Brendan Rodgers – West Brom 3-0 Liverpool (18th August 2012)

Following a 1-0 win away to FC Gomel in a Europa League qualifier in his first official match in charge, Rodgers took his Liverpool side to West Brom for his first Premier League game at the helm.
It proved to be a disastrous occasion for the Ulsterman, as the Reds were dispatched of at The Hawthorns.
Despite a reasonable first-half display by Rodgers' men, Zoltan Gera thundered the hosts in front on the stroke of half-time. It only got worse from that point on.
Daniel Agger was sent-off for hauling down Shane Long, and although the Irishman missed the resulting penalty, Peter Odemwingie's spot-kick and Romelu Lukaku's header put the game to bed soon after.
LFC starting XI: Reina, Kelly, Skrtel, Agger, Johnson, Lucas, Allen, Gerrard (c), Downing, Suarez, Borini.
Kenny Dalglish (2nd spell) – Blackpool 2-1 Liverpool (12th January 2011)

There was a Klopp-esque reaction to the news that Kenny Dalglish would replace Roy Hodgson as manager in January 2011,
His first match in his second spell as manager was a 1-0 loss to Man United in the FA Cup third round, but the Scot's first league game came a few days later, as his side visited newly-promoted Blackpool.
Fernando Torres' early goal looked to have set Dalglish on his way to victory, but Ian Holloway's side turned the game on its head.
Gary Taylor Fletcher equalised after 12 minutes, and DJ Campbell sealed all three points midway through the second-half.
LFC starting XI: Reina (c), Kelly, Skrtel, Agger, Johnson, Lucas, Poulsen, Meireles, Jovanovic, Kuyt, Torres.
Roy Hodgson – Liverpool 1-1 Arsenal (15th August 2010)

Hodgson's dire spell at Liverpool started with a Europa League win against unknown FK Rabotnicki, before Arsenal travelled to Anfield for the start of the 2010/11 Premier League campaign.
Joe Cole, making his first league start for the Reds, was sent-off for a wild lunge on Laurent Koscielny in the first-half, making it an uphill battle from that point on.
David N'Gog's terrific opener in front the Kop looked have earned the 10 men a shock victory though, only for Pepe Reina's terrible own goal to gift the Gunners a point in stoppage time.
Things only got worse from then on for Hodgson.
LFC starting XI: Reina, Johnson, Carragher, Skrtel, Agger, Mascherano, Gerrard (c), Cole, Jovanovic, Kuyt, N'Gog.
Rafa Benitez – Tottenham 1-1 Liverpool (14th August 2004)
Rafa Benitez is arguably Liverpool's finest manager of the Premier League era, and he got off to a winning start back in 2004, when his side won 2-0 away to Graz AK in a Champions League qualifier.
The Spaniard's opening league match was a tough-looking trip to Tottenham, and in the end, both sides left White Hart Lane with a share of the spoils.
New big-money signing Djibril Cisse gave the Reds the lead with a terrific close-range finish before the break, but Jermain Defoe equalised late in the day.
It would prove to be a memorable first season at Anfield for Benitez, as Liverpool won the Champions League in an epic final against AC Milan in Istanbul.
LFC starting XI: Dudek, Josemi, Hyypia, Carragher, Riise, Finnan, Gerrard (c), Hamann, Kewell, Cisse, Baros.
Gerard Houllier – Liverpool 1-3 Leeds United (November 14th 1998)
Following the doomed joint reign of Roy Evans and Gerard Houllier, the former was sacked and the latter took sole charge at Anfield in November 1998.
It proved to be a dismal first match for Houllier, however, as a talented young Leeds United side came to Anfield and spoiled the party.
Robbie Fowler's penalty midway through the second-half looked to have set up victory for the hosts, but Liverpool fell apart soon after.
A teenage Alan Smith equalised within seconds of coming on for his senior debut, and Jimmy Floyd Hasselbaink's late double secured all three points for the visitors.
LFC starting XI: James, Heggem, Carragher, Staunton, Bjornebye, Ince (c), Redknapp, Thompson, Berger, Fowler, Riedle.
Evans and Houllier – Southampton 1-2 Liverpool (16th August 1998)
The Evans/Houllier double act never quite felt right as soon as it was announced in 1998, and it always felt like a matter of time before Houllier was given the job on his own.
They started with three points at Southampton's tricky former ground The Dell, however, as Liverpool got their 1998/99 campaign off to a positive start.
Egil Ostenstad put the Saints in front in the first-half, but new Reds signing Karl-Heinz Riedle equalised with a header before the break.
The stage was set for 18-year-old Michael Owen, fresh off the back of his 1998 World Cup exploits, to fire home the winner from close-range, sending the travelling supporters home delighted.
LFC starting XI: Friedel, Heggem, Carragher, Babb, Staunton, McAteer, Ince (c), McManaman, Berger, Owen, Riedle.
Roy Evans – Norwich City 2-2 Liverpool (5th February 1994)
Evans was given his chance to manage Liverpool in early 1994, following the doomed reign of Graeme Souness.
It proved to be an adequate first outing in charge for the former Reds player and assistant manager, as his side earned a share of the spoils at Norwich City.
A young Chris Sutton gave the Canaries the lead, but an Ian Culverhouse own goal levelled matters after 53 minutes.
Just when Sutton thought he had won it with his second of the day, John Barnes popped up with 13 minutes remaining to salvage a point.
LFC starting XI: Grobbelaar, Jones, Wright, Matteo, Dicks, Whelan, Barnes, McManaman, Walters, Clough, Rush (c).
Graeme Souness – Liverpool 3-0 Norwich City (20th April 1991)
There aren't many positives to take from Souness' infamous time as Liverpool manager between 1991 and 1994, but he did at least get off to a winning start.
The Reds hosted Norwich towards the end of the 1990/91 season- Dalglish had announced his shock resignation two months earlier- and they won with ease on the day.
Goals from Barnes and Ray Houghton put the Reds 2-0 in front at half-time, and Ian Rush added to his increasingly brilliant tally for the club with five minutes left on the clock.
LFC starting XI: Grobbelaar, Nicol (c), Gillespie, Ablett, Staunton, Burrows, Molby, Houghton, Barnes, Beardsley, Rush.
Kenny Dalglish (1st spell) – Liverpool 2-0 Arsenal (17th August 1985)
Dalglish took over as Liverpool's first ever player-manager in the summer of 1985, and he started himself for the Reds' first game of 1985/86, at home to Arsenal.
It proved to be an inspired decision from 'King Kenny', as his side defeated the north Londoners to begin their season in style.
Ronnie Whelan and Steve Nicol, two stalwarts throughout the 1980s, got the goals on the day, and Liverpool would go on to win yet another league title in May 1986. Fittingly, Dalglish's winner at Chelsea clinched the trophy.
LFC starting XI: Grobbelaar, Neal (c), Lawrenson, Hansen, Kennedy, Nicol, Molby, Whelan, Beglin, Dalglish, Rush.
Joe Fagan – Wolves 1-1 Liverpool (27th August 1983)
Joe Fagan is without a doubt Liverpool's most underrated manager, reaching the European Cup final in both his two seasons in charge – winning the first along with the league title and League Cup in 1984.
His first league match came away to Wolves, following a 2-0 defeat to Man United in the 1983 Charity Shield, but a point was all he could muster on the day.
Geoffrey Palmer's early penalty was the worst possible start for Fagan and his team, and that's the way things stayed until the break.
Ian Rush, so often Liverpool's saviour during the 1980s, rescued a point straight after the restart, but neither side did enough to win.
Fagan enjoyed a wonderful first season in charge, winning the European Cup, First Division and League Cup to clinch an unprecedented treble.
LFC starting XI: Grobbelaar, Neal, Lawrenson, Hansen, Kennedy, Lee, Souness (c), Robinson, Johnston, Dalglish, Rush.
[interaction id="561bddaf74a791dd4b7b7a9a"]