Jurgen Klopp was unveiled to the media as Liverpool's new manager on Friday, and here we round up the best of the newspaper reaction.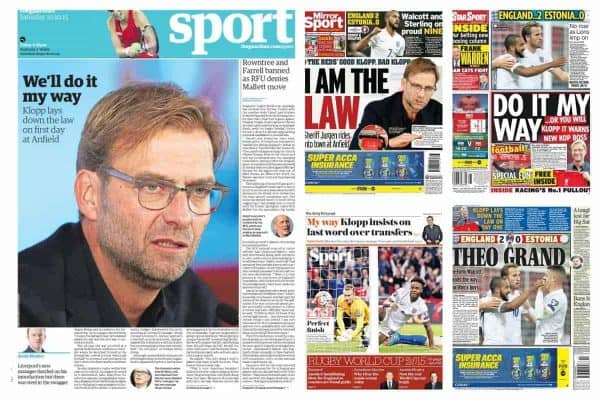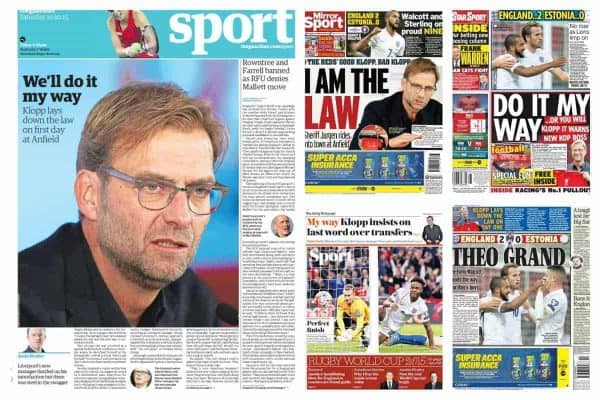 Klopp was unveiled to a packed Anfield press room on Friday morning, before delivering a rousing mission statement in his first media address as Liverpool manager.
The 48-year-old said "if we sit here in four years I think we'll have won one title," underlining an ambition that has captivated the Reds support.
Klopp is a hugely popular appointment—not only with the Anfield faithful, but most of the footballing world.
Here's how the media reacted to Klopp's unveiling.
Paul Hayward of the Telegraph was enraptured by the German's charisma, testifying that this was the level of character that Liverpool need to secure a Premier League title:
Jurgen Klopp's unveiling at Liverpool was easily the most dramatic managerial 'happening' since Mourinho's first stint at Chelsea. So theatrical, in fact, that it almost veered into parody, with his old club Borussia Dortmund tweeting a mocked-up picture of him crossing Abbey Road like the Beatles.

The Messiah routine was half expectation, half larking about. But underneath it was a powerful sense that Liverpool's fans have what they yearned for: charisma.

Lurking in every Koppite's mind is the painful realisation that the league title last found its way to Anfield 25 years ago, in the 1989-90 season, before the Premier League was even born.
The BBC's Ben Smith highlighted Klopp's arrive as a change in direction for the Reds, before underlining the work to be done:
The arrival of Klopp signals a change at Liverpool. Whatever happens on the field, things will not be the same. The romance will take time to subside, the expectation will only grow between now and his first game in charge on 17 October. The touch paper has been lit.

Klopp will put that to one side now. On his first night with club staff he expressed a desire to watch a Liverpool youth game in his first week on Merseyside. The players will begin to return from international duty and the real work, the work on which he will be judged, will begin in earnest.

The challenge is clear. Take Liverpool back into the Champions League, deliver silverware and win that first league title since 1990. Great managers, great talkers, have come and gone in the 25 years since and but none has delivered the ultimate prize.

It remains to be seen whether Klopp can be the exception.
John Thompson of the Liverpool Echo hailed the arrival of a manager Liverpool supporters can truly relate to:
Never has a football manager arrived in this city to such a welcome of universal approval from either half, blue or red. It is simply staggering, fascinating to witness.

[…]

Jurgen Klopp may succeed at Anfield. He may not. And it won't be easy.

But he'll likely take the hordes of smiling, excited Kloppites with him now every single step of the way.

Because they like the cut of his jib, his jeans. And his authentic personality is not only enormous, his heart is just as big, his smile just as wide. And that heart is out there on his sleeve, every second, it seems.

So he's the 'real' deal in the truest sense of the word. And you just can't help but like him at first glance and be spellbound by him.

All in all he looks a perfect fit for the red half of a city that looks tailor made for him, too.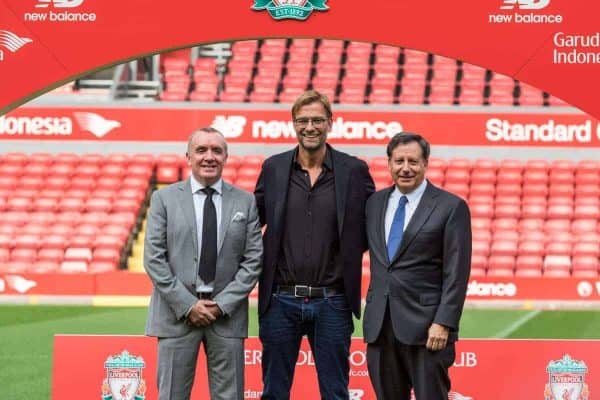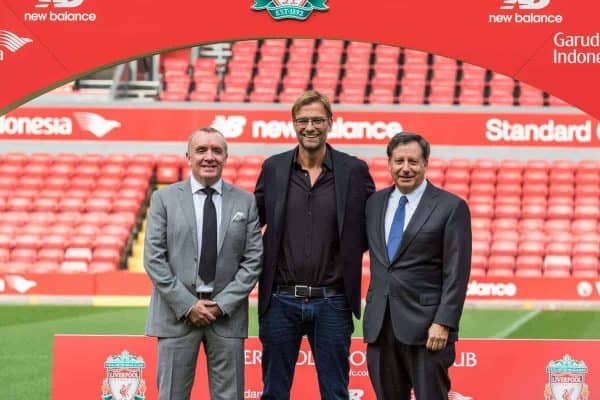 Paul Joyce of the Express nodded towards Klopp's affinity with the club, and what the appointment of a "world-class manager" could mean to the Reds:
It just felt as if Klopp gets it.

[…]

Liverpool will have to rely on more conventional methods if they are to rediscover their footing and aim to clamber back onto their perch, but he feels like a good fit: a manager who knows what he wants at a club that has lost its way.

There may well be a time when that causes problems for Fenway Sports Group who have their own beliefs on how things should be done, but here chairman Tom Werner looked on unable to suppress a smile. Alongside Klopp, chief executive Ian Ayre was hanging on his every word.

But in finally appointing a "world class manager," to quote chairman Tom Werner, Liverpool have given themselves a chance of fighting back.
The Telegraph's Jason Burt focussed on the entertainment value and competitive pedigree Klopp can bring to a decidedly limp Premier League:
Here is a big addition to the tumult of the Premier League. Of course it all depends on results and performances – everyone knows that – but too often in this country the fun is sucked out of football. We are too po-faced, too serious, too constrained. The media is as guilty of this as the fans with the clubs being most guilty of all, given the money at stake.

[…]

Klopp on the Kop feels like a good fit. Anfield feels like the right location for the German's special brand of "emotional football" and the way to deal with the huge expectation is to harness it, to ride that wave rather than be drowned by it.

I have attended many press conferences and briefings to unveil new managers and this was the most charismatic and the most convincing since Jose Mourinho first arrived at Chelsea in 2004. There is nothing wrong with saying that, despite the cynicism of some.
Barney Ronay took a similar angle for his column for the Guardian:
What an appointment it is! Klopp has energy, zeal and charisma. He gets the best out of young players. He looks like a very friendly life-sized cartoon cat who wants to give you a high five and teach you how to cross the road.

Best of all he is very obviously in love with the basic sound and fury, the clanking, soaring power chords of it all. Never mind the slightly toxic jeering-off of Brendan Rodgers, whose heart was also in the right place.

Landing Klopp is a coup. And not only for Liverpool but for the Premier League itself. Perhaps. Fingers crossed. Maybe.
As did Jamie Carragher, writing for the Mail:
Klopp appeals to a wider audience than did Benitez and Houllier and I'm sure people up and down the country will have taken an instant liking to him. He is not just an appointment for Liverpool but for the whole Premier League.

When Mourinho was in charge of Chelsea the first time, I couldn't help watching him, eager to hear every press conference. Despite the fact we were competing against him in the league and those famous Champions League semi-finals, I developed a soft spot for him and I'm sure I wasn't alone.

I imagine the same will happen with Klopp. People will hang on his every word. He can make Liverpool box-office again. Everyone will now be watching Liverpool.