With Christian Benteke producing a hit-and-miss performance against Bordeaux on Thursday night, Jurgen Klopp faces a big decision over his future.

Benteke returned to the Liverpool team for the Europa League match against Bordeaux on Thursday night and had a big impact on the outcome, winning a penalty and scoring a thumping winner as the Reds triumphed 2-1 to guarantee passage to the knockout phase.
While Benteke only registered his name once on the scoresheet, he came within a referee's whistle of a hat-trick—two further strikes were (correctly) disallowed, one for offside and another for a foul in the build-up. It all pointed to an effective display by the Belgian striker in a match which was alternately free-flowing and slow, drab and typically Europa League-ish—but the overall truth is a little different.
Instead, what Liverpool have seen again from Benteke is that he can be extremely effective in certain situations, but can hinder the swashbuckling style that fans swooned over against Manchester City at the weekend.
It's important to note that in neither scenario is this a criticism of the striker, nor a definitive indication of how Liverpool should play—it's simply what is, and as such dictates that sooner or later, Jurgen Klopp will have a decision on his hands.
Benteke vs. Bordeaux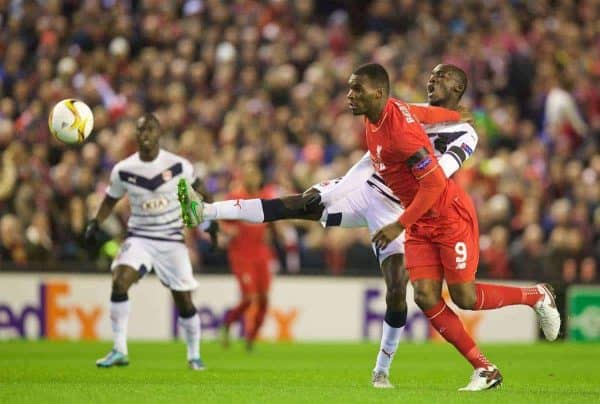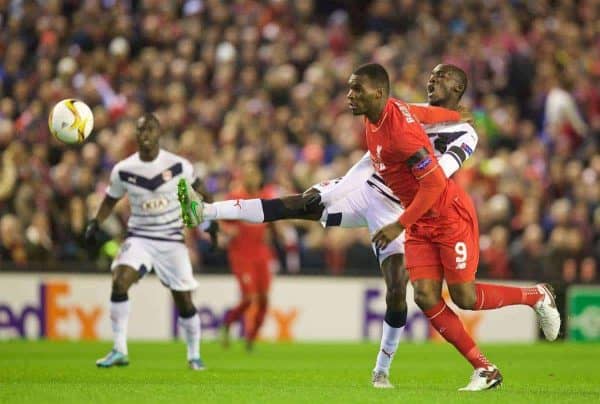 Against City, the attack was fluid, one-touch, and saw positional interchanges and quick pressing. To his credit, Benteke certainly looked to sprint and close down the defence a lot more against Bordeaux than he had done previously, but his movement off the ball when Liverpool move into the final third at pace leaves a lot to be desired.
His strike ruled out for offside was a case in point; instead of holding the run or dragging the defender away to make more space for Jordon Ibe's pass, Benteke simply went. It was too early, and the flag—though marginal—was predictable.
In the second half, on multiple occasions Benteke was awaiting a cut-back as Alberto Moreno or another red shirt hit the byline, but that's exactly what he did: wait.
He is a reactive striker, one who will watch a situation unfold before making his move accordingly, rather than one who will pre-empt a near-post ball or a defensive error or any other possible phase of play.
Benteke also lacks awareness of others, somewhat.
It adds up to a striker who is dangerous once moving in possession, but who wastes several opportunities even before he has taken a touch, simply because he closes them out himself.
Benteke closes off the space with a run to the right instead of opening play. #LFC vs #RUB https://t.co/c87RyX8JEh

— Karl Matchett (@karlmatchett) November 27, 2015
But that's for the fast-flowing, easy-on-the-eye, all-available-playmakers fit-and-in-form kind of game.
Liverpool don't play that way too often (yet), they certainly don't have a deep enough squad (yet) to aim to play that way for an entire season and, perhaps most importantly, aside from the very very best sides on the planet, Premier League and European opponents don't always let teams play that way.
Liverpool have to have a different kind of outlet and goal threat at times, and Benteke is currently that.
Klopp's Quandary

Of course it's easy to say the Reds have the best of both worlds in their squad: a striker with pace and power, but also with touch, technique and anticipation. It's easy to say…but as Thursday's team sheet alluded to, it's apparently much more difficult to actually get Daniel Sturridge out on the pitch.
Instead, Benteke's goal (which did count) showed the best parts of what he is about: able to hold off a defender, at times—though frustratingly not always—a very good first touch and an instinctive piledriver of a finish.
He can turn a mis-hit or aimless delivery into tangible end product and by himself can negate the attentions of a pair of defenders in a manner which would normally take at least two quick-footed playmakers to out-manoeuvre with one-touch passing.
.@chrisbenteke curls in a wonderful effort as @LFC qualify for the @EuropaLeague knockout stages. https://t.co/xGyo4EZbti

— Football on BT Sport (@btsportfootball) November 27, 2015
Liverpool can play direct with Benteke, or they can use him to stretch play as defences naturally look to drop off to thwart his pace. That in turn leads to bigger spaces for the attacking midfielders to play in, so it's not always a case of immediately looking to the No. 9 to take down a longer pass.
For this season in particular, Jurgen Klopp has a decision to make…and then another in the summer, no doubt.
Do Liverpool make use of the regular, fit striker that they have, who will clearly score goals and help the team take points off teams…but has his limitations?
Or does he start, right now, as he means to go on? Playing a faster brand of football than Benteke can typically align himself to and contribute to, meaning he has to take a watching brief more often than not?
The Winter Schedule
The next six weeks probably won't tell too much about the German manager's plans in that regard.
The matches will come extremely fast and at times it will be a case of all-hands-on-deck to get through the typically mad rush of December games with as many players fit and featuring as possible, so rotation of lineups and styles will not necessarily be indicative of the overall thought process of Klopp.
Benteke, like most others in the squad, will have to continue performing and providing end product to show he deserves to be included on a week-to-week basis, and that output will partly determine the shape and the style of the team over the coming months.
If the No. 9 plays effectively, troubles defences, allows others to flourish and scores goals, it won't be a huge concern that he limits other types of play.

It might be a concern to some that it means another player—Phillipe Coutinho, Roberto Firmino, someone else—doesn't get as regular game time, but again…if Benteke's presence is effective more often than not, there isn't the pressing need to get the best from a third playmaker, or a second running striker, or whatever the other options are.
By contrast, if his goalscoring continues in the erratic pattern seen thus far—five in 13 so far isn't exactly as decisive or prolific as is required over the longer term—then perhaps the Firmino-Lallana-Coutinho approach will serve the Reds better.
Until, of course, the technically superior but profligate triumvirate fail to breach a particular defence with intricate play and clever movement.
Then you can probably guess who Klopp will turn to first, to arrest the problem of penalty box presence and a brutish and simplistic eye for goal.
[interaction id="5658270341f2d0122bc4f1ce"]