With Jordan Henderson expected to return to action after the international break, Jurgen Klopp can look forward to strength in midfield at Liverpool.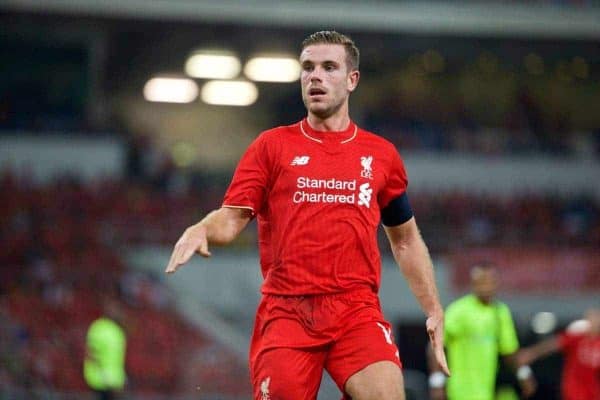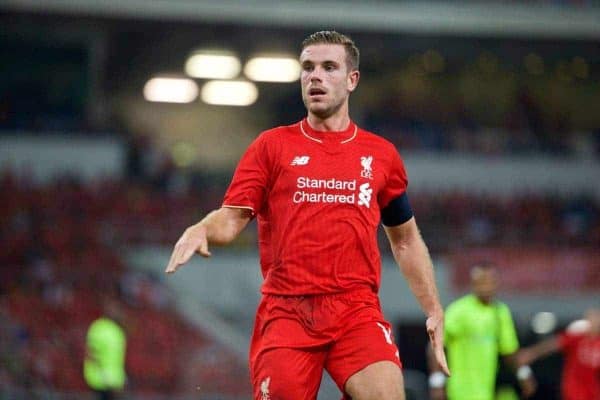 After recovering from a heel injury, Henderson broke his foot in training, limiting his Premier League appearances for the season so far to just two.
This has denied Liverpool a key midfield option, with Henderson both a guaranteed starter and Reds captain.
But, making his comeback after the November international break, Henderson is set to provide a welcome boost to Klopp, who has been unable to field the 25-year-old since his arrival.
Henderson's return could make a big impact on Liverpool's midfield options.
Henderson

"We never had to think about whether Henderson was the right captain," Klopp explained after being asked whether he had considered a changing of the guard following his appointment.
"I've met him, he's an absolute leader and he's in a good way at this moment."
While Henderson is yet to train with the first team under Klopp, he is a regular feature at the club's Melwood training facility, working alongside the likes of Jordan Rossiter and Jon Flanagan as they rebuild their fitness after injury.
Klopp, who named a 28-year-old Sebastian Kehl as captain on his arrival at Borussia Dortmund in 2008, immediately recognised Henderson's authority, and this is one of his key traits.
The former Sunderland man blossomed under the tutelage of Brendan Rodgers and Steven Gerrard on Merseyside, becoming the biting, snarling midfielder who tussles with tenacious figures like Diego Costa and barks orders at his team-mates.

Like Kehl, Henderson is able to impose himself from the centre of midfield, and Klopp is clearly aware of the benefits.
However, it is not only Henderson's leadership that will make him key to Klopp's plans.
Developing into an effective all-rounder under Rodgers, Henderson is a pace-setting midfield dynamo, capable of contributing to both defence and attack, swiftly transitioning between the two.
He is one of Liverpool's most effective creative players, able to influence play from deep and in the final third, registering nine assists last season, and finishes off moves when required, with six goals to his name in the league in 2014/15, too.
Possessing a relentless engine and an intelligent tactical mind, Henderson is the perfect player to slot into Klopp's gegenpressing philosophy in midfield.
When he returns, Klopp will be able to shake up his midfield options.
Midfield Options

While Klopp's high-intensity brand of football demands defending from the front, the midfield is arguably the most important area of the pitch for his team.
Pinning opponents back, winning the ball quickly and transitioning into the attacking phase are all vital components of his tactical outlook, and if there is a gulf in midfield this is essentially impossible.
Speaking to These Football Times this month, former Liverpool academy coach Tim Lees explained what Klopp's tactics require off the ball.
"You need players who get regains high up the pitch—not players who just run towards the ball on the turnover but those who actually regain possession," he detailed.
Klopp needs his midfielders to remain on the front foot, aggressively and intelligently hunting the ball in packs, and so far he has attempted to do with two different systems.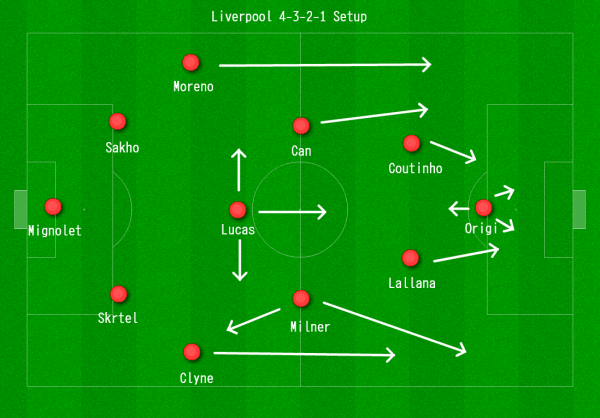 With Christian Benteke and Roberto Firmino injured at the beginning of his tenure, Klopp initially utilised a 4-3-2-1 formation.
This saw Lucas Leiva deployed as the deep-lying midfielder, with Emre Can (left) and James Milner (right) shuttling in wider roles.
Lucas was able to push forward to contribute to Liverpool's high press off the ball, while Can, and Milner in particular, occupied the flanks.
Milner's role in this setup was confused, with the 29-year-old covering the right-back slot when Nathaniel Clyne pushed forward, the central area when the opposition has possession and the right flank when attacking on the counter.
It was a role that demanded too much of the stand-in captain.
Milner would, as Lees puts it, "just run towards the ball on the turnover," and this proved ineffective—under Klopp, only Lucas (3.25) has committed more fouls per 90 minutes in the league than Milner (2.59).
With Milner underperforming, Klopp switched to a 4-2-3-1 formation midway through the Reds' 3-1 win away to Chelsea.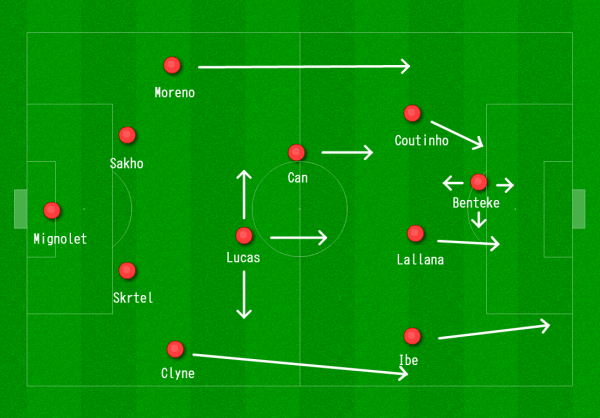 Moving to a 4-2-3-1 has seen more impetus on the attacking midfielders to instigate the high press, with Firmino and Adam Lallana in particular excelling in winning the ball in the final third.
While Firmino, Lallana and Philippe Coutinho been able to swarm around Benteke in this formation, to varying degrees of success, the emphasis has switched for the midfield pairing.
So far, Lucas and Can have been predominantly deployed in the engine room, with Lucas holding as Can plays a more all-round role, supporting attacks when required.
Can's poor performance in Sunday's 2-1 loss at home to Crystal Palace underlined his flaws in this position at present, however, with the German unable to influence play either in defence or attack.
Can has been overworked in midfield this season, after a gruelling 2014/15 campaign and a summer spent with the Germany U21s in the Czech Republic, and is in dire need of a rest.
This is where Henderson comes in.
Future Liverpool Midfield?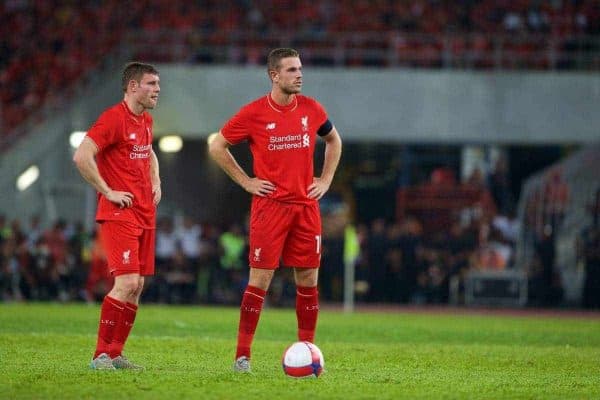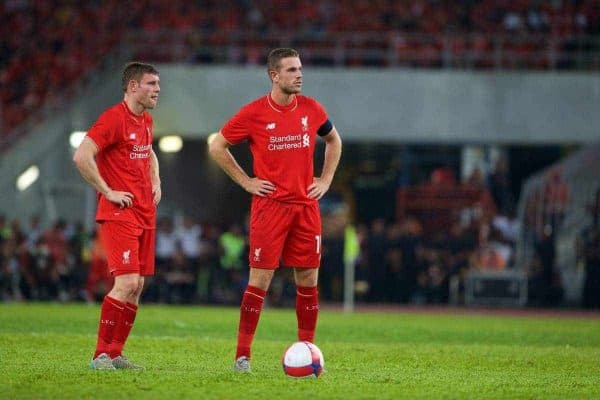 Henderson's tactical versatility, suitability within Klopp's high-intensity pressing game and comfort in transition from defence to attack can see him fit into a number of roles in the midfield.
In the 4-3-2-1 for example, Henderson could take up one of the wider roles, with his efficiency and tangible end product making him a more suitable option on the right-hand side than Milner.

Henderson could enforce Klopp's ideals within this role, and his energy would allow him to lead by example while interchanging with Clyne.
However, if Klopp perseveres with his favoured 4-2-3-1, Henderson would be well suited to one of the positions in the midfield two, alongside either of Lucas, Milner or Can.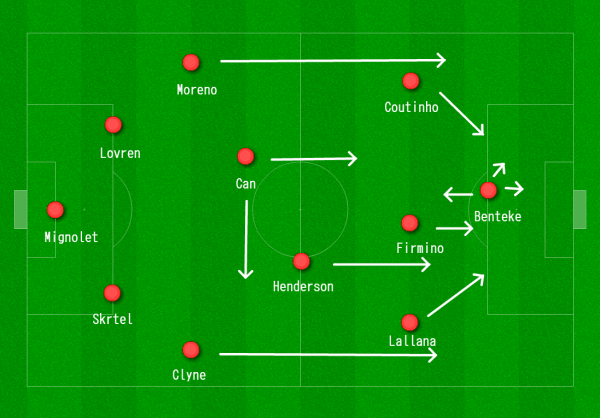 Alternatively, this could come at the expense of Lallana, with Henderson taking up a right-sided attacking role and Lucas or Milner joining Can in midfield.
Can, at 21, can progress into a devastating option within Klopp's midfield, but having played 5,304 minutes of football for club and country since joining the Reds last summer—the equivalent of 59 full games—will required a resting period, to avoid performances such as against Palace.
The German should be earmarked as Henderson's midfield partner for the long term, but for the time being the captain's return can give Klopp a variety of options.
Alongside any of Lucas, Milner or Can, Henderson can boost Liverpool's efficiency in the midfield.
Klopp's Options With Henderson:
Replacing Milner in a 4-3-2-1
Joining Lucas and Milner in a 4-3-2-1, rotating Can
Alongside Lucas or Can in a 4-2-3-1
On the right of a 4-2-3-1
Partnering Milner as during pre-season
[interaction id="5640d035737e4fee1d7931d9″]