With Steven Gerrard's debut season in Major League Soccer ending in disappointment, we get the view from LA on what went wrong and how Gerrard has been received in California.

Galaxy exited the MLS season at the first knockout stage of the play-offs, with Gerrard back in England before the conference semi-finals had even taken place last weekend. We speak to Mark Edward Hornish, who covers Los Angeles Galaxy for SBISoccer.
Q. First up, for those who haven't followed Galaxy, tell us a little about their 2015 season.
The Galaxy are the Manchester United of the MLS. They have won three of the last five MLS Cups (what we call a Championship), and two of the last five Supporter's Shields (what you call a Championship). They've won more titles than any MLS team in history.
Like Man U, or City, or Chelsea, Galaxy do not enter the season thinking "our goal is top four." Galaxy enter every season expecting to be lifting silverware at the end of it. In their hearts, Galaxy supporters probably understand that this may not be possible every single season, especially given the parity in MLS, something with which Premier League followers may not be familiar.
But for the Galaxy to manufacture such a spectacular collapse (they won only one match in their last eight), especially after signing not one but two players who are considered nothing less than Gods in their home countries, it left a bitter bitter taste in the mouths of the Galaxy faithful.
Q. Did the team improve after Gerrard's arrival?
Briefly.
The arrival of Gerrard (and Mexican international Giovani Dos Santos) sparked a Galaxy run of form the likes of which the league has really never seen. Galaxy scored 28 goals in all competitions (while surrendering 11) in July and August. For a brief time they were being called unstoppable. Then came September, the form evaporated, and now we're looking at one of the most disappointing seasons for Galaxy since Beckham's first two years in 2007 and 2008.

Q. Galaxy ended the regular season with some poor results, forcing them into a single game play-off against Seattle. Tell us about the match and Gerrard's role in it.
To say the Galaxy ended the season with some poor results is a massive understatement. They utterly collapsed. The defending champions managed only one win in their final 8 matches, and allowed a goal differential of -8 in that stretch.
The fact that the Galaxy were even playing in that knockout match – on the road, at night, in the rain, in the cold, in Seattle, where the Sounders welcome you with 60,000 screaming supporters and the worst pitch in North America – spelled doom even before the team got on the plane. Had they managed one more point in their final eight games they would have been at home watching someone else endure a road trip to the Pacific Northwest.
Gerrard did not play poorly in the match, but he did not play well. He missed a shot – he's done a fair amount of that lately – but he also put a lovely set piece off the cross bar and generally controlled play in his area of the pitch. The Galaxy's back line – the best in the MLS for the last three years – can shoulder the blame for the disaster in Seattle. But overall, the late season swoon has to be spread throughout the team, and especially the guys making the enormous salaries. That, regrettably, includes Saint Steven.
Q. Overall, how would you describe Gerrard's impact at Galaxy?
Minimal. A bright flourish upon arrival, and then he disappeared.

Q. How have the fans responded to Gerrard's debut season in MLS?
Like any big name signing, Gerrard brought out a new class of supporters to the stadium – Liverpool supporters, both British and American, who would otherwise never bother with the perceived piddling quality of the MLS. Gerrard Galaxy jerseys are among the top five selling jerseys in the MLS this year. But overall the response has been one of disappointment. MLS fans have an inferiority complex to begin with, and any time a highly touted Euro underperforms, hackles raise and teeth grind.
Q. Do you think [Galaxy head coach] Bruce Arena will look to change Gerrard's role next season? Especially given that Gerrard will turn 36 next year?
In my years covering the Galaxy, I have never heard head coach Bruce Arena – the Alex Ferguson of the MLS – question his players' fitness, until now. I would have to assume that he was referring to his newest players – Gerrard and Dos Santos, as the fitness of his regular starters has never been in doubt.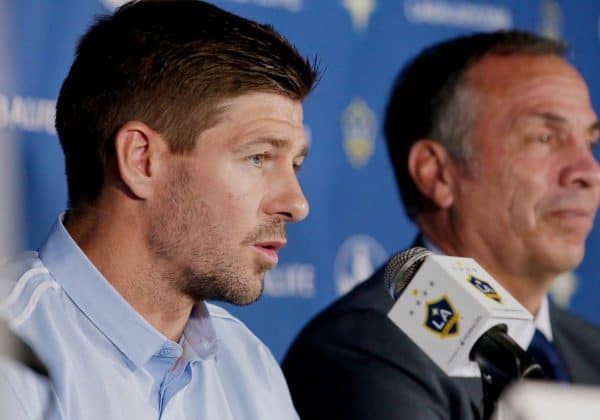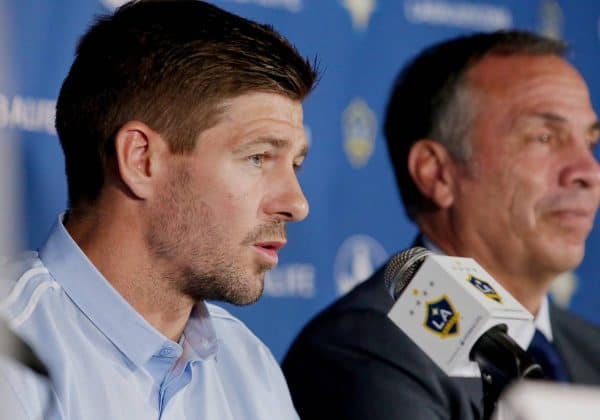 It is quite likely that Arena will look for ways to alter or reduce Gerrard's role next year. He already experimented with putting Gerrard up top as a striker paired with Robbie Keane or Gyasi Zardes. Granted, this was just after Gerrard's arrival, and employed during the summer heat wave. Playing in direct sunshine with temps approaching 100º is a challenge for any player, especially a 35 year old player coming off a two month break, especially a player who has played his entire career in the wet cool temperatures of northwest England.
But with the arrival of the allergic-to-defending Dos Santos a few weeks later, Arena had no choice but to move both Zardes and Gerrard back into their natural spots in the midfield. Gerrard was paired in the middle with a highly effective Brazilian holding midfielder named Juninho (not that one – a different Juninho). The pairing seemed to work for a few matches, but then dissolved along with the Galaxy's overall form.
Q. Last week, Gerrard said "Going on the road, playing on turf, playing at altitude, playing in humidity, those are the hurdles that I've had to face over the last three months that I wasn't aware of." How could he not be aware of this? Has he never seen a map of America?
It's one thing to say you know what's coming, it's another thing to actually do it. American soccer fans have watched as Euro after Euro has flamed out in the MLS because of these challenges. What's the greatest distance any EPL player will travel this season? 600 miles if they're playing in Champions League. MLS players travel more in a season than Steven Gerrard probably traveled for games in his entire EPL career.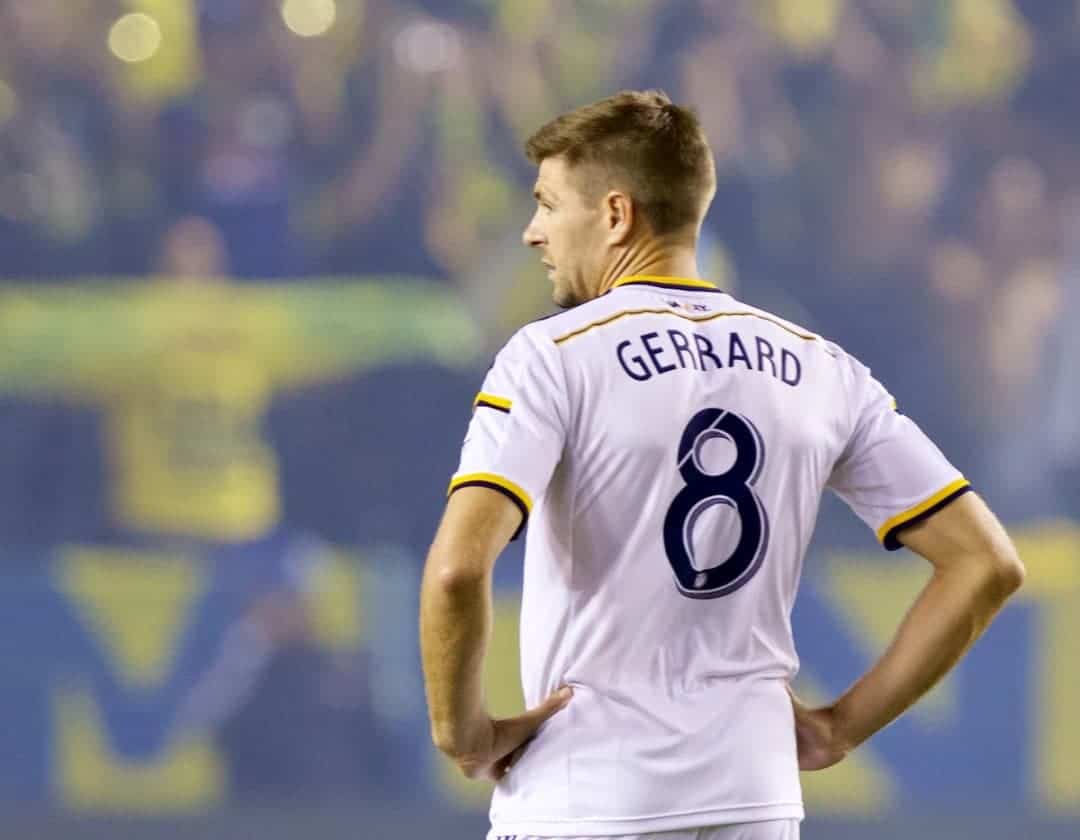 And while the LA Galaxy have by far the best pitch in the MLS, there are many surfaces here that are just real horror shows, and the Seattle fake turf on which the Galaxy's season ended two weeks ago is famously, spectacularly poor.
Q. Some Liverpool fans have suggested they'd like to see Gerrard back at the club in a playing role, what would you say to that idea?
You guys look so far down your nose at US domestic soccer, and yet you think that a 35 year old guy who clearly struggled here this year would be good to go back in your vaunted greatest league in the world? I was unaware our marijuana reform laws had reached Merseyside.

Q. Liverpool are expected to visit Los Angeles next summer, how do you expect they will be received in California?
It will be awesome. There is a strong base of Liverpool support in Southern California. It is likely your support will be as strong if not more so than the Galaxy support at the Rose Bowl, which seats 100,000. This was the case two years ago when we hosted Man U, and this past season when we hosted Barça. We just hope that Gerrard will dazzle in the Galaxy blue and gold the way he did for so long as a Red.
Thanks to Mark for answering our question. You can follow Mark @markothebeast.
TIA OPINION: Gerrard back at Melwood can benefit Liverpool, but not in a playing role