Emre Can was the subject of some poor analysis from Ruud Gullit on Match of the Day 2 on Sunday night, but elsewhere his positive performance has been recognised.
The German started at the base of Liverpool's midfield three – the first time he's been deployed in his natural holding midfield role from the start of a game for the Reds.
As noted by James Nalton in our post-match analysis, the 21-year-old "had more touches of the ball than any other player on the pitch – 98 – and was the most efficient passer in Liverpool's midfield with a pass success rate of 84%. During the first half his pass success rate was 90%, but this dropped in the second period as he tried to play the ball behind the opposition defence for his more advanced team-mates."
Such praise for Can was echoed by David Usher of the Liverpool Way fanzine, writing for ESPN:
"In the absence of the suspended Lucas, the young German excelled in a deeper role than usual. Swansea's attacking ambition was limited until they fell behind, but whenever they did venture forward they struggled to find any way past the powerful Can. He was caught in possession once early in the second half but, aside from that, he was almost flawless."
Bizarrely, Gullit – a great player but terrible manager and pundit – blamed Can for Liverpool's lack of attacking impetus.
The Dutchman used the screenshot below in an attempt to say Can was playing too close to the two centre-backs: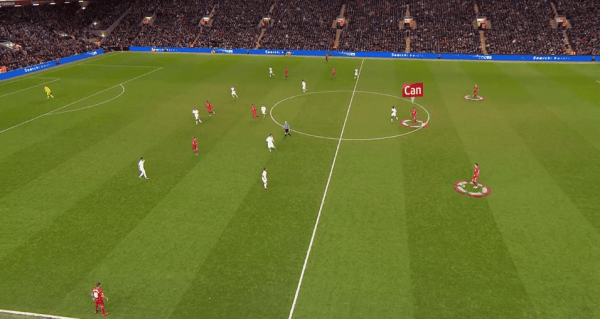 Instead, Gullit claimed Can should be further ahead: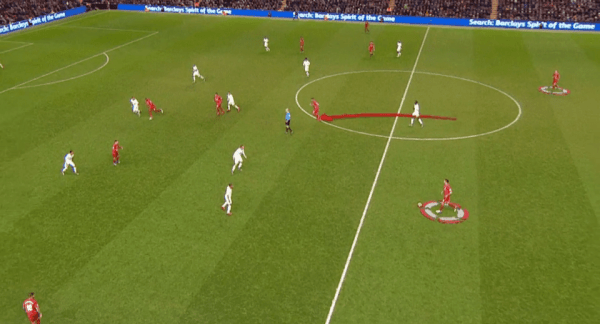 This is a laughable suggestion. There's seven Liverpool players ahead of Can whose roles are to provide the attacking movement. Can is perfectly positioned to block off the Swansea forward from pressing Lovren (on the ball) and also, crucially, placed to break up a counter attack if Lovren's pass is intercepted or misplaced.
Liverpool were constantly caught out on the break from not having a holding player protecting the centre-backs under Brendan Rodgers. With the full backs positioned high up the pitch in the example Gullit provides, Can is required to ensure a solid base at the back still.
At least Can's strong performance has been recognised away from the terrible analysis of MOTD2.