When Liverpool take on Watford at Vicarage Lane on Sunday afternoon, the stands will be filled with tales of the great John Barnes.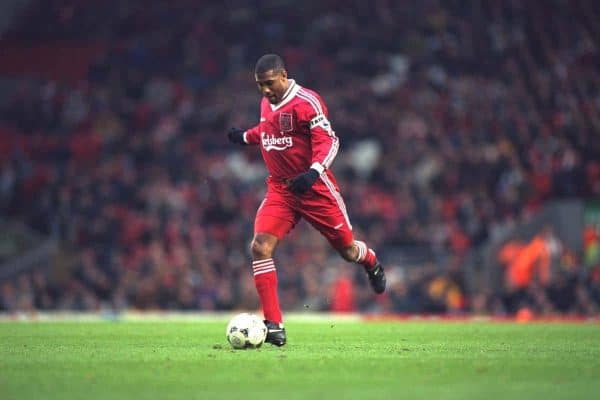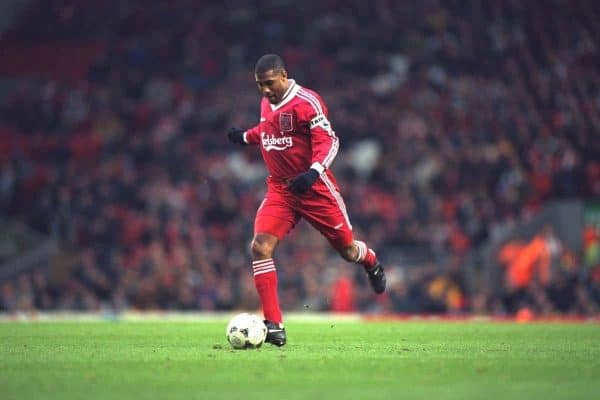 Going through the lineups for Liverpool and Watford this Sunday, you may be hard pressed to find any bona fide stars; going through the lineups for any Premier League team these days and such stars are few and far between.
Alexis Sanchez, Sergio Aguero, David Silva and Philippe Coutinho are all arguably members of a small group of players operating in the English top flight who will get your blood pumping.
They all pale in comparison to the brilliance witnessed by both Liverpool and Watford fans from John Barnes.
On Sunday at Vicarage Road, there will be many older fans sharing their stories of Barnes' frightening talent.
Watford supporters, surely, haven't seen a better player at Vicarage Road. And few Liverpool fans will claim they have seen better than 'Digger'.
A case can definitely be made for Luis Suarez and Steven Gerrard in the modern era, but Barnes easily belongs in the same bracket as those two.
Since Suarez left Anfield for pastures new, Liverpool have lacked a consistent performer with the ability to win football matches.
Coutinho has done it in fits and starts; Daniel Sturridge – when fit – will guarantee a goal; even Raheem Sterling had his moments before his sour departure.
How Jurgen Klopp would love a player of Barnes' genius to elevate his side.
Polls and lists of the best players ever to play in England and Europe are too frequent these days. It seems a player's worth can be too often determined by where they sit in such polls. They easily overlook the individual and how good he was or is.
John Barnes is one player who has bared the brunt of these polls, particularly when they are clogged up with Premier League players who couldn't lace his boots.
Sometimes you wonder if the people who conduct these polls remember that there was football before the Premier League came along.
When Kenny Dalglish signed Barnes from Watford in June 1987 for £900,000, the Liverpool manager knew what he was getting. The Jamaican-born winger had already amassed 65 goals in 233 appearances for Watford.
Barnes seamlessly slotted into a Liverpool side brimming with talent, and he was joined at that time by Peter Beardsley, John Aldridge and Ray Houghton – three fine players in their own right.
Barnes, though, stood out.
His first season was marked with many memorable moments such as his two goals in a home win against high-flying QPR. Barnes' second in that game is one of the finest goals ever scored in front of the Kop.
After winning the ball on the halfway line, he charged at QPR's defence. After moving casually to the left to evade the first tackle, he somehow weaved to his right in the same movement before nonchalantly placing the ball into the bottom corner of David Seaman's goal.
The goal summed up everything about Barnes the player. His natural skill and poise, coupled with his athleticism, was topped off by the graceful way he played the game. He did things with the ball other players could only dream about, and he made it look ridiculously easy.
His famous goal for England against Brazil in the Maracana Stadium in 1984 is another example. Barnes – like all great players – made the hard stuff look easy. He casually waltzed through the Brazil defence like he was the big kid in the schoolyard having a kickabout with the smaller kids.
That goal came before his move to Liverpool and may have taken many by surprise. Barnes, though, wouldn't have blinked as his belief in his own ability never wavered.
That belief was apparent after he suffered a nasty Achilles tendon injury playing for Liverpool in 1992. Barnes admitted that the injury robbed him of his burst of pace which left many a defender trailing in his wake.
However, the injury offered him a chance to showcase his talents in a new role in central midfield.
For nearly five years he shrewdly operated in the middle of the park for Liverpool, and he was an important part of an exciting side in the mid-90s that included young talent like Robbie Fowler, Steve McManaman and Jamie Redknapp. That side came close to real glory on many occasions, and it can be argued that if they were around now they would accumulate trophies.
Barnes left Liverpool in August 1997, and after another two years in the top flight at Newcastle and then Charlton, he hung up his boots. He had made 586 club appearances, scoring 165 goals – a ratio better than one in four.
A leader on the pitch, he was one off it, too. In the wake of the Hillsborough disaster, Barnes attended many funerals and made many hospital visits to those injured in the Leppings Lane end.
He was, perhaps, the first black superstar in English football, and this of course had its drawbacks during a time when racism was rife throughout the English game.
The photo of him back-heeling away a banana thrown at him by Everton fans during a Merseyside derby at Goodison Park in 1988 has to be one of the iconic football images. It summed up Barnes' defiance and dignity in the face of vile abuse; his footballing talent was his rhetoric rather than words.
Sadly, the world never truly got to see Barnes' talent at a major event like the World Cup or a European Cup.
Liverpool, of course, were banned from Europe until the early 90s following the Heysel disaster. And although he played in two World Cups for England, Barnes' flair was overlooked by England's kick and rush philosophy during that time.
Imagine how he would be remembered if Liverpool had the chance to take on Europe with that great team in the late 80s.
Football seems to have moved on somewhat from wingers like Barnes. The playmaker, or 'false 9′, is the 'in' thing these days. Even a natural winger like Cristiano Ronaldo is preferred in a more central role. The rise of the attacking full-back means there is little room for natural wingers.
Out-and-out wingers these days are rarer than an Everton trophy (ok, maybe not that rare), but the game would surely be more exciting if a few players like John Barnes were gathering chalk on their boots. Just imagine what Barnes would be worth if he were playing today.
Perhaps there's a John Barnes in the making at Anfield right now.
That player, though, needs to be really special if he's ever to be considered as good as one of England's best ever.