Neil Poole believes Liverpool Football Club has become too predictable and trying new ideas is worth a shot.
'Twas about two weeks before Christmas when a German man brought a new tradition from his homeland to ye olde England. His name was Prince Albert, husband of Queen Victoria, and he put up a Christmas tree. It was a focal point for like-minded people to congregate and to give thanks. Y'know just cheer to each other up and stuff…No biggy.
A Scouse man and a non-Scouse man shook their heads at the new-fangled monstrosity and grumbled, "It's embarrassing. What are the Evertonians and the Mancs going to say?!"  
Queen Vic, overhearing and in full scouse twang remarked, "Get a grip lids. Since when do you give a sh*t what that shower think?"
It's been two days. We've pinned it down now haven't we? The holding hands, walking to the Kop and then lifting the hands thing wasn't celebrating a draw against lowly West Brom but was an acknowledgment of the twelfth man sucking the equaliser into the net: Old school crowd. New school gratitude.
It was the closing paragraph of the opening chapter to 'Klopp: The Liverpool Years'. Klopp said we were garbage. Klopp said please be better. The fans were better. Klopp demonstrated thanks. Carrot and stick both dutifully dispatched.
When it looked like it might be a celebration, then yes I understood the concern. Now we know (and many of you already knew – well done) that its commonplace in German football, which is where our manager is from (even I knew that), then that's the end of the quarrel surely?
Much is made of the traditions of the 'Liverpool Way' and there is merit in holding on to cherished traditions. However, Klopp's attempt to connect Liverpool players with the Liverpool crowd was probably one of the most 'Liverpool Way' things we've ever seen. It just took a moment to recognise it because the method used was one we're not used to.
The same human emotions and the same foundations of cultural traditions exist worldwide. They just appear in different shapes and sizes. What you saw on the pitch on Sunday was simply a different version of Kenny Dalglish's, "we all need to pull in the same direction" press conference when he replaced Roy Hodgson. Same content, different form.
And you know what? After thirty-seven years of Liverpool Football Club I'm happy to see a fresh and new take on an old idea, whether it works or not.
I know all the old stories, know all the old songs, know all the old managers and players. I love them, but I'm bored of them too. There, I've said it!
I can't and never did get excited at the prospect of putting the red nets back up in the goals or putting the old 'This is Anfield' sign up. "Yes, yes. I much prefer the sign with the wonky looking bird on it."
I'm glad we got rid of the old Anfield scoreboard too. You may have seen us win league titles with old signs, old scoreboards and red nets. I think I did too but I can't remember it, so they can all do one as far as I'm concerned.
Know that new scoreboard? Yeah, I love it. It's a classless, cheap, dirty hussey of a board and I love it, for no other reason than the fact it's different. The old scoreboard never won me a league. I want a new one.
On the pitch, the West Brom game was a further case in point of the need for change. A visit to Anfield is mostly a painfully predictable experience. Many of us have been living for twenty years in a seriously twisted groundhog day consisting entirely of recurring  failures to break down packed defences, school boy defending from set pieces that is an insult to school boys, and flapping goalies inspiring highly addictive gaming apps.
You've heard about Liverpool's holy trinity of managers, players and fans. The goalkeeping, the bad defending and the attacking impotence when faced with a packed defence is our unholy trinity.
I fear going to my grave never seeing Liverpool win the league. And I swear the day I'm buried, some butter fingered bastard will drop my coffin while ten slack-jawed fellas in Liverpool kits stand motionless as I fail to even fall into the hole dug for me because it's rammed with 10,000 Tony Pulis hats.
There's nothing wrong in treating new ideas with healthy dose of suspicion. I'd be slightly perturbed if the first ever  man or woman to try out a zebra crossing in 1949 didn't raise an eyebrow in response to being earnestly told, "Honestly, just step out on the road and the cars will definitely stop…honest."  Of course, if you never take any risks or try anything new, then you'll end up standing on the side of the road watching all the other cars and the world passing by. It's a tricky balancing act.
However, the Liverpool Way need not be a doctrine of dos and don'ts carved into stone. Doing this goes against the very culture of a port city, which has always celebrated its willingness to embrace new influences and traditions from overseas.
Furthermore, it grinds against our own notion of ourselves as anti-establishment and as free spirits. It's not good enough to embrace being different and a 'don't give a f*ck' attitudes to then prescribe to people exactly how they have to be different and how to not give a f*ck.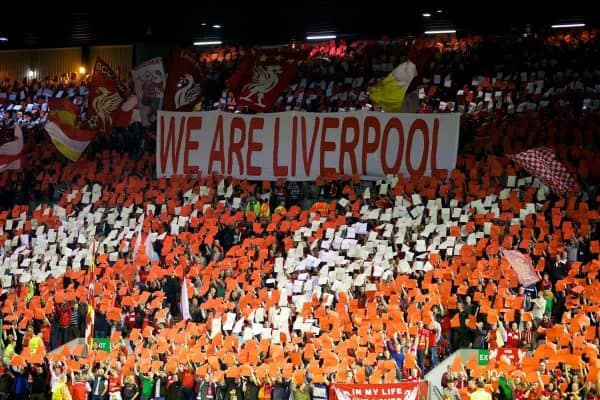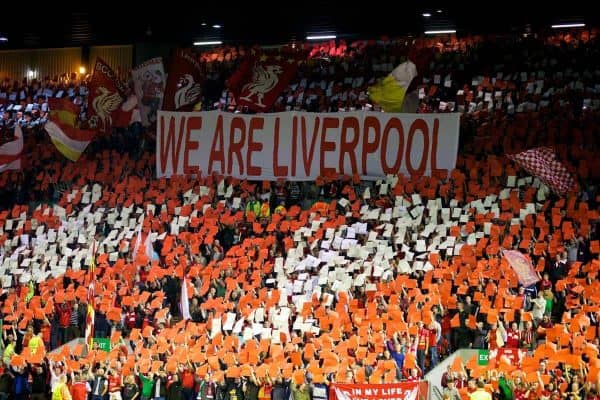 I'm up for embracing this 'new-fangled' idea from a different country. All those things we hold dear were new once. You'll Never walk Alone, the all red kit, clapping the opposition goalies approaching the Kop. Where would we be now if we hadn't given them a chance?
You think Klopp approaching the Kop is embarrassing? We once thought it was okay to sing Fernando Morientes' name to the tune of 'More More More', at a time when it featured in a supermarket advert sung by the girl out of S Club 7, slapping her cheeks. We did that. And no one batted an eye-lid. I think we can handle our manger and our players thanking us.
Jurgen Klopp is merely taking us down an alternative route to a destination we all want to reach. It's not like the last twenty-five years has been burdened with league titles. We might as well give it a go. It might be the Liverpool Way after all…just done differently.
[Disclaimer – you don't have to do or agree with any of the above!]