What's it like to work in the national media and get the opportunity to write about the club you support? We speak to Sachin Nakrani about this and more.




Sachin is a writer and editor for the Guardian newspaper and co-creator / co-author of the 'We're Everywhere, Us' book. He also hosts the Runner podcast on Anfield Index.
How long have you supported the Reds and what made you become a Liverpool supporter?
Since 1989, when I was eight. Somewhat horrifically, my first memory of watching Liverpool play was in that title decider against Arsenal.
I became a Red because of my dad – he'd been a fan from his days growing up in Mombasa, Kenya, when he used to follow an amateur team there that called themselves Liverpool. I got into football as a young boy and like many young boys, asked my old man who I should support. Little did I know then that the club were based miles away from our house in north London.
Who was your idol growing up?
Like many fans who grew up watching Liverpool in the late 80s there was only one man I could truly idolise – John Barnes. I never saw him at his very peak, during the 87/88 season, but I still saw enough of Digger to recognise that this was a genius in our midst. And having met him in recent years, I can also confirm that JB is a lovely man who makes for incredibly engaging company.

At what age did you get into journalism? Was this always your career goal?
I've wanted to be a journalist ever since I was 12 years old. By that stage I'd accepted I didn't have the talent to make it as a professional footballer so decided to do the next best thing – write about football.
There was a student newspaper at my high school and I remember becoming sports editor in the second year. This essentially entailed getting the results for our school's football, rugby and cricket teams from the head of PE and listing them alongside a small match report from one of the games.
Does being a Liverpool supporter affect your work in the media?
Covering Liverpool can be tricky. Whenever I've done one of our matches, or wrote about the club, I've been conscious about not coming across as a fan with a laptop. This has probably led to me being overly harsh on the team on more than one occasion, so it can be a tough balancing act. Overall, I'd like to think I've done it well.
The other issue is that I'm very open on Twitter about the fact I work for the Guardian and support Liverpool. This is apparently a sin in the eyes of certain people who, as a result, have given me terrible grief; a group of Man Utd fans attached to a nasty and now thankfully defunct fanzine in particular.
I stand by my openness, however – most football journalists support a team and they should not be forced into hiding that, especially if it does not impinge on their work, which it doesn't in my case.
What privileges have come about as a result of your work within the media? Any memorable games or interviews that stand out for you?
Interviewing John Barnes came via work, which was obviously brilliant. I not only spoke to him about Liverpool but also about racism, which led to me ghosting a column by him on the topic that gained a lot of attention in the wider media.
In general, being able to go to stadiums and write about football for a leading publication is a privilege – I've been doing it for eight years now and still get a thrill every time I pack my laptop and head to wherever the Guardian has decided to send me that weekend.
How did the idea for 'We're Everywhere, Us' come about?
Like a lot of Liverpool-supporting writers, I'd wanted to do a book on the club for years. Come the summer of 2014 I finally felt ready to do so but wanted someone to do it with me – partly for their input and partly so I had someone making sure I didn't slack off from the task.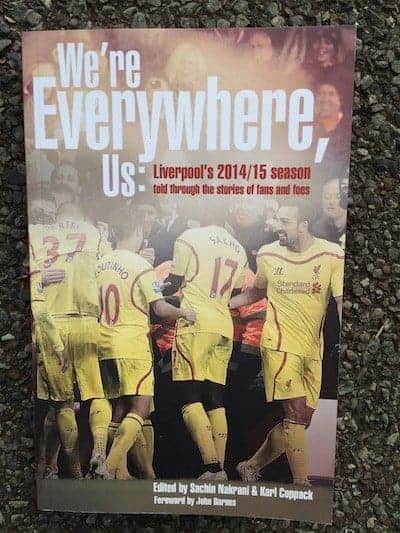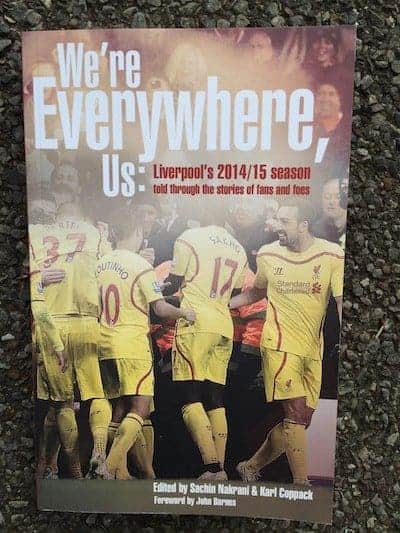 So I asked my friend Karl Coppack, who has written for various fanzines, such as Through The Wind And The Rain, if he wanted help and he immediately said yes. We were at the Brazilian Embassy in London at the time and about to watch Brazil play Croatia in the opening game of that summer's World Cup (another work-related perk) and quickly came up with the idea of a diary of the upcoming season in which we got loads of different writers to contribute.
Tell us a bit more about the book and who is involved…
As said it's a diary of the 2014/15 season, but instead of focusing heavily on the football it is a collection of personal stories. We got over 30 people involved – a mix of friends, family and people we'd met through social media – and gave them a game each. We stressed that they were not to write a match report but instead use their game to write a personal, unique tale.
Each and every person nailed the brief and on the back of that we got a host of outstanding chapters, with the one Ian Salmon wrote about his late father, on the back of our 3-2 win against Tottenham at Anfield in February 2015, the most talked about. It's absolutely beautiful.
Karl and I also got five opposition fans to contribute, giving us their take on Liverpool and how the club has affected/been a part of their lives, as well as writing a few chapters ourselves. Oh and I managed to get John Barnes to write the Foreword!
Any good reviews you can share?
Henry Jackson wrote a very nice one for This Is Anfield.
You were at Klopp's first game as Reds' boss at White Hart Lane, what's it like to observe the manager in such close quarters?
Firstly it was absolutely brilliant to be asked to cover that match – I'm not sure I've been so excited to be writing about football in my life! At White Hart Lane the press box is also just behind the managers' dugouts so I had a great view of Klopp during the entire game.
Pre-match warm up over and Klopp heads back to the dressing room pic.twitter.com/HGmFgpC64S

— Sachin Nakrani (@SachinNakrani) October 17, 2015
I didn't actually think he was as demonstrative as those sat around me did, but that's probably because I was expecting more from the mad genius. He was very interesting and open when we spoke to him later and in general I'm absolutely delighted he's our manager.
What little bits of info or a story about Klopp have you heard that perhaps we haven't seen in the mainstream media?
I may be the wrong person to ask this as I don't cover Liverpool on a regular basis and therefore don't have contacts at the club who pass bits of info my way. One story I can perhaps clear up is what Klopp said after that Tottenham game, when he spoke about how Adam Lallana "can do 20-30% more", Lucas "can play balls on the right and left side" and Emre Can can learn "between running and passing".
A lot of Reds thought this was an early, calculated warning from the manager to his squad – I was stood right next to Klopp when he said that all and can say with some confidence that it wasn't. Instead it was a natural response to a question posed to him by one of my fellow hacks and in regards to whether Klopp felt the Liverpool squad he had just inherited was truly capable of playing the way Dortmund had under him. Perhaps the question was planted as a means for the manager to get a message across, but I doubt it!

Where do you expect Liverpool to finish this season?
That's a really difficult question to answer given how inconsistent we've been under Klopp and how unpredictable the Premier League has been this season. If Daniel Sturridge could stay fit, I'd say we had a really good chance of finishing in the top three and maybe, just maybe, winning the title.
But he can't so, realistically, I think we'll be scrapping for fourth. Hopefully we can do enough to get there as well as win a trophy. The Europa League would be great but the Capital One Cup is a more likely target given we're in the semi-finals. I really fancy us to beat Stoke over two games.
Sachin will be contributing a monthly column for This Is Anfield, starting in January 2016.