Roberto Firmino's brilliant two-goal performance was undermined by some woeful defending in Liverpool's 3-3 draw against Arsenal, in alarmingly typical fashion.
Once in a while a player scores a goal which transcends everything else happening at a football club at that time.
Any substandard runs of results, injury problems, transfer window rumours, or infighting between fans on the internet are forgotten for one moment while the goal is celebrated. People remember the goal, and where they were.
In many ways Roberto Firmino's second goal against Arsenal was one of these goals, but then in other ways it sums up everything about Liverpool FC at this moment in time.
Fans all over the world will remember where they were at the time. Some of the lucky ones will have been sat in the Anfield Road end waiting for the Brazilian's shot to strike them on the head, but instead they saw it bend perfectly into the top corner past Petr Cech's strongest hand.
Others will have been fumbling around on their latest piece of technology as the stream freezes just at the moment where the ball looks like it's going wide. Or is it?
▼ Article continues below ▼
A cruel twist on Question of Sport's What Happened Next? game, but one where the answer is revealed shortly after thanks to a six-second clip on Twitter.
The player which everyone has been telling everyone is brilliant/useless has scored a goal against this week's champions elect, and one which could have come out of Steven Gerrard's top drawer. It will be remembered.
On the other hand, and in the wider context of the game, the goal typifies this current Liverpool side.
Although Firmino was signed prior to Jurgen Klopp's appointment, the former Hoffenheim player would have been the type of player the former Dortmund manager would look to sign.
He's an all-round attacker who's not only come away from his stint in the Bundesliga with some impressive numbers under his belt, but one who provides good movement and the off-the-ball pressing from the front which Klopp's system demands.
He's part of the system you can see working in the future.[td_ad_box spot_id="custom_ad_1″]
▼ Article continues below ▼
However, despite his two goals and work rate up top, there were other areas of the team which let the side down.
The defence conspired to concede three goals and somehow managed to leak one directly from a corner kick for the second time in a week.
The personnel differed from those involved in the corner calamity at Exeter on Friday, but the problems at Anfield against Arsenal were the same.
A message received on WhatsApp (credit to @IanDarlington1) summed this up: "A good plan, poorly executed."
And that seems to be where Liverpool are at the moment.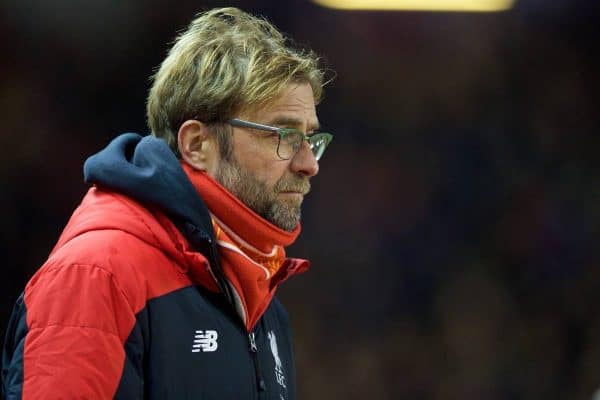 Klopp's frustration with this is there on the touchline for all to see, even though some of it is directed at the fourth official.
▼ Article continues below ▼
He knows what the defenders should be doing (he was one for some of his playing days), and he knows what he's told them in training.
They aren't doing it. The 'keeper isn't catching crosses, regardless of which 'keeper it is, and the only thing worse than this side's attacking set-pieces is their ability to defend them.
Even the man of the hour, or at least the 45 minutes, has had an inconsistent start to his Anfield career.
Liverpool fans haven't seen much of the Hoffenheim version of Firmino, but when he has played up front he's produced more often than not.[td_ad_box spot_id="custom_ad_2″]
In wins at Chelsea and Manchester City, Liverpool's No. 11 was deployed as the central forward to great effect.
Not quite the false nine he's often labelled as when playing as the lone striker, but definitely not the false-target-man role which the side get from Christian Benteke.
Firmino came away from those two games with a goal and three assists, and his two goals tonight mean he has three goals and three assists in the four league games he's started as the striker—the other being the 3-0 loss to Watford.
▼ Article continues below ▼
These numbers are more like the ones he racked up at Hoffenheim. In the 2013/14 season when Liverpool were enjoying the relentless attacking play of Suarez and Sturridge, Firmino scored 16 goals in 33 games and also added 11 assists.
While in those days he was more the player who linked with others, rather than playing as the main striker, at Liverpool he's emerged as a viable option up front.
His performances as an attacking midfielder have been up and down, but the results when he's played up front, especially against the "bigger" sides, have been impressive. In the aforementioned four games with Firmino up top the side have scored a total 10 goals, but have also conceded eight.[td_ad_box spot_id="custom_ad_3″]
It might take a few transfer windows for the fine tuning to begin to show, and for this leaky defensive unit to begin to tighten.
If the Redmen can shore things up at the back and eradicate the needless errors, they might begin to make their results, and maybe even whole seasons, as memorable as Firmino's golaco.
LIVERPOOL 3-3 ARSENAL

▼ Article continues below ▼
Sponsored Links
More from This Is Anfield
Fan Comments
Comments are retrospectively moderated. Some could be subject to delays before publication. They must obey the
comment policy
. Comments load below.
Please only discuss the article above. General chat can be made on our forums at forums.thisisanfield.com