Under the new ticket pricing structure announced by Liverpool FC last week, 75% of seats in the three existing stands will increase in price.

Statistician Dan Kennett has done the calculations, seeking to dispel any myths about the new ticket prices and provide only the facts and only focussing on the currently existing seats.
Writes Kennett:
Next season, Liverpool will sell over 860,000 non-hospitality tickets for Premier League games, via a combination of season tickets (40%) and match tickets (category A 13%, category B 21% and category C 6%).
I found myself increasingly frustrated at the polarised coverage over £9 and £77 tickets – less than 3,000 of the 860,000 that will be sold (0.3%).
LFC chief executive Ian Ayre has urged fans to "look at the facts" so I decided to take him up on this offer and crunch the numbers myself.
Notes:
– extended capacity seats in new Main Stand upper tier are excluded
– all hospitality tickets are excluded
– 760,000 Premier League season tickets and match tickets are included
– 6 x category A, 10 x category B, 3 x category C games
Other considerations:
– In the 2015 BBC Price of Football survey, LFC had the 4th most expensive cheapest season ticket and the 3rd most expensive cheapest match ticket.
– According to the 2015 UK Government report, Liverpool was home to 8 of the 100 most deprived areas in England, with 134 of 298 areas in the 1st decile.
– Only 1 of the 4 stands at Anfield is being redeveloped (Main Stand). The other 3 will have the same view, seat and facilities as now.
– UK inflation was between -0.1% and 0.1% for 10 months of 2015.
– The new Premier League TV deal is a 71% increase on the previous one, and starts next season (2016/17).
All graphics with permission from @DanKennett.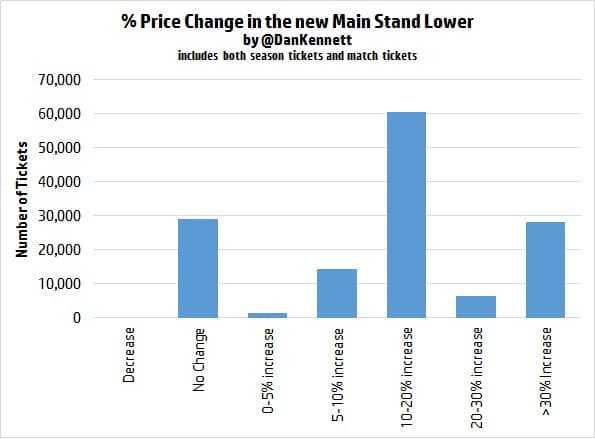 NEWS: Liverpool considering ticketing structure review after unprecedented Anfield walkout
ANFIELD PROTEST – THE FANS' VIEW