When the revised Liverpool FC 2016/17 ticket prices were announced, perhaps the biggest surprise was the end of match categorisation.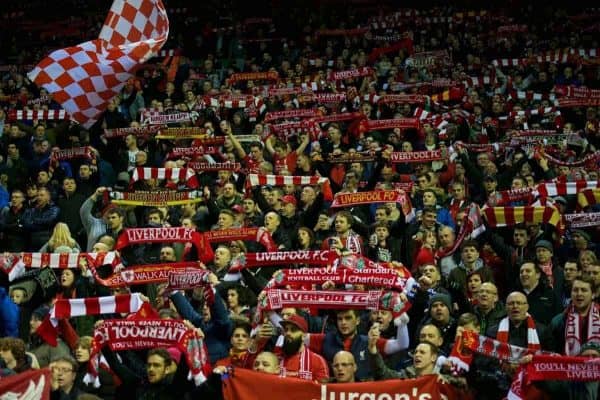 What Is Categorisation?
Categorisation only applies for match tickets (not season tickets). This season, Liverpool categorised their home matches as follows:
Category A: Everton, Man City, Man Utd, Chelsea, Spurs and Arsenal
Category C: the 3 promoted sides
Category B: everyone else
There are different prices per tier per category. For example, a Tier 1 match ticket on the half-way line in the lower Centenary stand would vary from £59 vs Everton, to £53 vs West Brom, to £49 vs Bournemouth.
Why does it matter?
▼ Article continues below ▼
The main argument put forward against categorisation is unfairness to away fans of the Category A teams. For more on this please visit the Football Supporters Federation – an example case from a Spurs fan is here.
Who benefits by ending categorisation?
The argument goes that if Liverpool end categorisation, it becomes more likely that other clubs follow suit and therefore in future years, maybe even starting next season, the Travelling Kop will be the biggest beneficiaries as Liverpool are charging the same price for all away fans to watch their team at Anfield.
Within the home support, there has been some cynicism since the announcement with the following being the most commonly touted suggestions:
'All match tickets are being set at the Category A price'
'The club must be making more money out of doing this'
I wanted to look at whether either of these is true.
The first thing to understand is how many tickets are affected by this change. It's just over 300,000 tickets but a minority of all tickets available: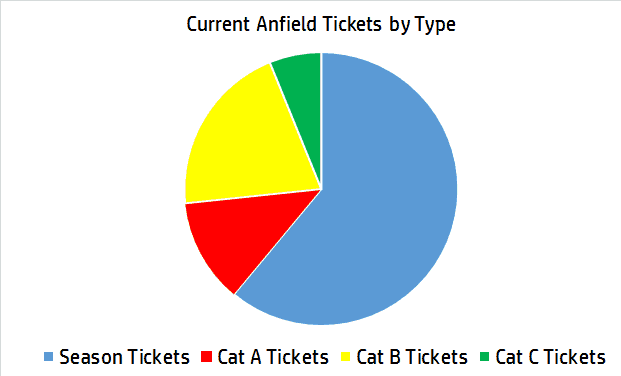 ▼ Article continues below ▼
The next thing we need to understand is where in the ground those tickets are: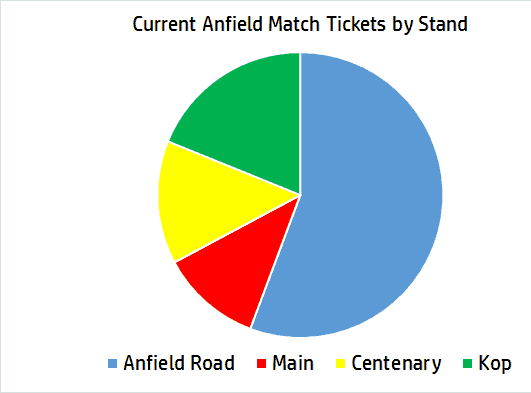 So the majority of all match tickets are in the Anfield Road End (about 170k) with just over 130k in the other three stands. Currently, only Tier 3 and Tier 4 tickets are available in the Anfield Road.
In comparison, there are under 11,000 category A match tickets available in the Centenary for the whole season. [td_ad_box spot_id="custom_ad_1″]
Currently, there are six tiers of pricing at Anfield. Under the original 2016/17 prices this increased to 19 tiers and was finalised at 12 in the revised prices. It's been a challenge to 'map' current tickets to new tickets (and a few assumptions have been made) but I'm confident that the results will only be 1-2% out either way. The end results are below: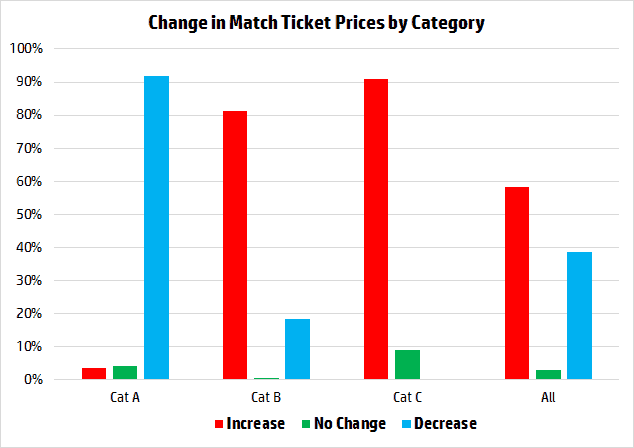 Over 90% of Cat A prices are dropping
Over 80% of Cat B are rising
Over 90% of Cat C are rising
So it's clearly not the case that all match tickets are being set at the Cat A price.
▼ Article continues below ▼
Overall, almost 60% of match tickets are increasing! So far, so bad. But remember that each category doesn't have the same number of games.
The next chart is the price change of match tickets: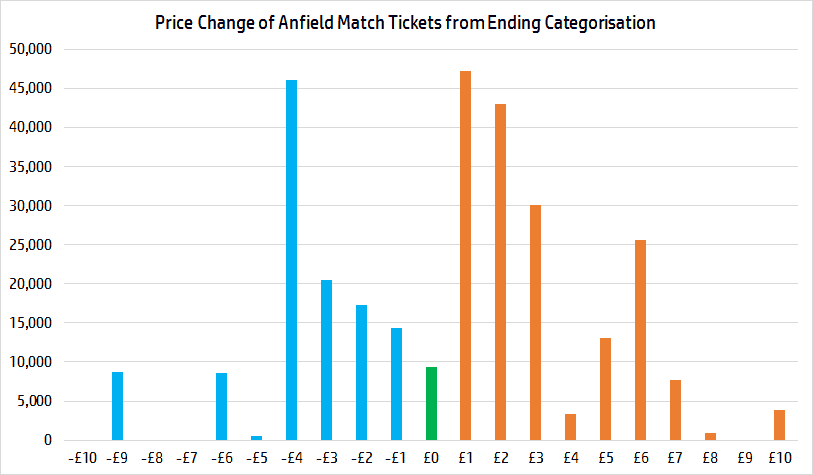 The notable points here are that over 45,000 tickets going down by £4 and over 25,000 tickets going up by £6.
Overall there is more red than blue and I make the average increase £0.43p per match ticket. So it's true that the club "is making more money from this" but it's a pretty nominal amount.
The last thing to look at is where the winners and losers within the stadium are: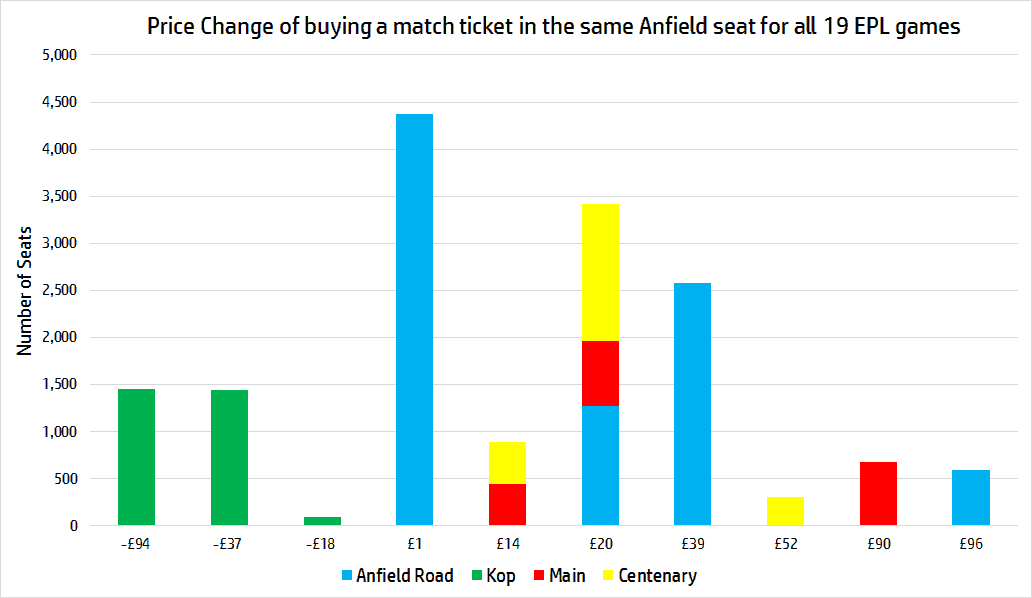 ▼ Article continues below ▼
At the start of this analysis I showed how most match tickets are in the Anfield Road End and 50% of the seats are practically unchanged. However, almost 4,000 seats are increasing by either £1 or £2 a match (£20 or £39 over the season) with a chunk of seats in the centre of the Upper Annie Road increasing by £5 a match (£96 over the season). [td_ad_box spot_id="custom_ad_2″]
75% of match tickets in the Main and Centenary are increasing by about £1 a match, but a chunk of match seats in the centre of the new Lower Main will be going up almost £5 a match (£90 over the season).
However, if you get your match tickets in the Kop then they will all be cheaper next season, with almost 1500 seats £5 a match cheaper (£94 over the season).
FURTHER ANALYSIS: 74% of existing match and season tickets are frozen or decreasing
More from This Is Anfield
Fan Comments
Comments are retrospectively moderated. Some could be subject to delays before publication. They must obey the
comment policy
. Comments load below.
Please only discuss the article above. General chat can be made on our forums at forums.thisisanfield.com