Simon Mignolet's consistently poor performances in the Liverpool goal are now beyond repair, and Danny Ward is worthy of replacing him against West Ham on Tuesday.

The only positive that Mignolet can take from Saturday's 2-2 draw with Sunderland is that a fair percentage of supporters weren't inside Anfield to witness him gift the Black Cats a way back into the game.
The much-publicised walk-out after 77 minutes saw approximately 10,000 fans head for home early, with Liverpool 2-0 up and cruising to three much-needed points at the time.
Then Mignolet produced his latest act of goalkeeping buffoonery.
Adam Johnson's tame free-kick crept past the Belgian's slow, unconvincing dive at his near post, and suddenly Sunderland were back in it.
Jermain Defoe equalised late in the day, and Jurgen Klopp's side were left to rue yet more needless points dropped at home.
Mignolet was the main man to blame – he was not the sole reason for the Reds' capitulation, it must be stressed – and infuriated Liverpool supporters were once again left dumbfounded by the goalkeeper's ineptitude – many were rightly calling for him to be replaced.
Justified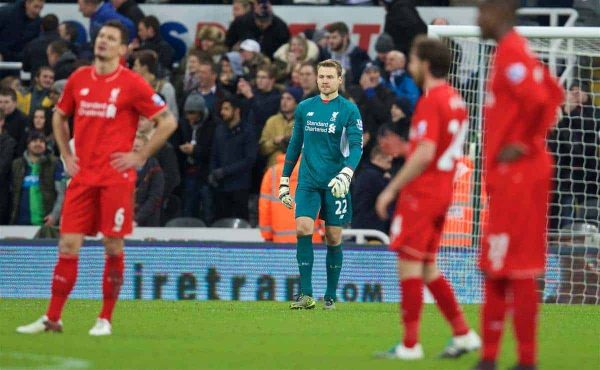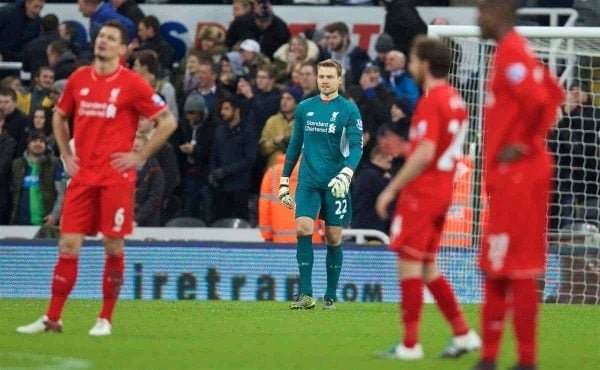 Criticising one of your own players does not make you a "bad fan", as some defending Mignolet have desperately tried to claim over the last few days.
The fact of the matter is that the 27-year-old's performances are just unacceptable, and have been for too long. News of him earning a new five-year deal has only added to the bad feeling among fans.
Mignolet is no doubt a good man who is trying his best to help the Reds to victory, but the way in which he is hampering his team is now beyond concern.
For someone lauded for his shot-stopping ability, Mignolet has almost seemed incapable of producing saves in recent months, barring two good stops against Leicester City last week.
In Liverpool's last three home Premier League games, against Arsenal, Man United and Sunderland, he has made just one save and conceded six goals.
Aaron Ramsey, Olivier Giroud, Wayne Rooney and Johnson all scored goals that Mignolet could certainly have kept out, and the Reds were brutally punished despite being the better side in every game.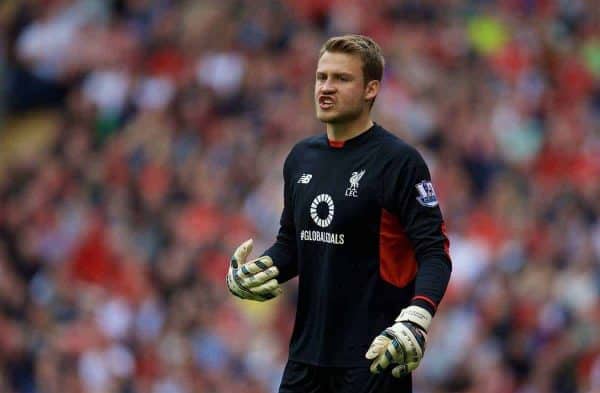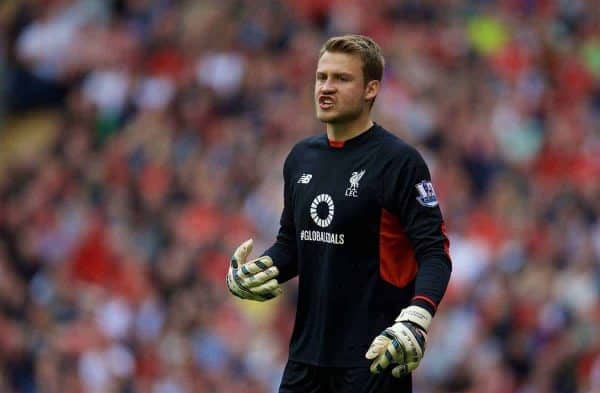 Even more astonishing is that the Merseysiders have conceded with the first shot on target in 21 of the 26 games in which they have let in a goal so far in 2015/16.
Once again, enormous question marks must be raised against Mignolet; this is no fluke.
There have been some goals that no 'keeper in world football would have kept out – Jamie Vardy's stunner, for example – while other players have also been culpable in gifting goals, but time and time again Mignolet has been the root of the problem.
Russell Martin, Sadio Mane, Scott Dann, Craig Dawson and Steven Naismith, among others, have all found the net because of average goalkeeping from Mignolet, and it has often led to Liverpool dropping points in the process.
The former Sunderland stopper has cost Liverpool 15 points so far this season.
Seeing the likes of David de Gea, Petr Cech and Thibaut Courtois consistently starring for their respective sides is becoming an increasingly depressing experience, and the gulf in quality between them and Mignolet is like comparing Breaking Bad to Midsomer Murders.
Liverpool have a lot of weak links in their squad currently, but their man between the sticks is holding the team back more than anyone else.
Time for Change

Up next for the Reds is the FA Cup fourth-round replay at West Ham on Tuesday evening, with progress in cup competitions now taking precedence over the league.
While Mignolet may well keep his place for the trip to Upton Park, the time has come for him to be axed in place of Ward.
Some may, perhaps rightly, argue that the 22-year-old is not ready to be thrown in at the deep end, but he really cannot do much worse than his more experienced team-mate is currently.
Klopp is seemingly a far bigger fan of Mignolet than most of us, but even he must surely be considering giving Ward a chance.
He impressed during his loan spell at Aberdeen earlier this season, and Klopp has now reached a point where taking the odd gamble here and there should be welcomed.
For all we know, Ward may have an Adam Bogdan-esque nightmare and knock Liverpool out of the FA Cup, but given the current frustrations with Mignolet, few would complain at the risk taken.
Sometimes young players just need to be shoved into the limelight in order to thrive, and who is to say that Ward wouldn't impress?
It is far from an ideal situation, and the Reds shouldn't be in a position where they are calling for a fairly unproven youngster to rescue them, but that is the mess Mignolet has created.
The Point of No Return

Albert Einstein once famously defined insanity as doing the same thing over and over again and expecting different results.
Unfortunately, Liverpool are guilty of doing exactly this with Mignolet, and it is hurting the team significantly.
He is not a terrible player by any means, but he is simply not good enough to be Liverpool's first-choice goalkeeper.
He is now making errors on a regular basis, and his shocking lining up of his wall against Sunderland showed that his mind almost seems pickled now.
The 27-year-old will be well aware of the groans around Anfield whenever he has the ball at his feet, and his own shaky aura is affecting the entire team.
Coming back into the side last season to produce a string of excellent displays, it looked as though Mignolet had turned a huge corner. Unfortunately, it has proved to be an enormous false dawn.
Liverpool are never going to become a force with him in goal, and the hope is that his new deal is purely a way of receiving more money for him in the summer.
While Ward is very unlikely to be the long-term heir to Mignolet's throne – a truly top-class 'keeper is needed – bringing him in against West Ham makes perfect sense.
He can't do any worse than what we are witnessing this season.
[interaction id="56b7c4cd756dc38305b15628″]