Liverpool have assembled a sizeable number of young midfielders in their current squad, which will be further added to by the arrival of Marko Grujic this summer.

Last summer, no Reds supporter would ever have imagined their side's starting central midfield pairing away to West Ham being Pedro Chirivella and Kevin Stewart.
A fair proportion of the fanbase may not even have been too familiar with either, but both excelled against the Hammers and showed their qualities on and off the ball.
Chirivella and Stewart are part of a young group of Reds midfielders who are all vying for first-team opportunities, but how does one get a place in the first XI ahead of Jordan Henderson, Emre Can and James Milner?
New generation of Liverpool middle men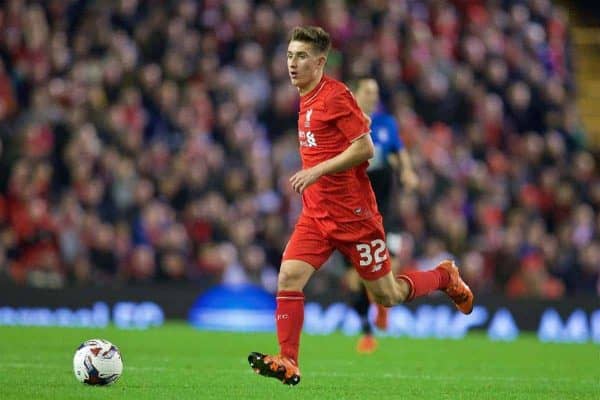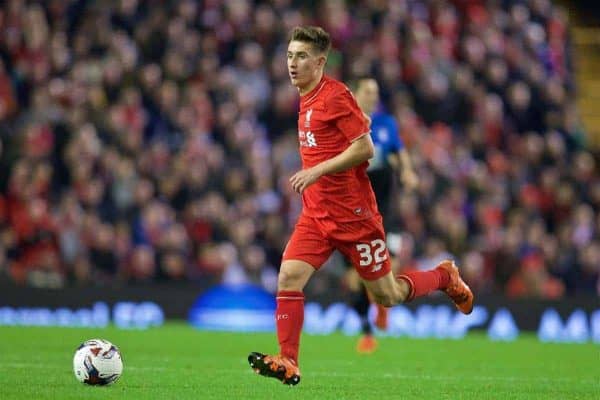 All of a sudden, Jurgen Klopp has numerous young midfielders at his disposal, and as Chirivella and Stewart showed on Tuesday, they are staking a claim to feature more regularly.
Cameron Brannagan, who is reportedly thought of more highly than any young player at the club, missed the match through illness.
The silky Englishman has shown this season what he can offer, and considering he is still just a teenager, he should improve drastically working alongside Klopp.
Joao Carlos Teixeira is another who started against West Ham, and while he didn't impress as much as others, his quality was still evident.
The Portuguese attacker is under more pressure to perform than some of his younger colleagues, now aged 23 and with his contract expiring in four months.
The forgotten man here is is Jordan Rossiter, currently sidelined with his second hamstring injury since Klopp arrived at the club, restricting him to just one appearance under the German, away to FC Sion in the Europa League.
He, like Teixeira, is under pressure with his contract also set to expire at the end of the season.
There was a point when Rossiter was the to-go youngster to come in and be given a starting role in midfield, but sadly his progress has been blunted by injuries.
If there weren't already enough young midfielders battling to forge a Liverpool career, Klopp also went and signed Marko Grujic from Red Star Belgrade last month.
Signed for £5.1 million, the club and Klopp clearly feel the Serbian can contribute once he arrives next season.
Cloudy futures

Football is a ruthless business, and for all his chirpy, jokey ways, Klopp is a ruthless manager.
At the end of the day, not all of these young players can be accommodated moving forward, and there is a good chance that the majority's futures will lie elsewhere.
Can and Henderson are both certainties to be a part of the Liverpool midfield at present, while Grujic is also likely to feature once he arrives in the summer, possibly blocking the pathway for the current academy products.
Lucas Leiva and Milner may not be getting any younger, but they should still be at the club next season, which further highlights how tough it will be for the youngsters to force their way in.
Joe Allen looks set to leave, but with Grujic arriving and possibly more incoming players too, the path will be no clearer for Stewart, Brannagan and co.
Klopp has been linked with moves for proven quality midfielders such as Granit Xhaka and Iklay Gundogan and with the midfield often looking very one dimensional of late, such a signing to instantly improve the first XI would be very welcome this summer.

Pinpointing who is most likely to mature into a regular squad member is extremely difficult, but Rossiter and Teixeira probably look the most vulnerable currently – especially due to their contract situations.
"I haven't played much. I've been on the bench a lot and I don't like that," said Teixiera last month.
"I need to play more. I'm here to work and show I can play more.
"For now, my plans are to stay with Liverpool and play more here, but you never know what will happen in the future."
It's difficult to see the 23-year-old having too many further chances in the Premier League now, especially with the returns from injury of Philippe Coutinho, Divock Origi and Daniel Sturridge. The Reds' front three options are now aplenty.
You can fully expect another attacking option or two to arrive this summer, even if one is the return from loan of Lazar Markovic – further restricting the likelihood of Teixeira making it into the first team.
Brannagan and Chirivella are both still particularly young, and should mainly continue their development in the Under-21 side, perhaps benefitting from loans next season, depending if Liverpool qualify for the Europa League.
Stewart is the one who has come from nowhere, but the physical presence and general quality he has shown could see him as the one to feature most regularly from now until the end of the season.
Big few months ahead

Everyone associated with Liverpool is aware that the summer transfer window is set to be a pivotal one.
This means that the current set of players have a vital three months or so between now and the end of the season to prove their worth to the German.
With the Reds' Premier League campaign becoming more and more irrelevant by the week, it could represent a great chance for Klopp to audition his young midfielders.
Henderson looks injured, while Can could certainly benefit from a rest, and it would be fascinating to see how Stewart, Chirivella, Brannagan and the rest cope in the league.
It has been so refreshing to see them excel in the FA Cup and League Cup this season, and while their run in the former has now ended, they have definitely done enough to justify more first-team football.

For all we know, it may be that none end up being good enough, but as Liverpool Under-21 manager Michael Beale alluded to prior to the replay against West Ham, blooding more and more youngsters can be hugely beneficial financially.
"The aim of the academy is to develop these boys into first team players, I think Jordon Ibe is an example of how it works well, we brought him in for a minimal fee compared to what first team players cost," he said.
"Kevin (Stewart), Cameron (Brannagan) and Brad (Smith) cost the club nothing, and I think that is really important, likewise with Jordan Rossiter and Ryan Kent, if these players can make an impact in the first team, they could save us a lot of money."
This is a major positive, but Klopp playing these youngsters is not just a pity vote and a way of saving money, they are proving that they are up to the challenge.