Wednesday night's emphatic 3-0 victory over Man City was as sweet as it was vital for Liverpool, with a big three points exacting some revenge and reigniting the Reds' hopes of a push for a top four finish.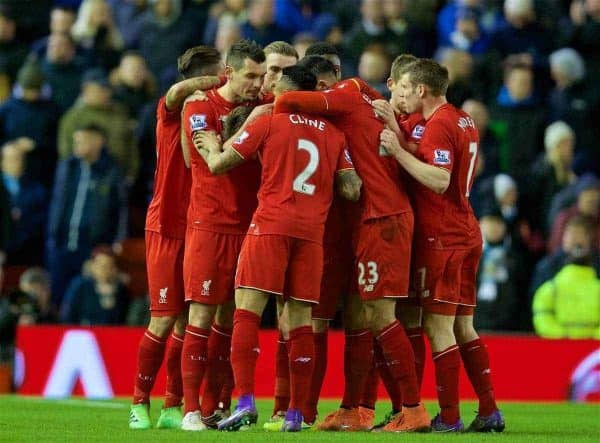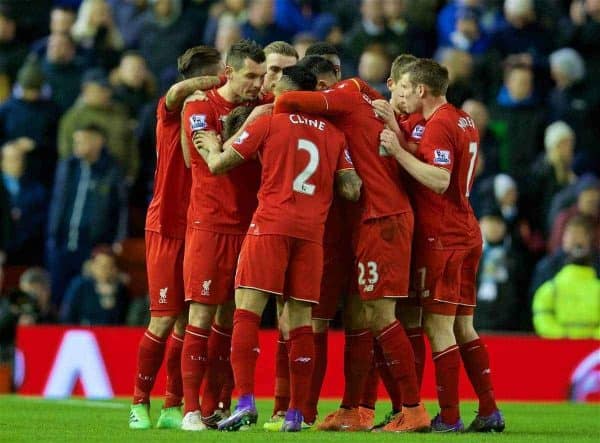 Following such an agonising defeat in the League Cup final, there was a sense of the unknown as to how Liverpool would react at Anfield.
Emphatically, was the answer, as the Reds struck back by disposing of the team that inflicted such pain in a manner they will wish they had at Wembley, producing the best Anfield performance of Jurgen Klopp's tenure, according to the boss himself post-match.
It was a perfect, and courageous, response from the Reds, with three points all but killing off City's title hopes, but possibly breathing new life into Liverpool's Champions League fight. At the least, it offers good preparation for when the other team from Manchester arrive next week.
Revenge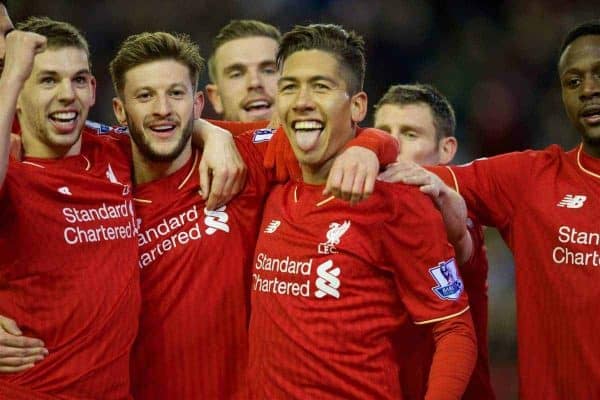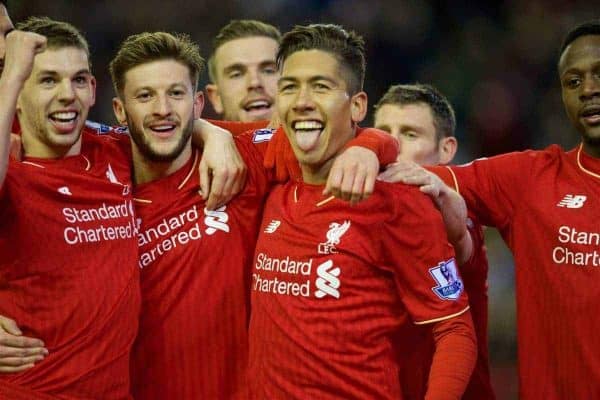 Adam Lallana revealed after the stylish win that Klopp told the team to show just how hurt they were by Sunday's shootout loss.
Judging by the performance that followed, penalty defeat stung a significant amount with Klopp's message displayed loud and clear as his side blitzed Manuel Pelligrini's men to go some way towards making up for the weekend's heartbreak.
From the first whistle, Liverpool, boasting five changes to the side that started the final, looked a team desperate to avenge Sunday's defeat.
The fresh legs introduced allowed the Reds to get after their opponents, and that they did, harassing City from the off with Jon Flanagan setting the tone by clattering Raheem Sterling after just 30 seconds of his first Premier League start since May 2014.
Full of energy off the ball and control on it, Liverpool dominated their shell-shocked visitors and took full control at a blustery Anfield.
Divock Origi, Adam Lallana and Roberto Firmino unsettled the City backline with their fluid movement, while Jordan Henderson and Emre Can patrolled the middle of the park to the extent that the defence and Simon Mignolet had relatively little to do.
Zipping the ball nicely, Liverpool's slick approach play was given the cutting edge it deserved when Lallana opened the scoring, collecting James Milner's pass and driving into the space created by Origi's forward run before picking out the bottom corner.
Buoyed by the opener, determination and confidence visibly increased another notch throughout the team.
And it improved further when Milner added a second – controlling and finishing well after a clever exchange between Lallana and Firmino, to continue the unbeaten record he boasts in the Premier League when he has found the net.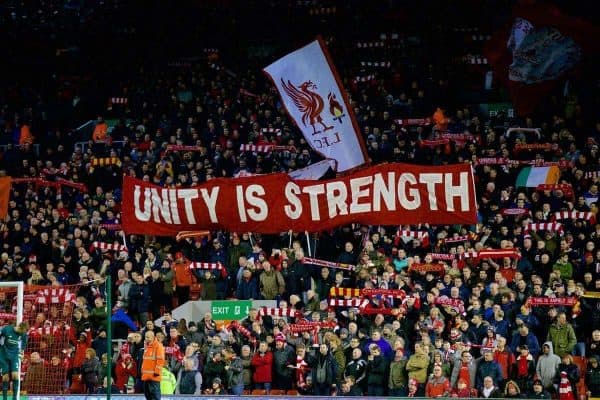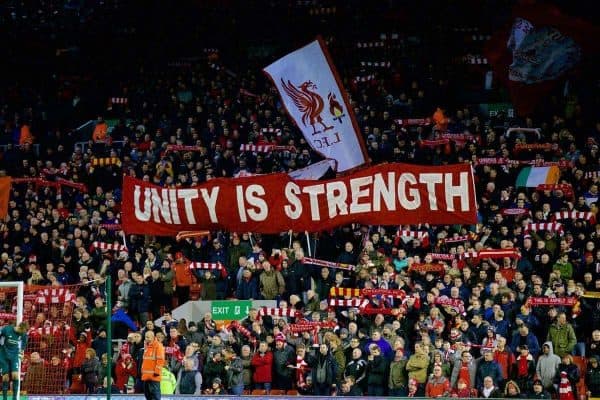 The pattern continued after the break with the Reds relentless and Anfield in full voice backing the team and showing that "Unity is Strength" as the Kop banner displayed prior to kick-off.
Liverpool swarmed, too strong and determined for the Blues, and saw chances come and go before Firmino made it three, with Lallana – playing like a man fighting for his Anfield future – the supplier.
Milner, Henderson and Allen all went close to adding gloss to the score-line with a fourth, but Klopp and his side had to settle for three goals as Liverpool recorded their biggest home win since beating Swansea 4-1 in December 2014.
It was the deserved rewards for the battling spirit shown to strike back as Klopp wanted just days after a crushing loss, with three vital points sparking Liverpool's Premier League campaign into life again.
Top Four – Game on?

A professional performance and result was a significant one for more than just revenge; Liverpool's top four dreams have been revived.
The Reds now sit just six points off fourth placed City with 11 games of the season still to play.
Liverpool's goal difference of five is weak in comparison to the teams around them, but having scored nine in last two league games, the Reds appear to have found their goal-scoring boots bang on cue.
In a league season that Leicester's remarkable rise has eclipsed the inability of any side to produce a sustained run of positive form, if Klopp's side can become the team to do it between now and May, fourth spot may yet be achievable.
Tough games certainly await – Chelsea, Everton and Tottenham all have to come to Anfield – but having shown what they are capable of on a good day yet again, producing with more regularity would catapult Liverpool right into the mix.
Fixture backlog – with dates to be decided for the Merseyside derby and Chelsea's visit – and juggling the equally key Europa League campaign present challenges, but the Reds now have two avenues back into Europe's elite competition to fight for, which Klopp vowed to fully explore.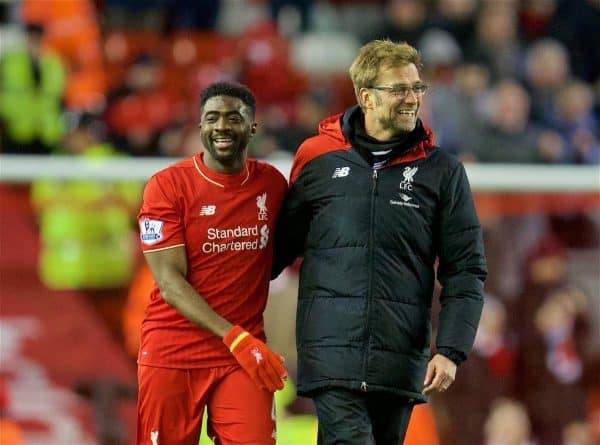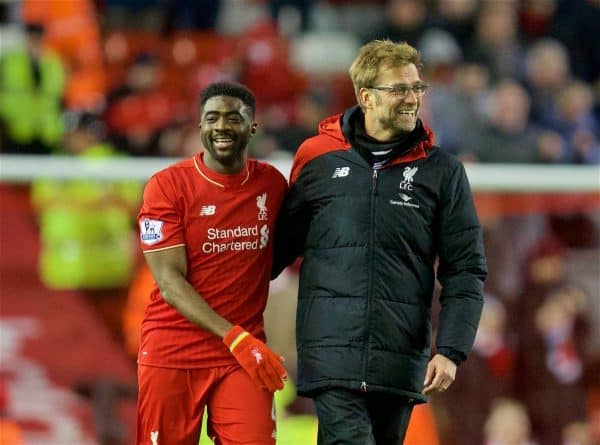 "We have to chase", the boss said when asked about his side pushing themselves back into the race for European football – the Reds' leader is clearly up for the challenge.
But with two competitions to contend with, the tough balancing act must be managed more sensibly than earlier in the season, with the need to minimise the risk of derailing both simultaneously this time around.
Utilising the full squad at his disposal, as Klopp did so well on Wednesday by resting key men like Philippe Coutinho and Daniel Sturridge – would be essential to guarding against another collapse.
Crystal Palace are next up for Klopp's reenergised Liverpool on Sunday – if the Reds can follow up the 3-0 success with a win at bogey ground Selhurst Park, it really is game on.
Liverpool used the hurt of Wembley defeat to spur them to victory on Wednesday – it must remain the driving force behind the chase for a Champions League return.
WATCH KLOPP'S POST MATCH PRESS CONFERENCE IN FULL
LIVERPOOL 3-0 MAN CITY

REPORT: Reds strike back in style at Anfield
REACTIONS: "Fantastic performance from all"
RATINGS: Lots of 7s and 8s
TALKING POINTS: Praise for Toure, Flanno and Can