Mario Gotze is being hotly tipped for a move to Liverpool this summer, and it would be an enormous signal of intent if Jurgen Klopp got his man.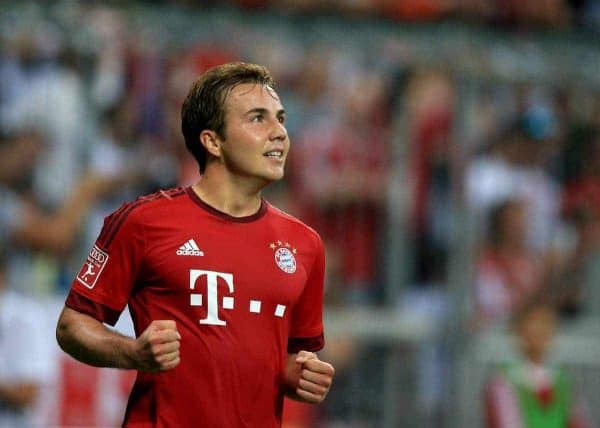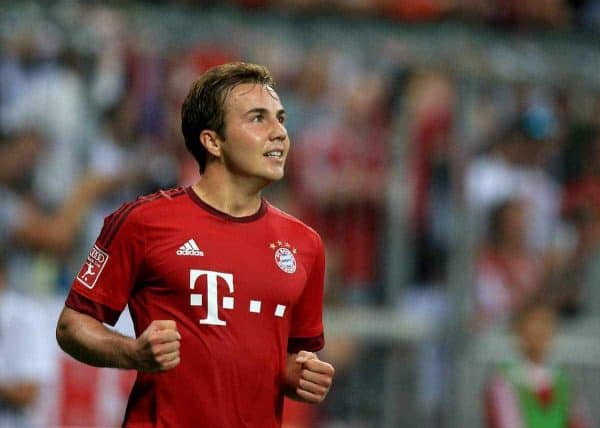 Social media went into meltdown on Monday night, as reliable journalists such as Paul Joyce of the Express claimed a deal for Gotze looks likely come the end of the season.
We as Liverpool supporters are right to be a little wary of getting too over-excited, given the way in which many recent high-profile names have eventually swerved moves to Merseyside, but this one feels different; no Willian, Alex Teixeira or Alexis Sanchez.
Klopp had a wonderful relationship with Gotze during a memorable spell for both at Borussia Dortmund, and it would suit both parties to work together again.
Should Liverpool pull off the signing of the Bayern Munich and Germany man – for as little as £15 million – it could be a pivotal moment as the Reds look to return to the summit of English football.
World Class
Gotze's career has stalled a little since he joined Bayern in 2013, but he remains a genuinely world-class footballer when fit and firing.
The silky forward has struggled to oust the likes of Franck Ribery, Arjen Robben, Douglas Costa and Thomas Muller from the starting line-up – but then most players would, in fairness.
At international level, it is has been similar, although Muller, Marco Reus and Mesut Ozil are all more experienced superstars of the modern game.
Gotze has the ability to be one of the finest attacking players in Europe – Mattias Sammer once called him "one of the biggest talents [Germany has] ever had" – and his career statistics so far back that up.
In his 221 appearances to date, he has scored 65 goals and registered 66 assists, contributing one or the other every 1.68 games on average. That also equates to a goal or assist every 114 minutes he has played.
Despite not having the same impact at Bayern as he did at Dortmund, the diminutive German still has a very respectable 34 goals in 105 matches for the Bundesliga giants.
There is an effortless brilliance about the way in which Gotze goes about his business, not dissimilar to Ozil and current Liverpool man Roberto Firmino.
His passing is subtle and creative, he can beat a man with quick feet, his movement off the ball is hugely intelligent and the defensive side of his game helped make him a favourite of Klopp's.
You only have to watch Gotze's World Cup-winning goal against Argentina in 2014 to witness the magnificent technique he has at his disposal.
As is so often the case with him, it was all made to look incredibly simple, but it was a moment of sheer class on the biggest stage in world football.
Things have undeniably stagnated for the ex-Dortmund wonderkid in recent times, though, and he needs a fresh challenge.
Game-Changer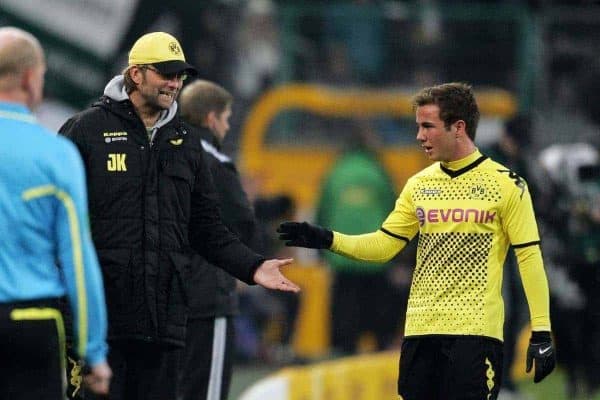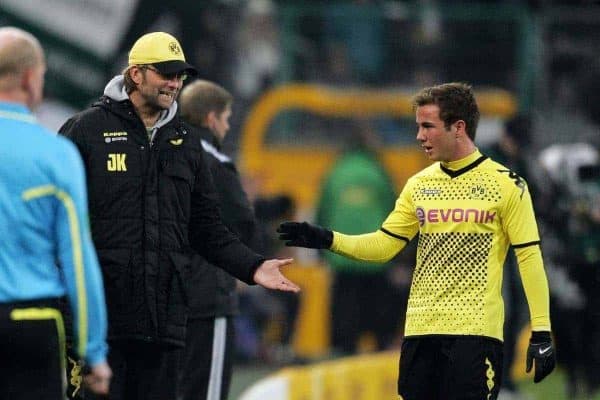 When was the last time Liverpool managed to buy a truly global name, in and around the peak of his footballing powers?
Luis Suarez was a highly thought-of striker when he arrived in January 2011, but was nowhere near the level he has reached now, while Xabi Alonso and Javier Mascherano were highly rated but not seen as world-class.
Fernando Torres is arguably the only player who falls into this category at Anfield over the last decade, but it would most certainly apply to Gotze as well.
He is a player who rival fans will have laughed at Liverpool being linked with in previous years, and one who we could only dream of signing prior to Klopp's arrival.
The Reds simply don't purchase players of Gotze's calibre, and instead have to sit and watch the likes of Man City, Man United, Chelsea and Arsenal do it instead.
Given the fact that Liverpool are unlikely to be playing Champions League football next season, it goes to show just what enormous pulling power Klopp has.
Signing Gotze would have the potential to lure other top names to the club, which could have a monstrously positive impact on the future of the club.
It would be the perfect start to what could be the most productive summer in Liverpool's Premier League history.
Nothing But Positives
When certain players are tipped to move to your club, there can often be a part of you filled with concerns over the move.
With Gotze, however, it really is tough to find any negatives.
There will, of course, be the cynical among us – rival fans, in particular – saying how "he can't even get in the Bayern or Germany team", but there is no shame in being kept out by such sensational, more proven names.
Sanchez, for example, was struggling to feature regularly for Barcelona when he joined Arsenal in 2014, but that proved irrelevant.
The Chilean was a stunning capture by the Gunners, and he has gone on to prove that he is among the top four or five players in the Premier League currently.
Gotze has the ability to have exactly the same kind of impact, and at just 23, he has his best years well ahead of him.
The thought of him linking up with the likes of Firmino, Philippe Coutinho and Daniel Sturridge is a truly mouthwatering one, and he can come in and shine more than anyone.
There is, as is the norm with Liverpool, always a chance that the move will not materialise, but it feels like a real possibility.
Liverpool need that game-changer of a signing to help take them to the next level, and given Gotze's outstanding talent and strong relationship with Klopp, it feels like a match made in heaven.