We review the best of the media reaction from Liverpool's 4-0 hammering of local rivals Everton on Wednesday night.
Jurgen Klopp enjoyed the dream first Merseyside derby in charge of the Reds as his side crushed their 10-man neighbours at Anfield.
First half headers from Divock Origi and Mamadou Sakho gave the Reds a 2-0 half time lead that their play deserved, before a completely dominant second half – in which Ramiro Funes Mori was sent off – saw Daniel Sturridge and Philippe Coutinho complete the rout with clinical finishes.
It was a thoroughly deserved win for Klopp's side, who were simply too good for Roberto Martinez's men, and extended their winning run to four straight successes.
Here is how the media reacted to the resounding victory.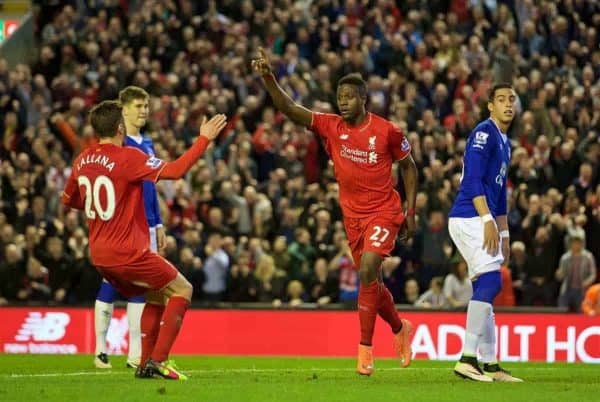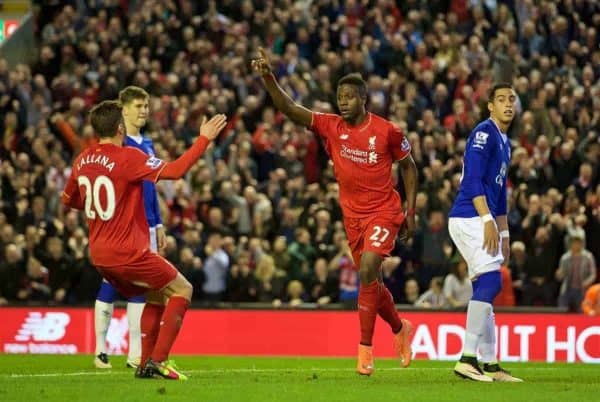 After crushing Roberto Martinez's side with embarrassing ease, reporters focussed on how one sided the contest was:
The Daily Mail's Ian Ladyman wrote:
As Anfield emptied, some regulars here was wondering aloud if there had even been a more one-sided Merseyside derby.

[…]

These games are usually tense, churning affairs but not on this occasion. This was a night when Liverpool supporters just had to sit back and watch.
The Independent's Simon Hughes echoed:
Liverpool's victory was a cruise. Maybe never before had a Merseyside derby been decided so easily.
The BBC's Gary Rose noted:
Everton have not won at Anfield since 1999 and, in truth, they never looked like getting anything from their latest visit.

[…]

This was the 226th Merseyside derby and one of the most one-sided but it did come at a cost for Liverpool as Klopp confirmed Origi had twisted his ankle.
Melissa Reddy for Goal.com felt Liverpool "bossed" the derby:
Under a clear night sky, Jurgen Klopp's side absolutely bossed the 226th Merseyside derby, the German's first experience of the local rivalry, and completely battered their visitors.
The Mail's Dominic King felt a home win for the Reds was almost a forgone conclusion:
Liverpool's season goes from strength to strength but Everton's is in a horrible spiral and the 226th Merseyside Derby showed the differences between the two teams at present.

Not at any stage did this result threaten to be anything else other than a home win.
The Guardian's Andy Hunter simply labelled it a "humiliation":
Liverpool accepted the invitation to inflict a humiliation.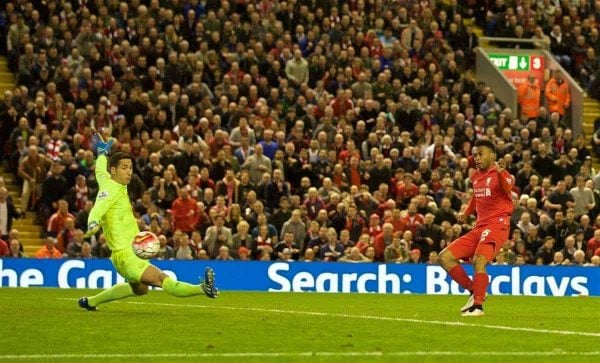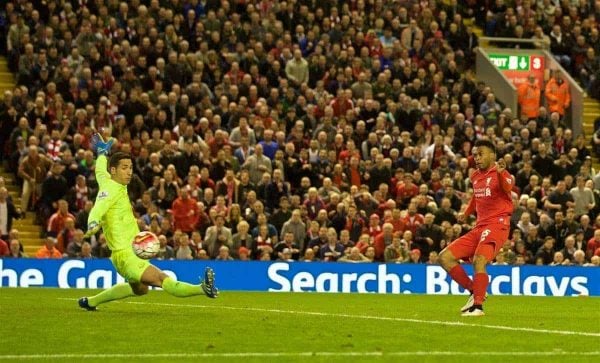 Reporters were full of praise for Liverpool's performance with plenty commenting on the Reds' ruthlessness that was the driving force behind the resounding win.
The Telegraph's Chris Bascombe wrote:
Liverpool, in contrast, were as marvellous as they have been for a while under Klopp, ruthlessly exposing the frailties of their harassed opponent.
Ladyman echoed:
There were to be no more goals for Liverpool but their hunger was impressive. Under Klopp, they have developed a relentless manner that is admirable.
The Mirror's David Maddock assessed:
It was no more than Klopp's side deserved, and they are now showing the sort of relentless mood their manager is famed for instilling.

Everton may have been woeful, but Liverpool need no encouragement any more.
Reddy also noted:
The Reds are starting to realise they are capable of greatness regardless of the opposition, and are finishing the season as strong as they'd want to start Klopp's first full campaign in charge.
However, Hughes thought the Blues' punishment could have been even worse:
Though Liverpool's advantage was increased, it was fortunate for Martínez that the hosts did not pursue the margin of victory which ends managerial reigns.
Hunter also felt victory could have been more than just four goals:
The only surprise was the home side's failure to inflict further humiliation on Everton from 37 attempts on goal. Klopp's team coast on.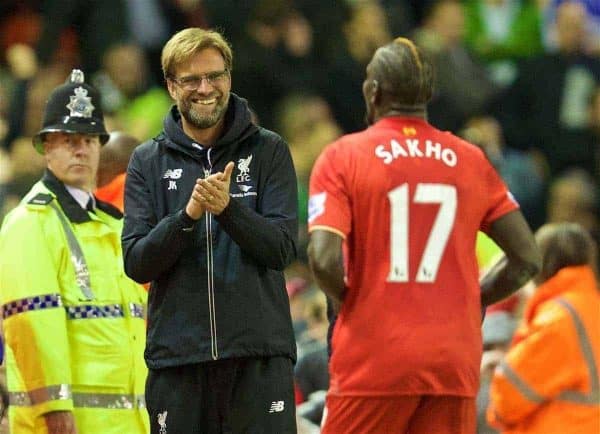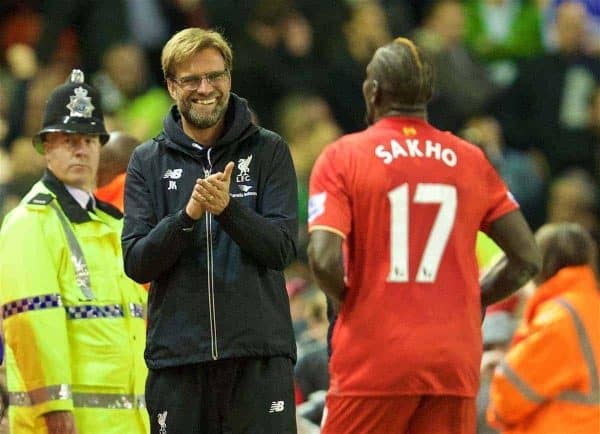 Reporters also commented on the feel-good factor at Anfield, and the rapid development of Klopp's side.
Ladyman feels the Reds are a side no one wants to play at the moment:
This is another crushing result to bring them momentum ahead of their Europa League semi-final with Villarreal next week. Nobody would wish to play Jurgen Klopp's team at the moment.
Meanwhile Reddy felt it was a night that showed Liverpool's potential:
Liverpool's potential, like their attacking attempts against Everton, seem endless. The skies are starting to look golden again over Anfield.
The Telegraph's Jim White commented:
After the breathless drama of victory over Dortmund last week, a result achieved in the proper Liverpool way, around Anfield there is a bounce in the collective step. In the shadow of the giant stand nearing completion, those on the red side are convinced by their manager. Behind Jürgen Klopp's expansive grin they only see progress, advancement, good things.
Telegraph colleague Alan Tyres focussed on Liverpool becoming an attacking force:
Obviously Everton contributed to their own downfall, but this Liverpool side are becoming a seriously useful attack unit: and not just the starters, also the men coming on to relieve those tiring gegenpressed legs.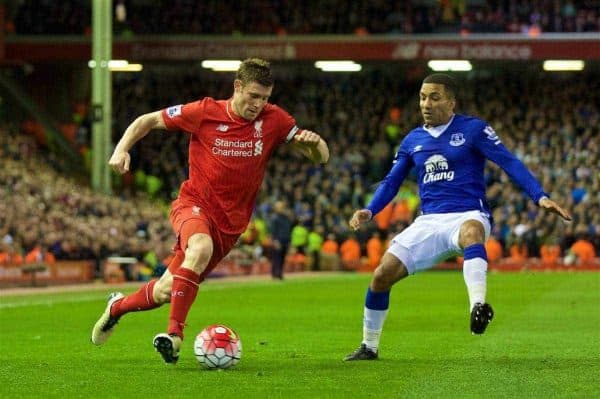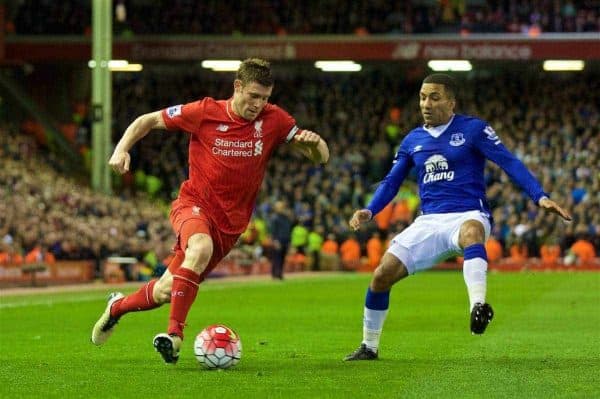 Though a fantastic night for the team and everyone associated with the club as a collective, certain players were still singled out for praise:
Bascombe centred on the display of stand-in skipper, James Milner:
Steven Gerrard may have gone, but the scourge of the Liverpool captain's armband continues for Everton.

It was James Milner, the club's acting skipper, who stepped forward to fill the breach. Much maligned, often ridiculed, never missing in action, Milner proved to be his side's creator supreme assisting both first half goals – first for the now stricken Origi and then Mamadou Sakho.
In his player ratings for ESPN, Steven Kelly also praised the captain, awarding a 9/10 performance:
It's been a good few weeks for the England man and this was his pinnacle for the whole season. Industrious as ever, he put two perfect crosses in for the opening goals and kept on driving his colleagues forward despite the game being well won. He was a real captain in a match in which passion is vital. Was only substituted to allow the crowd to show their appreciation for a marvellous night's work.
The Liverpool Echo's Andy Kelly praised Daniel Sturridge's class:
Daniel Sturridge just keeps doing what he does best – putting the ball in the back of the net.

While Divock Origi was preferred by Jurgen Klopp to start both games against Dortmund and this 226 Merseyside derby, Sturridge has simply got on with his job when called upon.
Kelly also creditted the display of Albeto Moreno:
Whisper it quietly for now but Alberto Moreno is starting to wrack up a string of impressive performances for Liverpool.

[…]

His crossing has undoubtedly improved, less the hard low slashed blast and more picking out his teammates with controlled centres.

[…]

Still only 23, Moreno played what Klopp thought was his best game under him against Stoke. This was another.
And finally, King commented on 'cult hero' Mamadou Sakho:
Anfield's search for a cult hero is now well and truly over. Mamadou Sakho has long been a favourite on The Kop but following up a decisive goal against Borussia Dortmund with another in a Merseyside derby has moved him up another level.

Nobody can doubt his commitment and, in fairness, his form is becoming less erratic. His goal captured the headlines but his best moment was a thumping challenge to disposes Lukaku in the first half. A fraction out and he would have given a penalty away.