Daniel Sturridge endured a turbulent 2015/16 campaign, but after recovering from a series of injuries, the striker proved his quality on the pitch.
Sturridge spent last summer undergoing rehabilitation for a hip problem, including surgery and a lengthy spell in Massachusetts, treated by the medical staff of the Boston Red Sox.
This was designed to ensure Sturridge could return to top fitness as soon as possible in 2015/16, as Brendan Rodgers looked to build on a disappointing campaign for both player and club in 2014/15.
Unfortunately, it wasn't until the closing months of the season that Sturridge achieved this, and by then Rodgers had been replaced by Jurgen Klopp, whose arrival served as a turning point.
Here, we assess Sturridge's 2015/16 campaign, including Klopp's role in his recovery, and where he will fit in from next season.
Daniel Sturridge, 2015/16
Started: 19
On as a substitute: 6
Unused substitute: 5
Goals: 13
Assists: 2
Average TIA Player Rating: 6.68 (out of 10)
Average rating under Klopp: 6.71
7 Months, 6 Appearances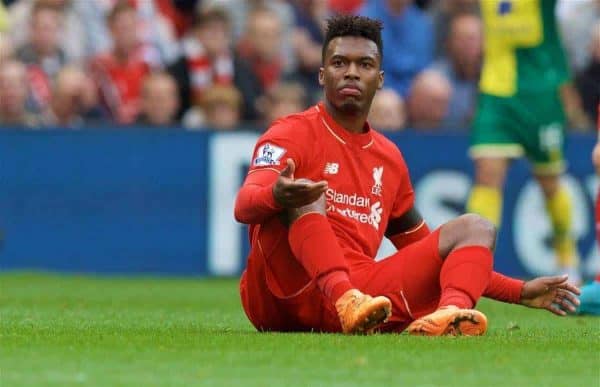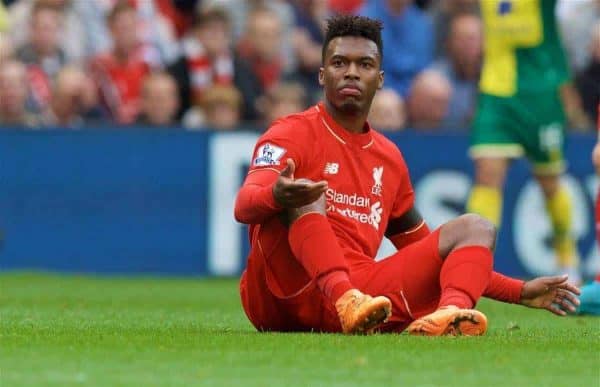 Speaking during his time in Boston, Sturridge outlined the difference between rehabilitation on Merseyside and in the US, emphasising a change in focus as key to a successful recovery:
"When you're injured it's important to have a different mentality. You have to channel yourself that you're not a football player, that you could be a boxer or a tennis player or whatever it may be.

"You have to have a single-minded mentality to get back in the best shape possible. When you're injured it's important to have that type of mentality.

"That's why being out here, I'm single-minded, zoning in on what I have to do and it's great to be here."
But while this was an endearing mindset in theory, and saw Liverpool supporters clamour for their star striker's return for an emphatic 2015/16 campaign, Sturridge's body continue to betray him throughout 2015, and into the new year.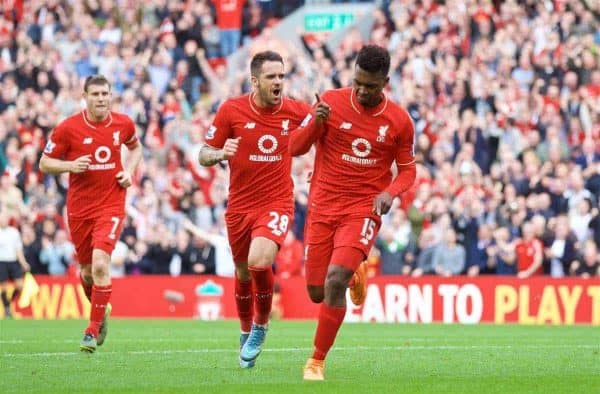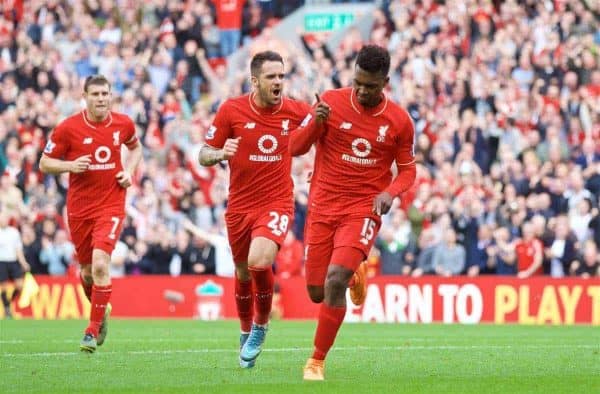 The No. 15 made his first appearance of the season in September, in the sixth game of the Premier League campaign, in a 1-1 draw away to Norwich City.
Rodgers threw Sturridge in from the start, but it was his understudy, summer signing Danny Ings, who made the headlines as he grabbed his first goal of the season just after half-time.
Ings and Sturridge showed signs of a blossoming partnership six days later, in Liverpool's 3-2 win at home to Aston Villa, with Sturridge netting a brace, including an excellent volley to put the Reds 2-0 up, but this was curtailed following October's 1-1 draw with Everton.
Rodgers was dismissed, and Sturridge spent the next six weeks on the sidelines with a knee injury, returning for two substitute appearances in the league and a two-goal showing in December's 6-1 mauling of Southampton in the League Cup, before injury struck once again.
Sidelined with his third separate issue of the season, this time a hamstring injury, Sturridge had made just six appearances in the first seven months of 2015/16.
Return, and Return to Form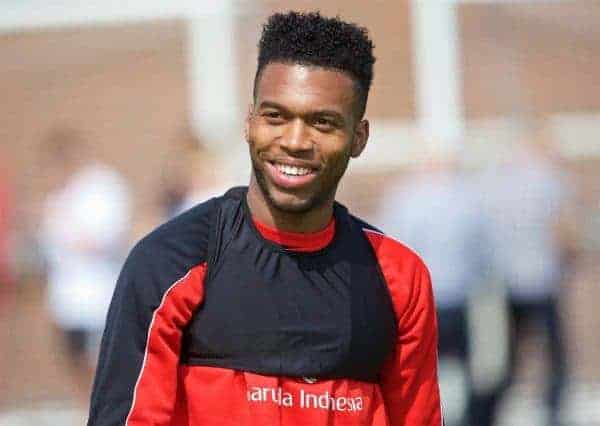 "Of course I knew all about his quality, this was not a problem, but I had not seen it live in a stadium in such an important game," Klopp said after Sturridge's star turn at St. Mary's, with the striker providing his new manager with a glimpse of his overriding talent.
During that 6-1 victory, Klopp was able to get an idea of just how devastating Sturridge can be, but sensibly, the German also stressed a patient approach to his recovery.
"The problem with Daniel was we didn't know how long he could play," he said, "he did not have the perfect pre-season."
This "perfect pre-season" was what Klopp intended to give to Sturridge, routinely explaining to ravenous reporters that he wouldn't select the striker until he had trained for 10 full days to his highest ability.
After returning from his hamstring injury, Sturridge made just one appearance in six league games, withdrawn after just over an hour in February's 6-0 win at Villa.

It was over a month later before Sturridge made three consecutive league starts for the first time since October, and vindicating Klopp's caution, this coincided with an excellent run of form.
Sturridge scored five goals in his final eight league appearances of the season, also playing a key role in the Reds' Europa League semi-final fightback against Villarreal, with a goal and an assist against the La Liga side, as well as his world-class strike in the final.
In the closing months of the season, Sturridge showed the form that made him one of Europe's most-feared strikers alongside Luis Suarez in 2013/14, but what is perhaps most impressive is his fitness.
It has now been over four months since Sturridge missed Liverpool training through injury, with sports scientist Simon Brundish noting that this is his longest run of fitness since 28 June, 2014.
As he builds for the next season, this is perhaps the key positive that Sturridge must cling to.
Improvements & Moving Forward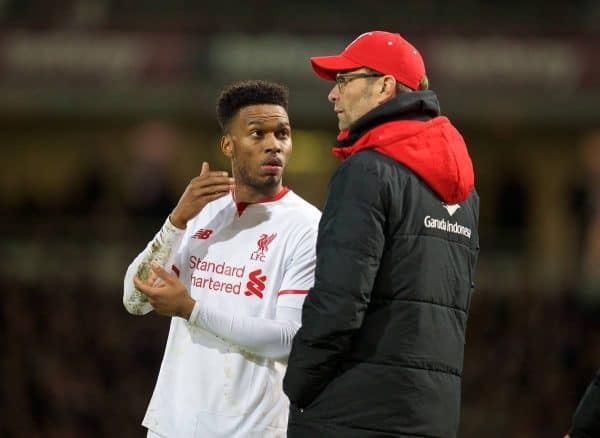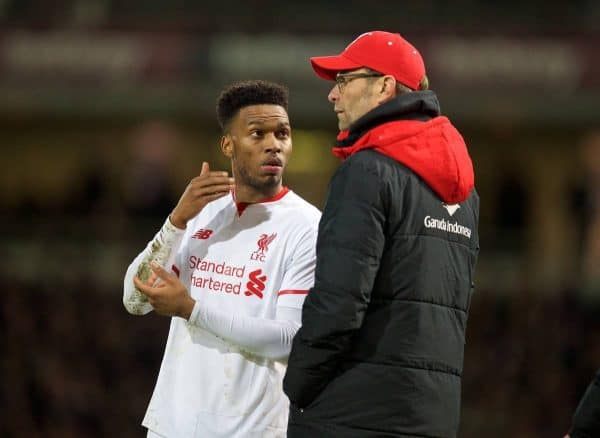 Sturridge finished the season having scored 13 goals in 25 games, with a further two assists, averaging a goal every 131 minutes, or a goal contribution every 113 minutes.
To put this into context, Sergio Aguero averaged a goal every 121 minutes, Harry Kane a goal every 144 minutes and Jamie Vardy a goal every 134 minutes.
This reaffirms Sturridge's position as an elite striker, and Klopp has managed his star talent excellently throughout his first seven months as Liverpool manager; deflecting criticism, managing his fitness and dampening expectation.
Sturridge can consider Klopp's efforts to be central to his return to form and fitness, but as he looks ahead to next season, he is clinging to his role as the German's first-choice striker.
The rise of Divock Origi in his absence saw Klopp grow in admiration for the 20-year-old, and often towards the end of the season he was preferred to Sturridge in the starting lineup.
This is arguably due to Origi's familiar skill set, with the youngster bearing similarity to Klopp's former complete centre-forward at Borussia Dortmund, Robert Lewandowski.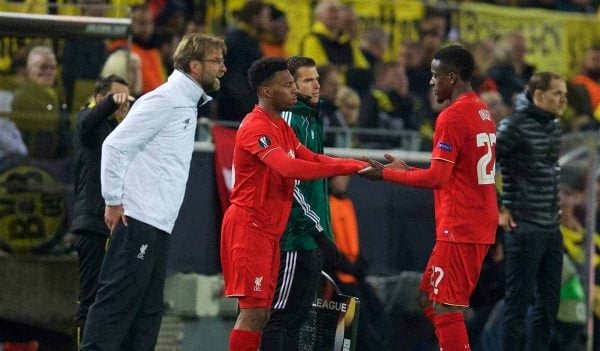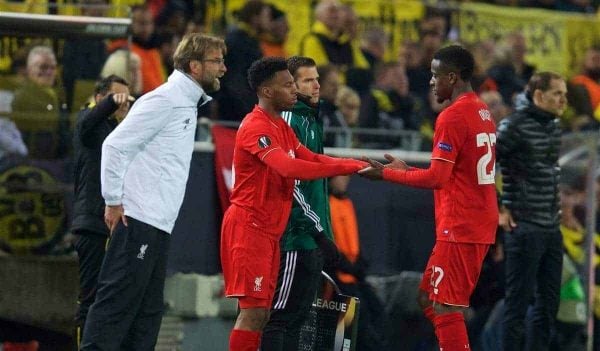 Origi has the strength, power and burgeoning finishing ability to emulate Lewandowski, but most crucially his work ethic ensures he is at the forefront of Klopp's plans.
Despite his exceptional ability, Sturridge remains a concern on that front due to the isolated role he often takes up in attack: he is guilty of going missing after scoring big goals, such as in May's Europa League final defeat to Sevilla, and he is less effective as a lone striker.
Criticisms of the 26-year-old's work rate, however, are largely unfounded, as his ability to close down angles and suffocate space is hugely underrated.
But after Klopp's show of faith, Sturridge must now return the favour heading into 2016/17.
Subscribe to Klopp's attacking ideals, and showcase a staunch commitment to the cause, and Sturridge could be elevated to further stardom on Merseyside.