Steven Gerrard believes winning this season's Europa League could spur Liverpool onto title-winning success under Jurgen Klopp.
Gerrard was part of the Liverpool sides that won the UEFA Cup in 2001 and the Champions League in 2005, with both victories kicking off a successful period for the Reds.
But while the Premier League title proved elusive for the 35-year-old during his 17 years on Merseyside, coming closest under Brendan Rodgers in 2013/14, he believes Klopp's side could go one better if they triumph over Sevilla on Wednesday night.
Writing in his column for the Telegraph, the former Reds captain said that victory could mark "the beginning of a new era under one of the greatest coaches of his generation."
"There would be such a buzz around the club and the city, the lads and supporters will already be counting down the days until pre-season," he said.
"And you can guarantee all the talk next August will be about what is next for Jurgen Klopp's side—a possible title bid.
"With the calibre of player they can attract, and Champions League qualification, there will be confidence Liverpool can challenge."
Bayern Munich midfielder Mario Gotze is likely among those that would find Anfield a more attractive destination if Klopp can offer Champions League football, though the 48-year-old has repeatedly stressed this shouldn't be a factor.
However, Gerrard continued to reference the impact loss could have on morale and momentum, saying "there would be a hangover."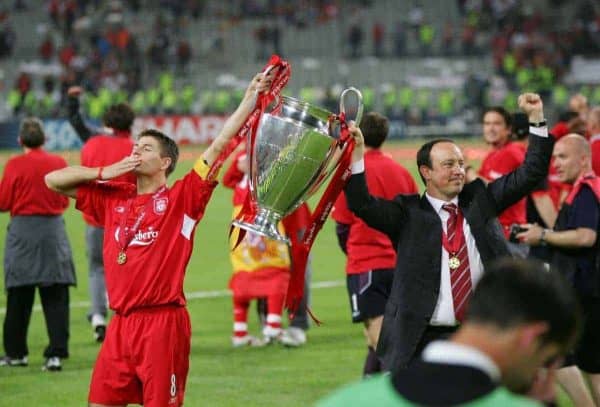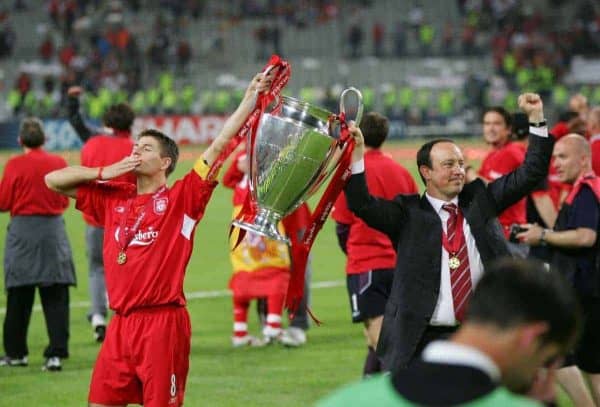 But drawing on his experience under Gerard Houllier in 2001 and Rafa Benitez in 2005, Gerrard said he can see "similarities" with the Reds' current incarnation.
"There are similarities to both the 2001 and 2005 season, but there are also notable differences," he continued.
"There is a manager who understands how to win in Europe, just like Gerard Houllier and Benitez, but the ownership situation is more stable and from next season Liverpool will finally be in that 54,000 stadium we've been waiting for. The club can kick on.
"The difficult part—the most demanding challenge for any team and manager—is getting over that line and winning that first trophy."
In lieu of the experience and strength in depth that Gerrard underlines as key attributes of his former sides, the midfielder believes Klopp's presence can be key.
And if the Reds do triumph over Sevilla at St. Jakob-Park, Gerrard has one salient piece of advice for the German and his captain.
"I'll tell you what I remember most about the UEFA Cup. How heavy it is. It's huge," he added.
"I just hope come the final whistle I see Jordan Henderson and Jurgen Klopp lifting that beautiful trophy."