It is the morning after the night before, and we take a look at how the media reacted to Liverpool's semi-final victory over Villarreal.
The Reds convincingly beat Marcelino's Yellow Submarine at Anfield to seal their place in the Europa League final at Basel's St-Jakob Park.
An own-goal from Bruno Soriano started the night perfectly for Klopp's side, who strolled to victory against their 10-man visitors who had Victor Ruiz sent off, with second half finishes from Daniel Sturridge and Adam Lallana completing the job.
Turning in a dominant performance full of energy, power and creativity in front of an electric home crowd, it was a thoroughly deserved victory for Jurgen Klopp's side, who added yet another special European night to the glorious collection.
Here is how the media assessed the semi-final triumph.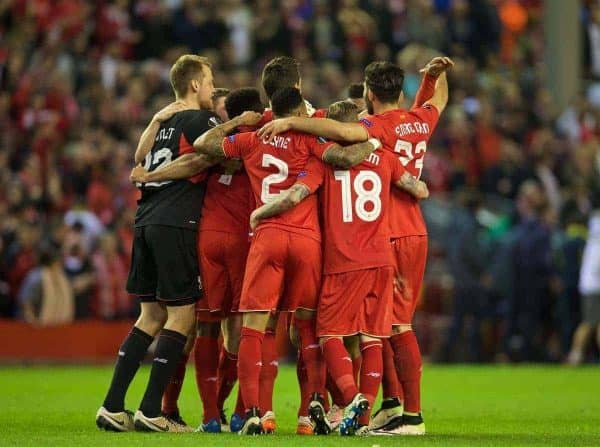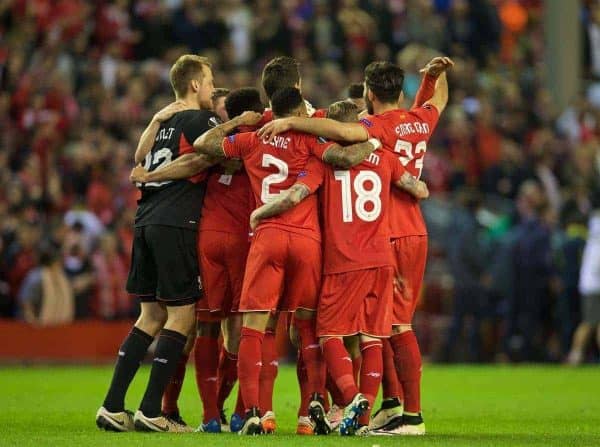 Reporters commented on another special night at Anfield, where a dominant display saw the Reds run out deserved winners.
The Mail's Martin Samuel wrote:
Yet nobody can claim it was undeserved. Liverpool were the best team on the night, deserved to be two clear and were not flattered by a three-goal winning margin.
The Telegraph's Sam Wallace felt it was the most complete performance of Liverpool's European campaign:
If the defeat of Manchester United two rounds earlier was impressive, the comeback against Borussia Dortmund was arguably the most dramatic, but this one, against Villarreal, was the most complete.
Reporters were full of praise for Liverpool's pressing and off-ball work that proved key to the undoing of Marcelino's side:
The Guardian's Jacob Steinberg wrote:
Their pressing game unsettled Villarreal, whose increasingly petulant tactics reflected their frazzled mindset, and in those moments it was clear that Klopp's influence is having a positive effect.
Samuel wrote:
They were the better side in every aspect — but most strikingly in terms of athleticism and ferocious commitment.

[…]

Lively crowds are one thing but Villarreal will not have had too many teams coming at them as Liverpool did.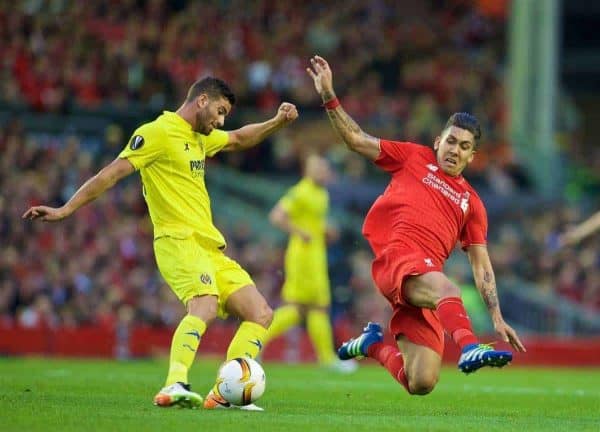 Wallace thought the Reds looked like a "Klopp team":
The team placed fourth in Spain's La Liga were never truly in the game and they ended it broken, down to ten men and having never emerged from underneath the relentless pressure applied by Liverpool.

[…]

For the most part, this looked like a Klopp team working the way Klopp wants them to, with a fierce press from the front led by the likes of Philippe Coutinho, Lallana and Firmino but underpinned by another relentless shift from Milner.
Guiding Liverpool to a second cup final in just seven months in charge and to the brink of European glory and Champions League qualification, there was much praise for Jurgen Klopp and the work he has done at Anfield:

ESPN's Richard Jolly assessed:
Jurgen Klopp feels like a manager in Liverpool's truest traditions, and seven months after his arrival, he has joined an elite group of five — Bill Shankly, Bob Paisley, Joe Fagan, Gerard Houllier and Rafa Benitez — who took Liverpool to a European final.
Melissa Reddy for Goal feels the final place is just reward for Klopp for his approach to the competition:
The all-round performance from Klopp's side was accomplished, and when contrasted to the club's start in this season's continental campaign, it's unfathomable that they've reached its climax.

That is credit to the manager and the way he's transformed the mentality and atmosphere around not just the Europa League, but Liverpool in its entirety.
Wallace heaped praise on Klopp for the way he has improved performance levels throughout the team:
There is no question, however, that Klopp is getting better performances from the same group of players, not least the Englishmen James Milner and Nathaniel Clyne who were both superb. Improving what they already have at their disposal is what the great managers are supposed to do.
The Express' Paul Joyce echoed:
What is remarkable about Klopp's impact is that he has yet to make a signing that figures in the team, but has simply polished and coaxed performances in reaching his second final three months from those previously damned.
The Guardian's Andy Hunter commended Klopp's impact on club as a whole:
Anfield has been revitalised by Klopp, and the manager turned cheerleader after the final whistle to whip up celebrations from all four sides of the stadium. He has had the same effect on Liverpool's players.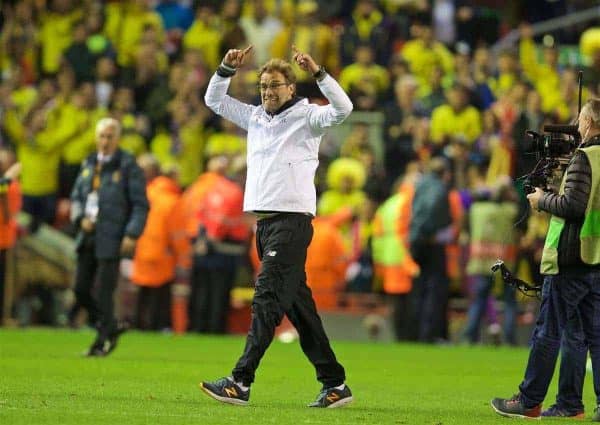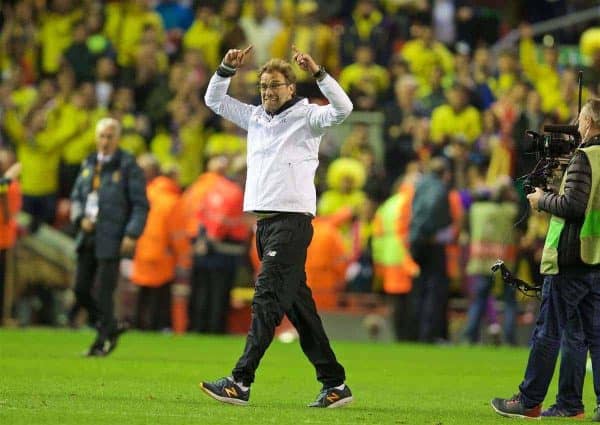 The Liverpool Echo's James Pearce feels the Liverpool boss has "energised both the stands and the dressing room":
Klopp has proved a master at harnessing the most powerful support in football and on nights like this it makes Liverpool an irresistible force.

How lucky the Reds were to secure the services of a man capable of making the hopes and dreams of Kopites come true. He has energised both the stands and the dressing room.
Meanwhile, the Mirror's John Cross said the German is reinstalling belief at Anfield that glory days can return:
Klopp is making incredible strides and, to make himself the darling of Anfield already, gives him and Liverpool an incredible energy and belief they can emulate great successes of the past.

Back in the team and scoring a huge goal at vital time, reporters focussed on the impact and importance of Daniel Sturridge.
The Telegraph's Chris Bascombe wrote:
Yet there are few better forwards in the Premier League than a fully fit Sturridge and, given his chance from the start last night, he showed he was up to the big occasion.
The Mirror's David Maddock assessed:
So many critics have suggested he is certain to leave in the summer, but he showed here with a sublime performance he still has a desire and hunger to succeed at Liverpool.

His passion was so obvious, almost as if he was out to prove something to his manager, and Klopp is wily enough to know he can use that to his advantage, just as he did here majestically.
The Guardian's Paul Hayward said Sturridge repaid Klopp's decision to start him:
If Liverpool were made for nights like this, Sturridge's talent ought to make him a star in games of this magnitude. This time it did. He excelled in a 3-0 win that launched Liverpool into a Europa League final against Sevilla.
Pearce thought Klopp's courage in picking Sturridge and Roberto Firmino paid off:
Klopp was bold with his team selection – starting both Sturridge and Firmino and it paid off handsomely as each of them excelled.

Meanwhile, the Mail's Joe Bernstein praised Firmino's display:
Philippe Coutinho has been idolised on Merseyside for a while but the standing ovation Roberto Firmino got when he came off near the end shows he's getting pretty close in the affection stakes.

Playing a deeper role than he did in the first leg, Firmino was Villarreal's tormentor-in-chief and had a had in all three Liverpool's goals, his dribble down the left to set up Adam Lallana's final hit a lesson in balance and skill.
Pearce felt the Brazilian's performance showed shades of a certain Luis Suarez:
Firmino was outstanding. Combining breathtaking skill with workrate, there were shades of Luis Suarez about him.

Not since the Uruguayan was lighting up Anfield have Kopites seen a performance combining such inspiration and perspiration.
And the Liverpool Echo's Andy Kelly complimented Dejan Lovren's defensive dominance on the night:
It was a game full off good moments for the reborn Croatian.

[…]

Aided by the ever dependable Kolo Toure, he now looks every inch the defender Liverpool thought they were getting when they sent another of those big cheques Southampton's way.

Calm, composed, excellent reading of the game, he did everything asked of him with the minimum of fuss.
After another spectacular atmosphere roared Klopp's men to victory, reports focussed on the power of Anfield, which contributed to Villarreal enduring a tough night.

Cross felt the atmosphere contributed to Villarreal's undoing:
That is what Liverpool do so well, the fans produce incredible atmospheres and it inspired their own team and seemed to overwhelm Villarreal who finished the game with ten men after completely losing their heads.
Maddock wrote:
Yes, yes, I know it's a cliché, but really, you had to be here to understand just how intimidating, how emotional, how goddam scary they can be.

Standing on the streets around Anfield as the team buses arrived, I actually felt sorry for the Villarreal players at the sheer madness that unfolded in front of them.